JAZZ GIGS & EVENTS
Helen Sung presents Sung With Words feat. Cecile McLorin Salvant at The Jazz Standard, New York City
Thursday, December 13, 2018
Website: http://www.jazzstandard.com/?event=20181213
---
More details
We have received the following press release regarding this event;

Save The Date!: Thursday, December 13
@ the Jazz Standard, NYC
116 E 27th St. New York, NY 10016
212-576-2232

Helen Sung Presents Sung With Words
With special guest vocalist Cecile McLorin Salvant!

Also Featuring:
Carolyn Leonhart - vocals, John Ellis - saxophone, Ingrid Jensen - trumpet,
Reuben Rogers - bass, Kush Abadey - drums, Samuel Torres - percussion


Pianist/Composer Helen Sung is proud to announce the NYC CD Release Celebration event for Sung With Words, taking place on
Thursday, December 13 (sets @ 7:30 & 9:30 PM) at the Jazz Standard Please join this amazing all-star band, featuring special guest, two-time Grammy Award winner Cecil McLorin Salvant, in a one-night-only performance of music from Sung With Words

TKTS & Info Here! http://www.jazzstandard.com/?event=20181213

More about Sung With Words:
Winning a 2014 Chamber Music America/Doris Duke Foundation "New Jazz Works" grant (given each year to support the compositional efforts of U.S. based jazz artists) enabled pianist/composer Helen Sung to fulfil a long-time dream: to create Sung With Words, a collaborative project with the celebrated American poet Dana Gioia. Utilizing jazz and poetry as powerful catalysts to create new music, Sung With Words is Sung's first recording to feature all original music, consisting of vocal works where Gioia's poems serve as lyrics, as well as instrumental compositions inspired by words (for example, her Lament for Kalief Browder). She enlists longtime musical colleagues to help bring the music to life: multi-reedist John Ellis, trumpeter Ingrid Jensen, bassist Reuben Rogers, drummer Kendrick Scott and percussionist Samuel Torres. Vocalists Jean Baylor, Carolyn Leonhart, Christie Dashiell, and Charenee Wade interpret the words of Gioia, whose poems have been described as "resonant with music".

"Helen Sung has worked with jazz luminaries like Clark Terry, Wayne Shorter and Terri Lyne Carrington, but her latest project might end up being her most celebrated to date. Sung With Words merges jazz and poetry together to make a multi-movement work that explores themes of the human condition: love, betrayal, wonder, melancholy and mystery."
- Suraya Mohamed, NPR Music - First Listen

"A music-and-poetry project in the truest sense, with pianist Helen Sung and poet Dana Gioia in close collaboration, it branches beyond that core, with additional vocals by Carolyn Leonhart, Christie Dashiell, Jean Baylor and Charenee Wade. The first-rate band includes Ingrid Jensen on trumpet and John Ellis on saxophones and bass clarinet, among others, and Sung's writing is assertive and grounded."
- Nate Chinen, WBGO 88.3 "Take Five"

"An ingenious combination of jazz and poetry."
- Filipe Freitas, JazzTrail

"What's striking…is an openness of vision, paired with a looseness of execution. Ms. Sung sounds both relaxed and searching, and she imparts the same qualities to her crew." - The New York Times

"A truly unique composer and arranger. Her music is adventurous, personal, and a powerful force to be reckoned with in the jazz world."
- International Review of Music


Sung With Words is now available on Stricker Street Records:
Helen Sung Online Store https://myiesstore.com/helensung/
iTunes
Amazon

HELEN SUNG TOUR DATES:

Nov 5-11 - Featured Artist-in-Resident for 2018 Sydney Int'l Women's Jazz Festival
Nov 16 - w/Cecile McLorin Salvant's Ogresse Project at NJPAC (Newark, NJ)
Nov 17 - w/Cecile McLorin Salvant's Ogresse Project at the Kennedy Center (Wash., DC)
Nov 18 - w/Cecile McLorin Salvant's Ogresse Project at McCarter Theater (Princeton, NJ)
Nov 28-30 - Helen Sung, artist residency at the Brubeck Institute, University of the Pacific, Stockton, CA

Dec 1 - Sung With Words CD Release at North Coast Brewing's Sequoia Room
(Fort Bragg, CA)
Dec 2 - Sung With Words CD Release at Healdsburg Jazz (Healdsburg, CA)
Dec 5 - Sung With Words CD Release at Dazzle Jazz (Denver, CO)
Dec 6 - Sung With Words CD Release at Kuumbwa Jazz Center (Santa Cruz, CA)
Dec 13 - Sung With Words CD Release at the Jazz Standard (NYC)

Jan 19 - Sung With Words CD Release at Vermont Jazz Center (Brattleboro, VT)
Jan 26 - Sung With Words CD Release at 2019 Trinity Jazz Festival (Houston, TX)

---
---
blog comments powered by

Disqus
JAZZ MANN FEATURES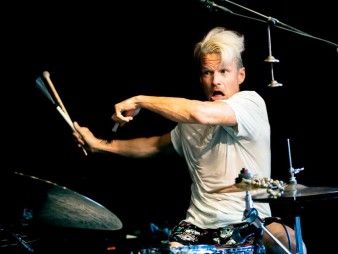 Ian Mann on a day of music dominated by the sounds of Scandinavia including performances by the Thomas Backman Band, the Adam Waldmann Trio, Supersilent and Phronesis.
---
Ian Mann on a day of international music with performances by the Al MacSween Trio, Liran Donin's 1000 Boats and Scandinavian 'supergroup' Rymden.
---
JAZZ MANN RECOMMENDS
---