JAZZ GIGS & EVENTS
Jake McMurchie Quartet at The Hen & Chicken, Bristol.
Sunday, April 23, 2017
Featuring: Jake McMurchie Quartet
Website: http://www.jazzata.com
---
More details
Promoter Ian Storror writes;

Jake McMurchie Quartet
http://jazzata.com/Gig118.html for full details
The Hen & Chicken, 210 North St, Bristol, BS3 1JF
Sunday 23 April
Doors 7.30 for 8.15pm start
£12/£10

Jake McMurchie (Saxes), Dan Waldman (Guitar), Riaan Vosloo (Bass), Matt Brown (Drums)

Saxophonist Jake McMurchie has grown in stature to become one of Bristol's finest players, gaining both national and international recognition for his work with 'Get The Blessing', and more recently with his project Michelson Morley, which blends acoustic and electronic sounds.

Born in London, raised in Bristol, and Cambridge educated, Jake has been an influential member of the thriving South West jazz scene for nearly two decades.
Even in his early days, I was taken with his energy to learn and get better.
Many young players come along but few put the work and effort in to strive for excellence and personal growth on their chosen instrument.
There is no doubt (in my experience); that Jake has put-in the hard yards and has reaped the reward. He is now a top class musician and one who is in command of his instrument.

"...the inventive McMurchie, his sensual tone falling somewhere between early Sonny Rollins and Plas Johnson, was a revelation. Where has he been?" London Evening Standard

The gig I heard him play with this new quartet at the Be-Bop just before Christmas was a delight, his sound was mature and full of ideas and I have no hesitation in adding him to our quality programme for 2017

"…a very, very good saxophonist. Very original, very passionate…a very sexy sound" Jack Massarik; Radio 3 Jazz Line-up

Tonight's new quartet line-up sees Jake joined by guitarist Dan Waldman, a sensational player currently based in Bristol who has previously divided his time between New York and London. His own quartet features ace alto saxophonist Will Vinson. Leaving the UK for America at 18 he trained at the prestigious Berklee School of Music on a scholarship, winning the Jimi Hendrix Award while there
Dan's CV on live performance and recordings are impressive and diverse; Jason Marshall, Sean Escoffery, Jally Kebba Susso, Soul Understated, Pee Wee Ellis, The Duval Project, Neville Malcolm, Rashaan Carter, Richard Spaven, Alex Garnett and Jazz Refreshed (appearing on their live compilation 'Prelude'), as well as in session with MdCL on Giles Peterson's 'Worldwide' radio show.

Bassist Riaan Vosloo teaches at Leeds College of Music, and is currently working on his doctorate at Birmingham Conservatoire. The group is completed by Matt Brown on drums.

Nota Bene: It is often the case that we take our local musicians for granted. They are always around for us to hear at any time we want; and many times for free or at little cost.

Like all jazz gigs they are each different in many ways and if you weren't there for a particular night or performance you may have missed something very special.
The night I heard Jake at the Be-Bop last year was such a case and I was amazed by the gig….with only a handful in attendance.
Don't make the mistake to miss catching this saxophonist; and this band, on this night.

I've given Jake 'carte blanche' to do what he wants with the night both line-up wise and musically, I ask you to join us to see just how far this guy has come!
Trust me….you will not be disappointed.
---
---
blog comments powered by

Disqus
JAZZ MANN FEATURES
It's good to see a "cutting edge" festival returning to Birmingham again, especially one that is so supportive of young, up and coming musicians.
---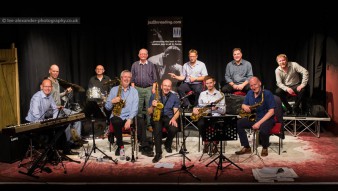 Guest contributor Trevor Bannister on a "a fascinating day spent at a church near Shepperton, where producer Andy Cleyndert was recording Scott Willcox's ten-piece big band for his Trio label".
---
JAZZ MANN RECOMMENDS
---