JAZZ GIGS & EVENTS
Jazz at Lincoln Center Orchestra with Wynton Marsalis, residency at The Barbcian Centre, London.
Tuesday, February 27, 2018 - Thursday, February 01, 2018
Featuring: Wynton Marsalis

---
Venue
Barbican Centre
Silk Street,
London.
EC2Y 8DS
Venue telephone: Box Office 020 7638 8891
Venue website: http://www.barbican.org.uk
---
More details
We have received the following press release regarding this residency;

Jazz at Lincoln Center Orchestra with Wynton Marsalis' fifth Barbican International Associate residency in 2018 celebrates Benny Goodman and Leonard Bernstein

Tuesday 27 February – Thursday 1 March 2018
Tickets £8 – 45
On sale to Barbican Members on 8 June
On general sale on 9 June

World-renowned Jazz at Lincoln Center Orchestra (JLCO), led by managing and artistic director Wynton Marsalis, return to the Barbican for their fifth International Associate residency from 27 February – 1 March 2018. The residency provides an opportunity to experience fifteen of America's finest soloists, ensemble players, and arrangers in jazz music today in concerts, workshops and masterclasses. JLCO often honour the iconic artists, albums, movements and events that left distinctive marks on the jazz scene, and the residency in 2018 celebrates two game changers of modern music: "King of Swing" American clarinettist and bandleader Benny Goodman, and master educator, composer and musical thinker Leonard Bernstein.

The residency opens on Tuesday 27 February 2018, with a concert recreating Benny Goodman's legendary debut at New York's prestigious Carnegie Hall on 16 January 1938 – the first interracial concert in the hall, and a watershed moment in American music history.

Goodman was a classically trained Jewish clarinet prodigy from Chicago who became a jazz and swing musician and bandleader, known as the "King of Swing". In the mid-1930s, against a backdrop of racial segregation, Goodman led one of the first well-known racially integrated jazz groups and his big band plus guest soloists were invited to play a jazz concert in New York's Carnegie Hall. This landmark performance in the American temple of classical music on 16 January 1938 was in many ways a "debut" of jazz itself, as Goodman led one of the first well-known racially integrated jazz groups on a stage of unparalleled prestige, introducing the public to real jazz elements and extensive improvisation, to an ecstatic response. AllMusic has described his concert as "the single most important jazz or popular music concert in history: jazz's "coming out" party to the world of "respectable" music".

Revisiting the spirit of the event, the JLCO, with UK guests (tbc), will perform pieces straight from the set list of that historic evening at Carnegie Hall in 1938, including material by those made famous by Goodman himself: Count Basie, Duke Ellington, George Gershwin, Fats Waller, Louis Prima, and more. The programme will feature new and classic arrangements, blistering solos, and a new take on the mid-concert jam session that went down in history.

In the second event of the residency, on Wednesday 28 February 2018, Jazz at Lincoln Center Orchestra pay tribute to another musical all-rounder, Leonard Bernstein. Composer and arranger Richard DeRosa, nominated for a Grammy for Best Instrumental Composition in 2016, will work with JLCO lead trombonist Vincent Gardner to craft unique arrangements of Bernstein's music for the Orchestra, including classics like West Side Story and Candide, as well as unexpected gems from Bernstein's vast repertoire. Inspired by the composer's informative approach to music, JLCO will also provide insightful background about Bernstein himself and the musical selections presented.

A testament to JLCO and Marsalis' ever-expanding mission of teaching young people democracy and freedom of expression through jazz and improvisation, Thursday 1 March 2018 sees young musicians from the Guildhall Big Band and The Young Jazz Big Band come together at Milton Court Concert Hall in a showcase of what could be the future of Jazz.

The Young Jazz Big Band is a Barbican Guildhall Creative Learning project, led by Guildhall Jazz professor Scott Stroman featuring 14 – 18 year old musicians recruited from across 13 London boroughs (applications are now open, further info here). The young musicians who have been selected for this project will work together as a band over two academic terms alongside professional musicians, like those from the Jazz at Lincoln Center Orchestra.
This special evening will see separate sets from the Guildhall Big Band and The Young Jazz Big Band with music from the era of Duke Ellington and Count Basie, two icons of Swing whose music Wynton Marsalis believes is the best to learn from.

The 2018 JLCO Barbican International Associate residency will also feature workshops and masterclasses – details tba.

LISTINGS
Jazz at Lincoln Center Orchestra with Wynton Marsalis
Benny Goodman: King of Swing
Tuesday 27 February 2018 / Barbican Hall / 20:00
Tickets £30 – 45

Jazz at Lincoln Center Orchestra with Wynton Marsalis
Leonard Bernstein at 100
Wednesday 28 February 2018 / Barbican Hall / 20:00
Tickets £30 – 45

The Next Generation of Jazz Showcase
Thursday 1 March 2018 / Milton Court Concert Hall / 19:00
Tickets £8

Barbican Box Office: 0845 120 7550

About the Barbican
A world-class arts and learning organisation, the Barbican pushes the boundaries of all major art forms including dance, film, music, theatre and visual arts. Its creative learning programme further underpins everything it does. Over 1.1 million people attend events annually, hundreds of artists and performers are featured, and more than 300 staff work onsite. The architecturally renowned centre opened in 1982 and comprises the Barbican Hall, the Barbican Theatre, The Pit, Cinemas One, Two and Three, Barbican Art Gallery, a second gallery The Curve, foyers and public spaces, a library, Lakeside Terrace, a glasshouse conservatory, conference facilities and three restaurants. The City of London Corporation is the founder and principal funder of the Barbican Centre.
The Barbican is home to Resident Orchestra, London Symphony Orchestra; Associate Orchestra, BBC Symphony Orchestra; Associate Ensembles the Academy of Ancient Music and Britten Sinfonia, Associate Producer Serious, and Artistic Partner Create. Our Artistic Associates include Boy Blue Entertainment, Cheek by Jowl, Deborah Warner, Drum Works and Michael Clark Company. International Associates are Royal Concertgebouw Orchestra of Amsterdam, New York Philharmonic, Los Angeles Philharmonic, Gewandhaus Orchestra Leipzig and Jazz at Lincoln Center.
Find us on Facebook | Twitter | Instagram | YouTube

The mission of Jazz at Lincoln Center is to entertain, enrich and expand a global community for Jazz through performance, education and advocacy. With the world-renowned Jazz at Lincoln Center Orchestra and guest artists spanning genres and generations, Jazz at Lincoln Center produces thousands of performance, education, and broadcast events each season in its home in New York City (Frederick P. Rose Hall, "The House of Swing") and around the world, for people of all ages. Jazz at Lincoln Center is led by Chairman Robert J. Appel, Managing and Artistic Director Wynton Marsalis, and Executive Director Greg Scholl. Please visit us at jazz.org; follow us on Twitter @jazzdotorg and Facebook; watch our free, global webcasts at new.livestream.com/jazz; and enjoy concerts, education programs, behind-the-scenes footage, programs and more at youtube.com/jazzatlincolncenter.
​
---
---
blog comments powered by

Disqus
JAZZ MANN FEATURES
Ian Mann witnesses the future of British jazz at the NYJO Jazz Jam and the JazzNewBlood showcase and loses himself in a spectacular Norwegian double bill featuring Sinikka Langeland and Jaga Jazzist.
---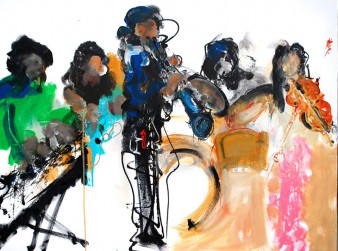 Eclectic, Iklectik, Elektrik - Ian Mann on the penultimate day of the EFG London Jazz Festival.
---
JAZZ MANN RECOMMENDS
---