JAZZ GIGS & EVENTS
John Cale : A Futurespective With the London Contemporary Orchestra at Barbican Hall, London.
Friday, March 09, 2018 - Saturday, March 10, 2018
---
Venue
Barbican Centre
Silk Street,
London.
EC2Y 8DS
Venue telephone: Box Office 020 7638 8891
Venue website: http://www.barbican.org.uk
---
More details
We have received the following information regarding these events;

John Cale (2018-1964): A Futurespective
With the London Contemporary Orchestra
Friday 9 & Saturday 10 March 2018 / Barbican Hall / 19:30
Tickets £35 - £45 plus booking fee

Legendary songwriter, producer and musician, John Cale returns to the Barbican next spring for his first-ever career retrospective. This follows on from a series of original albums for Domino Records and historic re-imagining of the Velvet Underground's 50th Anniversary in two concerts in Paris and Liverpool, as well as his performance of Barbican co-commissioned audio-visual collaboration LOOP>>60Hz: Transmissions From The Drone Orchestra with Liam Young at the Barbican Theatre in autumn 2014. Marking his 76th birthday, the event in March 2018 spreads over two epic nights at the Barbican Hall and will see Cale revealing tracks from his forthcoming Domino studio album as well as addressing music going back to 1964 that he has rarely, if ever performed live. Audiences can expect to hear selections from the Velvet Underground and Cale's landmark solo albums recorded in his years with Island Records will feature prominently. The performances will also include material from the classic 1992 live solo album Fragments of a Rainy Season.

In recent years, Cale has emphasised collaborative work. While reaching restlessly toward the future on his latest albums, he has also re-examined his past catalogue, including a reconfiguration of his milestone album Music for a New Society on M:Fans, released in 2016. In concerts dedicated to the music of Nico or the Velvet Underground, Cale has sought contemporary and emerging musicians who share his vision of breathing new life into this beloved back catalogue. For his Barbican concerts in March, Cale will team up with the London Contemporary Orchestra, who since 2007 have mined great experimental works of the 20th century, shedding new light and developing new audiences for avant-garde music. Highly-lauded collaborations with Jonny Greenwood, William Basinski, Matmos, Actress, Foals and Belle & Sebastian have made them the ''go-to'' orchestra for contemporary collaborations.

The programme on both Barbican concert nights will evolve around a core set of repertoire including rarities and old-time favourites, but might differ slightly each night. With the fullness of the orchestra, to the stripped-down minimalism and the layers in-between, John Cale (2018-1964): A Futurespective promises to continue Cale's mantra of 'expect the unexpected'.

These two Barbican performances are produced in association with Convergence. Now in its 5th year, Convergence is a series of concerts, exhibitions, and talks celebrating the latest technological developments of digital culture, elucidating issues, developments and innovation across art and society. More information on Convergence can be found at http://www.convergence-london.co.uk

On sale to Barbican members on Thursday 21 September
On general sale on Friday 22 September
Produced by the Barbican in association with Convergence
---
---
blog comments powered by

Disqus
JAZZ MANN FEATURES
Ian Mann witnesses the future of British jazz at the NYJO Jazz Jam and the JazzNewBlood showcase and loses himself in a spectacular Norwegian double bill featuring Sinikka Langeland and Jaga Jazzist.
---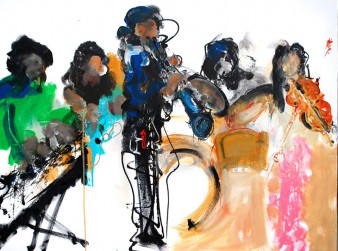 Eclectic, Iklectik, Elektrik - Ian Mann on the penultimate day of the EFG London Jazz Festival.
---
JAZZ MANN RECOMMENDS
---