JAZZ GIGS & EVENTS
K-Music 2019: London's festival of Korean music, various venues, London.
Thursday, October 03, 2019 - Monday, November 18, 2019
Featuring: Various Artists
Website: https://k-music.co.uk
---
More details
We have received the following press release regarding this event;

K-MUSIC 2019
London's Festival of Korean Music
October/November 2019

Thurs 3 Oct: Jambinai, Purcell Room
Sun 6 Oct: Celebrate Pansori, Kings Place
Thurs 17 Oct: Park Jiha Philos, Rich Mix
Tues 29 Oct: Kyungso Park & SB Circle + Hey String, Purcell Room
Mon 11 Nov: Gonne Choi, PizzaExpress Live
Mon 18 Nov: Black String, Purcell Room

Tickets on sale from Thursday 13 June: http://www.serious.org.uk/k-music

K-Music is London's festival of Korean music. Now in its sixth year, it offers the chance to see major Korean musicians across our capital, performing anything from traditional music and the beautiful art form of pansori to avant garde, improvised contemporary music, jazz, rock and much more. Korean music has a rapidly increasing worldwide audience and this year's festival brings some well-known names back to London: Jambinai, Park Jiha, Kyungso Park with her new group SB Circle and Black String, plus emerging artists Gonne Choi and Hey String. An evening at Kings Place, Celebrate Pansori, will sample five traditional Korean operas in one night, bringing this very ancient art form to a modern audience. Produced and directed by the Korean Cultural Centre UK and Serious, K-Music 2019 presents another impressive line-up of concerts.

Jambinai: Thursday 3 October, Purcell Room, 7.45pm
An extraordinary fusion of metal, post-rock and noise, the band has cited such influences as Metallica, Mogwai and Sigur Ros but their music also seems to draw on thunderstorms, tidal waves, blizzards and desert winds. Their debut album, 'Difference' (2013) won awards in Korea, triggered a deal with Bella Union, a second album, 'A Hermitage' and an incredible performance of their track, 'Time of Extinction' at the 2018 Winter Olympic Games. Jambinai are made up of Lee (guitar + piri, a bamboo oboe), Kim Bo-mi (bow-stringed haegeum, a vertical fiddle), Sim Eun-young (geomungo, a zither), Jaehyuk Choi (drums) and B.K Yu (bass) and they will be performing material from their new album, 'Onda', just released on Bella Union.
"an enthralling post-rock group – imagine Godspeed You! Black Emperor melded with strange and wonderful traditional instruments" (The Guardian)

Celebrate Pansori: Sunday 6 October, Kings Place (Hall 1), 7.30pm
The Korea Pansori Preservation Association (KPPA) is a company of highly-skilled and respected vocalists and musicians who perform across the world, preserving the rich history of traditional Korean opera and telling these ancient stories that still resonate today. They will present extracts from Chunhyangga, Simcheongga, Heungboga, Sugungga and Jeokbyuka – performed in Korean with English surtitles and reference images.
"the intimacy, the translation, the audience and the ambience are just as important as the music….when all that comes together, pansori really is one of the world's great musical art forms" (Songlines)
Park Jiha: Philos: Thursday 17 October, Rich Mix, 8pm
Park Jiha stunned audiences and critics alike with her Glitterbeat album, 'Communion' (2016), described by The Guardian as "new music for ancient instruments" and returns with a new release Philos, also on Glitterbeat. She performs her material solo by looping and building soundscapes from an array of traditional Korean instruments such as the piri, saenghwang (double-reed mouth organ) and yanggeum (metal-stringed hammered dulcimer).
"with one foot in traditional Korean music and another in modern iterations of minimalism and ambient, Park Jiha created hypnotic streams of sound" (The Wire)

Kyungso Park + Hey String: Tuesday 29 October, Purcell Room, 7.45pm
Composer/musician Kyungso Park plays the zither-like gayageum, freely breaking down the borders between traditional and contemporary music. Her previous K-Music collaboration with British saxophonist Andy Sheppard was described by The Guardian as "an engrossing improvisational encounter". Here she returns with her new band SB Circle (Shin Hyunpil on saxophone + keys, Seo Young-do on bass and Christian Moran on drums), combining jazz, electronic and traditional Korean music in a myriad of folk, improvisation and filmic music. They have just released a debut album, 'Topology'.
"She treated a rapt crowd to a wide swath of music, both cutting-edge original compositions and traditional numbers. As serious and meticulous a composer and player as she is, she's also a very funny, engaging performer" (New York Music Daily)
The night will open with a British debut of female gayageum trio, Hey String, who push beyond the boundaries of traditional performance in a full force of interplaying melodies and rhythms, creating enthralling soundscapes.

Gonne Choi: Monday 11 November, PizzaExpress Live, 8.30pm
Gonne Choi's voice takes you on a heartfelt journey, the feel of her songs drawing on her wide musical background of traditional Korean music, opera and a hard-core rock band. These experiences feed into her music and the result is extraordinary. Performing at Glastonbury this year, Gonne Choi goes on to do a European tour, including this date at the K-Music Festival.
"From the moment Gonne stepped on stage she was simply breathtaking and her stage presence was overwhelming, each set was an emotional rollercoaster ride. Throughout, there was a raw energy pumping out of every pore, washing over those watching." (Cubed3)

Black String: Monday 18 November, Purcell Room, 7.45pm
Black String burst onto the scene eight years ago at the EFG London Jazz Festival, went on to release the highly acclaimed 'Mask Dance' on ACT Records and won the Asia + Pacific Award at the Songlines Music Awards in 2018. Now the masters of traditional Korean music and jazz are back to make their mark at this year's Jazz Festival. Their fresh new sound brings together east and west, with Youn Jeong Heo on geomungo (zither), Aram Lee on daegeum (bamboo flute) and yanggeum (hammered dulcimer), Jean Oh on guitar and electronics and Min Wang Hwang on vocals and percussion. They have collaborated with many prominent Korean musicians as well as UK artists Kathryn Tickell, Tim Garland, Asaf Sirkis and Gwilym Simcock.
"An engaging exploration of what can be achieved by bringing ancient and modern into creative fusion" (Jazzwise)
Jambinai 'Sun.Tears.Red' https://www.youtube.com/watch?v=Mf9oZPwO6js

Park Jiha 'Arrival' https://www.youtube.com/watch?v=xXi5I47wNy
SB Circle 'Eastern Song' https://www.youtube.com/watch?v=gnWHl7ZhGDw
Gonne Choi 'Highlander' https://www.youtube.com/watch?v=y234NskTPsc
Black String 'Mask Dance' https://www.youtube.com/watch?v=kawOPq0jgOA

K-Music Anniversary Brochure: https://www.dropbox.com/s/shk5803u7oogrwh/K-Music-Anniversary_Brochure-Low.pdf?dl=0

Festival bookings: http://www.serious.org.uk/K-Music

Find out more at https://k-music.co.uk

Presented by the Korean Cultural Centre UK and Serious. Sponsored by Platform Changdong 61, Namsan Traditional Music Theater, Arts Council Korea, Asiana Airlines. EFG London Jazz Festival, Arts Council England,

KOREAN CULTURAL CENTRE UK (KCCUK)
Since it was opened by the Korean Ministry of Culture, Sports and Tourism in January 2008, under the jurisdiction of the Embassy of the Republic of Korea, the KCCUK has presented year-round exhibition programmes, film festivals as well as traditional and contemporary musical performances. In recent years the KCCUK has completed the UK side of the Korea-UK Season, a bilateral collaboration that has seen British and Korean artists, dancers, musicians, filmmakers and creatives present their works up and down both nations. However, the KCCUK's work doesn't stop there. We will continue to present exhibitions in our gallery space, chamber concerts in our performance space, film screenings, talks, classes and cultural programmes.

Visitor information: Korean Cultural Centre UK, Grand Buildings, 1-3 Strand, London WC2N 5BW Opening times: Monday – Friday, 10am – 6pm; Saturday, 11am – 5pm Free entry. http://www.kccuk.org.uk
+44(0)20 7004 2600 http://[email protected] / http://www.Facebook.com/theKCCUK
---
---
blog comments powered by

Disqus
JAZZ MANN FEATURES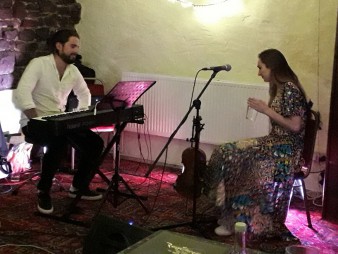 The final day of the Festival and performances from Tango Jazz Quartet, Renewal Choir and Claire Victoria Duo.
---
Ian Mann on live performances by the Alex Goodyear Bop Septet, Chube with Dennis Rollins, and the Sarah Gillespie Sextet, plus a screening of the Chet Baker biopic "Born To Be Blue".
---
JAZZ MANN RECOMMENDS
---