JAZZ GIGS & EVENTS
Sound Unbound: The Barbican Classical Weekender at Barbican Centre, Milton Court, LSO St. Luke's.
Saturday, April 29, 2017 - Sunday, April 30, 2017
Featuring: Various Artists

---
Venue
Barbican Centre
Silk Street,
London.
EC2Y 8DS
Venue telephone: Box Office 020 7638 8891
Venue website: http://www.barbican.org.uk
---
More details
We have received the following information regarding this event;

Sound Unbound: The Barbican Classical Weekender, 29-30 April 2017

Sound Unbound, the Barbican Classical Weekender, returns in the last weekend of April 2017. The Barbican and its family of orchestras join forces to stage this ambitious weekend-long project for the second time, following a hugely successful first festival in 2015. Sound Unbound gives audiences the chance to explore new sounds and rediscover familiar ones, from medieval to modern, in a relaxed festival environment, performed by artists for whom the boundaries between classical music and contemporary, experimental and pop music have been blurred – or simply don't exist.

Artists and music without boundaries
The festival features over 60 short concerts encompassing nearly 1000 years of music. Alongside new commissions, visitors can also hear some well-known classics, get close to some of the most popular artists of our time and experience a myriad of different musical styles across the ages. Pianist, producer and composer Chilly Gonzales will present his guide to the orchestra in a specially commissioned work with Britten Sinfonia, conducted by Jules Buckley. The Academy of Ancient Music will prove that old music can sound as fresh as the day it was written, performing famous works including Bach's Brandenburg Concerto No 5 and Pachelbel's Canon. Organist James McVinnie, widely recognised for his fresh approach to the instrument and repertoire, will interpret music by Philip Glass and JS Bach. The weekend also features American soprano Angel Blue who has performed in the English National Opera's La Bohème as well as alongside Donna Summer and Chaka Khan, acclaimed British countertenor Iestyn Davies in an intimate concert with lute player Thomas Dunford, and the Kanneh-Mason Trio, led by BBC Young Musician of the Year Sheku Kanneh-Mason.

Film and Music
In 2017, the Barbican celebrates the medium of film with a "Film in Focus" series across the various artforms. As part of this, Sound Unbound features an exciting chance to hear the London Symphony Orchestra perform film music by John Williams. The LSO has a long history of playing film music and has famously recorded Williams' scores for Star Wars and its sequels, as well as Superman, Raiders of the Lost Ark, and several Harry Potter films. The Norwegian siblings Mari and Håkon Samuelsen, a violin and cello duo, bring Nordic Noir to the Barbican, featuring new works from the composers of soundtracks for The Bridge and The Killing alongside music by Arvo Pärt. In two Symphonic Cinema sessions, the BBC Symphony Orchestra performs Stravinsky's ballet score Firebird alongside a stunning film which director Lucas van Woerkum has created specifically to the music and story, and which he will synchronise in live-time to the orchestra's performance (UK premiere). His novel approach has been described as treating "film as an extra voice in the orchestra" (NRC Handelsblad). LSO St Luke's will host the BBC Singers for the UK premiere of German composer and producer Sven Helbig's I Eat the Sun and Drink the Rain, a new work for choir, visuals and live electronics which explores searching questions about the role of nature and human relationships in a world of artificial intelligence and digital alienation.

Re-workings
Sound Unbound also features well-known works in unconventional versions. Bach's Goldberg Variations will be played by a string trio from the Scottish Ensemble. Stravinsky's Rite of Spring, a work that shocked and changed the musical world for ever, can be heard in an arrangement for two pianos, performed by two of the most exciting and innovative young American pianists, Timo Andres and David Kaplan. Musicians from the Guildhall School's Electronic Department will remix Haydn's Toy Symphony, together with other well-known classical repertoire, in a specially commissioned arrangement for sound-producing electronic toys and devices.

Music in The Pit, The Curve and the Conservatory
During the weekend, the Barbican opens up its many venues and so this unparalleled variety of music and artists can also be heard in an unusual range of venues: The Pit (the Barbican's studio theatre), the Conservatory, The Curve gallery, the Barbican Lakeside, in the foyers, in the neighbouring Milton Court Concert Hall and LSO St Luke's, as well as in the Barbican concert hall itself. On the Barbican's Lakeside Terrace, wind-up gramophones will invade the space with a collage of classical music through the ages, devised by musicians and staff of the Guildhall School's Electronic Music Department. The Pit sessions, programmed in association with Boiler Room TV, include the innovative Calder Quartet, a Sound Unbound favourite from the first festival; a session from versatile viol player and professor of viola da gamba at the Guildhall School Liam Byrne, equally at home in very old and very new music; and London-based composer, producer, and founder of the NONCLASSICAL record label and club night, Gabriel Prokofiev. The Curve will be a venue for choral music, alongside a new commission from Anna Meredith, a genre-defying British composer, producer and performer who moves comfortably between the different worlds of contemporary classical and experimental rock. Also filling the huge, resonant space of the Curve will be Tuning Up, a sound installation for forty helium balloons with harmonicas, devised by Stephen Cornford and Bill Leslie. The Barbican Conservatory, the second biggest conservatory in London, will be the location for Silent Opera's Carmen: Remastered, in which headphones let the audience into the tormented internal world of Don José and his encounter with the woman he desires, as well as for Michael Gordon's cult classic Timber, a meditation on sound and rhythm, bringing the physicality, endurance and technique of percussion performance to a new level.

Full festival line-up will be announced in Spring 2017.

WHEN
29-30 April 2017
Day passes £25 / Weekend passes £40 plus booking fee*
Early bird day and weekend passes £20/£35 plus booking fee*, limited availability
Young Barbican (14-25) Day passes £10 no booking fee

WHERE
Barbican Centre (Hall, The Pit, Conservatory, The Curve), Milton Court Concert Hall, LSO St Luke's, St Giles Cripplegate
London

WHO
The Barbican Classical Weekender is a joint project between the Barbican, London Symphony Orchestra, BBC Symphony Orchestra, Britten Sinfonia, the Academy of Ancient Music and Guildhall School of Music & Drama.

Barbican Box Office: 0845 120 7550
---
---
blog comments powered by

Disqus
JAZZ MANN FEATURES
It's good to see a "cutting edge" festival returning to Birmingham again, especially one that is so supportive of young, up and coming musicians.
---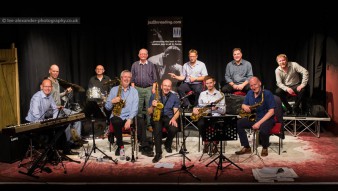 Guest contributor Trevor Bannister on a "a fascinating day spent at a church near Shepperton, where producer Andy Cleyndert was recording Scott Willcox's ten-piece big band for his Trio label".
---
JAZZ MANN RECOMMENDS
---