JAZZ GIGS & EVENTS
Sounds of Denmark Festival at Pizza Express Jazz Club, Soho, London.
Thursday, September 20, 2018 - Tuesday, September 23, 2025
Featuring: Various Artists
Website: https://www.pizzaexpresslive.com/sounds-of-denmark
---
Venue
Pizza Express Jazz Club, Soho, London
Pizza Express Jazz Club,
Dean Street,
Soho,
London,
W1D 3RW.
Venue telephone: 020 7439 4962
Venue website: http://www.pizzaexpresslive.com
---
More details
We have received the following press release;

Sounds of Denmark Returns in 2018.

London's celebration of contemporary Danish music returns in September featuring Girls In Airports, Kathrine Windfeld, Mathias Heise Quadrillion and more at the PizzaExpress Jazz Club in Dean Street.

Sounds of Denmark returns to London for its third year in September at the world-renowned PizzaExpress Jazz Club. Taking place from Thursday 20th to Sunday 23rd September, the festival will once again celebrate the vibrancy and eclectic nature of the contemporary Danish jazz scene; handpicking some of the country's most in-demand artists to present a diverse programme comprised of nine stellar concerts, with local collaborations and debut UK performances in the mix.
Running across four days, this year's lineup highlights Denmark's rich musical offerings across the far-reaching jazz spectrum with shows from the likes of award-winning urban jazz five-piece Girls in Airports, adventurous big band sounds from composer, arranger and pianist Kathrine Windfeld, whose 15-piece ensemble will feature a guest appearance from English jazz trumpeter Gerard Presencer, as well as two special out of town performances at Watermill Jazz and Turner Sims, while instrumental hip-hop jazzers Athletic Progression are set to ignite audiences with an energetic, groove-heavy set.
Also on the bill are much anticipated shows from two of Denmark's most respected contemporary vocalists; the UK debut from ethereal indie-jazz singer-songwriter Live Foyn Friis, who has collaborated with the likes of Brian Blade, Thomas Morgan and Bobby McFerrin, and Janne Mark featuring acclaimed Finnish trumpeter Verneri Pohjola, who will showcase material from her latest hymn/Scandinavian folk inspired record, Pilgrim, released on the influential German record label ACT. Closing the festival is jazz fusion 20-year-old chromatic harmonica extraordinaire Mathias Heise with his Quadrillion quartet, currently in demand around the globe for their euphoric live shows ("A feast for fusion fanatics" - MOJO).
Sounds of Denmark is an ambitious Danish jazz initiative in the UK and an exciting musical cooperation between the two nations. PizzaExpress Jazz Club is known for breaking artists in Britain before anyone else - for example, Gregory Porter, Diana Krall and Norah Jones all made their UK debuts at the venue. The project was launched in 2016 as a collaboration between JazzDanmark, PizzaExpress Jazz Club and Sue Edwards Management with support from the Royal Danish Embassy in London and Augustinus Foundation.
Tickets for all shows are on sale now and available from:
https://www.pizzaexpresslive.com/sounds-of-denmark

Listings:
SOUNDS OF DENMARK
20 – 23 SEPTEMBER 2018
PIZZA EXPRESS JAZZ CLUB, SOHO
THURSDAY 20 SEPTEMBER 8.30pm
JANNE MARK
Janne Mark (vocals), Henrik Gunde Pedersen (piano), Esben Eyermann (bass), Jesper Uno Kofoed (drums), Verneri Pohjola (trumpet)
Janne Mark has established herself as a unique and engaging vocalist/composer both in Denmark and abroad with the 2017 release of her album 'Pilgrim' on the German jazz label ACT. Musically she writes 'hymns for the here and now', drawing on the freedom of jazz and the breadth of the Scandinavian folk tradition. Her background as a singer-songwriter, alongside her work as a singer/music consultant in Brorson's Church in Nørrebro, Copenhagen, has enabled her to create a new meditative hymn style with a characterful simplicity and a focus on melody. The resulting music is a haven of peace and quiet in a world beset with restlessness and uncertainty.
"This record will promote their fame far and beyond, for with her crystal clear voice, with all the intensity that its feigned simplicity conjures, it goes straight to the soul" - Leipziger Volkszeitung on the album 'Pilgrim'
MUSIC
video: https://youtu.be/2VGJ-wmU34c
listen: https://song.link/dk/i/1316023276 (Vinter/Winter)
ONLINE
http://www.jannemark.dk
https://www.facebook.com/Janne-Mark-111856671748/
FRIDAY 21 SEPTEMBER 7.30pm
KATHRINE WINDFELD BIG BAND
(featuring Gerard Presencer - trumpet)
GUEST TRUMPET: Gerard Presencer TRUMPETS: André Bak (DK) , Rolf Thofte Sørensen (DK), Magnus Oseth (NO) TROMBONES: Mikkel Aagaard (DK), Göran Abelli (SE), Anders Larson (SE) SAXES: Jakob Lundbak (DK), Jakub Wiecek (PL), Roald Elm Larsen (DK), Ida Karlsson (SE), Toke Reines (DK) RHYTHM SECTION: Viktor Sandström (guitar, SE), Johannes Vaht (bass, SE), Henrik Holst Hansen (drums, DK), Kathrine Windfeld (piano, compositions, DK)
Kathrine Windfeld is considered one of the most exciting and refreshing new Scandinavian jazz composers/arrangers/pianists, and she leads a 15-piece youthful, charismatic dream-team of razor-sharp ensemble musicians and star quality soloists.
With her sensational big band debut "Aircraft" she won "New Jazz Artist of the Year" in 2016 at the Danish Music Awards, with further nominations for "Composer of the Year" and "Album of the Year". Her 2017 release Latency has garnered overwhelmingly positive reviews internationally and further establishes Kathrine Windfeld in the vanguard of contemporary European composers and arrangers.
Over the past 25 years Gerard Presencer has carved out a formidable reputation as one of the most respected trumpeters on the European scene. He exploded onto the international scene, aged 18, when US3 asked him to play the solo part on Blue Note's Cantaloupe Island (re-imagined as Cantaloop Flip-Fantasia), that became one of the biggest selling jazz records of the 1990s. Since then, he has performed with a who's who of international jazz artists, and has developed a career as an educator, arranger and composer. Gerard has won the trumpet category of the British Jazz Awards 4 times, he has released 4 solo albums, most recently his first big band recording with the Danish Radio Big Band entitled Groove Travels.
"Kathrine Windfeld is a rising star of the European jazz scene, not least for her bold writing for her adventurous big band" - Stuart Nicholson, Jazzwise Magazine, 2017
"Windfeld's band of leading young Scandinavian musicians is as tight and sharp as any you'll hear." - The Guardian
MUSIC
video: https://www.youtube.com/watch?v=KVXohe1c-S4
listen: https://open.spotify.com/track/6wZrKg7IXPcX57GNVgpGCD?si=FAfwFnWtTomP4wyAInzQcg (Rude Machine)
ONLINE
http://www.windfeldmusic.dk/
https://www.facebook.com/WindfeldBigband/
FRIDAY 21 SEPTEMBER 10.30pm
ATHLETIC PROGRESSION
Jonas Cook (keys), Justo Gamula (bass), Jonathan Jull Ludvigsen (drums).
Athletic Progression is an instrumental trio (drums, bass and keys) rooted in hip-hop and jazz. Whilst the three young Danes are openly influenced by artists such as Herbie Hancock, Yussef Kamaal, and Flying Lotus, they have a sound completely of their own making, instantly recognisable and undeniably catchy. Since making their debut a few years ago, the band has gone from strength to strength. They were recognised as the Best Act at Spot Festival 2017 by Danish online music magazine Regnsky, and have since then played SoFar Sounds, Distortion (P8 Jazz Stage), Jungelen in Bergen, NO, and CPH Jazz Festival for a Worldwide FM special.
This year the trio have played a sold out show at the legendary jazz venue Montmartre in Copenhagen and at P8's JazzAlive at Copenhagen's DR Koncerthuset.
"Trio from Aarhus adds new life to jazz with innovative hip hop" - Politiken (Danish Newspaper January 2018)
MUSIC
video: https://www.youtube.com/watch?v=gF5uMt4aA-I
listen: https://soundcloud.com/athleticprogression/dark-smoke (Dark Smoke featuring Minna Forouzandeh)
ONLINE
https://www.facebook.com/AthleticProgression4/?fref=ts
https://www.instagram.com/athleticprogressionmusic/
https://soundcloud.com/athleticprogression
SATURDAY 22 SEPTEMBER 1pm
KATHRINE WINDFELD BIG BAND (featuring Gerard Presencer)
(SEE FRIDAY 21 SEPTEMBER)
SATURDAY 22 SEPTEMBER 7.30pm & 10.30pm
GIRLS IN AIRPORTS
Martin Stender (saxophone), Lars Greve (saxophones, clarinets), Mathias Holm (keys) Victor Dybbroe (percussion), Mads Forsby (drums)
Girls in Airports' captivating soundscape crosses musical genres and geographical borders. Combining jazz, indie and urban folk into a unique expression of heart stirring melody-laden elegiac hooks and dance-friendly globally-influenced rhythms, their charismatic live performances have quickly made them one of the most talked about new bands on the international scene.
Based in the Danish capital, the award-winning band have released five albums (their most recent two 'Fables' and 'Live' on the British Edition Records label), and toured in China, Brazil and across Europe since their formation in 2009. They return to Pizza Express jazz club for the second time after a sell-out show broadcast by BBC Radio 3 in 2016.
"The band had a breathlessness and natural instinct that makes a refreshing change from the earnest approach of some bands…"– Jazzwise
'… a unique blend of Nordic jazz lyricism, indie-rock influences and sounds from around the world' – All About Jazz
MUSIC
Video: https://www.youtube.com/watch?v=0fjDO0VOKCk
Listen: https://girlsinairports.bandcamp.com
ONLINE
http://www.girlsinairports.net
https://www.facebook.com/girlsinairports/
https://www.instagram.com/girlsinairports/
https://twitter.com/girlsinairports
SUNDAY 23 SEPTEMBER 1.30pm
LIVE FOYN FRIIS
Live Foyn Friis (vocals), Jens Mikkel Madsen (bass), Aleksander Sjølie (guitar), Andreas Skamby (drums)
Live Foyn Friis is an outstanding vocalist with an irresistible presence and charisma, whose enchanting, ethereal vocal-tone and original songs conjure up a musical landscape she describes as 'indie-jazz', stretching the borders between jazz and indie-pop.
This Danish/Norwegian band have been in existence since 2008 and their debut release, 'Joy Visible', was nominated for 'Best Danish Jazz Album' at the Danish Music Awards, followed by awards for Young Jazz Composer of the Year (DR) and Denmark's New Jazz Star (DPA).
Live Foyn Friis has released four albums and toured across Europe and in Africa, the US and South America. She has performed with artists such as Brian Blade, Thomas Morgan and Bobby McFerrin. This will be her debut performance in the UK.
'…a world of beauty and strangeness' – London Jazz News
'There isn't a single doubt that you are listening to a singer-songwriter of divine grace.' – Gaffe
'Live Foyn Friis has real X-factor' - Jazz Special.
MUSIC
Video: https://www.youtube.com/watch?v=38J68ogvF3g
Listen: https://open.spotify.com/track/41qyPtgxyi4YQNcYLBuJP6
ONLINE
https://livefoynfriis.com/
https://twitter.com/liveff
https://www.instagram.com/iamliive/
https://www.facebook.com/LiveFoynFriis/
SUNDAY 23 SEPTEMBER 8pm
MATHIAS HEISE QUADRILLION
Mathias Heise (chromatic harmonica/keyboards/grand piano), Mads Christiansen (electric guitar), David Vang (bass), Aksel Stadel Borum (drums)
Mathias Heise Quadrillion reinvent jazz-fusion, having created a completely unique sound combining the chromatic harmonica with Funk-Rock-Jazz, dubbed FuRoJazz! Jazz harmonies and improvisation are merged with rock and funk music's hard-hitting primal beats, and fused into euphoric, tight and accessible grooves.
Mathias Heise Quadrillion's obvious talent and striking live performances have – despite their young age - already made them a sought after group abroad, where they have played at major festivals in China, Hong Kong, Malaysia, Egypt, Morocco and the Czech Republic.
At the age of 20, Mathias Heise was crowned 'Chromatic Harmonica World Champion' at the 2013 Hohner Festival in Trossingen. In 2015, he was awarded 'New Jazz Star of The Year' in Denmark, and the band was nominated as 'Best New Jazz Act' at the Danish Music Awards. In 2016, Mathias Heise received The Danish Crown Prince Couple's Stardust Award - an annual award which honours a young Danish artist about to make an international break-through and in March 2017, Mathias became the youngest ever recipient of the prestigious Ben Webster Prize.
"Shades of Weather Report and Herbie Hancock can be detected in their funkafied, polyglot grooves, though they boast a sound and style all their own." - Record Collector
"A feast for fusion fanatics." - Mojo Magazine
"MHQ have the feel of a group destined for bigger stages across Europe in coming years. Good musicianship, a focus on entertainment, and a rich mix of original compositions." - London Jazz News
MUSIC
Video: https://www.youtube.com/watch?v=FZCtZJdlIP0&feature=youtu.be&t=1m28s
Listen: https://soundcloud.com/giantsheepmusic/decadence/s-5HEWP
ONLINE
http://www.MathiasHeiseQ.com
http://www.facebook.com/MathiasHeiseQ
https://www.instagram.com/mhquad
OUT OF TOWN SHOWS
TUESDAY 18 SEPTEMBER, WATERMIILL JAZZ, DORKING
THURSDAY 20 SEPTEMBER, TURNER SIMS, SOUTHAMPTION
KATHRINE WINDFELD BIG BAND
(SEE FRIDAY 21 SEPTEMBER)
Please note Gerard Presencer will not guest on these shows.
---
---
blog comments powered by

Disqus
JAZZ MANN FEATURES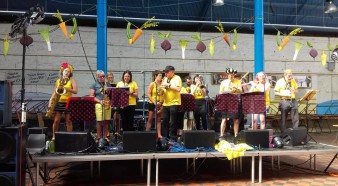 Ian Mann enjoys the Jazz Alley and Charity Swing Party events at the Market Hall with performances by Wonderbrass, Tarion, Rebelinx and The Electric Swing Circus.
---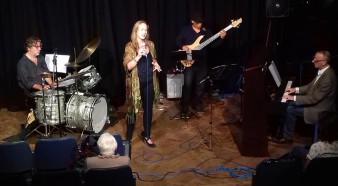 Ian Mann on a day of superb jazz with concert performances from bands led by Daniel Newberry, Alison Rayner, Ben Holder, Rachel Sutton and Tony Kofi plus interval music from Dave Jones and friends.
---
JAZZ MANN RECOMMENDS
---