FEATURES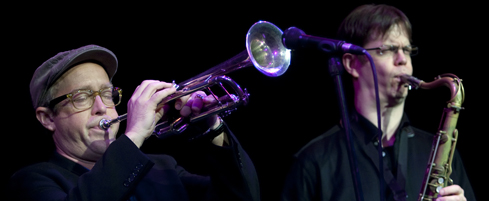 Another day featuring some memorable performances and culminating with the gig of the festival from the Dave Douglas Quintet
---
The Saturday of this year's Cheltenham Jazz Festival started bright and sunny with no hint of the events that were later to cause major problems for the festival organisers
---
psi have come up trumps with these recordings, by two of the most well-honed 'voices' on the London jazz circuit.
---
JAZZ MANN NEWS
Tuesday, March 26, 2019
Vocalist Georgia Mancio will release her latest album "Finding Home", a collaboration with pianist Kate Williams and her Four Plus Three group on June 1st 2019, with tour dates commencing in April.
Comments (0)
---
Tuesday, March 26, 2019
Jazz and TV history will be made in May when the iconic 1960's BBC show Jazz 625 returns for one night only on BBC Four, broadcasting live from the 2019 Cheltenham Jazz Festival.Press release attached
Comments (0)
---
Friday, March 22, 2019
The film "Just One Of Those Things" , the story of Ella Fitzgerald's life and career, will be in British cinemas from May 6th 2019. Press release attached.
Comments (0)
---
JAZZ MANN RECOMMENDS
---