FEATURES
Ian Mann enjoys performances by Trio Elf, Cassie Kinoshi's Seed Ensemble, Henri Texier's Hope Quartet and Darcy James Argue's Secret Society.
---
Ian Mann on a long but satisfying day of jazz including performances by Ranjana Ghatek & Liran Donin, Sarah Tandy, Kate Williams, Steve Williamson, Sam Leak and Illegal Crowns.
---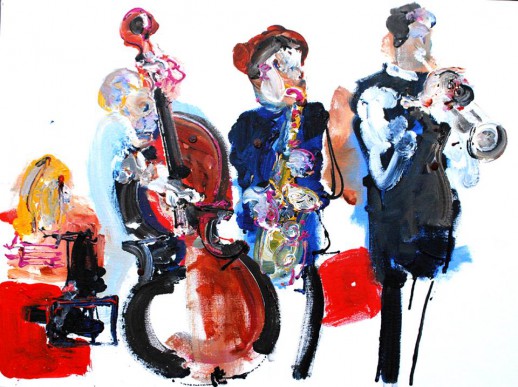 Ian Mann on musical performances by Entropi, Maisha and the Christian Scott Band. Painting of Entropi by Gina Southgate.
---
JAZZ MANN NEWS
Friday, March 23, 2018
The Vortex have forwarded their latest newsletter including details of the programme for the week commencing 23rd March 2018.
Comments (0)
---
Friday, March 23, 2018
Writer, director, performer, poet and jazz singer Cheryl Martin is taking her Billie Holiday inspired show Who Wants to Live Forever? on tour this year. Press release attached.
Comments (0)
---
Friday, March 23, 2018
Multi reed player and composer Jon Shenoy and his quartet Drawn By Four release their new album "Framework" on March 23rd 2018. They will be touring in the UK during spring and summer. Details att.
Comments (0)
---
JAZZ MANN RECOMMENDS
---