FEATURE
Cheltenham Jazz Festival 2010-Saturday 1st May
Thursday, May 06, 2010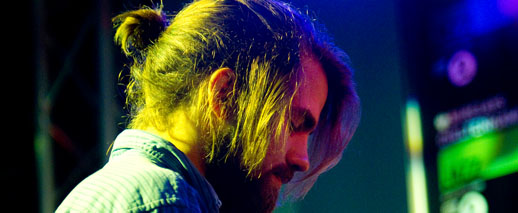 Ian Mann on a memorable day of wonderfully diverse music at the 2010 Cheltenham Jazz Festival. Photograph of Kit Downes by Tim Dickeson.
Cheltenham Jazz Festival
Saturday 1st May 2010
KIT DOWNES TRIO
Saturday at the festival got off to a brilliant start with a performance by the Kit Downes Trio. The young pianist/organist has quickly established a big reputation on the UK scene in recent years firstly through his work with Empirical, and then through his membership of the very different organ combos Troyka and The Golden Age Of Steam. He also performs as one half of a piano duo with his former tutor Tom Cawley.
I've seen him play with Empirical and with both of the organ driven groups but this was my first look at Downes in what he probably considers to be his natural habitat i.e. leading his own piano trio. Downes, bassist Calum Gourlay and drummer James Maddren have been working together for some time and released their début album "Golden" on Basho Records in 2009. (See review elsewhere on this site.) The trio's rapport was obvious in this performance at the Town Hall Pillar Room with Downes and his colleagues raising their game and delivering a superb performance in front of a large and appreciative audience. Time and again this festival brings out the best in performers and this wonderful set was a case in point.
The material played by the trio comprised of a mixture of material from "Golden" together with a number of new Downes compositions inspired by a holiday in the Austrian Tyrol. They began with the opening track of the album "Jump Minzi Jump", a lively tune with a catchy hook that provided the springboard for Downes' expansive and often brilliant soloing. Drummer James Maddren matched Downes for brilliance, his drumming, as ever, wonderfully dexterous, full of fine detail, yet subtly propulsive. He too is a young player with a deservedly big reputation and his talents ensure that he's almost constantly busy. He seems to have a particular affinity for working with pianists, Andrea Vicari and Ivo Neame being just two who have deployed his undoubted talents. Maddren's delicately brushed cymbal feature provided the bridge into "Golden" itself, his subtle but constant percussive pulse the backdrop for one of Downes' most beautiful melodies. The excellent Gourlay, so often the anchor of the band was also given the chance to shine with a resonant but lyrical bass solo.
Gourlay and Maddren both enjoyed solos on the dense, busy "Fritzy Patsy", a tune inspired by Downes' Austrian trip which in turn mutated into the blues grooves of a piece named after one of Downes' musical heroes the late, great bluesman Skip James.
"Lizards", like the earlier "Jump Minzi Jump" took it's inspiration from the wildlife programmes of David Attenborough. Gourlay's dark, grainy arco bass was accompanied by Downes' scrapings of the piano's innards. The pianist then engaged in an absorbing dialogue with Maddren's drums. Set up facing each other the rapport between these two is palpable and a major factor in the success of the group's sound. After the atmospherics the trio morphed into something much more groove oriented, which if memory serves was the album track "Power And Patience (The Bear)", a natural progression given it's Attenborough inspired genesis.
Another new tune "Tambourine" featured Downes at his most Jarrett like as he soloed feverishly with Gourlay also weighing in with another weighty solo.
Finally came "Brixen" a tune inspired by the Tyrolean town of the same name with a gorgeous folk like melody acting as the vehicle for a beautifully judged brushed solo from Maddren and a lovely passage for solo piano by the leader.
As has been observed elsewhere the sound mix wasn't always the best with the piano slightly muddy and the bass sometimes booming but the sheer quality of the group's playing and the bold, expansive nature of their improvising more than made up for that. Hopefully things will be tidied up for the broadcast of this excellent concert on Jazz On Three later in the year. Many of the Pillar Room concerts are due for Radio 3 transmission including Downes' second gig of the day with Troyka which took place in the same room on Saturday evening.
This talented young trio had certainly got Saturday off to a rousing start and the warm response they received from a packed Pillar Room was thoroughly deserved.
NIKKI YEOH INFINITUM TRIO with JOHN SURMAN
Last year pianist and composer Nikki Yeoh was the principal victim of the power failure at the Everyman Theatre. The scheduled performance of her festival commission sponsored by the long term (but now departed) festival supporters The Jerwood Foundation had to be cancelled. She did get to perform one movement of the suite as a duet with guest soloist John Surman as a curtain raiser another event but sadly that was all.
It was gladdening that she should be invited back this year to perform the commission in it's entirety, this time in the surroundings of the Town Hall's Main Hall. Joining Yeoh were her Infinitum trio of electric bassist Michael Mondesir and drummer Martin France plus guest soloist John Surman on baritone and soprano saxophones.
Yeoh's suite was based around the theme of the seven deadly sins and was appropriately entitled "Seven Sins". Each tune had an alternative title inspired by the sin in question and Yeoh proved an entertaining interlocutor between tunes as she explained the circumstances behind the writing of each piece, often from a distinctively feminine viewpoint.
Representing sloth "Joe Slacker" was subtly funky thanks to Mondesir's bass and Surman's insistent baritone vamp behind Yeoh's sparkling piano solo. The saxophonist then followed Yeoh with a solo that demonstrated his extraordinary expressiveness and agility on the baritone, an instrument he's made very much his own.
Wrath or anger was represented by "No Fury Like", a piece played by the trio alone and incorporating a liquid solo from Mondesir and a drum feature for the excellent France over Yeoh's piano vamp.
For greed "The Haves and The Have Nots" almost introduced an element of politics to the proceedings. Musically it began gently with Yeoh's solo piano, Surman's feathery, oboe like soprano later joining her in duet. However as the tune grew in intensity Surman embarked on a dazzling , passionate soprano solo that reminded me of Dave Liebman at his most intense. This drew the loudest applause yet as Surman let Yeoh's piano solo carry the tune home.
Representing envy was "Shoes". "It's about being comfortable in your own shoes" said Yeoh-"or maybe it's just about shoes". France opened the piece at the drums before Surman, still at the soprano soloed at length in probing, exploratory fashion again followed by Yeoh.
"The Princess And The Gardener" (pride) was a piano solo in which Yeoh demonstrated her lyrical right hand touch and left hand rhythmic dexterity. The trio returned for "Bad Cake" (gluttony) with Surman suitably fruity on ripe, rich bass clarinet. He convinced on the instrument as both an ensemble player and as a soloist as the piece gravitated towards the most "out" playing of the set with some almost free, Coleman-esque passages with Yeoh hammering at the keyboard.
The delightfully playful "Dance Of The Two Small Bears" provided a delicious balance to what had just gone before, the only piece in the programme not inspired by a "sin".
Finally representing lust was the equally playful "Wa-hey", introduced by Yeoh at the piano and incorporating a bluesy almost gospel groove. Surman's baritone solo was suitably impassioned, testing the upper ranges of the instrument and both Yeoh and Mondesir also featured as soloists.
The piece ended the commission on a joyous note and the performance as a whole was well received by a sizeable but not capacity crowd. As is often the case with specially written material the playing was sometimes a little formal, not helped by the fact that Surman's rehearsal time with the trio was very limited. Stand in James Allsopp had done a sterling job and was publicly thanked by Yeoh.
Following the Downes' trio's free-wheeling excursions Yeoh's music seemed a tad staid and conventional by comparison but her carefully conceived music deserves to be heard beyond this one performance. It would be good if the group were able to record this material, it would make for an excellent album.
FOOD
Running throughout this year's festival was a series of concerts featuring Norwegian artists supported by the Norwegian Embassy. The first of these featured the Anglo-Norwegian electro improvising duo Food comprised of Norwegian drummer, composer and electronics artist Thomas Stronen and UK's own Iain Ballamy on saxophones and live electronics.
Initially formed in 1997 as a quartet and also featuring trumpeter Arve Henriksen and bassist Mats Eilertsen Food has been a remarkably successful and long running project with a series of acclaimed albums, the early ones appearing on Ballamy's Feral label before a later switch to Rune Grammofon. Following the departures of Henriksen and Eilertsen who both found themselves too busy with other projects Food slimmed down to a core duo of Ballamy and Stronen in 2006 with the pair regularly inviting guest artists to perform with them. These have included trumpeter Nils Petter Molvaer and guitarist Christian Fennesz both of whom appear on the group's brand new release "Quiet Inlet", their first for the German ECM label. (See review elsewhere on this site).
I'd seen the quartet version of Food supporting E.S.T. in Bristol some eight years ago and not quite known what to make of them. I've been a fan of Ballamy's since his Loose Tubes days but Food represented a total departure from any of his other projects. "Quiet Inlet" impressed me and I was looking forward to seeing the group again in the Pillar Room at Cheltenham. Many others clearly felt the same way and again the room was almost full as Ballamy, Stronen and their guest Christian Fennesz took to the stage.
Introducing the group Tony Dudley-Evans had stated that the group would be playing music specifically written for the festival plus making reference to their new album. What actually ensued was an hour long seamless piece, almost entirely improvised I suspect despite the fact that Ballamy appeared to glance at some notes from time time. On the evidence of today's concert, plus the music heard on "Quiet Inlet" which is sourced from live appearances in Molde and Oslo I think it's fair to say that no two Food shows are alike so those present today could truthfully claim to have been at a unique event. Those not fortunate enough to have been here should get the chance to hear this music on Jazz On Three on May 24th 2010 and I shall certainly take the opportunity to hear this remarkable concert for a second time.
With all three musicians adding live electronics to the group sound the stage looked like a small laboratory. Austrian born Fennesz stood at a table adorned with a lap top and other electronic devices with his guitar hung around his neck. Stronen was positioned behind a conventional drumkit but also had a table full of electronic drums and sundry other electric gizmos whilst Ballamy also had his own effects unit and played a curious looking EWI (good for making bird like sounds) in addition to his usual tenor and soprano saxophones. With all this technology at their disposal the trio were able to create an extraordinary array of colours and textures via the use of live sampling and other methods of instrument treatment/manipulation. However they're not just about the possibilities of electricity, Stronen's drum kit included a battery of small instruments, bells, woodblocks etc. which add delightful acoustic details to the music. The drummer is particularly adept at blending these electronic and acoustic sounds together and for all the excellence of Ballamy's playing he's the real pivotal figure of the group.
Food began their soundscape quietly with Stronen's small instruments initially prominent alongside Ballamy's pure toned soprano. Live Ballamy sounds a lot less like Jan Garbarek than he does on "Quiet Inlet", it almost seems an unwritten ECM rule that all their saxophonists should sound like Jan the Man, especially on disc.
Fennesz doesn't so much play the guitar as use it to generate sounds that he then manipulates through his lap top. These guitar generated sound-washes then combine with the textures created by Stronen and Ballamy to build up layers of sound. These almost gothic sounding timbres were the perfect backdrop for Ballamy as he switched to brooding tenor sax. Live sampling then allowed him to loop his tenor and play soprano over the top. Later in the set he double tracked himself on soprano. It's intriguing to speculate as to what Rahsaan Roland Kirk would have done with such technology if it had been available back in his sixties hey day.
Stronen too engaged in a fascinating duet with himself, sampling and processing drum and electronically generated sounds into a sonic backdrop whilst periodically returning to his kit to add acoustic elements to his self created wall of noise. It was more like watching a master builder at work than a musician as Stronen assembled his electro-acoustic edifice, the blend of rhythms always moving the music forwards.
Much of the music created by the trio was ethereal and atmospheric but there were also bone juddering moments of intense electronic noise and when Fennesz did deploy his guitar in a slightly more conventional manner the results edged towards the thunderous sounds of metal or alt rock.
Despite the occasional longueurs this was a fascinating hour or so of watching music being created in the moment with a high degree of skill and artistry apparent throughout. Food's layered, sometimes complex music is something of an acquired taste but it's one that many adventurous listeners clearly enjoy and the group received a huge ovation from the Pillar Room crowd.
DAVE HOLLAND and PEPE HABICHUELA
Wolverhampton born bassist and composer Dave Holland has risen from humble beginnings to become a genuine jazz legend. Plucked from obscurity to become bassist of choice for Miles Davis during the latter's electric era Holland's place in the jazz pantheon was already assured, but his subsequent solo career, much of it documented by ECM, has cemented his position as one of the all time greats.
Always moving forward Holland's latest project finds him exploring flamenco music as co-leader of a group led by Spanish flamenco guitarist Pepe Habichuela. As the only jazz musician in the group Holland admitted that he'd been on a steep learning curve. Nevertheless the five man group delighted a large crowd in the Main Hall with their mix of traditional flamenco tunes and specially arranged Holland originals.
Joining Holland and Habichuela were second guitarist Josemi Carmona and twin percussionists Juan Carmona and Pirana on congas, cajons etc.
The group opened with two pieces in traditional flamenco styles a fandango followed by a tango. Both contained solos by Holland, his playing fluent, assured, muscular and well articulated. He really is the consummate bass player, it's easy to see why he's so highly regarded within the business.
Besides the beauty of Holland's sound I was also impressed by the improved of the acoustics of the Town Hall. Much of the echoiness that had marred some concerts in previous years seemed to have gone. Perhaps extra drapery and baffling has helped, maybe it's just that Holland and his colleagues played at modest volume levels, maybe the sound guys just did a brilliant job. Whatever it was the sound was excellent and that quality carried over into the next day's programme with the appearance of Carla Bley and her group.
Habichuela sat out Holland's jazz piece "Joyride" with Josemi Carmona handling the lead guitar duties. Holland himself soloed extensively and there was also a feature for the consistently entertaining percussionists.
Holland then treated us to sumptuous display of solo bass playing bringing back memories of his "Emerald Tears" album for ECM.
Habichuela's return saw the group play his composition "Villarea" introduced by the two cajonistas working in tandem. The percussionists switched to palmas (handclaps) to support Holland's vibrant bass solo. Palmas were also in evidence for Habichuela's following guitar piece, a virtuoso display of flamenco picking and strumming.
Holland's "The Whirling Dervish" began with an intro by the percussionists and it was fascinating to hear the bebop lines of Holland's tune picked out on the Spanish guitar. Holland was again featured as a soloist, his tone clean and pure with every note made to count. The crowd pleasing percussionists also featured strongly, the audience clearly loving the ebullient pair.
If Habichuela himself had, in part, been overshadowed by his more flamboyant colleagues he made up for this with his intense performances on the closing two numbers, traditional flamenco tunes in the "Siguiriya" and "La Rhumba" forms.
I'm on a steep learning curve when it comes to flamenco too but I'd enjoyed what I heard. From a jazz fan's perspective Holland's own wonderful playing was the chief delight and the bassist also spoke well between tunes in his curious Mid Atlantic accent. (Yow'd niver guess e wuz from Wulverampton. Still the music wuz bostin' our Dave.) The twin percussionists were consistently entertaining and fascinating and there was no mistaking the ability of the two guitarists.
Holland and Habichuela have been playing together intermittently since 2006 and there's still clearly a lot of mileage in their musical relationship. Their Cheltenham appearance was their first outside of Spain but the duo and their supporting group are due back in the UK when they play the Barbican in London on 5th July 2010.
FARMERS MARKET
The second show of the day on the Norwegian Embassy programme was a bit of a wild card for me. "Norway's most talked about live band" trumpeted the festival programme and although I'd heard leader Stian Carstensen and drummer Jarle Vespestad elsewhere in various contexts I really didn't have any idea quite what to expect.
The dominant figure in the group is multi instrumentalist and front man Stian Carstensen. Equally proficient on accordion and guitar with a touch of flute thrown in Carstensen is a madcap figure who has sometimes been called the Norwegian Frank Zappa. In a way this pretty much sums up what Farmers Market are about, dazzling musicianship, mainly from Carstensen, and a crazed sense of humour. These guys do more serious business elsewhere. Farmers Market is all about fun hence their Saturday night slot in the tent…sorry Jazz Arena.
Unfortunately the Zappa comparison, presumably intended by whoever wrote it as a compliment, also sums up everything that's problematical about Farmers Market. Like Uncle Frank at his most banal the relentless humour got boring after a time as the group clattered their way through a series of increasingly bizarre "tributes" , or should that be piss takes.
The group bounded on to the stage with Carstensen playing flute in a kind of Roland Kirk/Jethro Tull pastiche style. Much of the group's style is based on Balkan folk music and the band now have a Bulgarian alto saxophonist in the form of Trifon Trifonov, but it wouldn't entirely surprise me to discover that even the guy's name is some kind of elaborate joke. In any event Trifonov entered into an entertaining musical dialogue with Carstensen who had now switched to button accordion, this being a diversionary tactic as guitarist Nils Olav Johansen sorted out a problem with his amp. Once that little problem had been rectified Johansen treated us to some bizarre vocalising, horribly reminiscent of the "Piltdown Man" on Mike Oldfield's "Tubular Bells" album. A bizarre start to say the least.
Next up was a strange mix of Balkan folk music and surf guitar with Carstensen playing the role of Dick Dale. Then came the start of a series of "tributes" beginning with Michael Jackson's "Blame It On The Boogie" seguing into Stevie Wonder's "Masterblaster" all delivered in the Farmer's Market style of souped up Balkan music with surreal Norwegian vocals, again this time from Johansen. The lighting guys were clearly enjoying themselves, reacting to the humour being generated on stage with what in jazz terms amounted to a "light show".
Johansen again took the vocal for the group's next tribute, a version of "Ferry Across The Mersey" sung in Norwegian and featuring Carstensen on pedal steel guitar. Weird.
Dividing these tributes was perhaps the best musical moment of the night, a brilliant duet between Carstensen on accordion and Trifonov on alto where they ditched the silliness and proved just how well they can play when they put their minds to it.
The rest of the show was pretty much Carstensen's as the group variously took the piss out of klezmer, heavy metal ,Nazi-ism and much more besides. He continued to swop instruments with gay abandon and increasingly became the focal point of the performance. I was starting to lose interest by now. Despite Carstensen's incredible display of technique across a wide range of instruments the music itself wasn't really that captivating. Was that really Vespestad behind the drums? The guy with the minimalist kit who is sensitivity personified when he plays with Tord Gustavsen's group. Here he was behind a monster kit slamming out rock rhythms. Still I guess everybody deserves a little light relief and I assume he was enjoying himself.
The band went down well enough but for me a little of their humour went a long way. If I had my time again I'd have plumped for Downes with Troyka or maybe even have experimented with Evan Parker at the Playhouse. For all their abilities and jazz credentials elsewhere Farmers Market are too rock and not really a jazz group at all. Maybe they'd be better suited at WOMAD or a similar roots festival.
It was a shame to end the day on what, for me, was a disappointing note but some of the music earlier on had been terrific. It was difficult to separate Kit Downes, Dave Holland and Food. You'd expect nothing less than excellence from the experienced Holland, Food have a well honed MO even if every show is subtly different so I'll give gig of the day to Downes, a young musician playing what was a very big gig for him and meeting the challenge magnificently.
Ian's Star Ratings
Kit Downes Trio 4 Stars
Nikki Yeoh & John Surman 3.5 Stars
Food 4 Stars
Dave Holland & Pepe Habichuela 4 Stars
Farmers Market 3 Stars
Overall 4 Stars

---
blog comments powered by

Disqus
JAZZ MANN NEWS
Friday, May 24, 2019
The Vortex has forwarded details of its schedule for the week commencing 24th May 2019.
Comments (0)
---
Friday, May 24, 2019
Saxophonist YolanDa Brown will join fellow speakers Jimmy Rotherham, Chris Sharkey & Helena Summerfield at the Jazz North Education Conference on 12th June at the University of Huddersfield.
Comments (0)
---
Friday, May 24, 2019
Laura Thorne of the 606 has forwarded details of the club's programme for the month of June 2019. Fully detailed schedule attached.
Comments (0)
---
JAZZ GIGS & EVENTS
Thursday, May 23, 2019 - Monday, May 27, 2019
Friday, May 24, 2019 - Monday, May 27, 2019
Saturday, May 25, 2019
Saturday, May 25, 2019
Saturday, May 25, 2019
---
JAZZ MANN RECOMMENDS
---