FEATURE
EFG London Jazz Festival, Day Six, Wednesday 21st November 2018.
Thursday, December 06, 2018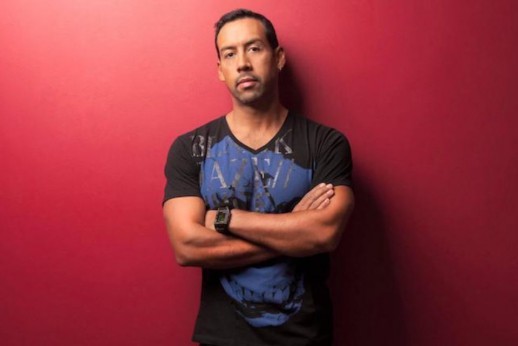 Ian Mann on performances by the drummer led bands Lorraine Baker's Eden and Antonio Sanchez's Migration. Plus the hard bop of the Fishwick Brothers and the contemporary sounds of Brother's Testament.
Photograph of Antonio Sanchez sourced from the EFG London Jazz Festival website http://www.efglondonjazzfestival.org.uk

EFG LONDON JAZZ FESTIVAL
Wednesday 21st November 2018

LORRAINE BAKER'S EDEN, PIZZA EXPRESS JAZZ CLUB, SOHO

Kent based drummer, bandleader and educator Lorraine Baker has attracted a considerable amount of critical acclaim for her recently released début album "Eden", a tribute to the life and playing of fellow drummer Ed Blackwell (1929-92).
Blackwell collaborated with saxophonist Ornette Coleman, trumpeter Don Cherry, bassists Charlie Haden and Dave Holland plus many others and the pieces that Baker interprets on the "Eden" album are tunes that he played he played on while working under the leadership of artists such as these.
Born in New Orleans Blackwell developed a unique way of playing the drums with Baker commenting "I have always admired the dance-like quality of Blackwell's playing and his strong sense of melody" . Of her own "Eden" project she says; "I wanted to create my own version, taking existing tunes that featured him and re-imagining the arrangements in a modern setting, whilst showcasing my own style as an improviser".
The "Eden" album features an impressive line up with Baker being joined by the vastly experienced Liam Noble on piano, rising star Binker Golding on tenor sax and Paul Michael on electric bass. The latter is Baker's co-arranger and the drummer/leader has stated;
"Paul Michael has been a long term musical partner and I believe that he has an incredibly individual approach to improvisation and chordal accompaniment on electric bass. He is a key part of the project".
For today's performance Michael and Golding were present with the piano chair taken over by the versatile and reliable John Turville, a bandleader in his own right. Turville had been part of the band for their entire UK tour and fitted in seamlessly, making a major contribution to the success of today's show at a packed out Pizza.
Given that "Eden" is a drummer's album paying homage to another drummer Baker's playing was given a distinctive prominence in the mix on the recording. I'd expected her to dominate here, particularly as our table was situated close to to the drum kit, but instead the performance was controlled and nuanced with a good balance between all the instruments.
It was Michael's strummed electric bass that introduced the opening number, "Thumbs Up", written by bassist Mark Helias, an important figure, together with Blackwell, in Don Cherry's last working group. Michael's powerful strumming helped to fuel a hard hitting tenor sax solo from Golding and an expansive piano solo from Turville with Baker rounding things off with an effervescent drum feature.
Cherry's own "Guinea" doesn't actually appear on the "Eden" album but was once performed by Baker in the company of Dave Holland. Less frenetic than the opener and with Baker deploying brushes the piece included solos from Turville, Golding and Michael.
It was back to the album repertoire for "Chairman Mao", written by bassist Charlie Haden. Appropriately the piece was introduced by Michael's electric bass and his insistent motif formed the backbone of the song as Baker adopted a rolling, ever evolving drum groove. Golding's theme statement on tenor evolved into the opening solo with the saxophonist followed by Turville at the piano and Baker with a closing drum feature, featuring both sticks and bare hands.
The quartet's interpretation of Ornette Coleman's "Blues Connotation" featured some of Golding's most robust tenor sax playing, his muscular soloing accompanied by Baker's powerful drumming. The leader then engaged in a vibrant dialogue with Turville at the piano prior to a closing drum feature. Baker was getting plenty of room to express herself, but without drowning out the other musicians.
"Dakar Dance", with its infectious African rhythms was actually written by the German born vibraphonist and pianist Karl Berger. Introduced by the leader's drums the tribal rhythms formed the basis for solos from Golding and Michael but it was Baker's own playing that impressed most, her melodic approach to the drums totally in tune with Blackwell's aesthetic.
Next came "Pentahouve" from the pen of the prolific Mark Helias, introduced by Michael at the bass and again featuring the colourful playing of Baker, her use of foot operated cowbell reminiscent of Antonio Sanchez (of whom more later) and Partikel drummer Eric Ford (more on him too!). Golding sketched the melody on tenor, exchanging ideas with Turville in an engaging duo episode prior to embarking on a full blooded sax solo. The piece concluded with a solo drum passage from Baker that again emphasised the melodic aspects of the style developed by Blackwell.
Finally we heard Don Cherry's "Mopti", which was written for the group Old And New Dreams, a quartet of former Coleman alumni (Blackwell, Cherry, Haden and tenor saxophonist Dewey Redman) who were signed to ECM during the late 1970s and throughout the 1980s. This piece appeared on the 1981 album "Playing" and was ushered in here by the gentle thunder of Baker's mallet rumbles allied to Michael's strummed bass. Golding's incantatory tenor sax echoed the sound of Dewey Redman while Turville's piano brought a fresh instrumental perspective to the piece. The performance concluded with a final solo drum passage from Baker, played with a combination of mallets and bare hands.
Baker and her Eden group maintained the high standards set at the Pizza on the previous two days and their homage to the great Blackwell was well received by a knowledgeable, listening audience.
The "Eden" album is well worth hearing and my review of the recording can be read here;
http://www.thejazzmann.com/reviews/review/lorraine-baker-eden/

FISHWICK BROTHERS QUINTET, CADOGAN HALL FOYER
I arrived at Cadogan Hall in time to hear the whole of the second set by a quintet co-led by the musical Fishwick Brothers, Steve (trumpet) and Matt (drums).
The Manchester born twins were joined by a stellar line up featuring Dave O' Higgins on tenor sax, Rob Barron on piano and Dario De Lecce on double bass.
For this new project the brothers had chosen to focus on the music of two late but influential American pianist/composers, Cedar Walton and Duke Jordan. The Fishwicks recorded with Walton and the first half of today's performance was dedicated to his music.
Thus I caught the Duke Pearson set and very enjoyable it was too. This was probably the most "straight-ahead" jazz that I heard all week, fiercely swinging and played in the classic hard bop style that will forever be associated with the Blue Note record label. As well as being a prolific pianist, composer, arranger and bandleader Pearson (1932-80) was also the head of A & R for Blue Note.
That Blue Note connection was evident from the start as the quintet launched into "Ready Rudy", Pearson's tribute to Blue Note's legendary recording engineer Rudy Van Gelder. Briskly delivered in the hard bop style of the celebrated label the piece featured fluent and fiery solos from Steve Fishwick on trumpet, O'Higgins on tenor sax, Barron at the piano and the Italian born De Lecce on double bass.
"Empathy" was less frenetic and was something of a feature for pianist Barron who shared the solos with O'Higgins and Steve Fishwick.
"My Girl Shirl" was a dedication by Pearson to his wife Shirley and was another hard bop delight introduced by the unison horns of O'Higgins and Steve Fishwick with both musicians subsequently embarking on individual solos. Barron followed on piano and there was also a series of crisp, brisk exchanges between drummer Matt Fishwick and the two horns.
Matt switched to brushes for "You Know I Care", a true jazz ballad with lyrical solos coming from Steve Fishwick on trumpet and Barron on piano, with the rhythm section offering sympathetic support.
O'Higgins returned to the fray and the quintet upped the temperature for the closing "Los Malos Hombres" (translation 'The Bad Men'), a fiery slice of Cubano bop ushered in by Matt Fishwick at the drums and featuring blistering solos from Steve Fishwick on trumpet, O'Higgins on tenor and, Baron at the piano prior to a final salvo from Matt Fishwick at the drums.
Tellingly the quintet omitted Pearson's most famous composition, "Jeannine", a piece that has become something of a jazz standard. I suspect that in the first half they may have missed out Walton's most famous offering, "Bolivia", too.
The Fishwicks are yet to record their Walton/Pearson project, but if they do the results should be well worth hearing.
I very much enjoyed the music of this sharp suited quintet. The honesty and straightforwardness of their approach made a refreshing change from some of the more esoteric music that I'd covered previously. I wouldn't want to listen to hard bop all the time these days but this spirited set was like a much needed shot in the arm, a welcome reminder of how exciting and enjoyable this style of jazz can be.
Fishwick fans may like to read a review by guest contributor Trevor Bannister of a recent show at the Progress Theatre, Reading by a quintet led by Steve Fishwick and featuring guest American tenor saxophonist Grant Stewart plus pianist John Pearce, bassist Jeremy Brown and drummer Matt Fishwick. Trevor's review can be read here;
http://www.thejazzmann.com/S=73d849d9a1800d99cf76fe712e581f599244af04/reviews/review/steve-fishwick-quintet-featuring-grant-stewart-progress-theatre-reading-ber/

BROTHER'S TESTAMENT / ANTONIO SANCHEZ & MIGRATION, JAZZ CAFÉ, CAMDEN
I've long been an admirer of the playing of the Mexican born drummer Antonio Sanchez thanks to his long term membership of the Pat Metheny Group and its various offshoots. But Sanchez is also a bandleader and composer in his own right, he provided the soundtrack for the cult "Birdman" movie and leads his own group, Migration.
The prospect of seeing Sanchez leading his own project tempted me into making my first visit to the Jazz Café in Camden and I'm indebted to the venue's press officer Becca McLeish providing my press tickets.
Despite its name the Jazz Café has hitherto tended to focus on funk and soul but is now operating a far more adventurous jazz policy with several leading jazz names including Billy Cobham, Jean Toussaint and Bill Frisell set to appear at the venue in the coming months. There's currently more 'real' jazz happening at the Jazz Café than there has been in recent years. Check out the listings at
https://thejazzcafelondon.com/whats-on
The Jazz Café combines the ambience of a rock venue on the ground floor with the atmosphere of a jazz club in the balcony restaurant. I was downstairs in the standing only area which made note taking difficult so the following review is more of an overall impression of the evening rather than my usual 'blow by blow' account. Attending stand up gigs is getting to represent more of a challenge as I get older and in a crowded, and stiflingly hot venue, I didn't always have the greatest view of the stage. Nevertheless the rock club vibe suited Sanchez, a musician who has attracted a strong 'crossover' following thanks to his long tenure with the Metheny group.
Before Sanchez appeared we enjoyed a brief support slot from the young London based band Brother's Testament featuring bandleader Munashe-Caleb Manyumbu on keyboards and synths, Mark Mollison on guitar and Hugo Piper on electric bass. Unfortunately the band's regular drummer, Jack Robson, had been taken ill before the gig and was replaced by a young musician introduced as Sam who acquitted himself well in challenging circumstances.
The Brother's Testament sound proved to be an intriguing mix of old and new as funk grooves combined with ambient electronic soundscaping on numbers such as "Icarus" and "Moonwalker". Elements of jazz, rock, neo soul and hip hop could also be heard in the group's music but it was the blend of old and new technology that fascinated me most with leader Manyumbu making effective use of old school analogue synths and emerging as the group's dominant instrumentalist.
Nevertheless I was also impressed with the contributions of Mollison, who deployed his guitar FX judiciously and effectively, and of Piper, an accomplished groove maker and agile soloist on five string electric bass. Deputy drummer Sam visibly grew in confidence as the set progressed and I rather enjoyed BT's contribution to the success of the evening.
Manyumbu's synthesiser work appealed to the old prog rocker in me and provided an effective contrast to the more contemporary aspects of the band's music. I'd certainly welcome the opportunity of seeing this talented young band play a full length set and of hearing them on disc.
Turning now to Sanchez who was promoting "Lines In The Sand", his seventh solo album and his third under the Migration band name. The band that he brought to London, this Festival date forming part of a wider European tour, included Thana Alexa on vocals and effects, Chase Baird on tenor sax and EWI, John Escreet on keyboards and Orlando Le Fleming on acoustic and electric bass. Escreet and Le Fleming are ex-pat Brits living and working in New York City and both were loudly cheered by the London crowd.
The majority of tonight's material was sourced from the new album, the political themes of which tie in perfectly with the band name Migration. Sanchez became an American citizen in 2016 after twenty five years of living and working in the country and now holds dual Mexican/US citizenship.
As an 'immigrant' who is now also an American Sanchez is appalled by President Trump's policies on the matter of immigration. Thus "Lines In The Sand" is an angry record that addresses the plight of those immigrants, or would be immigrants, who have been less fortunate than Sanchez himself.
An impassioned but articulate verbal tirade from the leader mid set, in which he referred scathingly to "that asshole Donald Trump" made his feelings abundantly clear.
Turning now to the music itself and I'm fairly certain that the band played the whole of the "Lines In The Sand" album. The musicians took the stage to the accompaniment of a collage of sampled sounds collected at the US/Mexican border, police sirens, barked out orders, the desperate pleas of the migrants, the crying of children etc. Tellingly the clip made repeated use of the phrases "this is wrong!" and "shame on you!". I think we know just who is being addressed here. This proved to be the intro to the three part suite "Travesia", delivered here as a single twenty minute performance with Sanchez's busy, constantly evolving drumming right at the heart of the music. Alexa's soaring wordless vocals invited comparison to the work of the Metheny group, the use of wordless singing having been something of a PMG hallmark over the years. However the politically informed music of Sanchez has a darker edge than most of Metheny's sunny, Brazilian influenced output in this vein. Alexa, Sanchez's life partner, also made effective use of electronics to subtly alter the sound of her voice at judicious points in the programme.
The use of modern technology also extended to the use of EWI by Baird who soloed convincingly on the instrument as well as impressing on tenor. Back in the 70s the EWI was considered by many to be a bit of a 'novelty' instrument but the new generation of instruments is more versatile and expressive and overall I was impressed by the way in which it fitted into the ensemble here. The ability to write for a blend of acoustic and electric instruments is something else that Sanchez has gained from his tenure with Metheny.
This was further illustrated by the way in which Le Fleming and Escreet moved seamlessly between the acoustic and electric versions of their respective instruments. During the course of the evening the Doncaster born Escreet delivered a series of exceptional solos on acoustic piano, Fender Rhodes and Prophet Synthesiser as well as providing much of the fabric of the overall ensemble sound, particularly in terms of colour and texture.
"The Long Road" continued the migratory theme but was gentler, more lyrical and less densely written than the "Travesia" suite. The mood here was wistful rather than angry, with Alexa's soaring vocal expressing the yearning of the would be migrant for the' better life', the 'promised land'.
In a slight variation to the album running order these sentiments were given words with Alexa providing the lyrics and Sanchez the music for the song "Home". A bandleader and composer in her own right Alexa has released the solo album Ode To Heroes" as well as appearing on recordings by Sanchez, guitarist Gene Ess and pianist Matija Dedic.
The lengthy "Lines In The Sand" proved to be a two part composition, again structured almost like a suite, ebbing and flowing and with Alexa's wordless singing again a key part of the ensemble sound. In the live environment the length of the piece allowed the individual members of the group to stretch out on a series of set pieces. Le Fleming, replacing the album's Matt Brewer, impressed on five string electric bass, making effective use of his FX pedals, notably fuzz, as he produced an impressive range of sounds from his instrument, sounding almost guitar like at times.
Baird, who has followed such saxophone heavyweights as Donny McCaslin and Seamus Blake in the Migration line up weighed in with some hefty, muscular tenor sax soloing while Escreet dazzled with a searing synthesiser solo.
Alexa's vocal set piece found her manipulating an FX unit to mutate and layer her voice in an impressive display of voice led soundscaping. And lest the political aspect of the music be forgotten she also intoned words from poems written about the ongoing crisis at the US / Mexican border. Still there was more, with further solos from Escreet on electric piano and Baird on EWI plus the final inevitable drum feature from the leader, Escreet's keyboard comping underpinning a virtuoso and at times truly volcanic salvo from the dynamic Sanchez.
The Migration band were summoned back for a deserved encore, an extended take on "Bad Hombres Y Mujeres", which featured more tight but dynamic ensemble playing and more inspired soloing.
Almost immediately after the show the indefatigable Sanchez was out in the foyer of the venue, chatting with fans, signing CDs and posing for photos. As a long term fan of his playing with the Metheny Group it was an honour for me to meet him at last, if only briefly, and to get my newly purchased copy of "Lines In The Sand" signed by him.
On the way out I met Eric Ford, enjoying a rare night off from performing himself, who had clearly relished the opportunity of seeing one of his drum idols and chief musical inspirations play. It says everything about Sanchez's abilities that such a brilliant drummer as Ford actually looks up to him. Thanks to Eric for stopping to talk.
But tonight wasn't just about Sanchez the player. His technical abilities as a drummer are unquestionable but it was his ability as a composer that impressed me most. His episodic writing was colourful, vibrant and rhythmic and its complexities were skilfully negotiated by a superb band who had committed the music to memory rather than 'reading the dots'. The "Lines In The Sand" album features seventy minutes of highly accomplished music but it packs a powerful political message too, with neither element getting in the way of the other. Sanchez has made his political message clear, without in any way compromising his musicality or artistic integrity.
---
blog comments powered by

Disqus
JAZZ MANN NEWS
Thursday, September 12, 2019
The Hermon Chapel has announced its schedule until March 2020. There is a full programme of jazz, folk and theatre events plus a series of music workshops. Details attached.
Comments (0)
---
Thursday, September 12, 2019
Jazz French horn player and composer Jim Rattigan will release his new album "The Freedom Of Movement", recorded with his band Pavillon, on October 18th 2019. Pavillon will also be touring in the UK.
Comments (0)
---
Thursday, September 12, 2019
Edinburgh Jazz & Blues Festival has announced a new Scottish Jazz Weekend – Gallus – curated by 22 year old pianist Fergus McCreadie. Events will take place in Edinburgh 17-20 October 2019.
Comments (0)
---
JAZZ GIGS & EVENTS
Tuesday, September 03, 2019 - Thursday, September 19, 2019
Friday, September 06, 2019 - Saturday, September 21, 2019
Monday, September 16, 2019
Tuesday, September 17, 2019
Wednesday, September 18, 2019
---
JAZZ MANN RECOMMENDS
---