FEATURE
EFG London Jazz Festival, Wednesday November 15th 2017.
Wednesday, November 29, 2017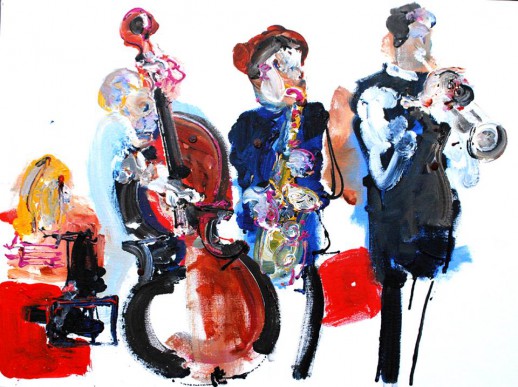 Ian Mann on musical performances by Entropi, Maisha and the Christian Scott Band. Painting of Entropi by Gina Southgate.
EFG LONDON JAZZ FESTIVAL, WEDNESDAY NOVEMBER 15th 2017.
ENTROPI, PIZZA EXPRESS JAZZ CLUB, SOHO
Today's lunchtime showcase featured the music of Entropi, the quintet led by alto saxophonist, composer, improviser and all round mover and shaker Dee Byrne. Co-founder, with fellow saxophonist Cath Roberts, of the LUME organisation and the associated Luminous record label Byrne is becoming an increasingly influential presence on the London jazz scene.
Byrne is a member of several ensembles, collaborating with Roberts in the bands Word Of Moth and Favourite Animals and with electronic musician Merijn Rooyards in the improvising duo Deemer. She also leads her own jazz quartet, plays in the Madwort Saxophone Quartet (led by Tom Ward) and in the eight piece saxophone ensemble Saxoctopus, which also features Roberts.
However Entropi is her main creative outlet as a composer and is a group that strikes a perfect balance between the written and the improvised, structure and freedom. Featuring Byrne on alto sax, Andre Canniere on trumpet, Rebecca Nash on piano and keyboards, Olie Brice on double bass and Matt Fisher at the drums.
The quintet's well received début album, "New Era", was released in 2015 on the F-ire Presents imprint and was followed in 2017 by "Moment Frozen" which appeared on the Whirlwind Recordings label, again to universally favourable reviews.
I first saw Entropi perform live at the 2014 EFG LJF at the tiny Long White Cloud venue in Hoxton. Today's performance at a packed out Pizza, plus the recorded evidence of "Moment Frozen", is indicative of the progress the group has made in the last three years. As I wrote in my review of the new album "Entropi have become a highly cohesive and well balanced unit with the quality of the writing enhanced by the adventurousness of the playing".
The full review can be read here;
http://www.thejazzmann.com/reviews/review/entropi-moment-frozen/

Byrne is something of a polymath and both albums reflect on her fascination with the cosmos and space travel and the themes of  of chance and fate and the  macrocosmic concept of 'order, unpredictability, then descent into disorder'. These are qualities that are reflected in the music with densely written passages and themes alternating with bouts of freer playing with the emphasis firmly on improvisation.

Fittingly all of today's repertoire was sourced from the new album with the band opening with a segue of the title track and "Interloper", the horn fanfares and roaming percussion of "Moment Frozen" leading into what Byrne describes as a "dark aggressive tune about an unwanted intruder". With Nash featuring on electric piano passages of squalling free improvisation alternated with edgy, urgent riff based written passages as the quintet created a suitably claustrophobic, threatening atmosphere. Crucial to the success of the music was the interplay between Byrne on alto and Canniere on trumpet, the latter a successful band-leader and composer in his own right.
As Byrne explained to Thomas Rees in a recent interview for Jazzwise magazine "Andre is more 'inside' and melodic, more towards the jazz tradition, I like playing freer stuff AND traditional stuff". There's a certain creative tension there, but this helps to make them a powerful and effective team and the blend of the horns and the interaction between them was a constant source of fascination throughout the gig.
But Entropi isn't just about Byrne and Canniere. "In The Cold Light Of Day" commenced with a passage of unaccompanied bass playing from Olie Brice, also the leader of his own quintet and a musician whose best work exists on the cusp between freedom and structure. This piece incorporated (relatively) more conventional jazz soloing with Canniere's lyrical trumpet solo contrasting well with Byrne's scorching alto , the latter powered along by the power and precision of Fisher's energetic drumming. Finally we heard from Nash on the Pizza's Steinway grand piano, the pianist more than holding her own in comparison with the horns.
"Stelliferous Era", a piece about "the five stages of the universe" opens the "Moment Frozen" album and commenced here with Nash's unaccompanied electric piano intro evoking images of the twinkling firmament. Subsequent solos came from the contrasting horns of Canniere and Byrne with the piece climaxing with a dynamic drum feature from the ebullient Fisher.

"Elst Pizzaro" followed, named for an unclassifiable space object circulating in the asteroid belt. Introduced by Fisher at the drums the main theme of the piece, with its unison horn lines, attempted to recreate something of the "circular motion of the asteroid belt" - as did the earlier "Moment Frozen". Canniere took the first solo on trumpet, his trademark lyricism again contrasting well with the visceral power of Byrne's shredding alto. Meanwhile Brice's spectacular unaccompanied bass feature exuded physicality with dramatic flamenco style strumming and the judicious use of extended techniques from a musician who is thoroughly at home in a free jazz context.
The performance concluded with "Leap Of Faith", which also closes the "Moment Frozen" album. "It's a tune about new beginnings and optimism, a good way to end a gig" explained Byrne on a piece introduced by Fisher at the drums and featuring Nash on electric piano. Essentially this was an ensemble piece that saw Entropi restoring order and ending a frequently fiery performance on a gentle, reconciliatory note.

Byrne has said of Entropi;
I was always looking for the intensity of John Coltrane's quartet and the later Miles Davis groups, taking forward something of their 1960s spiritual depth and energy into our own, progressive experience". 

Today's performance revealed that she has succeeded brilliantly. This was an excellent collective performance that excited and intrigued in equal measure with the quintet enjoying an excellent reception from the large audience at the Pizza.
My thanks to Dee Byrne, Olie Brice and Andre Canniere for speaking with me afterwards. I will be taking a look at Olie's new quintet album "Day After Day" in due course.
It was also good to meet up with painter Gina Southgate again as she documented today's performance with the image illustrating this article. Dee was delighted with it and I'm grateful to Gina for her permission to reproduce her work here.

MAISHA / CHRISTIAN SCOTT BAND, ELECTRIC BALLROOM, CAMDEN
New Orleans born trumpeter Christian Scott has been at the forefront of the American jazz scene for a decade now yet is still only in his early thirties. I first heard him on his ground breaking "Yesterday You Said Tomorrow" album back in 2010 and have monitored his progress ever since.
I've enjoyed seeing him perform live at the Cheltenham and London Jazz Festivals including a 2016 EFG LJF performance at the Scala near King's Cross. This proved to be one of the most exciting gigs of the Festival with Scott and his band performing to a sold out crowd in the kind of rock venue that he now likes to play. The charismatic Scott has reached out to a young, hip crowd well beyond the usual jazz demographic, yet has done so without any apparent artistic or political compromise. Christian Scott is hip, savvy, and politically engaged, a bona fide jazz superstar for the modern world. 

2017 saw him returning to London at the Electric Ballroom in Camden, a legendary rock venue but a new one to me. Once again the show was sold out, Scott has accrued a loyal following, but more importantly there was the promise of new music following a trilogy of album releases in 2017, "Ruler Rebel", "Diaspora" and "The Emancipation Procrastination", all appearing on Scott's own Stretch Music imprint and intended to honour the anniversary of the release of the first ever jazz recording in 1917.
MAISHA
Before Scott brought his band to the stage the Camden crowd enjoyed a high energy set by Maisha, a new band led by drummer and composer Jake Long. Long, plus one of Maisha's two percussionists, Tim Doyle, had been part of bassist Huw Bennett's sextet at Foyle's the previous evening and Maisha's music drew on many of the same musical components, particularly the Afro-beat and West African elements.
Long has also depped for Lizzy Exell in the band Nerija and Maisha was fronted by that group's Nubya Garcia on tenor sax and flute with the personnel also including Sarah Tandy on keyboards, Tal James on guitar, Twm Dylan on bass and Yahael Camara-Onono on djembe and percussion.
None of the tunes were announced but the audience enjoyed the infectious rhythms generated by the three percussionists and the powerful soloing of the other instrumentalists, particularly the excellent Garcia whose tenor combined well with James' rock influenced guitar.
Tandy's role was essentially textural but she finally got the opportunity to solo on the final piece as did bassist Dylan but his feature was rather swallowed up in the hubbub of what was, after all a rock venue.
More successful in making themselves heard were the three man percussion section who all enjoyed individual features at various points in the programme plus a number of percussion 'battles'. Such was the rhythmic drive that they imparted that I was sometimes reminded of British Afro-beat pioneers Osibisa.
Long has also cited the spiritual jazz of Pharaoh Sanders and Alice Coltrane as an influence and the set also included some more reflective moments with Garcia moving to flute for one piece and providing softly soulful tenor on another.
Despite the background chatter Maisha were afforded a very generous reception by the large crowd at the Electric Ballroom and this gig represented a good shop window for their music. The band have already recorded a live EP "Welcome To The New Welcome". It is to be hoped that they get the opportunity to record a full length album at some point in the future.
CHRISTIAN SCOTT
Scott's band featured himself on trumpet alongside long term associates Logan Richardson (alto sax), Kris Funn (electric bass), Lawrence Fields (keyboards) and Corey Fonville (drums).
Scott, the nephew of alto sax great Donald Harrison, is a charismatic performer who stalks the stage like a young Miles Davis and plays a custom built trumpet with an up-tilted bell reminiscent of the horn used by Dizzy Gillespie.
Politically engaged and fully aware of the musical and social implications of the African diaspora Scott is proud of his New Orleans heritage and fully conversant with all the developments of Afro-American music. Although few tunes were actually announced the listener was fully aware of the inspirations behind them with the first item combining hip hop inspired grooves with the clarion call of Scott's trumpet, his piercing tone cutting like a knife.
Addressing the audience for the first time Scott made reference to the new trio of albums declaring them to be "a re-evaluation of our relationship with jazz". "West of The West", described by Scott as "a song about how much I fuckin' hate LA" saw him calling Nubya Garcia to the stage to play with the band, a nice touch. The young Londoner responded with a fluent, powerful tenor solo, really going for it and earning a roar of approval from her hometown crowd. Scott also introduced Braxton Cook on second alto at this point who traded solos with Garcia but remained on stage for the rest of the set – Garcia's appearance was just a pleasing cameo. The temporary four horn front line made an impressive noise on this piece and Fields also impressed with his Lonnie Liston-Smith style keyboard soloing. A rousing drum feature at the close helped to ensure that Scott very much had the crowd very much on his side.
The core quintet plus Cook delivered the next piece with Fonville slamming out broken beats as Scott rattled a tambourine and Richardson impressed as the featured soloist.
Scott's Uncle Donald famously played with Art Blakey's Jazz Messengers and a version of the Messengers classic "Moanin'", written by pianist Bobby Timmons brought the house down, the familiar tune acting as the springboard for solos from Cook on alto, Scott on trumpet and Funn on double bass plus a closing solo sax cadenza from Richardson. Scott's strident, high register soloing was particularly spectacular and this guaranteed crowd pleaser earned the biggest cheer of the night.
Having done so much to develop a seemingly unstoppable momentum and with the crowd totally onside Scott now determined to interrupt the flow with his unnecessarily convoluted and long winded band introductions. I appreciate how much he clearly loves and respects his colleagues but I'd heard these same anecdotes at Cheltenham and at Scala, surely even his bandmates must be bored with hearing them now. To paraphraes the late, great Frank Zappa the words "shut up and play your trumpet" flashed across my mind.
This excessive verbiage was something of a minor quibble of mine at the Scala show but this time I found it more intrusive, the novelty having worn off. It also backfired when Scott came to deliver a more important message of tolerance, diversity and reconciliation later on, wholly salient and significant points that the crowd were less inclined to listen to thanks to all the goofing around and in-joking earlier on. If Scott genuinely wants to get his music and his message across he needs to pare down the band introductions, sometimes less is more.
Back to the music which saw Joe Dyson taking over from Fonville at the drums for a couple of pieces, the first featuring hip hop grooves, arpeggiated keyboards and a tripartite horn attack with solos coming from Fields on keyboards and Cook on alto.
Next came an item embracing more obviously African rhythms and with a ferocious twin alto attack that recalled the UK's own Led Bib before Richardson cut loose with an incisive solo.
Scott's 'tolerance' speech came next before a closing piece of elemental power, again featuring that triple horn front line and with solo outings for Richardson and Fields prior to a final trumpet feature for the imperious Scott.
As ever this was very exciting and entertaining performance from Scott with some excellent music from a highly accomplished band. Adventurous but accessible Scott is a commanding and charismatic live performer but on this occasion the proceedings did begin to flag and lose momentum due to the excessive talking.
Scott remains a vital presence on the global jazz scene, his music combining urgency, intelligence and radical politics with a rare accessibility and across the board appeal. He has assembled an exceptional band featuring some outstanding soloists and it was good to see Nubya Garcia acquitting herself so well with them.
That said Scott really does need to contain himself and to streamline his live shows if his music and his message are to make their maximum impact.
A thoroughly enjoyable event, nevertheless.
---
blog comments powered by

Disqus
JAZZ MANN NEWS
Thursday, October 18, 2018
Vocalist and composer Jessica Radcliffe will release her debut album "Remembrance" on Ubuntu Music on 30th November 2018. She will be touring in the UK with her band in March 2019. Press release att.
Comments (0)
---
Thursday, October 18, 2018
The Barbican Centre has announced its full programme of events for the forthcoming EFG London Jazz Festival which will take place from 16th to 25th November 2018.
Comments (0)
---
Wednesday, October 17, 2018
The cross-genre project that brings together aspiring and established musicians in the London borough of Croydon to write and perform new tunes together will present performances in Nov and Dec.
Comments (0)
---
JAZZ GIGS & EVENTS
Tuesday, October 02, 2018 - Wednesday, November 21, 2018
Tuesday, October 16, 2018 - Monday, December 31, 2018
Friday, October 19, 2018
Friday, October 19, 2018
Friday, October 19, 2018
---
JAZZ MANN RECOMMENDS
---