FEATURE
Monday at Cheltenham Jazz Festival, 01/05/2017.
Thursday, May 11, 2017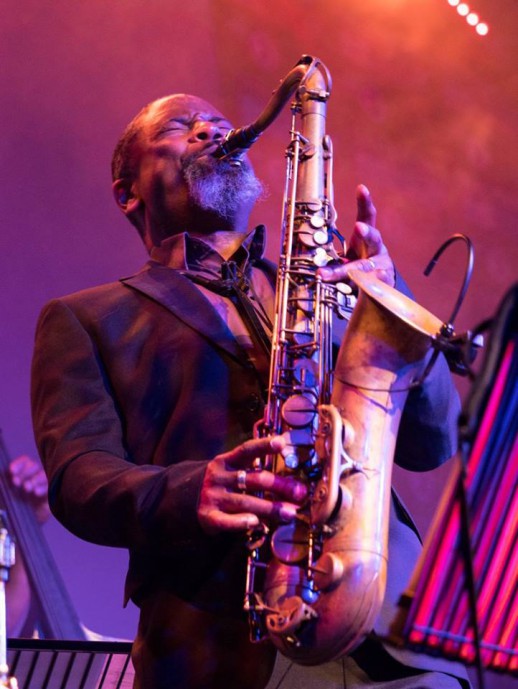 Ian Mann on the final day of the Festival and performances by Hot 8 Brass Band, Sarah Munro, Mode9, Paul Carrack and Denys Baptiste.
Photograph of Denys Baptiste by Tim Dickeson

Monday at Cheltenham Jazz Festival, 01/05/2017.
HOT 8 BRASS BAND
The final day of the Festival offered little in the way of cutting edge or even straight-ahead jazz with saxophonist Denys Baptiste and vocalist Gregory Porter the only recognised jazz performers.
However given their New Orleans roots the Hot 8 Brass Band, who opened the concert programme in the Big Top, still have close ties to the jazz tradition even though their music has moved on to embrace other genres of Afro-American music including soul, funk, r'n'b and hip hop.
The high octane quartet emerged directly from the New Orleans marching band tradition and boast a line up of two trumpets, two trombones, tenor sax, sousaphone and two percussionists. And Hot 8 is still a genuine marching band, the two percussionists played standing up, with snare and bass drums their principal instruments, neither sat down at a drum kit and the relentless rhythmic drive that they provided throughout this high energy show was astonishing. These guys made the Duracell Bunny look like a slouch.
Hot 8 are the real deal, survivors of Hurricane Katrina and with a chequered history that has seen the early deaths of several former members of the band as a result of New Orleans' notorious gang violence. This is a band of brothers who have endured their share of tragedy and more than live up to their group motto "We Brass Hard".
Led from the back by sousaphone player Bennie Pete and fronted by trumpeter/vocalist B.I.G. Al Huntley Hot 8 proved to be supreme entertainers. They had the almost capacity audience in the capacious Big Top on their feet from the off. Maybe this wasn't so surprising, when a guy the size of B.I.G. Al tells you to "get on yo' feet' you don't stay sitting down.
Hot 8's music exploded out of the blocks and they kept the pot bubbling throughout an opening half hour segue showcasing tunes from their latest album "On The Spot". With lyrics celebrating Mardi Gras and other cultural aspects of their home city Hot 8 delivered a constantly unfolding hymn of praise to the 'Big Easy' with the music embracing everything from early field hollers to contemporary hip hop and everything in between.
Having got us on our feet Huntley and the gang kept us there courtesy of their infectious rhythms and regular call and response routines that had the audience singing and lapping along. This wasn't a show for me to be taking notes, instead I just entered into the whole spirit of the thing, which was essentially just one big party celebrating the music and culture of the 'Crescent City'.
Pete's pumping sousaphone bass lines were a marvel and there were individual instrumental cameos for tenor sax plus the trumpets and trombones. The standard of musicianship was uniformly high, but instrumental virtuosity wasn't really the point. Nevertheless a high standard of technical ability, not to mention extraordinary stamina, must be a prerequisite for acceptance into Hot 8's pool of players.
Although the focus was on original material the band still played a series of memorable covers including Marvin Gaye's "Sexual Healing" and Joy Division's seemingly ineffably bleak "Love Will Tear Us Apart", which the Hot 8 managed to transform into a raucous sing-along party anthem. If Ian Curtis was spinning in his grave nobody would have been able to hear him.
The encore was a splendidly funky arrangement of the most famous New Orleans anthem of them all, "When The Saints". The only disappointment was that the band didn't actually parade around the venue.
This was a terrific show and although I wouldn't necessarily wish to listen to Hot 8's music at home there was no denying their crowd pleasing energy, attitude and musicianship. These guys are genuine showmen who really know how to work a crowd.
The early afternoon 'party show' in the Big Top has become a bit of a Cheltenham tradition and this was the most exuberant yet following previous successful appearances by London based outfits Hackney Colliery Band and Ibibio Sound Machine. Incidentally Hackney Colliery Band are supporting Hot 8 on some dates of the current UK tour.
SARAH MUNRO / MODE9
Another recent Cheltenham tradition is the Bank Holiday Afternoon Showcase event sponsored by the Oldham Foundation. Hosted by John Oldham this always showcases a double bill of emerging local talent with the acts selected having impressed the previous year as part of the Freestage programme. Previous artists who have appeared in this slot and gone on to bigger things include gypsy jazz guitarist Remi Harris and singer/songwriters Hattie Briggs and George Montague.
This year's artists were Hertfordshire based singer/songwriter Sarah Munro and the six piece Cambridge/London jazz/funk/soul band Mode9. Previously the Showcase has featured locally based artists from the Midlands and the West Country but 2017 saw the performers coming from further afield.
First to appear was twenty year old Sarah Munro who has recently released her début album "Say Hello To You". Her music has been played on BBC Radio 2, notably by Jamie Cullum, and she has also supported a diverse and impressive range of big names in the live environment, among them Jimmy Webb, Clare Teal and Festival artist Paul Carrack.
Singing and playing acoustic guitar on the dimly lit stage Munro was accompanied by her sister Alison on keyboards and electronics. Sampled sounds, triggered by Alison attempted to create the impression of a full ban but, for me, this didn't really work and the performance too often threatened to descend into glorified karaoke.
Nonetheless Munro had a number of fans and supporters in the Live Arena who would doubtless have disagreed with me as Munro opened her set with "I Don't Know How To Say It Better" before moving on to the acoustic love song "The One", sourced from her début album.
The breezy "Paint The World" was inspired by the MGM musical "An American In Paris" and featured the sounds of keyboards and sampled brushed drum beats in the arrangement.
Munro's latest single, "For Eternity", was written in the style of a jazz standard and has received Radio 2 airplay from Cullum, Jo Whiley and Michael Ball.
The folk tinged "Say Hello To You" featured Alison's keyboards plus sampled woodwind sounds while "Goodbye Mr. Sunshine" saw Sarah moving temporarily to electric guitar.
The literate pop of "Little Sister" struck a chord with the female members of the audience and would make an excellent second single.
Munro put down her guitar and just sang on the torch song "No One Smiles Like You" as Alison fashioned a musical cloak around her via keyboards and samples but this only reinforced my 'karaoke' misgivings.
A cover of Blossom Dearie's 1959 song "You Fascinate Me So" with its fabulously witty lyrics was much more fun with an increasingly confident Munro delivering a vivacious vocal performance.
Munro concluded her set with a beautiful version of the jazz standard "Autumn Leaves" performed on just voice and acoustic guitar. For me it was the purely acoustic numbers such as this and "The One" that worked best, bringing out the cool fragile beauty of Munro's voice plus the full poignancy of the lyrics.
Overall I found the music a little too twee and I missed the presence of a live band. Stroud based guitarist/vocalist/songwriter Hattie Briggs brought along her full cast of backing musicians a couple of years ago and her performance was far more convincing and ultimately far more enjoyable.
I don't deny that Munro has talent and she will surely continue to develop and improve and continue to build a following. Today's performance didn't quite work for me but I'd welcome the opportunity of seeing a purely solo show or a full band show rather than this rather unsatisfying halfway house, a real 'curate's egg' of a show that was undeniably 'good in parts'.
Munro was followed by Mode9, a six piece jazz/soul/funk combo fronted by keyboard player and vocalist Oliie Lepage- Dean. The band also featured trumpet, tenor sax, guitar, electric bass and drums with trumpeter James Brady responsible for the horn arrangements.
Mode9 cite Erykah Badou and Steely Dan as sources of inspiration but Lepage-Dean's main influence seems to be Jamie Cullum and the band's set was infused with a surfeit of sub-Cullum vocalising.
"The Play" from the band's début EP "The Standby" introduced their MO of smooth, Cullum style vocals and funk grooves with the instrumental flourishes coming from tenor sax and echoed trumpet.
Elsewhere we heard many staples of the neo-soul repertoire including "Ain't No Sunshine When She's Gone" (segued here with Gershwin's "Summertime"), Van Morrison's "Moondance" and Stevie Wonder's "Superstition". Most offered pithy instrumental solos for trumpet, tenor or a guitar that was too low in the mix.
Lepage-Dean's arrangements of "I Get A Kick Out Of You" and "Raindrops Keep Falling On My Head" were more inventive and less predictable with "Raindrops" getting a particularly favourable reaction from a crowd that clearly also contained a number of this group's performers.
There were also a couple of items that I took to be original songs with the moody "Other Side Of The City" the pick of these.
I'm afraid That I found Mode9's brand of neo-soul to be far too slick and predictable with Lepage-Dean an over-dominant presence. His kind of vocalising doesn't do much for me and personally I'd like to have heard more from the instrumentalists. The musicians all impressed sporadically but weren't given enough space to really express themselves. It would be interesting to hear some of them in a more obviously jazz context.
Despite his dominance centre stage I also felt that Lepage-Dean needed to work on his presentation. He didn't name check his colleagues once and even omitted to introduce himself, which I thought rather perverse.
It pains me say it but this was poorest Showcase event that I've seen after having been enjoyably impressed by most of the acts in previous years. Perhaps today's performers were a little bit too far removed from jazz for my personal tastes. Hopefully next year's event will be more to my liking.
PAUL CARRACK BAND
From the young hopefuls in the Live Arena to a seasoned veteran in the Big Top.
Vocalist, multi-instrumentalist and songwriter Paul Carrack has enjoyed a long and successful career as a member of the bands Ace, Squeeze and Mike & The Mechanics as well as being a significant solo artist with a substantial back catalogue of his own.
Friends have always touted Carrack as a top live attraction and today was my chance to put their recommendations to the test. To be honest I've always found his albums rather too slick and over-produced but today's highly enjoyable performance did indeed confirm that Carrack is a hugely talented and highly professional live performer.
In the live environment the rough edges remain and Sheffield born Carrack projects a suitably down to earth, journeyman persona. He comes across like an ordinary bloke with an extraordinary talent.
Of course it helped that Carrack was backed by a crack band including Andy Staves (guitar), Jeremy Meek (electric bass and twin drummers Dean Duke and Jack Carrack (Paul's son). But perhaps the most distinctive instrumentalist (other than Paul Carrack himself) was Steve Beighton (saxophone, keyboards), whose raunchy r'n'b flavoured tenor sax solos added a genuine element of jazz to the performance.
Carrack and his colleagues kicked off with "Too Good To Be True", a good showcase for the leader's white soul vocals and Beighton's searing tenor.
"Satisfy My Soul" saw Carrack moving from guitar to Hammond organ and diving ever deeper into soul and gospel territory. Carrack also took the instrumental honours with a soulful organ solo. It was great to see areal Hammond being used rather then a modern substitute.
"Late At Night" saw Carrack back on guitar on a tenor enlivened excursion into funk territory. By way of contrast the semi- acoustic "Watching Over Me" featured confessional, autobiographical lyrics and Carrack playing a harmonica suspended in a neck brace.
A move to the piano signalled cheers of recognition from another large crowd in the Big Top as Carrack played the opening chords of "Eyes of Blue" as swirling dry ice complemented this much loved slice of blue eyed soul.
"Better Than Nothing" was a blistering work out that featured extended solos from Carrack on electric guitar, piano and organ together with further features from Meek on electric bass, Beighton on scorching tenor and Staves on equally molten guitar. The sheer length of the solos suggested that they were tailored specifically for a jazz festival audience.
After this both band and audience were in a need of a breather and a brief acoustic set featured Paul Carrack on acoustic guitar and harmonica, Jack on small percussion and Meek on semi-acoustic upright bass. "Borderline" contained evocative Western imagery with its references to the Rio Grande and the "broken promised land".
Meanwhile "Life's Too Short" with its message of hope, positivism and living for the moment packed a greater rhythmic drive.
With the full band back on stage Carrack launched into "Tempted", written by Glenn Tilbrook and Chris Difford and sung by Carrack during his tenure with Squeeze. This was a huge hit back in the day and was still clearly fondly remembered by the Cheltenham crowd. Carrack joined Squeeze as a replacement for Jools Holland and his Hammond playing here would surely have won the approval of his predecessor.
"Bet Your Life" saw Carrack moving between piano and organ and also included instrumental solos from Beighton and Staves.
Carrack's song "Love Will Keep Us Alive" was recorded by The Eagles and was tonight dedicated by the composer to the memory of the late Glenn Frey, much to the approval of the Cheltenham audience.
The Mike & The Mechanics hit "The Living Years" was greeted with a huge cheer of recognition and seemed to signal the 'final lap' and a romp through some of the biggest hits with which Carrack has been associated.
I've still got an old vinyl copy of the Ace album "Five A Side" somewhere so "How Long" was much appreciated not only by me but by the entire audience who sang along gleefully with Carrack's first hit as the man himself provided authoritative white soul vocals and churning Hammond organ.
At this juncture the band left the stage but I was fully expecting them to return to run through the old Mechanics hit "Over My Shoulder" but sadly this didn't happen, probably because of the demands of Festival scheduling. The advertised 75 minutes was up by then and the crowd accepted the lack of an encore without any real complaint.
Interestingly the set list that I was able to procure from a kindly (and highly efficient) sound engineer suggested that we'd missed out on "Over My Shoulder", the last scheduled song of the main set, plus an encore of "What's Going On" and "Make Your Mind Up". Up until "How Long" Carrack and the band had followed the set list to the letter. Maybe they overdid the solos on "Better Than Nothing".
It was a little disappointing not to hear the missing items but overall this was a hugely enjoyable show from a highly talented musician and a hugely accomplished band. Next time my friends suggest going to see Paul Carrack I might just tag along.
DENYS BAPTISTE presents THE LATE TRANE
Saxophonist Denys Baptiste has been a frequent visitor to Cheltenham Jazz Festival and his appearances have included the commissions "Let Freedom Ring" and "Now Is The Time", extended works inspired by the life and works of Martin Luther King that were premièred in 2003 and 2014 respectively. More than a decade on "Let Freedom Ring" is still performed frequently.
Baptiste's latest project is "The Late Trane", an examination and re-invention of music from Coltrane's later albums, post "A Love Supreme".
I'd had something of a sneak preview the previous November when Baptiste and his quartet performed some of the pieces at Ray's Jazz at Foyle's as part of the 2016 EFG London Jazz Festival. Unfortunately I had to cut that visit short in order to move on to another Festival event so I was very much looking forward to seeing a full length performance from Baptiste and his band.
The group that Baptiste brought to Cheltenham was essentially the same one that appeared in London and the one that appears on the recently released "The Late Trane" CD. The saxophonist was joined by pianist Nikki Yeoh and drummer Rod Youngs with bassist Neil Charles replacing Gary Crosby. Charles and Crosby share bass duties on the recording.
For this project Baptiste has re-arranged Coltrane's compositions adding contemporary bass and drum plus elements of electronica with Baptiste sometimes manipulating the sound of his horn.
Today's performance began with the title track of the Coltrane album "Living Space" and was an eerily spiritual tour de force featuring the leader's breathy, echoed tenor, Youngs' mallet rumbles and small percussive details and Charles' evocative arco bass.
Charles flourished the bow once more on the introduction to "Dusk Dawn" in partnership with the patter of Youngs' hand drumming. But ultimately this was a far more explosive affair with the clarion call of Baptiste's strident tenor combining with Yeoh's Tyner-esque piano playing, which was so intense that it almost strayed into Cecil Taylor territory at times. Yeoh recently the award for "Best Instrumentalist" at the 2017 Jazz FM awards and found herself hanging out with the stars at the awards ceremony, including members of the Rolling Stones.
Baptiste's approach to Coltrane's material was perhaps best epitomised by "Ascent" which infused the piece with hip hop and drum'n'bass grooves with Yeoh playing electric keyboards in addition to utilising a laptop. Baptiste's own solo was suitably intense and he was complemented by the power of Youngs' dynamic drumming.
"Peace On Earth" was a duo performance of quiet intensity with Yeoh deploying both acoustic and electric keyboards in conjunction with the leader's tenor.
Baptiste's subtle updating of the Coltrane ballad "After The Rain" included Yeoh's most lyrical acoustic piano solo of the set as she stretched out alongside Baptiste's equally expansive tenor.
At this juncture Baptiste introduced fellow saxophonist Steve Williamson to the stage. Williamson appears on the "Late Trane" album but I don't think anybody expected to see him here so this unscheduled guest appearance represented a very welcome bonus. The two tenors evoked memories of Coltrane and Pharaoh Sanders on the title track of Trane's "Transition" album. Following a freely structured intro featuring Youngs' mallet rumbles Charles' bass motif formed the jumping off point for a deeply probing tenor solo from Williamson. Yeoh's piano feature mimicked the cadences of a passing ambulance as well as demonstrating the full range of the instrument and she was followed by a monster tenor solo from Baptiste who dug in deeply.
The next piece was unannounced but again featured the two tenors working in tandem and the performance concluded with "Vigil" which featured powerful solos from both saxophonists, a final synth feature from Yeoh, muscular bass lines from Charles and some powerhouse drumming from the excellent Youngs, including an extended solo feature.
The positive audience reaction encouraged Baptiste to perform an encore but this was quashed by Tony Dudley-Evans due to the fact that many audience members also had tickets for Gregory Porter's impending performance in the Big Top. In retrospect maybe those people should have been allowed to leave and then Denys could have played some more for those of that were left. He certainly seemed keen enough.
Overall I enjoyed this performance but I'm always a little wary of these 'tribute' projects that treat jazz as some kind of heritage industry, no matter how inventive the homages and re-imaginings might be. Would you really go out and buy "The Late Trane" when you can listen to the original recordings instead? Good stuff nevertheless, even if I'd really preferred to have heard some more of Baptiste's original material. His earlier Luther King related commissions have already demonstrated his abilities as a composer of new music.
But there were more positives than negatives. The appearance of a remarkably youthful looking Williamson was a welcome and unexpected bonus and the playing from everybody in the band was first rate throughout with Youngs impressing with his crisp, agile, powerful drumming.
FESTIVAL OVERVIEW
Cheltenham Jazz Festival 2017 was a hugely successful event with pleasingly good attendances for virtually every ticketed performance. Audience figures held up remarkably well in these troubled times and the Festival was also a considerable artistic success with Cheltenham's customary blend of the commercial and the cutting edge. It was a year when the big name Americans really delivered with Chick Corea, Chris Potter, Logan Richardson and Steve Gadd all really doing the business.
The programme at the Parabola was particularly strong this year and audience numbers reflected this. Top quality jazz also figured in the Live Arena and Big Top programmes alongside the more mainstream entertainment attractions.
My personal highlights included the saxophone trinity of Chris Potter, Marius Neset and Logan Richardson who all delivered brilliant performances. I was also impressed by drum legend Steve Gadd and his stellar band and by the spirited prog jazz of Swiss trio Schnellertollermeier.
Veteran pianist Chick Corea twinkled in the Big Top and Yazz Ahmed, Hans Koller and Denys Baptiste delivered strong home grown performances.
Of the more mainstream entertainment events I loved dee Dee Bridgewater's homage to Memphis, Tennessee, the city of her birth, and also enjoyed the unassuming vocal and instrumental virtuosity of Paul Carrack.
Cheltenham prides itself on delivering 'something for everyone' and on the whole the 2017 programme succeeded admirably in this regard. My only reservation would be the lack of genuine cutting edge jazz on the final day, a consequence of the unavailability of the Parabola on the Bank Holiday Monday. Perhaps an alternative venue such as the Playhouse, which has been used in the past, could be considered for the last day of the Festival.
And, finally, many thanks to Tim Dickeson for giving me his permission to use his excellent photographs to illustrate these articles.
---
blog comments powered by

Disqus
JAZZ MANN NEWS
Tuesday, April 24, 2018
The Dutch improvising collective Doek has launched a crowd-funding campaign to help finance a top quality workshop accessible for young talent and students. Details of how to help are attached.
Comments (0)
---
Tuesday, April 24, 2018
Club Inégales will be running five concerts between April and June with headline guests including Alice Zawadzki, Rob Luft, Merit Ariane, Nilufar Habibian, Chris Sharkey and The Improvisers' Choir.
Comments (0)
---
Sunday, April 22, 2018
Guitarist Jamie Moore will play a short series of live dates in Kent during April and May 2018. Press release attached.
Comments (0)
---
JAZZ GIGS & EVENTS
Saturday, March 17, 2018 - Saturday, July 21, 2018
Monday, April 02, 2018 - Friday, April 27, 2018
Wednesday, April 25, 2018
Wednesday, April 25, 2018
Friday, April 27, 2018
---
JAZZ MANN RECOMMENDS
---