FEATURE
"You Didn't Look Like a Drummer" (Part 3) - An interview with John Marshall.
Saturday, March 16, 2019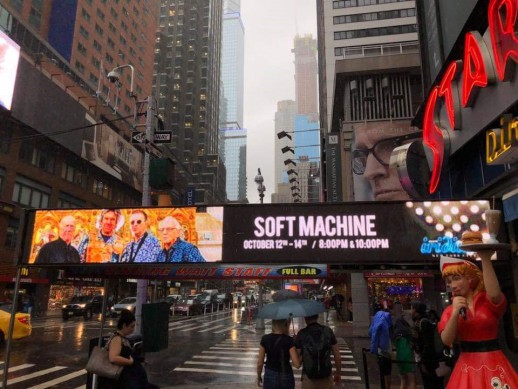 Pending his 2019 Cheltenham Jazz Festival gig with John Surman's Brass Project John talks more about his work with Soft Machine & with Surman, Eberhard Weber & others. He also picks his top ten CDs.
Photograph; Soft Machine 50th Anniversary Tour, 'Iridium', Times Square, New York City, October 2018

"You Didn't Look Like a Drummer": Part 3
 
Soft Machine lay dormant until 2001. Leonardo Pavkovic, an incredibly knowledgeable New York based impresario of Croatian origin, who speaks at least five languages, was a great mate of Elton Dean's and a massive fan of the band. He came up with the idea of putting a new band together. It would comprise of Elton Dean, Allan Holdsworth, Hugh Hopper and myself, and would be billed as Soft Works. I didn't show any interest at first when Elton first broached the idea. I was the only one who'd played with everybody and it didn't sound like a compatible quartet to me. But sometimes what's incompatible on paper, works well in real life, so after a bit more time it seemed like worth having a go and I thought, 'Let's do it'.
All went well, with Leonardo as the driving force. We visited Japan and recorded an album and then history repeated itself. John Etheridge came in as Allan took his leave. We wanted a title to distinguish ourselves from the original band because Karl wasn't involved and we came up with the title, Soft Machine Legacy. Theo Travis, who had a strong prog-rock background and had often depped with the band, came in on flute, saxes and keyboards, when Elton passed away in 2006. When Hugh died in 2009, Roy Babbington, whose association with the band dated back to 1973, took his place on bass.  Some people imagined that Soft Machine Legacy was merely a tribute band, but the 'new' line-up was actually a continuation of the original Soft Machine, so we decided to revert to the proper title. It's as Soft Machine and with the continued support of Leonardo, putting his health at risk in the process, that we've toured to celebrate the band's fiftieth year, with concerts in the States, Canada, Japan and the Netherlands, plus numerous dates in the UK, and recorded 'Hidden Details'.
Lots of people have commented on the brilliant sound quality on 'Hidden Details'. That was thanks to Jon Hiseman's production. What an engineer! He was another one of those people, like Dave Watkins, who could do anything he put his mind to and do it fantastically well. He was a fantastic drummer, an absolute master using two bass drums, and an amazing character with such a positive attitude. Working with a fellow drummer as the engineer can make you feel a bit 'under the cosh', but never with Jon. He'd take time to work out how to get the best sound from everything that I was doing. His recent death was a huge loss to music and an even greater loss to his wife Barbara (Thompson) as he was her principal carer.
I suppose that you could describe my career as 'multi-faceted'. I've been able to weave my career together from all manner of fascinating musical threads.
Salena Jones provided my 'in' to Ronnie's, where I practically lived for a while working with some wonderful singers. It went so well with Salena that our three-week booking was extended to six. Working with singers can be limiting for drummers, but I love it. I played a lot with Annie Ross and did a lovely TV 'special' with the great Sarah Vaughan. She wasn't in the greatest shape as her husband had only recently died, but it was beautiful.
I especially liked playing with Esther Morrow, who had worked with Ellington on his Sacred Music concerts. Joy Marshall had a reputation for 'being difficult' and someone warned me to "watch out!' when I took the booking to play with her, but she was alright. You just have to get on and play. Singers are often under a lot of pressure and it doesn't help to be confrontational. The last thing anyone needs is aggravation. Life's too short. Elaine Delmar, on the other hand, was the complete opposite, an absolute sweetheart, while Norma Winstone is great in any context, and incredibly creative, whether in a small group or a big band like Kenny Wheeler's.
Harry South was a very nice guy and an excellent 'straight-ahead' jazz arranger.  He used Roy Babbington and I almost exclusively for a while with his studio orchestra. Harry wrote the themes and incidental music for TV shows like the 'Chinese Detective' 'Give Us A Break' and 'Big Deal'. Do you remember those? He was a great character, loved by everyone, even if he had an aversion to the recording technology of the day. He liked to do things 'his way'.  Mike Gibbs provided the music for the 'The Goodies' comedy series and we did all of those. Great fun!
In the early 1980s I worked extensively in Germany, juggling gigs with Soft Machine alongside work with the NDR Big Band in Hamburg. I met Eberhard Weber in the second-half of the 1970s and played with him on a record date led by the German guitarist Volker Kriegel (Missing Link).  Eberhard subsequently asked me to join his quartet 'Colours'. I loved working with him; a fantastic bass player and a fantastic man. We recorded with Manfred Eicher for his ECM label and the Goethe Institute subsidised two tours of the States and a six-week tour of Australia and New Zealand. A great band. Loved it!
I met another wonderful bassist, Arild Anderson, through the EBU (European Broadcasting Union). Each year, the radio stations of member countries put a big band together for a concert, which is broadcast and recorded by the host station. When the BBC hosted the event at Golder's Green Hippodrome, John Taylor, Chris Laurence and I formed the rhythm section. Although Arild was with a Norwegian band, he asked if he could play with us, so that we would have two basses, with Arild playing over-the-top of Chris. Since then we've been involved in a lot of projects together and keep in regular touch.
Jeff Clyne was lovely to play with, a very special bloke. He was four years older than me and came up in that special Tubby Hayes – Jazz Couriers' generation of players. And wow, what a band that was! But Jeff moved on. He had a wonderful love/hate relationship with John Stevens. They loved playing together but drove each other mad in the process. I miss him dreadfully.
The bass player/drummer relationship is very, very special.  It's to do with how you hear the time. Some bass players and some drummers push on the beat, others lay-back. It's very important finding people that you feel completely comfortable with and adjusting those two things. As you get older you become more flexible; at least I hope so. I've been incredibly lucky to play with such great players as Jeff, Chris, Dave (Holland) Eberhard, Arild, and of course Lucas Lindholm.
John Surman has a special place in my career. We've had a long association that goes right back to Ronnie's 'Old Place'. He's an absolute giant and one of the first of our generation to make an international mark. We had a fantastic quartet with John, John Taylor, a genius, on piano and Chris Laurence, another genius, on bass. Music is people and if you get the chemistry together as we did, it just communicates, no matter what style of music you play. We shall be playing together again in May of this year at the Cheltenham Jazz Festival to celebrate John's 75th birthday with a rare live performance of The Brass Project.
Music is a strange and incredible process. It's what we do, and yet in a sense we don't even think about it; we just 'do it'. When someone puts a band together, they pick people who will bring their own way of playing and musical personality to the music. Nobody needs to tell you what to do; it's improvised music so you don't want any constraints.  If there's ever a doubt in my mind, I might ask, 'How do you want this?' and inevitably the answer comes back, 'Yes, well, it could be a little bit like this or maybe a little bit like that … Whatever you think, really?'.
It comes back to you. That's what the world of jazz is all about. It's a personal voice.  That was the whole thing with Ellington; he chose people for their musical qualities He didn't have to tell them how to play; the music was written around them and that's how it should be. I've been incredibly lucky to have been playing this long and to have come up with a generation of amazingly talented people of like-mind. 'It's been a blast,' as they say. And long may it continue!
 
JOHN MARSHALL: A personal selection of 10 recordings;
Michael Gibbs -   Michael Gibbs    Deram  1969      
Nucleus -    Elastic Rock   Vertigo  1970
Jack Bruce -  Harmony Row    Polydor    1971
Soft Machine -  Bundles   (Harvest1974) Esoteric   2010
Soft Machine -  Softs   (Harvest1976) Esoteric   2010
John Surman  - Morning Glory   (Island 1973)  Fledg'ling    2017  
 
John Surman Qt  - Stranger Than Fiction     ECM  1994
Eberhard Weber's Colours -  Silent Feet    ECM     1977
Andersen/Tsabropolous/Marshall - Achirana    ECM  2000
Latest release:
Soft Machine -  Hidden Details   Dyad    2018 also Vinyl

The John Surman / John Warren Brass Project featuring John Marshall will appear at Cheltenham Town Hall at 2.15 pm on Saturday 4th May as part of the 2019 Cheltenham Jazz Festival.
Further details and tickets available from http://www.cheltenhamfestivals.com
Interview conducted by TREVOR BANNISTER.
 
---
blog comments powered by

Disqus
JAZZ MANN NEWS
Friday, June 14, 2019
American drummer and composer Matt Slocum released his new trio album "Sanctuary" on May 31st 2019. He is playing a short series of US live dates in June. Press release attached.
Comments (0)
---
Friday, June 14, 2019
Broadcaster and journalist Peter Slavid has forwarded details of the music to be played on his UK and European Jazz radio show, which is transmitted by a number of UK and international radio stations.
Comments (0)
---
Friday, June 14, 2019
The Vortex has forwarded details of its schedule for the week commencing 14th June 2019.
Comments (0)
---
JAZZ GIGS & EVENTS
Thursday, June 06, 2019 - Monday, June 17, 2019
Friday, June 14, 2019 - Sunday, June 16, 2019
Sunday, June 16, 2019
Sunday, June 16, 2019
Sunday, June 16, 2019
---
JAZZ MANN RECOMMENDS
---