JAZZ MANN NEWS
Saturday, July 18, 2009
co-led by virtuoso Malian musicians Madou Sidiki Diabaté and Ahmed Fofana
---
Tuesday, July 14, 2009
Following last years successful jazz course, Cardiff Jazz Society is again providing an educational project that will enable young people of school/college age, to improve their musical ability...
---
Tuesday, June 30, 2009
Trumpeter Tom Arthurs has sent us a load of upcoming dates
---
Tuesday, June 16, 2009
Bassist/bandleader and Director of Tomorrow's Warriors Ltd and The Dune Music Company, Gary Crosby has been awarded an OBE (Officer of the Order Of The British Empire) for Services To Music
---
Monday, June 15, 2009
Harrison Smith Quartet are playing in Cardiff in June
---
Friday, May 29, 2009
Asaf Sirkis Trio gig at Swansea Jazzland club is now available online from the BBC website
---
Thursday, May 28, 2009
Celebrate with two free downloads Graham Collier's new book and new double CD ...
---
Thursday, May 28, 2009
Ronnie Scott's is pleased to announce an incredible month of world class music ...
---
Thursday, May 14, 2009
The Necks are currently touring Europe and commence their UK tour at Dean Clough on 21st May 09
---
Sunday, May 10, 2009
A big thank you to Tim Dickeson at livemusicpictures.com for the Cheltenham Jazz Festival images
---
JAZZ MANN FEATURES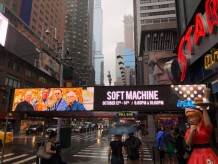 Pending his 2019 Cheltenham Jazz Festival gig with John Surman's Brass Project John talks more about his work with Soft Machine & with Surman, Eberhard Weber & others. He also picks his top ten CDs.
---
In the second part of his interview with guest contributor Trevor Bannister John establishes himself on the 1960s London jazz and session scene and gets the call from Soft Machine.
---
JAZZ MANN NEWS
Friday, March 22, 2019
The film "Just One Of Those Things" , the story of Ella Fitzgerald's life and career, will be in British cinemas from May 6th 2019. Press release attached.
Comments (0)
---
Friday, March 22, 2019
Founded by Jay Phelps, Pritpal Ajimal & Courtney Brown SoulEndvr is a new brand that produces the 'OST' (Original Soundtrack) events. Musicians improvise to short independent films. Press release att.
Comments (0)
---
Friday, March 22, 2019
The Vortex has forwarded details of its schedule for the week commencing 22nd March 2019.
Comments (0)
---
JAZZ MANN RECOMMENDS
---