JAZZ MANN NEWS
Saturday, March 28, 2009
Pontypool Jazz has provided details of some upcoming gigs
---
Wednesday, March 25, 2009
The first Oxford Jazz Festival will be held in venues throughout the city over the Easter weekend 9th-12th April inc.
---
Wednesday, March 18, 2009
The Arts Council of Wales has announced that after considering proposals put to it for managing future jazz festivals in Brecon it would now be asking Hay Festival to take on the challenge
---
Wednesday, March 18, 2009
Black Mountain Jazz have announced a number of additions to their spring programme
---
Friday, March 13, 2009
Jazz Coventry have announced a full programme of events for Spring 2009
---
Friday, March 06, 2009
Guitarist/vocalist Lionel Loueke undertakes a short British tour in March 2009
---
Saturday, February 28, 2009
Outside of the jazz sphere my favourite group has to be the long running giants of folk/rock Oysterband.
---
Saturday, February 14, 2009
Dune Musicís very own Abram Wilson returns to the stage this Spring, but perhaps not as his many musically minded fans might expect...
---
Saturday, February 07, 2009
The Chethamís Big Band, a product of Manchesterís leading specialist music school ďChetsĒ, will be appearing at The Grand this coming Monday (February 9th), with doors at 7pm
---
Friday, January 23, 2009
As you know, The Jazz Mann is a big fan of Pontypool Jazz. They have sent me their "mission statement" and some contact details.
---
JAZZ MANN FEATURES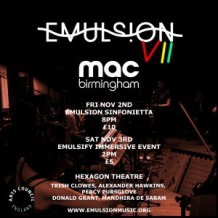 An intriguing evening of music making that once again mixed genres at a whim. Ian Mann on the latest edition of Trish Clowes' Emulsion Festival, w. guest musicians Alexander Hawkins & Percy Pursglove.
---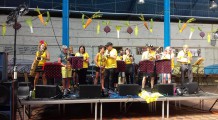 Ian Mann enjoys the Jazz Alley and Charity Swing Party events at the Market Hall with performances by Wonderbrass, Tarion, Rebelinx and The Electric Swing Circus.
---
JAZZ MANN NEWS
Wednesday, November 14, 2018
With one event remaining in 2018 Black Mountain Jazz has announced its club programme for early 2019. Events take place at The Melville Centre, Abergavenny.
Comments (0)
---
Saturday, November 10, 2018
Pianist Pablo Ziegler will lead his Jazz Tango Trio at two live performances in California during November 2018. Press release attached.
Comments (0)
---
Friday, November 09, 2018
The Vortex have forwarded their latest newsletter including details of the programme for the week commencing 9th November 2018.
Comments (0)
---
JAZZ MANN RECOMMENDS
---