JAZZ MANN NEWS
Sunday, May 10, 2009
Berklee College of Music is to Audition and Interview African Musicians In Nairobi, Kenya, June 2 and 3 for Scholarship Opportunities
---
Tuesday, May 05, 2009
You can now follow the Jazz Mann on Twitter at http://twitter.com/thejazzmann
---
Monday, May 04, 2009
Leading British saxophonist Art Themen is the special guest of Cardiff Jazz Society, at Café Jazz, on Thursday 14 May (8.45pm)
---
Thursday, April 16, 2009
Azhaar Saffar violinist and vocalist made her name for singing and writing with well-known Brazilian Jazz group Sirius B. Now Azhaar is exploring jazz roots with a top line up.
---
Wednesday, April 01, 2009
Dynamic vocalist Li Harding is the special guest of Cardiff Jazz Society at Café Jazz on Thursday 9 April (8.45pm).
---
Saturday, March 28, 2009
Pontypool Jazz has provided details of some upcoming gigs
---
Wednesday, March 25, 2009
The first Oxford Jazz Festival will be held in venues throughout the city over the Easter weekend 9th-12th April inc.
---
Wednesday, March 18, 2009
The Arts Council of Wales has announced that after considering proposals put to it for managing future jazz festivals in Brecon it would now be asking Hay Festival to take on the challenge
---
Wednesday, March 18, 2009
Black Mountain Jazz have announced a number of additions to their spring programme
---
Friday, March 13, 2009
Jazz Coventry have announced a full programme of events for Spring 2009
---
JAZZ MANN FEATURES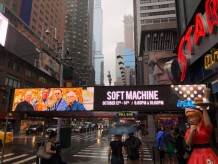 Pending his 2019 Cheltenham Jazz Festival gig with John Surman's Brass Project John talks more about his work with Soft Machine & with Surman, Eberhard Weber & others. He also picks his top ten CDs.
---
In the second part of his interview with guest contributor Trevor Bannister John establishes himself on the 1960s London jazz and session scene and gets the call from Soft Machine.
---
JAZZ MANN NEWS
Friday, March 22, 2019
The film "Just One Of Those Things" , the story of Ella Fitzgerald's life and career, will be in British cinemas from May 6th 2019. Press release attached.
Comments (0)
---
Friday, March 22, 2019
Founded by Jay Phelps, Pritpal Ajimal & Courtney Brown SoulEndvr is a new brand that produces the 'OST' (Original Soundtrack) events. Musicians improvise to short independent films. Press release att.
Comments (0)
---
Friday, March 22, 2019
The Vortex has forwarded details of its schedule for the week commencing 22nd March 2019.
Comments (0)
---
JAZZ MANN RECOMMENDS
---