JAZZ MANN NEWS
Friday, October 19, 2018
A GoFundMe campaign has been launched to benefit the American jazz vocalist Denise Perrier who recently underwent open heart surgery and has consequently suffered a severe financial setback.
---
Friday, October 19, 2018
Flying Machines, led by guitarist Alex Munk, release their second album "New Life" today (Oct 19). They have a number of UK live appearances scheduled commencing October 22nd and continuing into 2019.
---
Thursday, October 18, 2018
Vocalist and composer Jessica Radcliffe will release her debut album "Remembrance" on Ubuntu Music on 30th November 2018. She will be touring in the UK with her band in March 2019. Press release att.
---
Monday, October 15, 2018
Vancouver born saxophonist and composer Ben Wendell released his new album "The Seasons" on October 12th 2018. He is touring in Europe and the US with his band from October 2018 to March 2019.
---
Friday, October 12, 2018
Jazz North has been awarded a grant from Ronnie Scott's Charity Foundation to develop and deliver Jazz Camp for Girls, a series of one-day intensive workshops for girls aged 9 -13 years old.
---
Thursday, October 11, 2018
Soft Machine's 8.00 pm show at The Iridium in New York City on Friday 12th October 2018 will be live streamed to the world. Details attached.
---
Friday, October 05, 2018
Trumpeter James Davison has been named as the Jazz Young Musician of 2018 at an awards ceremony supported by the Musician's Company. Press release attached.
---
Thursday, October 04, 2018
South African born harmonica & keyboard player Adam Glasser has a series of UK live appearances lined up for the coming months with his band, plus a new album due for release in 2019.
---
Thursday, September 27, 2018
"To Be Here Now", a digital & vinyl compilation album featuring music from Leeds based jazz artists curated by saxophonist Ben Powling & venue owner Jack Simpson will be released on October 1st.
---
Wednesday, September 26, 2018
Saxophonist and composer Duncan Eagles will release his debut solo album "Citizen" on February 15th 2019. He will be touring with his quartet during January, February and March 2019.
---
JAZZ MANN FEATURES
Ian Mann enjoys the final day of the Festival and performances by Flying Machines, the Monty Alexander Trio and Bill Laurance and the WDR Big Band conducted by Bob Mintzer.
---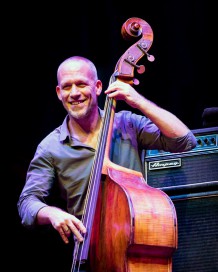 Ian Mann on a diverse day of musical performances including those of Ranjana Ghatak, Hilde Marie Holsen, Ivo Neame / Pete Wareham Duo, Trish Clowes' My Iris and the Avishai Cohen Trio.
---
JAZZ MANN NEWS
Wednesday, January 23, 2019
Acclaimed vocalist Barb Jungr will release her new album "Bob, Brel & Me - Without Borders" in September 2019. In the meantime she has a number of live dates scheduled commencing on January 26th 2019.
Comments (0)
---
Wednesday, January 23, 2019
American singer-songwriter Jackson Browne will tour the South East of the US in March and April 2019 with a quartet including multi-instrumentalist Greg Leisz. Details attached.
Comments (0)
---
Wednesday, January 23, 2019
Folk rock titans Oysterband have forwarded their latest newsletter including details of imminent live dates in Denmark and Germany and UK and European summer festival appearances.
Comments (0)
---
JAZZ MANN RECOMMENDS
---