NEWS
606 Jazz Club, Chelsea, London - Listings and Highlights for June 2017.
Thursday, May 18, 2017
Laura Thorne writes;

Hello all you connoisseurs of culture and lovers of live music - greetings from the 606 in Chelsea, bringing you jazz & live music seven nights a week (plus Sunday lunches) from our cozy basement restaurant Club since 1976 (making this our 40th Anniversary year).

Our June 2017 listings are attached for your reference as we once again feature the best British-based jazz, soul, groove, Latin, R&B, funk, gospel, blues and groove artists this fair city has to offer. We'll have detailed event information on the 606 website in the next week or so, but until then here are just a few highlights about what's coming up in June:

Monday 5th: Gordon Haskell
While not new to the 606, British singer/songwriter Gordon Haskell's performances here are few and far between, as he is no longer based in the UK. His career began in the 1960's working with Robert Fripp of King Crimson, going on to record a solo album in 1971 produced by the legendary Arif Mardin for the Atlantic Records label, though it didn't fare as well commercially as hoped. From that point on toured and recorded primarily in Europe, eventually relocating to Denmark in 1984. He wasn't heard from much in England however until 2001, when his song "How Wonderful You Are" became a huge hit BBC Radio 2 and the accompanying follow up CD "Harry's Bar" went platinum. A lovely gig.

Sunday 11th: Gina Foster, "Joni's Soul"
Led by singer Gina Foster (Swing Out Sister, Natalie Cole, Eric Clapton), this programme is in tribute to singer/songwriter Joni Mitchell and in particular, the album "Hejira" which celebrated its 40th anniversary of release in 2016. Taking a journey through the heart and soul of "Hejira" and various other masterpieces, Gina has put together a first-call group of musicians including pianist Graham Harvey (Stacey Kent, Incognito) to lovingly create an inspired, beautifully-crafted evening of music honouring one of the greatest composers of all time.

Monday 12th: The KoGo Project
Led by vocalist, keyboardist and songwriter Kate Ockenden and her partner Geoff on bass, this jazz/funk quartet has a cracking intensity & melodicism reminiscent of Earth Wind & Fire & other 70's soul & groove greats. By day, Kate & Geoff are music producers and composers for the BBC, as well as music lecturers at the University of Worcester. Their high energy sound has recently attracted the attention of Jazz FM where they will be performing on air in June. We are looking forward to hearing them for the first time at the 606.

Wednesday 14th: 'Four Plus Three Plus One' feat Kate Williams & John Williams & the Guastalla Quartet
This is a very special gig indeed as pianist Kate Williams, recognised as one of the UK's most acclaimed jazz composers and arrangers, will be playing publicly with her father, the classical guitar legend John Williams, for the very first time. A previous winner of the John Dankworth Award, Kate is described by BBC Radio 2 as "a superbly lucid and inventive pianist and composer". The material will feature, in part, compositions from Kate's current release, "Four Plus Three" which was performed with the Guastalla String Quartet at the 606 for the 2016 London Jazz Festival, along with additional repertoire written specifically by Kate for this lineup. A once-in-a-lifetime show.

Sunday 18th: Polly Gibbons
Singer Polly's star is very much on the rise. Now signed to American label Resonance Records, Polly has been touring the US and is just about to release her second record with the label, "Is it Me?", material from which she will be performing at this 606 show. Her fans include some of the UK's biggest jazz vocal stars, including Ian Shaw who called Polly's talent "one in a million" and Claire Martin (host of BBC Radio 3's Jazz Lineup) who said that Polly's is "a soulful voice that will capture your heart…a real singer at last".

Friday 23rd: Hayley Sanderson
One of the featured vocalists on the BBC's megahit programme "Strictly Come Dancing", Hayley Sanderson is a versatile singer, equally at home whether performing jazz, soul, groove or pop. Her personality is irresistible, and her ability to engage an audience is second to none! Because of her demanding "Strictly" commitments, she's not able to play at the Club as often as we'd like and this is her first show here since 2015.

Tuesday 27th: Marco Marconi's "Trialogue" CD Launch
From Umbria, Italian piano virtuoso Marco Marconi was classically trained but has found his true calling in the world of jazz. Upon performing at the Cheltenham Jazz Festival in 2009 he relocated to the UK, initially working with Alan Bates' Candid Records label. His first album, "Nordik" came out on the 33Jazz label in 2016 and his new album, Trialogue which is releasing at the Club this evening will feature, as well as new original compositions "a standout medley of a famous film score, a funky version of a Bee Gee's number and stunning arrangements of a couple of classic jazz tunes".

Wednesday 28th: Mo Pleasure Band
After joining Ray Charles band as a teenager, US-born multi-instrumentalist Morris "Mo" Pleasure has gone on to be employed as 'Musical Director' for such industry giants as Earth, Wind and Fire (10 years), Janet Jackson, Roberta Flack, Christina Aguilera, Natalie Cole, Bette Midler (current) Michael McDonald, Maxwell, Billy Paul (RIP) and dozens of other iconic artists. As Mo lives Stateside, he only plays here occasionally and his shows attract a devout following. He also can be counted on to bring along equally stellar special guests, which have included among them singers Acantha Lang and Ivy Chanel.

606 CLUB - JUNE 2017 GIG GUIDE
90 LOTS ROAD, LONDON, SW10 0QD
TEL: 020 7352 5953 / EMAIL : .(JavaScript must be enabled to view this email address) / WEB:www.606CLUB.CO.UK
JAZZ 7 NIGHTS A WEEK - SUNDAY NIGHTS SINGERS NIGHTS

Thu 1st 8:30 - **Frank Tontoh's Birthday Gig - drum-led Groove band feat. Ross Stanley, Alex Montague-kybds;
Tony Remy-gtr; Neville Malcolm-bs with Lex Cameron-vocals & Special Guests Wayne Hernandez, Gina
Foster, Ian Hoare & Tahirah-vocals + Surprise Guests! £12

Fri 2nd 9:30 - Lily Dior: vocal-led jazz/groove quartet feat. Paul Booth-sax; Tim Lapthorn-piano; Geoff Gascoyne-bs

Sat 3rd 9:30 - Alex Garnett – sax-led modern jazz feat. Gabriel Latchin-piano; Conor Chaplin-bass; Dave Storey-drums

Sun 4th
1:30 - Lunchtime Special: Shireen Francis - vocal-led jazz/Caribbean quartet feat. Gunther Kuermayr-piano;
Josh Kemp-sax; Manuel Alvarez-bass; Gary Williams-drums
8:30 - Louise Clare Marshall - vocal-led Jazz/Groove band feat. Luke Smith-kybds; Dave Ital-guitar; Winston
Blissett-bass; Carlos Hercules-drums & Lisa Grahame-sax £12

Mon 5th 8:30 - Gordon Haskell - singer/songwriter guitar/vocal-led trio feat. Paul Yeung-sax £12

Tue 6th 8:30 - Royal Academy of Music Exam Night (Free Entry)

Wed 7th 8:30 - Marco Piccioni – guitar/vocals-led jazz/blues/rock trio feat. Blendi Dhami-bass; Chris Nickolls-drums £12

Thu 8th 8:30 - Closed for Private Party

Fri 9th 9:30 - Wayne Hernandez - vocal-led soul/R&B band feat. Michael Brown-guitar

Sat 10th 9:30 - Derek Nash - sax-led modern jazz quartet feat. Pete Adams-pno; Mike Bradley-drms

Sun 11th
1:30 - 606 Gospel Lunch: vocal-led gospel feat. Andre Gabriel and the 606 Gospel Singers
8:30 - Gina Foster "Joni's Soul" - vocal-led jazz/Groove feat. Graham Harvey-piano/kybd; Ronnie Johnson, Patrick Johnson-guitars; Ian Thomas-drums

Mon 12th 8:30 - The KoGo Project – jazz funk quartet feat. Kate Ockenden-vocal/kybd; Geoff Ockenden-bass; Chris Aldridge-sax; Tony Robinson-drums

Tue 13th
8:00 - Dan Reinstein - sax-led modern jazz quintet featuring Shanti Jayasinha-trumpet; Tim Lapthorn-piano
9:45 - Dill Katz - bass-led modern jazz trio feat. Leon Stenning-guitar

Wed 14th 8:30 - **606 Club Special**: 'Four Plus Three Plus One' feat. Kate Williams & John Williams - piano-led modern jazz trio with string quartet & guitar feat. John Garner, Marie Schreer-violin: Francis Gallagher-viola; Sergio Serra-cello & Oli Hayhurst-bs; David Ingamells-drums with Special Guest: John Williams-classical guitar £15

Thu 15th 8:30 - Mark Nightingale/Simon Woolf "The Nightingale/ Woolf Quartet" - trombone/bass-led modern jazz quintet feat. Osian Roberts-sax; Jim Watson-piano; Seb de Krom-drums

Fri 16th 9:30 - Kevin Leo - vocal-led Groove band feat. David Elevique-kybds; Gianluca Chiarella-guitar; Mike Bailey bass;Chris Morris-drums & Ellie Chi-vocals

Sat 17th 9:30 - Nat Facey - sax-led modern jazz quartet

Sun 18th 1:30 - Lunchtime Special: Rebecca Poole - vocal-led mainstream jazz quartet feat. Jamie McCredie-gtr; Tom Moore-bass
8:30 - Polly Gibbons - vocal-led modern jazz quartet feat. James Pearson-pno £12

Mon 19th 8:30 - Dino Baptiste - piano-led Blues/Boogie Woogie band w. Mike Paice-sax/harmonica; Carl Stanbridge-bs; Alessandro Cinelli-drums

Tue 20th 8:30 - Irene Serra - vocal-led modern jazz quintet feat. Joe Auckland-trumpet; John Crawford-pno; Amy Baldwin-bass; Chris Nickolls-drums

Wed 21st 8:30 - Ed Bentley's Blue Note Quartet – piano/organ-led Jazz/Groove band feat. Dave Lewis-sax; Phil Dawsongtr; Rod Youngs-drums

Thu 22nd 8:30 - Acantha Lang - vocal-led jazz/blues/groove 6 piece band feat. Emlyn Francis-gtr £12

Fri 23rd 9:30 – Hayley Sanderson – vocal-led groove & soul band feat. Lewis Hall-bass; Geoff Holroyde-drums

Sat 24th 9:30 - Georgina Jackson - vocal/trumpet-led mainstream jazz quartet feat. Gabriel Latchin-piano; Joe Pettitt-bass

Sun 25th
1:30 - Lunchtime Special: Closed for Private Event
8:30 - Zoe Francis with Special Guest Jim Mullen - vocal-led mainstream jazz quartet feat. Jim Mullen-guitar; Gareth Williams-piano; Mick Hutton-bass; Enzo Zirilli-drums

Mon 26th 8:30 - Tommy Blaize Band – vocal-led "groove" band feat. Dave Arch-pno; Trevor Barry-bs; Andy Caine-gtr/vox; Paul Dunne-guitar; Ian Thomas-drums £12

Tue 27th 8:30 - **CD Launch** Marco Marconi - piano-led modern jazz trio feat. Tom Farmer-bs; Emiliano Caroselli-drms

Wed 28th 8:30 - Mo Pleasure - piano/bass/trpt-led jazz/groove band w. Luke Smith-kybds;Dan Reinstein-sax; Tommy Hill-gtr; Mark Mondesir-drms + Special Guests: £12

Thu 29th 8:30 - **606 Club Special** "All Fired Up" - 14 piece band tribute to Maurice White and Earth Wind & Fire feat. Tommy Blaize, Derek Green-vocals; Trevor Barry-bass; Dave Arch, Pete Murray-pno/kybd; Tim Cansfield-gtrs; Simon Gardner, James Copus-trpts; Barnaby Dickinson-trb; Paul Booth-sax; Karlos Edwards, Jody Linscott-perc; Andrew Small drums
£17

Fri 30th 9:30 - Samara – Latin/jazz sextet feat. Steve Rubie- alto sax/flute; Liliana Chachian-vocals; Neil Angilley-pno
---
blog comments powered by

Disqus
JAZZ MANN FEATURES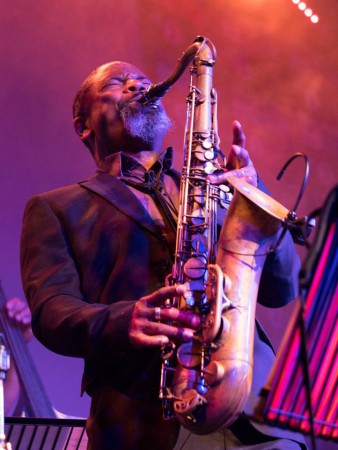 Ian Mann on the final day of the Festival and performances by Hot 8 Brass Band, Sarah Munro, Mode9, Paul Carrack and Denys Baptiste.
---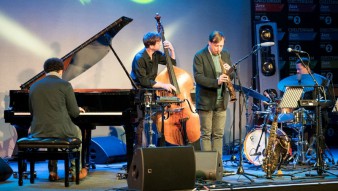 Ian Mann on performances by Monocled Man, Schnellertollermeier, Meshell Ndegeocello, Chick Corea, Chris Potter and Yazz Ahmed.
---
JAZZ MANN RECOMMENDS
---