NEWS
606 Jazz Club, Chelsea, London - programme for May 2017.
Thursday, April 20, 2017
Laura Thorne writes;

Hello all you connoisseurs of culture and lovers of live music - greetings from the 606 in Chelsea, bringing you jazz & live music seven nights a week (plus Sunday lunches) from our cozy basement restaurant Club since 1976 (making this our 40th Anniversary year).

Our May 2017 listings are attached for your reference as we once again feature the best British-based jazz, soul, groove, Latin, R&B, funk, gospel, blues and groove artists this fair island has to offer. We'll have detailed event information on the 606 website in the next week or so, but until then here are just a few highlights about what's coming up in May:

Monday 1st: Coalminers featuring Paddy Milner
With a unique mixture of New Orleans Groove and Funk that the band describes as "swamp soul" the Coalminers bring the rhythm and blues of the deep American south alive. For this gig the band will feature keyboardist & singer Paddy Milner, recipient of the 'Best Keyboard Player' title at the 2015 British Blues Awards & recently on tour with Tom Jones, and vocalist Sumudu, whose CV includes work with the likes of Rod Stewart, Jamie Cullum and Van Morrison. BBC Radio 2's Craig Charles said, "From time to time I stumble on a band that totally blows me away…The sound they have put down is perfect".
"Hello Josephine" https://youtu.be/3klxWnXcZ9I

Monday 8th: Adam Glasser
Strongly influenced by his South African roots, harmonica virtuoso and pianist Adam Glasser is a founder member of the Township Comets and was for many years musical director of the legendary SA vocal group The Manhattan Brothers. A first call player for films and sessions he has recorded and/or performed with artists & orchestras including Sting, The Eurythmics, Dominic Miller, Joe Zawinul Syndicate, Incognito, London Philharmonic & the BBC Symphony Orchestra. For this 606 outing he brings a new project, exploring selected John Coltrane compositions on the harmonica as well as performing material from his albums 'Free at First' ( 2010 Best Jazz Album SA Music Award) and 'Mzansi' ( 2012 Best Jazz Album SA Music Award nomination).
"I'm Old Fashioned" from 'Free at First': https://youtu.be/lSVaT6j2F-E

Monday 15th: Dave Ital's Birthday Gig
Guitarist Dave Ital has worked with a long list of hitmakers including Anastacia, Craig David, Anita Baker, Bananarama, MPeople, Mica Paris, and Gary Barlow, and is seen and heard most often at the 606 with artists & bands including Michelle John, Protect the Beat and Imaani. For this 606 performance Dave will be lighting up a candle or two in honour of his birthday, and this show is sure to be spectacular.
Dave playing with Chaka Khan & Incognito, Lovebox 2012 https://youtu.be/mBdAphBzgLM

Wednesday 17th: Howard Alden
Howard Alden is widely regarded as one of the finest jazz guitarists in the US, having worked prolifically as a leader, co-leader, and versatile sideman on numerous recordings and gigs since the late 1970's. It was Howard's guitar playing that featured in Woody Allen's classic film "Sweet and Lowdown" (based on a jazz guitarist who idolises Django Reinhardt), and Howard was signed to the prestigious Concord Jazz label for over fifteen years. He's played a seven-string guitar since 1992, which has imparted an astonishing range and harmonic richness to his already colourful tonal palette, and helps explain why he won "Best Emerging Talent-Guitar" in the first annual JazzTimes critics' poll in 1990, as well as the coveted "Talent Deserving Wider Recognition" award four times after that. Most recently, Downbeat also recognized Howard as one of the "Top 75 Guitarists of All Time".
Howard playing at the 2014 North Wales International Jazz Guitar Weekend: https://youtu.be/G8BsEnChWOY

Sunday 21st lunchtime: Eileen Hunter's salute to Blossom Dearie
Singer & multi-instrumentalist Eileen Hunter debuts a new programme for this 606 Sunday lunch performance, a salute to the great Blossom Dearie. Though from New York, Blossom was well known to audiences in both France and England, appearing on British TV with Peter Cook and Dudley Moore and recording several albums in the UK (which included songs written by Duncan Lamont, whom she described as her favourite songwriter). Blossom also lived in Paris in the 1950's, where she was co-founder, along with Christiane Legrand, of the group Blue Stars, which eventually became the Swingle Singers. Eileen, described by Ian Shaw as a "gem in an overpopulated jewel box of female vocalists", is a terrifically talented singer that we don't hear from often due to family commitments, so this is a rare chance to hear what will surely be a cracking show.
Blossom Dearie, "I Wish You Love" https://youtu.be/4hGjzuXchGg

Monday 22nd: Carl Hudson's "Moon Unit"
Since arriving in London in 2006 pianist Carl Hudson has been steadily establishing himself as one of the most interesting and versatile keyboard players in the UK. Equally comfortable playing modern jazz, funk, Brazilian, R&B or soul he has worked with major UK jazz names as well as recording and performing with the Average White Band, Sister Sledge, Jocelyn Brown, Leon Ware, Omar and most recently, Boy George. With a passion for vintage funk and rare grooves, Carl's own music has been described as eclectic, futuristic, soulful and danceable. For this 606 gig, Carl & his band will be playing music from his latest album, 'Pixel Planet' a follow up to his 2013 release, 'Zoology for Martians'.
Carl Hudson & Moon Unit: Traversing the Oort Cloud https://youtu.be/AFSy2kfbcLo

Sunday 28th: CD Promotion: Bruce "Mississippi" Johnson
From - you guessed it - the Southern state of Mississippi, Bruce Johnson was heavily influenced by his father's love of classic Soul and R&B greats such as Al Green, Jackie Wilson & Lou Rawls. His career in the US Marine Corps took him to Paris where, after leaving the military, he immersed himself in the Parisian jazz & blues scene, becoming the vocalist for blues bassist Big Joe Turner's Blues Caravan and eventually being recruited to platinum-selling "Rat Pack" ensemble Forever Gentlemen. Bruce's album, "The Deal Baby", which is very much in the style of the soul legends that Bruce listened to growing up, was recorded in Paris some years ago, but not available in the UK. As Bruce is now based in London, he is debuting the record to UK listeners with a launch of the CD at the 606.
"No Good" from the CD: https://youtu.be/7azidCFktJs

FULL LISTINGS from http://www.606club.co.uk

MONDAY 1ST - THE COALMINERS
8:30PM
TUESDAY 2ND - TWO SETS
8:00PM DAN REINSTEIN American born but British educated, I first met Dan at the old Club when he was a medical undergraduate. Even then he was an impressive player, and after taking time off his medical studies to go to the Berklee School of Music he became even more remarkable. He returned to the USA in the early 90s where he became one of the world's leading experts in laser eye surgery (he's now officially Professor Reinstein). But he never stopped playing, and when he returned to London to live and work it was great to hear his fluent, classic hard-bop, muscular sax playing again. Also featured tonight will be Shanti Jayasinha on trumpet and Tim Lapthorn on piano.
"…impressive hard-bop saxophonist" Time Out
9:45PM DILL KATZ Dill Katz is appearing later with his regular quartet, playing the more contemporary side of the spectrum. Dill, frequently referred to as a "bass legend", is one of the most experienced players on the scene today, having pioneered the use of the fretless bass in the mid sixties, and whose work includes stints with Ian Carr's "Nucleus", Barbara Thompson's band "Paraphernalia" and Afro/Jazz band "District Six". This gig also features the excellent guitar playing of Leon Stenning.
"Superior jazz-rock quartet led by ex-Nucleus electric bassist Katz" Time Out

WEDNESDAY 3RD - TIM WHITEHEAD
8:30PM
THURSDAY 4TH - MUSICIAN'S XCHANGE: CINTIA HORVATH
8:30PM

FRIDAY 5TH - DAVE LEWIS' "1UP" WITH LIZZIE DEANE
9:30PM Dave Lewis's robust and melodic tenor playing has been heard with a notable list of artists including John Martyn, Bryan Ferry, Joan Armatrading, John Mayall, Eric Clapton and The Blockheads. His own band features an impressive array of talent fronted by vocalist Lizzie Deane, a fabulous singer who for many years has worked with some of the finest performers around, including Carleen Anderson, Mica Paris and Jocelyn Brown. Lizzie's warm persona and infectious performance style calls to mind the great soul divas such as Aretha Franklin and Dusty Springfield, but at the same time she brings her own unique energy and approach to every song, making her a fantastic addition to the line-up. With a strong emphasis on groove, improvisation and spontaneous melodic interplay, 1UP is one of the tightest, funkiest bands on the scene. They have just finished recording a new album "Under the Same Sun", mixed by acclaimed producer/guitarist Paul Stacey (Black Crowes, Claire Martin, Oasis), songs from which you'll be hearing tonight. Great band, great gig this.
"...spine tingling" Guardian; "...brilliant…great music" BBC Radio London; "...It's a real treat…tight chunky grooves and very exciting and funky sax…this is an absolute breath of fresh air. Dave Lewis…sets a standard of powerful, fiery solos that will be hard to surpass this year" Blues and Soul
http://www.davelewis1up.com/ ::www.lizziedeane.com/

SATURDAY 6TH - DEREK NASH'S "SAX APPEAL" QUARTET
9:30PM An award-winning saxophonist, Derek Nash is perhaps best known as one of the featured saxophonists with the Jools Holland Band, leader of the enormously successful "Sax Appeal" and co-leader of the funk/groove outfit "Protect the Beat". An experienced musician of many years standing his muscular, fluent, modern jazz playing has been recognised with numerous awards, including "Best Jazz Ensemble" and "Best Jazz CD" as well as being voted one of the top 5 saxophonists in the country. Derek's latest recording with his Acoustic Quartet, "You've Got to Dig it to Dig it, you Dig?" (named after a quote by Thelonious Monk) is garnering avid, five-star reviews, as well as airplay on Jamie Cullum's BBC Radio 2 programme. And if all that wasn't enough he is also highly regarded as a recording engineer, producer and arranger, with a client list that includes Annie Lennox, Alison Moyet, Lulu, Kylie Minogue, David Sanborn, Martha Reeves and many more. Tonight Derek is bringing his great, swinging, rhythm section to the Club that features Graham Harvey (Stacey Kent) piano, Phil Mulford (see Tue 16th) bass and Mike Bradley (Claire Martin) drums. Terrific musician, terrific band, terrific gig this.
"…bravura display of contemporary saxophone" The Observer; "...breathtaking" Sunday Times; "From smooth cool to groovy funk, to ingeniously recast standards…the music fizzes with energy…*****" Observer
http://www.dereknash.com/
SUNDAY 7TH: LUNCHTIME SPECIAL: CLOSED FOR PRIVATE PARTY
1:30PM

...and in the evening:
SUNDAY 7TH - DANA GILLESPIE
8:30PM

MONDAY 8TH - ADAM GLASSER
8:30PM
TUESDAY 9TH - PURDY
8:30PM

WEDNESDAY 10TH - "JAM FOR JAMES" - BENEFIT IN AID OF MENTAL HEALTH CHARITY "MIND" FEATURING TOMMY BLAIZE, PEGATHA, TIM & HATTIE WHITEHEAD, LUCA CARUSO QUARTET
DETAILS TO BE ANNOUNCED.
EVENT TICKETS: EVENTBRITE

THURSDAY 11TH - CLOSED FOR PRIVATE EVENT

FRIDAY 12TH - RB FUNKESTRA WITH HELENA MAY
9:30PM
SATURDAY 13TH - GILAD ATZMON
9:30PM

SUNDAY 14TH: LUNCHTIME SPECIAL: 606 GOSPEL GROUP
1:30PM

...and in the evening:
SUNDAY 14TH - LIANE CARROLL
8:30PM

MONDAY 15TH - DAVE ITAL'S BIRTHDAY GIG
8:30PM

TUESDAY 16TH - LUNA COHEN
8:30PM

WEDNESDAY 17TH - HOWARD ALDEN
8:30PM

THURSDAY 18TH - MICHAEL ROSEN
Saxophonist MIchael Rosen 8:30PM
Originally from Ithaca, New York, following his graduation from Berklee in 1987 saxophonist Michael Rosen left the US for a tour in Europe…and never went back! He eventually settled in Italy, where he has been highly successful as both a live and studio musician as well as a composer and jazz educator. His fluent, muscular hard-bop influenced contemporary sax playing has been heard at numerous jazz festivals and he has performed and/or recorded with, among many others, Bobby McFerrin, Jim Hall, Peter Erskine, George Garzone, Mike Stern and Kenny Wheeler, as well as with a swathe of important Italian and European artists including numerous gigs with the iconic UK vocalist Sarah Jane Morris. He has produced 9 CDs as a leader, including his latest "Sweet 17" (which featured guest appearances by several of New York's finest contemporary jazz musicians, including Lage Lund, Bill Stewart & Ralph Alessi speaking volumes to Michael's reputation amongst his peers). Michael is also involved in a variety of live projects, including his Brazilian outfit "Tricolor", his "Electronic Quartet" and his straight ahead jazz quintet "Edge". Splitting his time these days between Italy and the UK, tonight Michael will be bringing his UK based hard bop jazz quintet in to the Club, featuring the wonderful trumpet playing of Steve Fishwick (Anita O'Day) along with an ace rhythm section of Tom Cawley-piano, Oli Hayhurst-bass and Steve's twin brother (and equally fine musician) Matt Fishwick on drums. Highly recommended.
"Michael Rosen…monstrous chops restrained by tasteful discipline" Cadence Magazine; "Rosen is a composer and musician of vast ability" All Music Guide; "Steve Fishwick…elegantly winding, rhythmically hip" Guardian; "I can't think of another trumpet player that can do what he does." Wynton Marsalis
http://www.michaelrosenmusic.com/

FRIDAY 19TH - IMAANI
9:30PM A terrific singer in the Soul/R&B tradition, Imaani's CV is long and impressive. She first came to prominence as the UK's 1998 entrant to the Eurovision Song contest (one of the better choices!) where she was runner up, and went on to produce a highly successful single that charted around the world. She then moved on to work with Dub Conspiracy (with whom she again charted). Her worldwide tours, television, live and recorded output includes work with the likes of Gloria Gaynor, Carleen Anderson, Michael Bolton, Lulu and Beverley Knight. She was until recently the lead singer with the iconic band "Incognito", with whom she has had a long association, and she continues to perform with them whenever "motherhood" duties allow. Her band, not surprisingly, is full of some of the best "Groove" players on the scene, including guitarist Emlyn Francis, keyboardist Gary Sanctuary and her two wonderful backing singers Jono McNeil and Yvonne Park. Her long anticipated debut album "Standing Tall" was realised at the end of 2014 to considerable acclaim and you can expect to hear a number of originals from that album as well as some classic soul and R&B tunes. A powerful and charismatic vocalist this is a wonderful opportunity to hear this enormously experienced and highly regarded singer perform with her fantastic band here at the Club.
"The magnificent vocals of Imaani, who weaves her magic over a backdrop of funk guitar and old-school synths" DJ Times; "Imaani's beautiful vocals are the standout element" JjazzproJect
http://www.imaani.net/

SATURDAY 20TH - PETER KING & MORNINGTON LOCKETT
9:30PM

SUNDAY 21ST: LUNCHTIME SPECIAL: EILEEN HUNTER
1:30PM

...and in the evening:
SUNDAY 21ST - NOEL MCCALLA
8:30PM

MONDAY 22ND - CARL HUDSON'S "MOON UNIT"
8:30PM
£12

TUESDAY 23RD - DAVID GORDON TRIO
8:30PM

WEDNESDAY 24TH - ALICE ZAWADZKI
8:30PM

THURSDAY 25TH - ANT LAW TRIO
8:30PM

FRIDAY 26TH - SAMARA FEATURING LILIANA CHACHIAN
9:30PM "Samara" is a six-piece jazz/Latin group which I lead on sax and flute, and suffice it to say we all think the guys in the band are just great! The pianist Neil Angilley works with Vanessa Mae, Shirley Bassey and "Down to the Bone", Dill Katz, the bass player is visiting professor at the Guildhall, Nic France the drummer has worked with just about everyone, including Dave Gilmore (Pink Floyd) and Bill Withers. Singer Liliana Chachian is considered to be one of the finest Brazilian vocalists currently working in Europe, with an unerring gift for melody and phrasing. The music is an infectious blend of Brazilian Samba, jazz/Latin and Soul, and everyone has a great time!
"Cracking Latin-jazz quintet led by 606 proprietor Steve Rubie on flute and alto saxophone…explores these Latin jazz classics in great rhythmic style" Time Out

SATURDAY 27TH - CLARK TRACEY
9:30PM
http://www.clarktracey.com/

SUNDAY 28TH - CD LAUNCH: BRUCE LESTER JOHNSON
8:30PM

SUNDAY 28TH: LUNCHTIME SPECIAL: TBC
1:30PM

MONDAY 29TH - TOMMY BLAIZE BAND
8:30PM
£12

TUESDAY 30TH - ROYAL ACADEMY OF MUSIC EXAM NIGHT (FREE ENTRY)
8:00PM

WEDNESDAY 31ST - JOHN LAW'S CONGREGATION
8:30PM

606 CLUB
90 Lots Road, Chelsea, London SW10 0QD
+44 (0)20 7352 5953
http://www.606club.co.uk
---
blog comments powered by

Disqus
JAZZ MANN FEATURES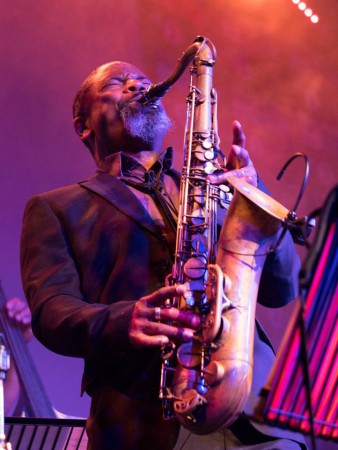 Ian Mann on the final day of the Festival and performances by Hot 8 Brass Band, Sarah Munro, Mode9, Paul Carrack and Denys Baptiste.
---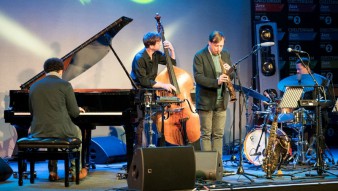 Ian Mann on performances by Monocled Man, Schnellertollermeier, Meshell Ndegeocello, Chick Corea, Chris Potter and Yazz Ahmed.
---
JAZZ MANN RECOMMENDS
---