NEWS
Aki Takase's Japanic - new album and German tour March / April / May 2019.
Thursday, March 14, 2019
We have received the following press release;

"I want to show with this music that our time is not easy, but that you can still play prolifically and happily" Aki Takase

AKI TAKASE – JAPANIC
Thema Prima
(BMC CD 268)
Release: 26 April 2019

Aki Takase piano; Daniel Erdmann saxophone; DJ Illvibe turntables electronic; Johannes Fink double bass; Dag Magnus Narvesen drums

Like pages from a diary of a blazing life, Thema Prima is released 26 April 2019 on BMC Records.

Japanese-born, Berlin-resident Aki Takase celebrated her 70th year in 2018 with characteristic vitality - new compositions for a new band of collaborators in Japanic – recording Thema Prima over their 4 day residence at the Budapest Music Centre.

Aki brings together an international, young and highly honoured generation of musicians. Echo winner German tenor saxophonist Daniel Erdmann (Velvet Revolution, das Kapital), his compatriots DJ Illvibe (SEEED, LycheeLassi, Peter Fox) and bass player Johannes Fink (Rolf Kühn Trio) and the Norwegian drummer Dag Magnus Narvesen (Splitter Orchestra) are among the elite of contemporary European jazz, bringing with them very different styles and timbres.

The combination, consideration and interplay of these musicians of different generations, nationalities and musical backgrounds fits perfectly with Aki Takase's overarching musical approach, which uses all fields of music and has earned her a firm place in the history of jazz over her many years of music activity.

Aki's collaborations are a roll call – see brief bio next page, for brief! She has made excursions to the boundaries between jazz and new music, dance and electronic music, as well as a dedication to translating music from great ancestors of jazz, including Fats Waller, Duke Ellington, Thelonious Monk, Ornette Coleman, and Eric Dolphy, into her personal context and on her albums.

On Thema Prima, with Japanic, Aki Takase has well and truly hit her stride, with jubilant collaborators.

LIVE AT BUDAPEST MUSIC CENTRE https://www.youtube.com/watch?v=AQbLlY34M6Q&feature=youtu.be

"There are more ideas in a single track than one normally finds in an entire album."
Ivan Hewett, Daily Telegraph 2013 – on My Ellington

"..sheer eloquence, graceful authority and mind-bending interplay.."
Glenn Astarita, All About Jazz - on La Planete: Flying Soul 2014

This music is of an immensely youthful, contagious zest for life. Aki Takase's language on the piano has always been full of poetic lust and forceful elegance, always very percussive and with many changes of tempo and dynamics. She knows how to translate curiosity at short notice into sounds and rhythms. Wolf Kampmann

JAPANIC tours Germany in March-May. Further European dates to be announced.

18 March
Nürnberg Tafelhalle

20 March
Köln Stadtgarten

22 March
Dresden Tonne

23 March
Bayreuth Jazzclub

26 March
Marburg

28 March
Hannover

30 March
Bamberg

30 April
Krefeld

2 May
Burg Ranis
TRACK LISTING

1.
Traffic Jam
6'02

2.
Thema Prima
6'06

3.
A Goldfish in Space
1'29

4..
Mannen i tårnet
4'15

5.
Wüstenschiff
4'12

6.
Hello Welcome
4'41

7.
Monday in Budapest
6'21

8.
Les Constructeurs
3'34

9.
Berlin Express
7'03

10.
Madam Bum Bum
3'13

All compositions by Aki Takase except tracks 3, 8 by Daniel Erdmann and Track 4 by Dag Magnus Narvesen.

VERY SHORT BIOGRAPHY;
Aki Takase a Berlin-resident since 1987, has a 30 year history as one of the most outstanding and formative figures in contemporary European jazz. Aki Takase's art is always dedicated to new projects and musicians who have a similarly open understanding of music as herself. In previous projects she has made eye-catching excursions to the boundaries between jazz and new music, dance and electronic music. Collaborators include Alex v. Schlippenbach, David Murray, Louis Sclavis, Rudi Mahall, Maria Joao, Fred Frith, Paul Lovens, her trio with Reggie Workman and Rashied Ali, and outstanding releases including the homage to Eric Dolphy, 12 strong on So Long, Eric! (Intakt 2014) and My Ellington (Intakt 2013).
Recent releases alone are a roll call: http://akitakase.de/2011-2/
She is currently working on numerous projects including duos with Alex v. Schlippenbach, Lauren Newton, Silke Eberhard (Ornette Coleman Anthology) and Louis Sclavis as well as in Trio with LOK 03 (Alexander von Schlippenbach & DJ Illvibe), TAMA (Jan Roder and Oliver Steidle), Aki and the Good Boys, La Planete Quartet with Louis Sclavis, Vincent Courtois and Dominique Pifarely, and Da Capo Music and Dance Project with Louis Sclavis, DJlllvibe, Yui Kawaguchi, Kofie de Vibe.
Aki received the SWR Jazzaward 2002 for "St. Louis Blues" released on Enja ( by the W.C.Handy-Project with Rudi Mahall, Nils Wogram, Fred Frith and Paul Lovens), and in 2004 she was awarded the prestigious Yearly German Critics Award (Jahrespreis der dt. Schallplattenkritik). She has received the German Record Critics Award 1988, 1990, 1993, 1997, 2001, 2004, 2006, 2007, 2009 - in total 9 times between 1988-2017.
In 2018 Aki Takase received the Jazz Preis Berlin.

BMC RECORDS
As part of the Budapest Music Centre family, with 260 releases over 20 years, BMC Records has built up international recognition for European artists and initiated successful collaboration between Hungarian and international musicians. The label's strategy is to be open to traditional musical values as well as to acts representing a new, experimental approach.
The catalogue covers the works of the most important contemporary and classical Hungarian composers -Liszt, Bartók, Ligeti, Kurtág, Eötvös- performed by such renowned artists as Pierre-Laurent Aimard, Barbara Hannigan, Gábor Csalog, Adrienne Krausz, Ensemble Modern, the Calder Quartet, and the BBC Symphony Orcherstra. Jazz albums feature artists such as Archie Shepp, Chris Potter, Hans Lüdemann, Dave Liebman, Joachim Kühn, Daniel Erdmann, Lionel Loueke and Émile Parisien. BMC Records has been awarded by Midem, Jazzman, Deutsche Schallplatten, and Diapason Magazine, with well over 3000 reviews in international press.
---
blog comments powered by

Disqus
JAZZ MANN FEATURES
Pending his 2019 Cheltenham Jazz Festival gig with John Surman's Brass Project John talks more about his work with Soft Machine & with Surman, Eberhard Weber & others. He also picks his top ten CDs.
---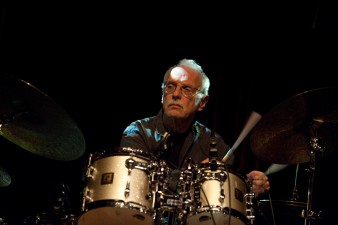 In the second part of his interview with guest contributor Trevor Bannister John establishes himself on the 1960s London jazz and session scene and gets the call from Soft Machine.
---
JAZZ MANN RECOMMENDS
---