NEWS
Alina Bzhezhinska Quartet - new album and UK tour dates.
Friday, April 13, 2018
We have received the following press release;

PRESS RELEASE

Alina Bzhezhinska
INSPIRATION
Ubuntu Music – UBU0008
Album release: Friday 1 June 2018

15 June 2018
Album launch concert at The Vortex, London
& UK concert dates (please see below for details)

"On Inspiration (the Alina Bzhezhinska Quartet) bathe deeply in the spirit of Alice and John's majestic, meditative music, yet also use it as a point of departure for new personal directions. The journey is within, to a better place for humanity." Kevin Le Gendre

Internationally renowned harpist Alina Bzhezhinska releases her new album Inspiration on Ubuntu Music this June. "I set myself on a mission to tell Alice and John Coltrane's story in my own words, through my own interpretation of their music and my compositions," explains Bzhezhinska. "The idea for my new album came to me at the beginning of 2017, the year when the world paid tribute to Alice Coltrane for her amazing contribution to music, celebrating her 80th birthday and paying respect to her memory."

After studying Alice Coltrane's music and digging deeper into the history of Jazz and her place in contemporary music, Bzhezhinska realised that Coltrane's legacy could not be underestimated nor overlooked. "Coltrane is a true role model whose art was an example of endless potential and creative possibilities and whose life journey was dedicated to finding the meaning of human existence and universal consciousness," says Bzhezhinska.

Bzhezhinska chose to work with musicians who share her fascination with Alice and John Coltrane and who opened a new world of possibilities to showcase the harp in a very unique way - award winning saxophonist Tony Kofi, double bassist and composer Larry Bartley and virtuoso drummer Joel Prime. Inspiration features four original compositions including 'Lemky', a piece inspired by the traditional music of Lemky, the tribe from the Carpathian Mountains that was forced to leave its homeland never to return. The album also features fine interpretations of music by both Alice and John Coltrane. 'Journey in Satchidananda' by Alice Coltrane is one of the most important pieces on my album," says Bzhezhinska. "I discovered this music a long time ago and it took me on my own personal journey that I'm still experiencing and would encourage everyone to explore its beauty and depth. John Coltrane's 'After The Rain' strikes me by its beauty and I think it works wonderfully with the sound of the rain and a storm that can be imitated on the harp so naturally."

"With my instrument I don't try to fit into any kind of styles or trends in jazz. I try to be truthful and remember what Alice Coltrane said - "In music, I don't think I have real preferences about the form… when you express your heart, it has to come from you,"" concludes Bzhezhinska.

Alina Bzhezhinska Quartet with Tony Kofi, Larry Bartley and Joel Prime
Concert dates:
27 April – Birmingham Jazz
18 May – The Verdict, Brighton
1 June – Toulouse Lautrec, London
15 June – The Vortex, London (album launch)
22 June – City Hall, Glasgow (Glasgow Jazz Festival)
20 July – E15Jazz, London
17 August – The Basement Jazz Club, York
18 August – Ilkley Jazz Festival
19 August – Jazz Night at CBINN, Richmond, North Yorkshire
21 August – Annie's Jazz, Southend-on-Sea
27 September – Elgar Room, Royal Albert Hall, London
17 November – Bear Jazz Club, Luton
30 November – Wakefield Jazz

The album was funded in part by the PRS Women Make Music Award.

Alina Bzhezhinska: https://www.alina-harpist.com/

Originally from Ukraine/Poland and now based in London, Alina Bzhezhinska is an internationally renowned harpist. She has performed with leading classical and jazz musicians such as Shabaka Hutchings, Miguel Atwood-Ferguson and the Glasgow String Quartet. Her duo, with award-winning jazz vocalist Niki King, has supported Gregory Porter. Bzhezhinska's critically acclaimed Quartet led the 80th Birthday celebrations for Alice Coltrane around the UK in 2017. Their appearance at the EFG London Jazz Festival in a special triple bill featuring Denys Baptiste and Pharoah Sanders - 'A Concert for Alice and John' - has been nominated for Best Live Experience of the Year at the 2018 Jazz FM Awards. Bzhezhinska has recorded a solo album called Harp Recital and is featured on recordings by the American harp ensemble Harp Fusion and Konrad Wiszniewski and Euan Stevenson's jazz group New Focus.

Ubuntu Music: http://www.weareubuntumusic.com/

Ubuntu Music, a division of Ubuntu Management Group, is a progressive recorded music label that is committed to bringing quality, accessible jazz and related music genres to increasingly wider audiences. Our approach includes collaborative efforts with an array of performing artists who have a passion for jazz and who possess unique and diversified talents.

Ubuntu Management Group: http://www.ubuntumanagementgroup.com/

Distribution through The Orchard: http://www.theorchard.com/
---
blog comments powered by

Disqus
JAZZ MANN FEATURES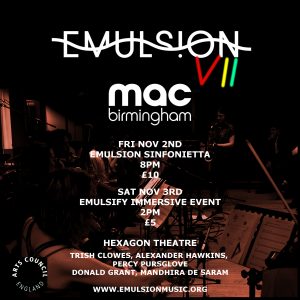 An intriguing evening of music making that once again mixed genres at a whim. Ian Mann on the latest edition of Trish Clowes' Emulsion Festival, w. guest musicians Alexander Hawkins & Percy Pursglove.
---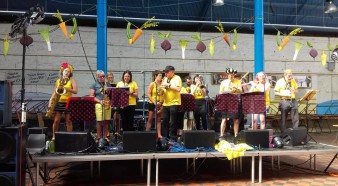 Ian Mann enjoys the Jazz Alley and Charity Swing Party events at the Market Hall with performances by Wonderbrass, Tarion, Rebelinx and The Electric Swing Circus.
---
JAZZ MANN RECOMMENDS
---