NEWS
Autumn New Music Season at The Albany, Deptford, London.
Friday, October 05, 2018
We have received the following press release;

Steam Down Collective play the Albany 17 Nov.

STEAM DOWN COLLECTIVE
The Albany, London
Part of the Albany Autumn New Music Season

Live
Saturday 17 NOVEMBER 2018

Jumping off the sonic springboard of Afrofuturism, grime and future soul, and fused together with the fearless spontaneity of jazz, Steam Down is comprised of Ahnanse, Alex Rita, Brother Portrait, Sawa Manga, Theon Cross, Nadeem, Benjamin Appiah, Dominic Canning and Nache. Deptford has long been the centre point for the collective (it's where their weekly live music nights take place) with many members sharing a specific connection with the Albany. With such close ties to the area and the venue, Steam Down have taken the opportunity to make something magic happen on home turf by creating a new and exciting show for their headline gig at the Albany.

The show will be an exploration of meditation and trance, with musical influences from Alice & John Coltrane, Pharoah Saunders, Jo Henderson, and Dorothy Ashby. Steam Down will be recalling the artistry of griots – West African storytellers, poets, singers and historians – as well as exploring the power of music to be both mystical and transcendental. Drawing from the past of African diasporas and mapping the transformation of its musical descendants through to the modern day – the dialectical sonorous feedback between now and then and tomorrow. Seeking to create something close to a communion with the spirit, the collective will be weaving vibratory and auditory illusions, taking everyone on a trip that will not be forgotten. Featuring harpists, synths, poetry and sensory vocals as well as pulsating percussion, expect a night that will take you beyond the horizon.

Steam Down is an arts collective, a weekly live music night based in Deptford, and a burgeoning label platforming artists such as Brother Portrait, And.Is.Phi and Alex Rita. Their weekly live music sessions in Deptford have included guest appearances from Kamasi Washington, Sampa The Great, Nubya Garcia, members of Ezra Collective, SEED Ensemble and Sons of Kemet. Every performance is a co-creative experience between musicians and audience where everyone's participation matters. Steam Down creates an immersive experience that is complemented by the exuberant energy of the Steam Down extended family who regularly attends to bring vibes and support. Together, musicians and everyone else who shows up and gets down, go on an aural exploration of past-present-future.

Watch live for Worldwide FM https://www.youtube.com/watch?v=5Rh29k7MYmc

This is a standing event / Doors 7.30pm / Tickets from £8
Steam Down's show forms part of The Albany's 2018 Autumn New Music Season.

The Albany Autumn Season of new music includes Leyendekker (12 Oct); Gwyneth Herbert (14 Oct); Tawiah (19 Oct); Evenings for Ed: Gala Night feat. Steve Howe (31 Oct); Omar Puente* (1 Nov); Riot Jazz* (2 Nov); Transglobal Underground* (3 Nov); Lisa Knapp (8 Nov); Hejira (9 Nov); and Steam Down Collective (17 Nov)

*Also part of Evenings for Ed, four fundraising concerts as part of the Ed Renshaw Award.

For full details and booking information: http://www.thealbany.org.uk | 020 8692 4446

The Albany, Douglas Way, Deptford, London, SE8 4AG

About the Albany

The Albany has long been at the heart of the thriving South East London music scene. Its rich musical heritage and radical activist past, which in the 70s saw bands such as the Wailers and The Clash grace its Deptford stage, alongside 15 notable Rock Against Racism gigs, underpins its commitment to the new and experimental.

Today, it continues to be driven by the cultural diversity and the creative mix of the area; it is home to much of the freshest, cross-genre innovation that has erupted from the booming SE London scene – particularly jazz and new electronica – as well being host to more established acts on the contemporary music scene.

The Albany is an arts centre based in the heart of Deptford with a history embedded in the local community. It was originally established in 1894 as The Deptford Fund to improve the plight of local people, it opened its first building, the Albany Institute in 1899. It became the Albany Empire in the 1970s, renowned as a pioneering home for radical community arts. The building was destroyed by fire in 1978, leading to its purpose-built new building opened by Diana, Princess of Wales, in 1982.

The Albany is driven by the cultural diversity and creative mix of South East London. The venue has a 500 capacity main house, as well as two smaller studio spaces, a café and a large garden.

The Albany is a registered charity and any income it makes is reinvested back into the work it does.

Many of The Albany's gigs are dynamically priced: they set the price based on demand from £5. It is suggested that visitors book early for the best rate.

It has a track record of developing young musicians through its Young Creatives programme and partnership with the Ed Renshaw Trust.

Mercury-nominated songwriter Eska has been an Albany Associate Artist for the last 3 years, working across its Creative Programme, and over the next 2 years they will work with her on the development of a new opera.
---
blog comments powered by

Disqus
JAZZ MANN FEATURES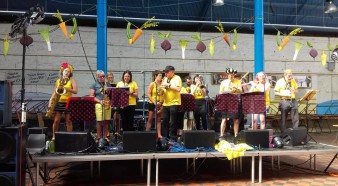 Ian Mann enjoys the Jazz Alley and Charity Swing Party events at the Market Hall with performances by Wonderbrass, Tarion, Rebelinx and The Electric Swing Circus.
---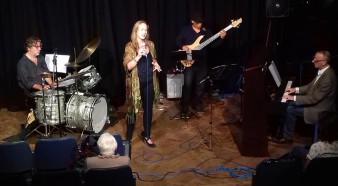 Ian Mann on a day of superb jazz with concert performances from bands led by Daniel Newberry, Alison Rayner, Ben Holder, Rachel Sutton and Tony Kofi plus interval music from Dave Jones and friends.
---
JAZZ MANN RECOMMENDS
---