NEWS
Belshazzar's Feast Christmas Tour, November / December 2017.
Thursday, November 30, 2017
The band write;

Belshazzar's Feast Christmas Tour.

You'd better watch out, you'd better not cry,
You'd better not pout, we're telling you why!

Why? Because you could be so much worse off. You could be missing Belshazzar's Feast's 9th annual Christmas tour. You could be wallowing in a mire of your own abject misery whilst we enthrall and entertain our delighted and delightful audienceswhilst simultaneously and magnanimously offering them a choice and seasonal retail opportunity thus selflessly helping to alleviate the relentless, overbearing commercial
pressure thrust upon them by the capitalist military-industrial hierarchical complex during this time of peace and goodwill. AND, to make life so much simpler and undemanding, we take both cash and credit cards.

Four gigs have sold out (unlike us) - Barton, Shrewsbury, Dungworth, and Whitchurch - so you do need to hurry whilst stocks last. Whether it's carolling in Croydon, wassailing in Wiltshire or noeling in Nettlebed that tickles your festive fancy, book now to avoid disappointing us.

Thursday, 30 November
Halsway Manor
01984 618 274
http://www.halswaymanor.org.uk|

Saturday, 2 December
The Ropewalk, Barton-on-Humber
01652 660 380
http://www.roperyhall.co.uk/music

Sunday, 3 December
Henry Tudor House, Shrewsbury
01743 361 666
http://www.henrytudorhouse.com

Wednesday, 6 December
Leicester Guildhall
0116 253 2569
http://www.greenbirdpromotions.net

Thursday, 7 December
The Atkinson, Southport
01704 533 333
http://www.theatkinson.co.uk

Saturday, 9 December
Royal Traditions Folk Club, Dungworth, Sheffield
http://www.soundpost.org.uk/royal-traditions

Sunday, 10 December
The Fleece Inn, Bretforton
01386 831 173
http://www.thefleeceinn.co.uk
NB MATINEE & EVENING PERFORMANCES

Monday, 11 December
Stafford Folk Club
http://www.eventbrite.co.uk

Tuesday, 12 December
The Oval Tavern, Croydon
020 8405 3887
http://www.wegottickets.com/theukulele

Wednesday, 13 December
The Youngsters' Matinee, Stanley Halls, Croydon
020 8405 3887
.(JavaScript must be enabled to view this email address)

Wednesday, 13 December
The Oval Tavern, Croydon
020 8405 3887
http://www.wegottickets.com/theukulele

Thursday, 14 December
Cecil Sharp House, Camden, London
020 7485 2206
http://www.cecilsharphouse.org.uk

Friday, 15 December
Tuppenny Barn, Southbourne, West Sussex
01243 377 780
http://www.tuppennybarn.co.uk

Saturday, 16 December
South Street Arts Centre, Reading
0118 960 6060
http://www.readingarts.com

Sunday, 17 December
Folk On The Moor, Lee Mill, Devon
01752 493 360
http://www.moorfolk.co.uk

Monday, 18 December
Nettlebed Village Club
01628 636 620
http://www.nettlebedfolkclub.co.uk

Tuesday, 19 December
Exeter Phoenix
01392 667 080
http://www.exeterphoenix.org.uk

Wednesday, 20 December
Wiltshire Music Centre, Bradford-on-Avon
01225 860 100
http://www.wiltshiremusic.org.uk

Thursday, 21 December
West End Centre, Aldershot
01252 330 040
http://www.westendcentre.co.uk

Saturday, 23 December
Parish Hall, Whitchurch, Hampshire
http://www.billetto.co.uk

Belshazzar's Feast Stocking Fillers CD
Visit the BF website http://www.belshazzarsfeast.com/

Belshazzar's Feast;
Paul Hutcinson - accordion
Paul Sartin - oboe, violin, vocals

'One of folk's great odd couples' .... Independent on Sunday

'Impressive blend of musicianship and humour' .... Guardian

'Fun for all the family' ..... R2

'Ridiculously insane' ..... Bright Young Folk
In other news:

Both Pauls have been engaged in R&D as animateurs and consultants for Macclesfield's biennial Barnaby Festival. Paul S has researched local songs, set some new texts to music and formed a festival choir; Paul H has unearthed some local tunes, old and new, and set up an instrumental ensemble. Both groups will be appearing with the Pauls in Macclesfield at some point during next year's festival, 15th-24th June 2018.

Paul H will be relaxing in a studio in deepest, darkest Dorset during January and February recording a follow up to Pagoda Project's debut cd Clarion. His pre-Brexit tune book will be ready for publication in time for the May 2018 tour, featuring such gems as Hole in The (Berlin) Wall, Grimstock(holm) und Drei around Drei usw.

On the back of touring with Faustus in both Germany (while we still can) and the UK, Paul S is on the road with the Remnant Kings. Shortly after the Belshazzar's Feast tour he will be be performing with John Spiers for the reformed Whitchurch Folk Club's New Year's Eve ceilidh, helping to host a Twelfth Night celebration at the Royal Shakespeare Company, and then off on a fortnight's stint with The Transports.

---
blog comments powered by

Disqus
JAZZ MANN FEATURES
Ian Mann witnesses the future of British jazz at the NYJO Jazz Jam and the JazzNewBlood showcase and loses himself in a spectacular Norwegian double bill featuring Sinikka Langeland and Jaga Jazzist.
---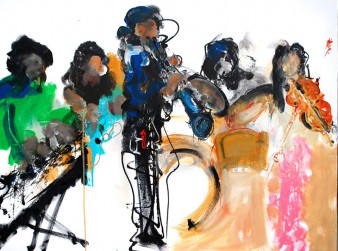 Eclectic, Iklectik, Elektrik - Ian Mann on the penultimate day of the EFG London Jazz Festival.
---
JAZZ MANN RECOMMENDS
---