NEWS
Brass Funkeys - new album and UK tour September - December 2017.
Tuesday, September 12, 2017
Trombonist Tom Green writes;

Very excited to be on tour this Autumn with the New Orleans sounds of the Brass Funkeys as we launch our new album "Rabble Rouser" out on 18th September with an album launch at Rich Mix on 15th - you can order your copy here https://brassfunkeys.bandcamp.com/ and our tour dates are below:

September 15, 2017
Rabble Rouser ALBUM LAUNCH
Rich Mix, 35-47 Bethnal Green Rd, London E1 6LA, UK
https://www.richmix.org.uk/events/music/brass-funkeys-album-launch-rabble-rouser

September 16, 2017
UK Tour: Abergavenny Food Festival
Abergavenny NP7, UK
http://www.abergavennyfoodfestival.com/programme/party-at-the-castle/

September 17, 2017
UK Tour: Brass in the Park
Cambridge, UK
https://www.cambridgelivetrust.co.uk/city-events/events/jazz-and-brass-parks

October 6, 2017
UK Tour: Bossaphonik
The Cellar, Frewin Court, Oxford OX1 3HZ, UK
http://bossaphonik.com/

October 14, 2017
UK Tour: Arts By The Sea, Bournemouth
The Old Fire Station, 28-36 Holdenhurst Road, BH8 8AD Bournemouth
http://www.seetickets.com/tour/glitter-not-litter-babs-opening-party

October 20, 2017
UK Tour: Old Market Assembly
Old Market Assembly, 25 West St, Old Market, Bristol BS2 0DF, UK
http://www.oldmarketassembly.co.uk/music/

October 21, 2017
UK Tour: Stables Bar
The Stables Bar and Grill, Penstowe Rd, Kilkhampton, Bude EX23 9QY, UK
http://www.stablesbar.co.uk/

October 28, 2017
UK Tour: Neon Moon Party
Cambridge Junction, Clifton Way, Cambridge CB1 7GX, UK
https://www.junction.co.uk/neon-moon-hellfire

November 10, 2017
UK Tour: Oakford Social
Oakford Social Club, 53 Blagrave St, Reading RG1 1PZ, UK
http://www.oakfordsocialclub.com/events

November 17, 2017
UK Tour: Matt & Phreds
Matt & Phreds Jazz Club, 64 Tib St, Manchester M4 1LW, UK
http://www.mattandphreds.com/diary/brass-funkeys

November 18, 2017
UK Tour: Bar Loco
Newcastle upon Tyne, UK
http://barloconewcastle.com/events/

November 19, 2017
UK Tour: Hifi Club
The HiFi Club, 2 Central Rd, Leeds LS1 6DE, UK
http://www.thehificlub.co.uk/events/list/

November 26, 2017
UK Tour: Cambridge Jazz Festival
Corn Exchange Street, Corn Exchange St, Cambridge CB2, UK
https://www.cambridgejazzfestival.info/su26

December 10, 2017
UK Tour: Ronnie Scott's Bar
Ronnie Scott's, 47 Frith St, Soho, London W1D 4HT, UK
https://www.ronniescotts.co.uk/upstairsronnies

From the Brass Funkeys website; http://www.brassfunkeys.com and Bandcamp page https://brassfunkeys.bandcamp.com/

Spirited Second Line Revelry, Galloping Gypsy Czárdas, Soulful Jazz Funeral Marches, Pumping Brass Driven Funk!
The Brass Funkeys are an 8-piece London-based Brass Band who draw on the traditions of New Orleans. Formed in 2011, they have played at major festivals including Glastonbury, Boomtown and Bestival as well as London venues including The O2 Brooklyn Bowl, Richmix, and Ronnie Scott's. Last year the band supported Dr John, the Hot 8 Brass Band and The Dirty Dozen on their UK tours and have also performed across Europe.

Whether performing a powerful amplified stage show or as a totally mobile marching band, the Brass Funkeys bring together some of the most talented musicians in London in an eclectic live show bursting at the seams with ideas and infectious energy.

Featuring 13 tracks of original compositions by band members and unusual covers such as Gorillaz 'Dirty Harry' and Royce Wood Junior 'Honeydripper', Rabble Rouser marks the Brass Funkeys out as a trailblazer in the new generation of UK Brass Bands. With a unique live show honed by years on the festival circuit, their second album reveals a band bursting at the seams with ideas and infectious energy while still holding true to the New Orleans sound.

From the noisy thrash of 'Goblins' to the sousaphone led 'David Battenberg's Life of Cakes' - the soundtrack to a man stuffing himself full of baked goods in the middle of the rainforest - to 'Pacha Mama', a visceral ode to mother nature's wrath featuring heavy rock and a sprinkling of drum 'n' bass; Rabble Rouser awakens the senses and lights fire in the soul.

Track listing;
1. Goblins 04:36
2. Pacha Mama
3. David Battenberg's Life of Cakes
4. Dirty Harry
5. Asiro
6. Bizness
7. Honeydripper
8. Clave Maria
9. Underdub
10. Dynamo Blues
11.Zambezi
12. Le Sable
13. PITA (Prakash in the Attic)

Line up;

Rob Smith - trumpet
Matt Letts - trumpet
David Robinson - tenor sax
Vij Prakash - trombone
Tom Green - trombone
Rob Slater - sousaphone or John Caddick - sousaphone
Scott Jowett - drums
Chris Brice - percussion
---
blog comments powered by

Disqus
JAZZ MANN FEATURES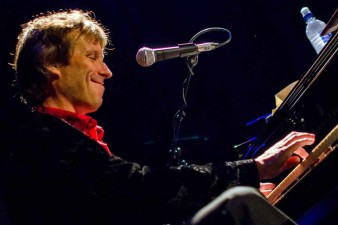 Ian Mann on the final, family friendly day of the Festival with performances by Samba Galez, Budapest Ragtime Band, Chris Moreton, Kitty & The Purramours and the Red Stripe Band.
---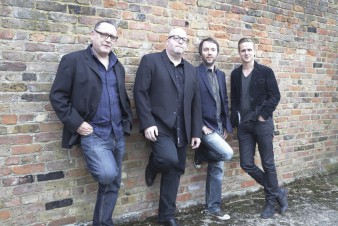 Ian Mann enjoys a day of wall to music including performances by three of the great entertainers of British jazz, vocalist Ian Shaw, saxophonist Gilad Atzmon and electric bass specialist Shez Raja.
---
JAZZ MANN RECOMMENDS
---