NEWS
Cath Roberts - Autumn 2018 newsletter.
Friday, September 07, 2018
Cath Roberts writes;

Cath Roberts Newsletter: Autumn 2018.

The newsletter of improvising saxophonist and composer Cath Roberts.

Hello
Welcome to the Autumn 2018 edition of my broadly-seasonal email newsletter. Read on to find out what's coming up for me over the next few months - and you can always keep up to date with what I'm up to between emails by checking in on my website and/or following me on Twitter.

Sloth Racket album reviews and Vortex date;

Reviews have been coming in for the new Sloth Racket album A Glorious Monster since its release in June, both in print and online. In the Wire magazine, Daniel Spicer described the album's 'gossamer guitar webs', 'free burn' and 'doomy plod', while Ken Waxman on Canadian blog Jazzword wrote that 'the hard-hitting Sloth Racket quintet is refining its approach to Free Jazz without losing any of the power that characterized the band's earlier music'. The full reviews round-up is over on my blog.
http://cathrobertsmusic.co.uk/blog/2018/09/05/sloth-racket-a-glorious-monster-reviews-roundup/

We had a great time touring in May/June to support the album release. The tour already feels like a long time ago, so I'm happy to announce that this Autumn we're reconvening at The Vortex in London for a one-off date on 27th September. Tickets are available from the Vortex website: come and join us for what may well be the last Sloth Racket gig of 2018 - in London at least.
http://www.vortexjazz.co.uk/event/sloth-racket/

BRÅK continues at waterintobeer;
The Brockley improvised music series I'm co-running with Colin Webster and Tom Ward has three more dates coming up this year. The night takes the form of a residency at excellent beer shop waterintobeer: for each gig, the three of us each invite guest duo partners to play a set. The three-set programme starts at around 7pm, with doors at 6.30pm. This Autumn my guests will be Dominic Lash (on 8 September) and Gina Southgate (on 3 November), and there will be a special festive gig (with exciting guests to be announced) on 15 December. See the BRÅK website for full details of all the upcoming guests.
http://brakbrakbrak.co.uk/

Upcoming live dates;

September, October and November are currently looking like this…

8 September duo with Dominic Lash at BRÅK | waterintobeer, Brockley, London

9 September duo with Dee Byrne | Raw Tonk Records At Hundred Years Gallery, London

16 September duo with Alex Ward at Mopomoso | The Vortex, London

18 September duo with Benedict Taylor at Horse Improv Club | IKLECTIK, London

27 September Sloth Racket at The Vortex, London | Buy tickets

30 September duo with Dee Byrne at Linear Obsessional Live | Lewisham Artscafe, Hither Green, London

10 October duo with Benedict Taylor at Catford Constitutional Club, London

14 October Ripsaw Catfish at No Bounds Festival, Sheffield

23 October duo with Seth Bennett at Fizzle | Lamp Tavern, Birmingham

27 October with Dirk Serries' Tonus ensemble at Cafe Oto, London

3 November duo with Gina Southgate at BRÅK | waterintobeer, Brockley, London

16 November as part of Ethan Iverson Residency: Raising Hell with Henry Purcell (London Jazz Festival) | Kings Place, London

That's it for now - thanks for reading and see you out there!
Cath

http://cathrobertsmusic.co.uk/

https://twitter.com/cathrobots
---
blog comments powered by

Disqus
JAZZ MANN FEATURES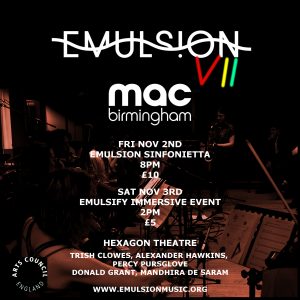 An intriguing evening of music making that once again mixed genres at a whim. Ian Mann on the latest edition of Trish Clowes' Emulsion Festival, w. guest musicians Alexander Hawkins & Percy Pursglove.
---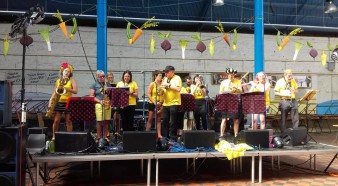 Ian Mann enjoys the Jazz Alley and Charity Swing Party events at the Market Hall with performances by Wonderbrass, Tarion, Rebelinx and The Electric Swing Circus.
---
JAZZ MANN RECOMMENDS
---