NEWS
Christine Tobin announces UK tour for early 2018.
Sunday, October 22, 2017
We have received the following press release;

Christine Tobin announces UK tour for early 2018.

Christine Tobin PELT
UK Tour dates 2018
25 Jan - 10 Feb

Irish born, NYC based singer and composer Christine Tobin announces a 12-date tour, supported by Arts Council England, across the UK in early 2018 of her most recent critically acclaimed album, PELT.
PELT is Christine's settings of poems and lyrics by contemporary Pulitzer Prize winning poet, Paul Muldoon. A stellar band will join her for these performances and Paul Muldoon will make a guest appearance at the Exeter show. Multi award-winning Brooklyn poet Eva Salzman will be joining Christine for the London and Southampton shows (full details below).

"Pelt strikes that most elusive of balances between familiarity and strangeness, by turns recalling Tom Waits, Kate Bush and Joni Mitchell, without being beholden to any particular genre or influence… music that veers from grungy, post-industrial grooves to wispy romanticism to abstracted contemporary classical, all played with punkish attitude…" The Irish Times ****


25 January Bridport Arts Centre, Dorset https://www.bridport-arts.com

26 January Calstock Arts, Cornwall http://calstockarts.org
27 January Plough Arts Centre, Torrington, Devon http://www.theploughartscentre.org.uk
28 January Exeter Phoenix, Devon http://www.exeterphoenix.org.uk
1 February Turner Sims, Southampton https://www.turnersims.co.uk
2 February Derby Jazz, Deda Studio Theatre https://www.derby-jazz.co.uk
3 February Hall 2, Kings Place, London (2 shows 7.30 pm and 9.15 pm) https://www.kingsplace.co.uk
4 February Northern Rock Foundation Hall, The Sage, Gateshead http://www.sagegateshead.com
6 February Royal Welsh College of Music & Drama, Cardiff http://www.rwcmd.ac.uk/whats_on/music.aspx
7 February The Lantern, Colston Hall, Bristol http://www.colstonhall.org
8 February Jazz Steps Nottingham, Bonington Theatre https://www.jazzsteps.co.uk
10 February Jazzlines Birmingham, Venue TBC https://www.thsh.co.uk/whats-on/org/jazzlines

An integral part of the UK music scene for many years, Christine Tobin is renowned for her unique rich voice and original compositional style. With eleven highly acclaimed CDs under her own name and four major awards under her belt, Christine is treasured in the UK and far beyond as one of the leading lights on the contemporary scene.

In December 2012 Christine won a BASCA British Composers Award for her spellbinding settings of poems by WB Yeats, 'Sailing to Byzantium'. The award included a PRSF commission to write new music and the album PELT was the result. For Christine text and music have always been equally important and PELT is Christine's settings of poems and lyrics by contemporary Pulitzer Prize winning poet, Paul Muldoon. Although a continuation of Tobin's alchemy with fine words and music and her exploration of the chemistry between the two, PELT marked a new direction and a new musical soundscape and is both daring and dreamlike, passionate and playful.

Tobin leads her virtuosic musicians across a kaleidoscopic panorama, sometimes as junkyard blues philosopher, or snappy beat seductress, sometimes as a conduit for exquisite zen-like harmonies, or reflective Americana. The result is a rich and engaging collection with Tobin's trademark originality. The seed of the idea for setting Paul Muldoon's poems came when the pair were invited to collaborate and perform a piece at the Kilkenny Arts Festival back in 2011. Christine had long admired Muldoon's work and he was greatly impressed by her settings of WB Yeats. The texts chosen for the PELT collection are a mix of his poems and lyrics.
Christine's stellar band for this tour will feature Richard Jones violin, Kate Shortt cello & backing vocals, Gareth Lockrane flutes, Phil Robson guitar & electronics, Steve Hamilton piano, keyboard & laptop, Dave Whitford double & electric basses & Simon Lea drums. There will be poetry readings by Eva Salzman (Turner Sims and Kings Place) and Paul Muldoon (Exeter Phoenix).

"...there's a patience and clarity to her handling of fine poetry, but there's a tough, bluesy assertiveness to this album too. Tobin sounds almost as scornfully sardonic as 60s Dylan… Muldoon and Tobin make a powerful team." The Guardian****

"…feisty original music written by Tobin for a programme that covers the Americana waterfront. The album is a masterclass in songcraft." BBC Music Magazine *****

"Tobin's vocals, veering from acrobatic to sultry, are tailored perfectly for the material, her evocations of time and place precise. Classy and lovely." The Observer ****

"PELT is marked by its timbral richness and breathtaking imaginative scope… a remarkable equipoise of the hard-hitting and the understated… one of the year's must-hear albums." Jazzwise**** Recommended

"The Voice is a killer." fRoots

http://www.christine-tobin.com
---
blog comments powered by

Disqus
JAZZ MANN FEATURES
Ian Mann witnesses the future of British jazz at the NYJO Jazz Jam and the JazzNewBlood showcase and loses himself in a spectacular Norwegian double bill featuring Sinikka Langeland and Jaga Jazzist.
---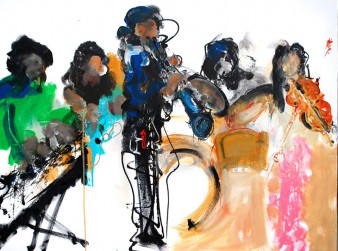 Eclectic, Iklectik, Elektrik - Ian Mann on the penultimate day of the EFG London Jazz Festival.
---
JAZZ MANN RECOMMENDS
---