NEWS
Craig Handy Quartet, UK tour October 2017.
Saturday, September 09, 2017
We have received the following information from Jonathan Gee;

The Craig Handy Quartet features Nicola Sabato bass, Jonathan Gee piano and Rod Youngs drums.

This is a fresh line up for Craig. He plays regularly with Nicola in Europe who recommended he work withJonathan, who then suggested Rod as the perfect fourth band member. They will play music from Craig's
recent 2nd Line Smith project, Jonathan's acclaimed originals, and from the canon of the great Cedar Walton.

The dates are :
Oct 4th Pizza Express Jazz Club, Dean St, London http://www.pizzaexpresslive.com
Oct 5th Seven Arts, Leeds http://www.sevenjazz.co.uk
Oct 6th The Jazz Bar, Edinburgh http://www.thejazzbar.co.uk
Oct 7th Crookes Social Club, Sheffield http://www.sheffieldjazz.org.uk
Oct 8th Hen and Chickens, Bristol http://www.jata.com

Craig is one of the giants of the Marsalis generation who reinvigorated acoustic jazz in the 80's and 90's.
Born in Oakland, CA, as a music-hungry youngster, Craig Handy experimented on guitar, trombone, and piano before settling on his first true love, the saxophone. At the age of 11 while listening to the radio, Handy fell under the spell of the transcendent saxophone playing of jazz legend Dexter Gordon. Berkeley High School's (CA) reputable Jazz Program soon beckoned, and Handy joined the ranks of graduating stellar
saxophone talent including David Murray, Peter Apfelbaum, and Joshua Redman, to name a few.

He attended North Texas State University and won the coveted Charlie Parker Scholarship which enabled his early college experience as a psychology major and frontrunner in the school's exceptional One O' Clock
Jazz Ensemble.

His distinctive sound and authentic instrumental prowess were redoubtable traits immediately noticed by artists of stature, especially those committed to nurturing new talent on the bandstand and road. Handy
moved to New York in 1986 and began several associations with formidable artists including master drummers Art Blakey and Roy Haynes, South African melodist Abdullah Ibrahim, and the Mingus Dynasty
Band.

Eager to begin leading his own bands, by his late 20s Handy was already considered a technical master and prodigious post-bop talent. He also relished musical range by performing with veteran vocalist bandleaders
such as the iconic Betty Carter and later the irrepressible Dee Dee Bridgewater. He played with Haitian and Salsa bands during this time as well.

In 1992 he decided to lead his first of two advanced hard bop recordings on Arabesque Records, Split Second Timing, which featured Handy on both tenor and alto saxophones; pianist Ed Simon; bassist Ray Drummond; drummer Ralph Peterson, Jr.; and guest trombonist Robin Eubanks. Two years later he followed with Introducing Three For All + One, a highly praised trio recording with bassist Charles Fambrough and drummer Ralph Peterson, Jr.

Handy was also a convincing and telegenic actor in Robert Altman's 1994 film Kansas City, portraying saxophonist Coleman Hawkins. In 1995, he continued playing with the new critically acclaimed band
"Chartbusters", featuring alto saxophonist Donald Harrison, organist Dr. Lonnie Smith and recorded two releases on the NYC and Prestige labels. Handy toured with Herbie Hancock throughout 1996 to mid-1999,
and he led two more recording projects on the Sirroco label – 1999's Reflections in Change and 2000's Flow.By this time he had amassed performing and recording credits with Cedar Walton, Elvin Jones, JoeHenderson, George Adams, Freddie Hubbard, and Wynton Marsalis.

For the past several years, Handy has recorded or toured consistently with guitarist John Scofield, trumpeter Charles Tolliver, the John Hicks Legacy Band, pianist Kirk Lightsey, trombonist Conrad Herwig and the
acclaimed 'The Cookers '. Handy is also touring of late with the Jazz at Lincoln Center Orchestra.

In 2014, Handy returned as an original bandleader and party-starter for his new touring and recording project on the venerated OKeh label, a division of Sony Masterworks. Titled Craig Handy & 2nd Line Smith, Handy
draws from his fondness for the music of New Orleans, smack attached to the groove-filled re-imaginings of originals and standards by the late, great organist Jimmy Smith. The release included cameos by Dee Dee
Bridgewater and Wynton Marsalis.

Jonathan Gee
Since being named ' Most Promising Newcomer ' in the British Jazz Awards in 1991 Jonathan Gee has become according to Visions of Britain " One of European Jazz's most celebrated musicians, His music is
precise, lucid and original, and at times breathtakingly lyrical "
As a specialist trio pianist he was for many years featured at Ronnie Scotts as the trio or as rhythm section for luminaries such as Joe Lovano or Benny Golson. He has released eight of his own albums , including by
his Italian trio GeeGallo Minetto, and his New York trio with Joseph Lepore and Nasheet Waits. He recently sold out Dizzy's at Lincoln Centre in New York.
Currently he is working regularly with Cleveland Watkiss with whom he collaborates on their Song Diasporas project, with Tim Whitehead on various projects, and with Tony Kofi playing Monk.
He is also an accomplished singer, and plays electronic music with Northern Star People and Japan's Coppe.
Robert Shaw in Jazzwise Magazine said 'The fire and invention that marked his recent performances with Pharoah Sanders are in full evidence on this disc ( Dragonfly ) ...his breathlessly sparkling originality shines through .'

Parisian bassist Nicola Sabato, one of the swingingest in Europe, is one of the to go to bassists in France. Apart from leading his own band and having released a number of his own albums he works regularly with Craig Handy of course, with other New York legends Kirk Lightsey, Harry Allen and Jeff Hamilton, and a who's who of French stars such as Alain Jean-Marie and Anne Ducros. check http://www.nicolasabatojazz.com

Music OMH magazine describes the London based drummer, composer as "supremely subtle andmelodic…dynamic and powerful". To be sure, Rod Youngs is one of the most expressive and adept musicians
in the music arena today.
A native of Washington, D.C. Rod's formal training began in his teenage years. He later attended Howard University were he received a Bachelor of Music degree in performance. He also studied with former
principle timpanist of the National Symphony Orchestra, Fred Begun and was subsequently chosen to study jazz performance at the Eastman School of Music in Rochester, N.Y. under the tutelage of Keith Copland.
Since those formative years Rod's consummate musicianship has garnered him a wide variety of work from concerts and recordings to sessions for radio, TV and film. He has performed/recorded with a formidable
array of artists including, Lee Konitz, Bennie Maupin, Jon Hendricks, Gil Scott-Heron, Hugh Masekela, Natalie Cole, Mica Paris, Denys Baptiste, Abdullah Ibrahim, Sia, BBC Concert Orchestra, Julian
Joseph, Courtney Pine, Ronnie Laws, Jazz Jamaica All Stars, and David Murray amongst others.

http://www.jonathangeetrio.co.uk
http://www.facebook.com/Jonathan-Gee-224069604355203/
---
blog comments powered by

Disqus
JAZZ MANN FEATURES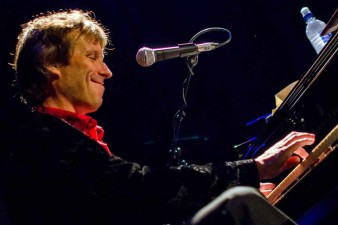 Ian Mann on the final, family friendly day of the Festival with performances by Samba Galez, Budapest Ragtime Band, Chris Moreton, Kitty & The Purramours and the Red Stripe Band.
---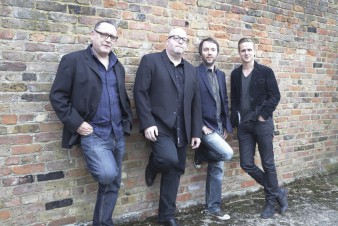 Ian Mann enjoys a day of wall to music including performances by three of the great entertainers of British jazz, vocalist Ian Shaw, saxophonist Gilad Atzmon and electric bass specialist Shez Raja.
---
JAZZ MANN RECOMMENDS
---