NEWS
EFG London Jazz Festival 2017, third wave of acts announced.
Wednesday, May 17, 2017
We have received the following press release;

EFG London Jazz Festival - 25th Birthday Festival - third wave of shows announced.

25th Birthday Festival –– third wave of shows

Having had a tremendous reception to previous announcements from press and public alike, the Festival's rich diversity and quality of programme continues to shine through in this, its third collection of shows. The ten day celebration of jazz and beyond delivers a heady mix of world-class artists and emerging stars across the concert halls and clubs of London.

The Festival has a rich history as a home for creative and pioneering new music to inspire audiences, and our 25th anniversary year is no different. Your chance to see remarkable new music continues in this announcement bursting with fresh sounds – all of which are featured as part of our '25 for 25 – New Music Matters' Commissions programme which celebrates the diversity and breadth of the jazz scene that we know and love, and reiterates our commitment to funding new music. Hotly anticipated new commissions include Terence Blanchard's Herbie Hancock inspired piece for his quintet alongside the BBC Concert Orchestra, Matthew Bourne & Keith Tippett, and Yazz Ahmed, For full details of this year's featured commissions, to donate and be a part of the next 25 years of promoting creativity, head over to our website.

Shows already on sale include Abdullah Ibrahim and Hugh Masekela and our opening gala, Jazz Voice, both as part of the EFG Excellence Series, plus Marcus Miller / Andy Sheppard / Chucho Valdez & Gonzalo Rubalcaba / Chris Thile & Brad Mehldau / Harlem Gospel Choir / Henri Texier / Bill Laurance / Average White Band / Tomasz Stanko, LaSharVu / Beats&Pieces / Paolo Conte / Phronesis, Dave Maric and Engines Orchestra plus many more.

Shows going on sale this week;

KEITH TIPPETT OCTET with MATTHEW BOURNE
Friday 10 November, Kings Place
An evening to celebrate a seminal and inspirational figure in the evolution of UK jazz since the 1960s.
Keith Tippett unveils a brand new duo with fellow pianist Matthew Bourne – himself one of the most provocatively talented artists of a later generation – alongside the Octet who plays on his most recent, acclaimed recording 'The Nine Dreams of Patrick Gonogon', in music that carries echoes of Irish folk themes, Ellington and Mingus, but which is entirely of Tippett's own making, with a band of precociously talented young players as well as the assured presence of drummer Peter Fairclough – 'simply breathtaking' (Guardian)
Part of our 25 for 25 commissioning programme.
British artists supported by PRS Foundation Talent Development Partnership with Serious

MICHAEL JANISCH QUARTET WITH Rez Abbasi + HENRY SPENCER's JUNCTURE + ZHENYA STRIGALEV TRIO
Whirlwind Recordings Blows a Storm
Friday 10 November, Rich Mix
Killer triple bill from the increasingly active London-based record label.
Whirlwind head honcho, bassist Michael Janisch, leads a terrific Stateside Quartet with the Pakistani/American guitarist Rez Abbasi – rapidly emerging as one of today's major new voices on his instrument – alongside saxophonist Walter Smith III and the brilliant drummer Clarence Penn. Award-winning trumpeter Henry Spencer's 'gleaming tone' (Jazzwise) lies at the core of an exciting young band playing out of the tradition with an invigorating freshness and attitude, whilst saxophonist Strigalev's zany trio takes that same tradition by the scruff of the neck, combining 'hip jazz virtuosity and surrealism' (Guardian) in equal measures.

ZAKIR HUSSAIN – Crosscurrents with DAVE HOLLAND and CHRIS POTTER
Saturday 11 November, Barbican
Charismatic and captivating, the live performances of tabla virtuoso Zakir Hussain are aurally and visually stunning
- a master of the Indian classical tradition, and a musical world traveller whose creative collaborations transcend boundaries. His newest collaboration explores how jazz influenced the popular music of India, tracing a story that harks back to the Hollywood musicals of the 30s and 40s and India's burgeoning film industry.
A few decades later, and whilst the West embraced Indian classical music, India itself absorbed the jazz spirit, with musicians such as pianist Louiz Banks and guitarist Sanjay Divecha leading the way – both featured in tonight's concert in a terrific ensemble alongside singer/violinist Ganesh Rajagopalan, with jazz stars Holland and Potter, playing an exclusive European date.
MICHAEL WOLLNY + ANDREAS SCHAERER + VINCENT PEIRANI + EMIL PARISIEN
and ADAM BALDYCH with HELGE LIEN TRIO
ACT at 25
Saturday 11 November, Cadogan Hall
Pianist Michael Wollny, accordionist Vincent Peirani, saxophonist Emil Parisien and the extraordinary vocal gymnastics of Andreas Schaerer - four stand-out individual talents from the ACT Records roster join forces in an all-star quartet that re-defines the range of their various instruments - not just cutting loose from the boundaries of jazz, but doing it in a way which energizes and takes the audience by storm.
Individually, all four have made a massive impact at previous Festivals, but and the release of their collaboration – 'Out of Land' marks the boundless potential that these emergent forces will have in the European jazz of the future. The virtuosity of Polish violinist Adam Bałdych enables him to pass with astonishing ease through all kinds of borders: the boundaries of his instrument, the barriers between genres,
Helge Lien in a heady mix of jazz, Polish and Norwegian folk music.
ACT have championed the cause of new European music for some 25 years – tonight's concert takes their message into a new dimension.

SOOTHSAYERS + ARUN GHOSH SEXTET + LOKKHI TERRA
Saturday 11 November, Rich Mix
World jazz hits the Rich Mix stage big time – three great bands, all with new recordings emerging this year.
The deeply soulful afro-dub grooves of Soothsayers define the music of a band that's attained cult status over the years, whilst Lokkhi Terra take a musical journey from the melas of Bangladesh to the streets of Habana, via Lagos and on to the streets of London. Conceived in Calcutta, bred in Bolton, matured in Manchester and now living in London, Arun Ghosh brings his latest take on Indo-jazz to complete a stellar night.

ROLAND PERRIN: Rio Amazonas
Hertfordshire Chorus + Blue Planet Orchestra + Roland Perrin Trio + Bishop's Hatfield Girls School choir, Rhodes Avenue School. David Temple, conductor
Sunday 12 November, Barbican (matinee)
Jazz harmonies, Brazilian grooves, Baroque counterpoint and symphonic architecture combine in the London premiere of a new choral symphony by composer and pianist Roland Perrin. Inspired by the Amazon River and region; its topography, its multitude of insects, the mystery of its remote tribes, and the experiences of the different people arriving from afar. Rio Amazonas is also an inner reflection on our primal selves – performed by a heady mix of jazz trio, massed choirs, and string orchestra.
'Music full of contrasts, dramatic but hip and swinging too. Impressively flexible choral writing integrated into the instrumental texture - musically terrific.' (Guardian)
Part of our 25 for 25 commissioning programme.

LED BIB + SCHNELLERTOLLERMEIER + WORLD SERVICE PROJECT- a Match&Fuse special
Sunday 12 November, Rich Mix
The buzz around Swiss power trio Schnellertollermeier has been noisily growing for a few years, fusing the anarchy of punk with dazzling instrumental dexterity – booming, bone-rattling, and 'spectacularly undaunted fury' (Guardian).
Led Bib - 'lean, mean, improv-rocking jazz machine' (Time Out) - celebrate their latest, highly rated RareNoise album – making sound that draws in audiences of bebop diehards and thrash metal headbangers in equal measures, whilst World Service Project continue to create musical mayhem – 'like Downton Abbey run by anarchists, a mesmerising combination of brutality and dark humour' (Jazzwise). Three bands who, in true Match&Fuse style, threaten to blow the Rich Mix roof with a joint blast of sheer energy.

KNOWER
Monday 13 November, Scala
KNOWER are hot futuresonic funk-pop. The LA duo of drummer-producer Louis Cole and vocalist Genevieve Artadi will be joined by an all-star band including Thundercat's sideman Dennis Hamm (keys), Sam Wilkes (bass) and special guests.
Currently touring their fourth album Life, they cross dubstep grooves, jazz harmonies and funky vocals into an imaginative off-world experience. Known for their racy performances and infectious energy, Louis Cole and Genevieve Artadi's performance 'will be leavin' y'all on your knees, beggin' for more.' (Quincy Jones)

ZARA McFARLANE
Wednesday 15 November, Rich Mix
Celebrating an eagerly-awaited third Brownswood album, produced by long time collaborator Moses Boyd, Zara McFarlane has long been recognised as one of the most talented jazz-inspired singer/songwriters to come out of the UK scene – a further milestone in a year which also sees her performing with the Royal Shakespeare Company in 'Antony and Cleopatra', Her previous album gathered a clutch of awards (MOBO, JAZZ FM), drawing from influences as widely ranging as the deep spiritual jazz of Pharoah Sanders to dub and reggae. The next stage in the story promises to be fascinating.

CHRISTIAN SCOTT
Wednesday 15 November, Electric Ballroom
Ever-inventive and relentless trumpeter Christian Scott aTunde Adjuah combines instruments ancient and modern, acoustic and electronic — and some completely new — in a genre-splitting new vision of Stretch Music.
Following his electrifying sold-out Scala show at the EFG London Jazz Festival, this Grammy-nominated artist returns with a new band, new album, 'Ruler Rebel', the first record from his new series The Centennial Trilogy. Detailing a new vision and sound for Scott and his band, 'Ruler Rebel' promises an audio adventure in a way listeners never heard before.
Stretching the work of Trap music with West African beats and New Orleanian styles — 'Ruler Rebel' will speak to a myriad of issues from xenophobia to gender equality, evaluating the social political realities of the world using sound.

JAZZ AROUND THE WORLD – Ranjana Ghatak & Liran Donin
Thursday 16 November, Wigmore Hall (11am)
This interactive schools concert explores jazz from around the world. Internationally renowned singer Ranjana Ghatak has a classical Indian vocal music background and has evolved a style of her own that reflects contemporary Britain. She performs with bass player Liran Donin from Mercury Prize-nominated band Led Bib, in a concert that combines engaging performance with interactive activities designed to support and extend the Key Stage 3 curriculum.

YAZZ AHMED - La Saboteuse
Friday 17 November, Kings Place
The live London launch of her most recent Naim CD, trumpeter and composer Yazz Ahmed takes a further step in a musical journey that embraces her Bahraini roots alongside the new moves and grooves of today's jazz radicals. Undulating rhythms and melody resonant with the sounds and sensations of the Middle East, and her own sonorous trumpet lines, combine in music of cinematic breadth.
'Ahmed takes you on a beautiful journey of forward-thinking jazz compositions.' (Twistedsoul)
'A potent mix of post-bop lyricism and modern fusion soundscaping makes connections with both head and heart.' (Bandcamp)
Part of our 25 for 25 commissioning programme.
British artists supported by PRS Foundation Talent Development Partnership with Serious

WORLD OF JAZZ
Saturday 18 November, Wigmore Hall (11am)
A dynamic showcase of jazz music, this interactive concert introduces families to new sounds from across the genre. Performed by internationally renowned singer Ranjana Ghatak, alongside bass player Liran Donin from Mercury Prize-nominated band Led Bib, this vibrant performance brings together a wide variety of contemporary jazz especially for families. For ages 5+

JOE ZAWINUL Stories of the Danube + TERENCE BLANCHARD QUINTET WITH THE BBC CONCERT ORCHESTRA
Sunday 19 November, Barbican
A rare performance of Joe Zawinul's grand orchestral vision of one of the world's great rivers, conducted by his friend Kristjan Järvi.
In Stories of the Danube the rich textures of the orchestral palette meet the fire and momentum of contemporary jazz, as the music follows the course of the river through continental Europe and into the Black Sea. Järvi was a close collaborator with Zawinul in the years before his untimely passing – and tonight pays tribute to this seminal composer, keyboard virtuoso and co-founder of Weather Report.
Alongside the symphony the trumpeter and composer Terence Blanchard and his Quintet will join the BBC Concert Orchestra in the UK premiere of a new extended piece, Herbie Hancock: By Himself, which was inspired by Hancock's impressionistic piano solos. Complemented with music drawn from the composer's score for the recent Robert de Niro film The Comedians, it's a piece which harks back to that classic Blue Note sound of the 1960s and is a perfect accompaniment to the sweeping evocation of the Danube.
Part of our 25 for 25 commissioning programme.

The EFG London Jazz Festival is produced by Serious, one of the UK's leading producers and curators of live jazz, international and new music. Serious produces events that range from major concerts, festivals and national and international tours through to learning and participation programmes, conferences and specially commissioned bespoke events. Alongside its core role as a live music events producer, and programme consultants, it works in artist and rights management. Parallel to this exists the registered charity, Serious Trust, which has been established to support the next generation of artists and audiences through our artist development, learning and participation and commissioning programmes.
serious.org.uk

The EFG London Jazz Festival was created by live international music producers, Serious. The Festival emerged from the long-standing Camden Jazz Week which was created in 1970; with the active support of the London Arts Board (now Arts Council England, London). Serious – who had for some years produced the Camden Jazz Week, engineered a transition that saw the evolution of the Festival. Taking a mix of international and British artists and a commitment to education activity, the London Jazz Festival began to spread its wings. The aims of the Festival still remain the same today; celebrating the place of jazz in a city which is at ease with its rich cultural diversity, and drawing in a multitude of venues across London who present the music, week in, week out, throughout the year.
efglondonjazzfestival.org.uk

Do join our e-list, or check out http://www.efglondonjazzfestival.org.uk for updates through the year.
Follow and tag the Festival on Twitter @LondonJazzfest, Instagram @londonjazzfest and Facebook @londonjazzfestival.

---
blog comments powered by

Disqus
JAZZ MANN FEATURES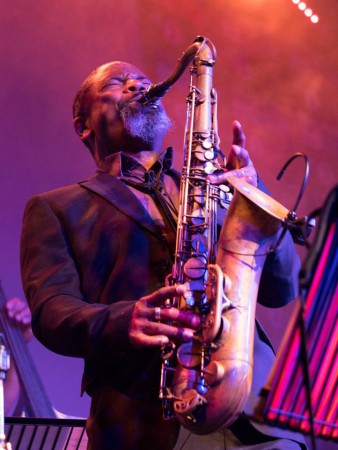 Ian Mann on the final day of the Festival and performances by Hot 8 Brass Band, Sarah Munro, Mode9, Paul Carrack and Denys Baptiste.
---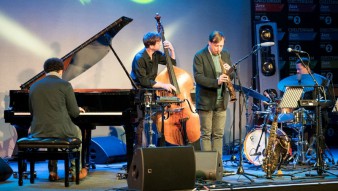 Ian Mann on performances by Monocled Man, Schnellertollermeier, Meshell Ndegeocello, Chick Corea, Chris Potter and Yazz Ahmed.
---
JAZZ MANN RECOMMENDS
---