NEWS
EFG London Jazz Festival - more shows announced.
Tuesday, May 21, 2019
We have received the following press release;

EFG London Jazz Festival - more shows announced

The EFG London Jazz Festival reveals another set of shows, promising a wide array of musical encounters from jazz legends to new discoveries, from fresh collaborations to iconic landmarks, across genres and art forms…

The full programme with many more outstanding acts, talks, cinema events and our learning and participation work are yet to be announced, so expect another exciting 10 days of exceptional musical experiences.

Blow the Fuse–Past, Present and Future with Alison Rayner Quintet, The Guest Stars and JFrisco
Kings Place, Friday 15 November
Blow the Fuse, an artist-led organisation formed in 1989 by jazz musicians Deirdre Cartwright and Alison Rayner, have been pioneers in raising awareness of gender issues in jazz. We celebrate 30 years of this ground-breaking outfit with a concert headlined by Alison Rayner Quintet.
Connecting with the roots of Blow the Fuse, the evening will feature an appearance by the legendary group The Guest Stars, incorporating a tribute to their trailblazing manager and producer Debbie Dickinson.
The concert will also feature a performance from Leeds-based young group JFrisco. The group creates improvised genre-fluid soundscapes, 'drawn from their emotions, political, and gender issues, who aim to engage and inspire their audience through cross art forms, taking their listeners on a journey'.

Nik Bärtsch & Sophie Clements – When The Clouds Clear: A Light and Sound Poem
Barbican, Friday 15 November
Pianist, composer and ECM artist for over a decade Nik Bärtsch joins with visual artist Sophie Clements to fuse solo piano with sculpture, film and installation design. The two artists met at the Punkt Festival and have gone on to create this project, which draws the audience into an experience of subtle, minimal changes.
Nik's trademark sound of interlocking rhythms, circular movements, different meters and micro-interplay combines with Sophie's 16mm films, depicting elemental materials during moments of dramatic natural change Nik's solo work is influenced by funk, contemporary classical, jazz and Japanese aesthetics. Sophie has worked in collaboration with a number of composers or sound artists, as well as various visual artists.

Terri Lyne Carrington: Artist in Residence
Kings Place, Saturday 16 November
The resident artist at this year's EFG London Jazz Festival is Terri Lyne Carrington, the legendary American drummer, composer, singer, and producer who has worked with the likes of Herbie Hancock, Wayne Shorter, Dianne Reeves and Esperanza Spalding amongst others.
She will be taking up residence over the first weekend of the festival in Kings Place, as part of their Venus Unwrapped series.
Her outfit, Social Science in her own words 'was born from a need to express the emotions and thoughts about where we are socially, historically, politically, and spiritually. This alternative jazz band reflects a contemporary/post-modern view on music'.
It is an eclectic stylistic blend, borrowing from jazz, indie rock, contemporary classical, hip hop, and free improvisation. It's jazz for the eclectic listener, reflecting the musical and social atmosphere of today.
Terri Lyne Carrington Social Science Community 'Waiting Game' (7pm)
The composition 'Waiting Game' was first performed in New York in 2017, when Terri Lyne Carrington revealed her then new project Social Science, taking its strength from the expression of protest. The new album, taking its title from this track, carries on the essence of speaking out about the social issues with a spirit of hope.
Terri Lyne Carrington Social Science Community 'Experiments in London'(9pm)
Social Science is an experiment and platform for interactions with musicians sharing a common language and bringing in their differences. In this second show of the evening, Terri Lyne Carrington invites some of the most exciting musicians from the British jazz scene for a fresh and stimulating musical experience.

Angel Bat Dawid
Kings Place, Saturday 16 November
Only a few years after her emergence in Chicago's jazz and improvised music scene, composer, clarinettist, singer and spiritual jazz visionary Angel Bat Dawid is already a phenomenon in Chicago's avant-garde with her daring sound, spirit and magnetism of her cosmic musical proselytizing.
Her debut on International Anthem, The Oracle, recorded on cassette tape, includes tracks that Angel created entirely alone – performing, overdubbing & mixing all instruments and voices by herself – recorded using only her mobile phone in various locations, from London to Cape Town, but primarily from her residency in Bronzeville, Chicago. As Pitchfork puts it, The Oracle 'serves as a vibrant, spiritual, free-jazz document of black life as it stands today'

Christian Scott + Madison McFerrin
EartH, Saturday 16 November
Growing up in New Orleans as the nephew of legendary saxophonist Donald Harrison, trumpeter, composer and creator Christian Scott aTunde Adjuah draws on a heritage that combines West Africa and the Caribbean within the complexities of a racially and economically conflicted New Orleans. His acclaimed new album Ancestral Recall is his most defiant call to action yet. Using rhythm as its unifying motif, he interweaves and reworks a diaspora of musical heritages, looking forward as well as into his inspirations.
Glide Magazine said 'imagine a New Orleans multi-cultural street parade 50 or 60 years from now – pulsating rhythms, chants, and soaring horns that shift seamlessly from acoustic to electronic modes. There's just so much to feast the ears on'. Christian Scott, his band and special guests bring all the joy of his new work to East London.
The show opens with a captivating set by Brooklyn-based singer/songwriter Madison McFerrin, showcasing her wonderful vocal skills and her genre defying a cappella style.

Omar Hakim, Rachel Z, Linley Marthe, Kurt Rosenwinkel – Ozmosys
Queen Elizabeth Hall, Saturday 16 November
Ozmosys is a new quartet from legendary drummer Omar Hakim – who's played with everyone from Miles Davis to David Bowie, Madonna to Daft Punk – featuring keyboardist Rachel Z (Steps Ahead, Wayne Shorter, Peter Gabriel), bassist Linley "Lokaf" Marthe (a protégé of Joe Zawinul), and American guitarist Kurt Rosenwinkel (Gary Burton, Joshua Redman).

Barry Guy-The Blue Shroud
Purcell Room, Saturday 16 November
The EFG London Jazz Festival is proud to present the UK premiere of British composer and double bassist Barry Guy's composition The Blue Shroud, released on Intakt Records; a major work for 14 piece ensemble based on Picasso's masterpiece Guernica.
The pan-European ensemble features violinist Maya Homburger, Greek vocalist Savina Yannatou, Spanish pianist Agustí Fernandez, Irish guitarist/composer Benjamin Dwyer, French tuba player Michel Godard, and Swedish saxophonist Per "Texas" Johansson amongst others.

Herbie Hancock
Barbican, Sunday 17 November
Herbie Hancock is a true icon of modern music.
Over five decades of making music at the highest level, he has transcended limitations and genres while maintaining his own unmistakable voice. A pivotal figure in the journey that jazz has taken from acoustic to electric, he has exerted a profound influence on a much wider musical landscape, whether through an innovative use of technology, probing the grooves of dance music and hip hop, or re-defining the language of the jazz mainstream.
Herbie Hancock is presented by Barbican by arrangement with Marshall Arts and Serious.

Julia Hülsmann Quartet
Purcell Room,Sunday 17 November (2.30pm)
German pianist Julia Hülsmann joins the EFG London Jazz Festival's programme marking the 50th anniversary of seminal record label ECM's inception. She'll be joined by long-time collaborators Marc Muellbauer (bass) and Heinrich Köbberling (drums), as well as tenor saxophonist Uli Kempendorff, who has joined the trio for Julia's seventh album on ECM which is due for release later this year – marking a new timbre for the group.

Corinne Bailey Rae
Queen Elizabeth Hall, Monday 18 November
Singer-songwriter Corinne Bailey Rae plays her first ever appearance at the EFG London Jazz Festival and her first London headline show in three years.
Since her breakthrough in 2006 with her self-titled debut album, debuting at number one in the UK, featuring the global hits 'Put Your Records On' and 'Like A Star', Corinne Bailey Rae achieved impressive chart successes and earned multiple award nominations.
Corinne received a Grammy Award for her work on Herbie Hancock's album 'The River' and her 'Is This Love' EP was awarded a Grammy for Best R&B Performance in 2011. She worked with the likes of Al Green, Esperanza Spalding, Herbie Hancock, John Legend, Norah Jones, Paul McCartney, Stevie Wonder and The Roots on her recordings and has written music for film and television.
Having taken a new, more introspective turn with her critically-lauded album The Heart Speaks In Whispers, she continues to collaborate with a wide range of musicians across genres.

Alice Zawadzki
Kings Place, Tuesday 19 November
This spectacular collaboration between Alice Zawadzki, Rob Luft, Fred Thomas, Misha Mullov-Abbado, and an orchestral ensemble from the Royal Northern College of Music challenges and develops typical orchestral practices creating exceptional new music.
Performing orchestral arrangements of Alice's compositions from her forthcoming album Within You Is A World of Spring, the ensemble and the RNCM players promise an inspiring musical treat.
The project is part of Giant Steps, a scheme supported by Help Musicians UK, Serious Trust, and Arts Council England. in association with the Royal Northern College of Music.

Lars Danielsson Group
Wigmore Hall, Tuesday 19 November
Swedish bassist, cellist, composer and arranger Lars Danielsson teams up with an all-star line-up for the London premiere of Liberetto; with the talented French pianist Gregory Privat bringing his powerful storytelling and rhythmic sensitivity thanks to his Caribbean and Creole influences, the former e.s.t. drummer Magnus Öström carrying his broad style and with British guitarist John Parricelli's wonderfully subtle sound.

Scott Bradlee's Postmodern Jukebox
Royal Festival Hall, Wednesday 20 November
A special festival show from Postmodern Jukebox, a quirky musical collective formed by Scott Bradlee. With their re-workings of heavily rotated hits of modern music into different vintage genres, especially early 20th century forms such as swing and jazz, it has already been five years since they have gone viral on the internet and they keep on amazing their audiences… And this time they are set to say something different!

The Art Ensemble of Chicago - 50th Anniversary (1969-2019)
Barbican, Saturday 23 November
The Art Ensemble of Chicago, champions of the Great Black Music, celebrate their 50th Anniversary with a tribute to founders Lester Bowie, Joseph Jarman and Malachi Favors Maghostut. The ensemble that evolved from founder Roscoe Mitchell's musical vision, explorations and adventurous collaborations in Chicago is renowned for its integration of musical styles that span the history of jazz and multi-instrumental group improvisations.
Their live performances of original compositions, written by all the members, are visual, auditory and sensual spectacles with elaborate costumes, face paint, props, theatre, poetry, dance and more. Currently with 18 members, the group appears as a completely new constellation in the creative scene; they recently released We are on the Edge on Pi Records, with a two-disc vinyl on Erased Tapes, after a studio recording hiatus of 15 years to celebrate their 50th anniversary.

Rowland Sutherland - The Pentangle's Basket of Light
Purcell Room, Sunday 24 November
UK flautist and jazz/classical arranger Rowland Sutherland presents his jazz interpretation of Pentangle's 1969 iconic 'Basket of Light' in celebration of the 50th anniversary of its release.
Rowland Sutherland brings together a group of top UK jazz players to realise his vision for Basket of Light with its potent fusion of jazz and folk.
Rowland Sutherland - flutes, MD, arranger; John Parricelli - acoustic guitar, Phil Dawson - electric guitar, Mae McKenna – vocals, Ansuman Biswas - Indian percussion/strings, non-Western wind instruments, Alec Dankworth - acoustic bass, Rod Youngs - drums

The EFG London Jazz Festival was created 27 years ago by Serious, one of the UK's leading producers and curators of live jazz, international and contemporary music. The aims of today's Festival still remain the same as in the beginning; celebrating the breadth of jazz, presenting a mix of new work from international and British artists and a commitment to education activity, in a city which is at ease with its rich cultural diversity. The Festival collaborates actively with a multitude of venues and producers across London who present the music, week in, week out, throughout the year, and creates a moment for putting jazz in the spotlight for the 10 days of the festival.
http://www.efglondonjazzfestival.org.uk

Serious also produces a year-round programme of major concerts, festivals and national and international tours, learning and participation and talent development programmes, as well as specially commissioned bespoke events. Parallel to this it has established a registered charity, Serious Trust, to fundraise and support the next generation of artists and audiences through its artist development, learning and participation and commissioning programmes.
http://www.serious.org.uk

EFG International is a global private banking group offering private banking and asset management services and is headquartered in Zurich. EFG International's group of private banking businesses operates in around 40 locations worldwide. Its registered shares (EFGN) are listed on the SIX Swiss Exchange.
http://www.efginternational.com
---
blog comments powered by

Disqus
JAZZ MANN FEATURES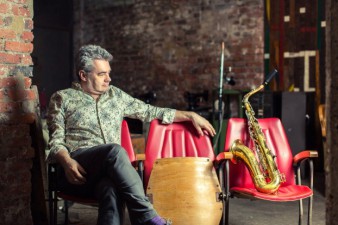 Guest contributor Trevor Bannister previews a performance of saxophonist and composer Mark Lockheart's "Days On Earth" suite at the Wilde Theatre, South Hill Arts Centre, Bracknell on 27/09/2019.
---
Ian Mann on the final day of the Festival, and performances by Ross Stanley, Karen Sharp, Stochelo Rosenberg, Rory Ingham and the Celtic Jazz Quartet. Photography by Bob Meyrick.
---
JAZZ MANN RECOMMENDS
---