NEWS
EFG London Jazz Festival - second wave of shows announced.
Tuesday, June 05, 2018
We have received the following press release;

With tickets already selling fast for our first wave of shows we're excited to share with you our second announcement. The Festival's diversity and high standard of programme continues to shine through as exemplified by the shows about to go on sale. On top of these, there's still so much more to come, from talks and cinema programmes to learning and participation work as well as many more incredible jazz acts from across the globe.

Dave Douglas – UPLIFT with Bill Laswell, Mary Halvorson, Rafiq Bhatia, Jon Irabagon, Ches Smith
Queen Elizabeth Hall, Friday 16 November
The fearless trumpeter and composer plays with a stylistic breadth that roams far and wide through the language of today's jazz. His most recent project brings together a typically fascinating band of like-minded spirits, including bassist and producer Bill Laswell – famed as producer of Herbie Hancock's seminal 'Future Shock' album – and one of today's most original guitar voices, Mary Halvorson. The music can be heard via Greenleaf Music and reflects Douglas' commitment to positive action - twelve tracks being released monthly, each one devoted to a major issue of concern for this world and its people.
'All hands on deck. It's imperative that all of us, together, work for positive change in this challenging moment - UPLIFT began as a reminder - to myself - to stay positive, stay active, and stay engaged. I hope this message reaches others through this music'. (Dave Douglas)

Punch Brothers
Barbican, Friday 16 November
The bluegrass quintet bring their imaginative brand of Americana to the Festival
Punch Brothers specialise in turning traditional roots music on its head – using bluegrass as a starting point to explore and experiment in a plethora of other genres. The band wear their diverse influences on their sleeves, paying homage to Bach one minute and referencing the Beach Boys the next. What shines through this diverse tapestry of inspiration however is the breath-taking level of virtuosity displayed by the five players. Their natural musicianship thrives in a live environment as they move fluidly from the melancholic to the frantic with surprising spontaneity.
Formed by mandolin virtuoso Chris Thile in 2007 after his previous band Nickel Creek disbanded, Punch Brothers have carved a niche as a band bringing bluegrass into the 21st century. The group released their last album 'The Phosphorescent Blues' in 2015 to widespread praise, and will release their follow-up LP this summer on Nonesuch Records.

Amir ElSaffar – Rivers of Sound
Kings Place, Friday 16 November
The ecstatic fusion of Middle Eastern music and the jazz tradition lies at the heart and soul of a 17 piece ensemble that creates a bridge between cultures that is both musically absorbing and emotionally charged – the UK debut of perhaps the most fascinating new group to emerge in today's transglobal music. Iraqi-American trumpeter, santur player, vocalist, and composer Amir ElSaffar has mastered these contrasting styles in a group of musicians from a broad spectrum of backgrounds, with traditional instruments combining with a more familiar jazz language. Together, the group transcends established notions of style and convention, exploring improvisation and composition, the merging of musical languages, maqam and polyphony – and a sound that stirs the soul and lifts the spirit.
'The idea is about fluidity: sounds flow into one another, overtones interact, as we come closer to a universal human sound' (Amir ElSaffar)
'Fresh, deep, intensely performed music - an organic amalgam' (Jazz Times)
'ElSaffar has moved beyond building bridges, his music has become the river.' (DownBeat)

BBC Concert Orchestra with Shiva Feshareki
Queen Elizabeth Hall, Sunday 18 November
The world premiere of a new commission by turntable artist Shiva Feshareki is central to this concert, alongside Chief Conductor Bramwell Tovey's piece Pictures in the Smoke.
Bramwell Tovey took up his position as the BBC Concert Orchestra's Chief Conductor in 2017, and participates in this concert as both a conductor and composer. Winner of the 2017 BASCA British Composer Award for Innovation, Shiva Feshareki is a young experimental composer and turntable artist of British Iranian heritage, featured in the BBC Proms next August, who performs her new composition alongside the BBC CO tonight.

The Stanley Clarke Band & The Headhunters
Royal Festival Hall, Tuesday 20 November
Two seminal names from the heady days of 70s jazz fusion, still creating music that combines the soulful – and downright funky - pulse of urban black America with instrumental wizardry par excellence.
Stanley Clarke leads his supercharged young band with the same astonishing bass pyrotechnics that burst onto the scene with Return to Forever in 1973. Sliding easily between jazz, R'n'B and rock, his music has been sampled by everyone from Jay-Z to Nas to The Beastie Boys and his career in film music includes such credits as composing the genre-defining soundtrack for 'Boyz N The Hood'
Headhunters, Thrust Survival of the Fittest – seminal album from a seminal band. And some of the fittest remain, continuing a message that connects the soul to the feet. Post Miles, Herbie Hancock formed The Headhunters in 1973 to create a concept of space funk that remains at the heart of today's band, still fired by original members Bill Summers, Paul Jackson and Mike Clark.

Leyla McCalla& Melissa Laveaux
Cadogan Hall, Tuesday 20 November
Two great singers who combine deep roots in Haiti and the USA come together for one special concert
Leyla McCalla spent two years with the legendary Caroline Chocolate Drops after moving to New Orleans, and her music explores the themes of social justice and a pan-African consciousness
Melissa Laveaux left Canada in 2016 to honour her Haitian ancestors, and she created her new album Radyo Siwei, inspired by the militant voice of legendary Haitian singer Martha Jean-Claude. Songlines magazine said 'Laveaux's rich, velvety voice compares to that of legends Ella Fitzgerald and Sarah Vaughan, and lifts tunes both political and highly personal, heavy with memories and meaning'

Darius Brubeck Quartet
Kings Place, Wednesday 21 November
Dave Brubeck's ground-breaking explorations into unusual time signatures turned the jazz world on its head back in the late 50s with the global hit Take Five. Darius Brubeck tips his hat to the family legacy- an appropriate contribution to Kings Place's year of Time Unwrapped - with his father's hits acting as the jumping off point for new music that is in part inspired by years working in South Africa.
Saxophonist Dave O'Higgins has long been one of Britain's finest, and bassist Matt Ridley and drummer Wesley Gibbens complete a fine quartet whose melodic, spontaneous, rhythmic and engaging music is the hallmark of a band whose collective dynamic reflects its ten year history.
'the combination of Brubeck and O'Higgins is certainly among the best piano/sax partnerships in the UK' (Jazzwise)

Avishai Cohen, Shai Maestro, Mark Guiliana – Gently Disturbed
Barbican, Saturday 24 November
A rare treat – the supremely gifted bassist and composer Avishai Cohen celebrates the tenth anniversary of the release of his milestone recording 'Gently Disturbed', in an exclusive UK performance. A consummate trio features two more of today's jazz movers and shakers in pianist Shai Maestro and drummer Mark Guiliana. This promises to be an occasion to savour, breathing invigorating new life into music that represented a turning point for its creators in its original conception a decade ago.
'Overflowing with wit and gently understated feeling. A masterpiece of contained dynamism'(Jazzwise)

Monty Alexander
Cadogan Hall, Sunday 25 November (4pm matinee)
Fifty-five years after he moved to the United States from his hometown of Kingston, Jamaica, pianist Monty Alexander is an American classic, touring the world relentlessly with various projects, delighting a global audience drawn to his vibrant personality and soulful message. His spirited conception is one informed by the timeless verities: endless melody-making, effervescent grooves, sophisticated voicings, a romantic spirit, and a consistent predisposition, as Alexander accurately states, "to build up the heat and kick up a storm." In the course of any given performance, Alexander applies those aesthetics to repertoire spanning a broad range of jazz and Jamaican musical expression—the American songbook and the blues, gospel and bebop, calypso and reggae. Like his "eternal inspiration," Erroll Garner, Alexander—the sheer joy of a Monty Alexander concert —gives the hardcore-jazz-obsessed much to dig into while also communicating the message to the squarest "civilian."
'you came away uplifted if not delirious with joy.'(Chesapeake Music)


Building on years of work and commitment to programming female artists, the Festival is delighted to formalise the commitment and announce that we have signed up to the PRS Foundation's Keychange initiative; joining many other leading UK Festivals in committing to achieve a 50/50 gender balance in our line-ups by 2022.

'At EFG London Jazz Festival we are very proud of our commitment to gender balance and diversity which are among the core elements of our wide ranging programme. By being part of Keychange, we will continue to prioritise and showcase the wealth of talented female artists and to improve our statistics year on year to achieve and exceed the 50:50 target by 2022..'

For information on all Serious shows please go to http://www.serious.org.uk

The EFG London Jazz Festival is produced by Serious, one of the UK's leading producers and curators of live jazz, international and new music. Serious produces events that range from major concerts, festivals and national and international tours through to learning and participation programmes, conferences and specially commissioned bespoke events. Alongside its core role as a live music events producer, and programme consultants, it works in artist and rights management. Parallel to this exists the registered charity, Serious Trust, which has been established to support the next generation of artists and audiences through our artist development, learning and participation and commissioning programmes.
http://www.serious.org.uk

The EFG London Jazz Festival was created by live international music producers, Serious. The Festival emerged from the long-standing Camden Jazz Week which was created in 1970; with the active support of the London Arts Board (now Arts Council England, London). Serious – who had for some years produced the Camden Jazz Week, engineered a transition that saw the evolution of the Festival. Taking a mix of international and British artists and a commitment to education activity, the London Jazz Festival began to spread its wings. The aims of the Festival still remain the same today; celebrating the place of jazz in a city which is at ease with its rich cultural diversity, and drawing in a multitude of venues across London who present the music, week in, week out, throughout the year.
http://www.efglondonjazzfestival.org.uk

EFG International is a global private banking group offering private banking and asset management services and is headquartered in Zurich. EFG International's group of private banking businesses operates in around 40 locations worldwide. Its registered shares (EFGN) are listed on the SIX Swiss Exchange.
http://www.efginternational.com
---
blog comments powered by

Disqus
JAZZ MANN FEATURES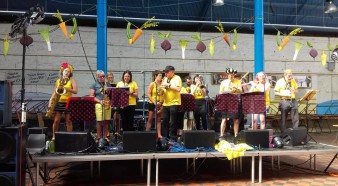 Ian Mann enjoys the Jazz Alley and Charity Swing Party events at the Market Hall with performances by Wonderbrass, Tarion, Rebelinx and The Electric Swing Circus.
---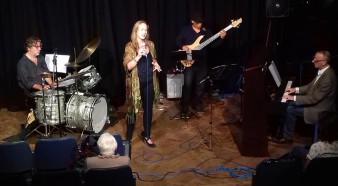 Ian Mann on a day of superb jazz with concert performances from bands led by Daniel Newberry, Alison Rayner, Ben Holder, Rachel Sutton and Tony Kofi plus interval music from Dave Jones and friends.
---
JAZZ MANN RECOMMENDS
---