NEWS
Faustus to tour Germany and England, September and October 2017.
Thursday, September 07, 2017
The band write;

Latest news on Faustus - tours, recordings and more.

Faustus to tour Germany and England

In the wake of our German Record Critics Award, this September we're making our first foray in Germany, thanks to Concert Connections and Westpark Music. It's a really exciting venture for us, and high time some of us brushed up on our O Level German. What's more, we'll be in Munich during Octoberfaust! For those of you in Blighty for whom Germany is a bit too far (we know of at least a couple of friends who are travelling out to see us) fret not - we'll be travelling around England directly on our return. We're especially honoured to be giving the first concert for the Whitchurch Folk Club, reopening after a 20-year break, at which we'll be joined in Hampshire on Friday 13th October (!) by special guests Jackie Oates, John Spiers and Bampton Morris. The club's website is at https://www.grizzlyfolk.com/whitchurch-folk-club

We've enjoyed a number of festival appearances this summer - Hay, Priddy, Broadstairs, Whitby - and two wonderful stints as tutors, at Maddy Prior's Stones Barn, then a return to our old haunt, Halsway Manor.

Most recently we performed as part of The Transports at Shrewsbury Festival and at the BBC Radio Theatre for a Radio 3 concert broadcast this coming autumn. We'll be touring the production again in the New Year in the UK, and a tour of Canada is proposed for the early summer. More details at http://www.thetransportsproduction.co.uk

In beween, or even during our autumn touring we'll be engaging in two recording projects with our wonderful sound engineer, Matt Williams (adventuresinaudio). The first is a rearrangement of a song written by our historian and archaeologist friend Dave Allen - 'The Ballad of Basingstoke' dates back to 1994, when it was commissioned for the opening of Basingstoke's Anvil Theatre. The second involves setting to both new and traditional music poems written during the 19th century Cotton Famine in Lancashire. We've been invited to the project by another friend, Dr Simon Rennie of Exeter University, who has already pointed us at the source for the lyrics to our single 'Slaves'. His informative website is at http://cottonfaminepoetry.exeter.ac.uk

Hoping to see you on one side of the Channel or the other.
Bis Später,
Faustus

Tour Dates
SEPT/OCT 2017

SEPTEMBER - GERMANY

Fri 22
Jüdisch-Westfälisches Museum, Dorsten
+49 177 8898058

Sun 24
House concert, Overath
+49 171 4926236

Mon 25
Irish Folk Club, München

Weds 27
Dreikönigskirche Dresden

Thurs 28
Kulturkeller, Fulda

Sat 30
Kulturverein Alte Schule, Müllenbach
+49 2653 914999

OCTOBER - ENGLAND

Mon 2
Nettlebed Village Club, nr. Henley-on-Thames
01628 636 620 /www.nettlebedfolkclub.co.uk

Thurs 5
The Place, Bedford
01234 354 321 /www.theplacebedford.org.uk

Fri 6
The Met, Bury, Greater Manchester
0161 761 2216 /www.themet.biz

Sat 7
Golden Lion, Ripon
01765 605287 /www.wegottickets.com/event/408703

Sun 8
Henry Tudor House, Shrewsbury
01743 361 666 /www.henrytudorhouse.com

Tues 10
Community Centre, Haydon Bridge, Northumberland
01434 684 705 / http://www.wegottickets.com/event/410894

Weds 11
Kings Place, Kings Cross, London
020 7520 1490 / http://www.kingsplace.co.uk

Fri 13
Parish Hall, Whitchurch, Hampshire
http://www.grizzlyfolk.com
http://www.whitchurch-folk-club

Sat 14
L2F Festival, Lichfield
01543 262 223 /www.lichfieldarts.org.uk

Sun 15
Hailsham Pavilion, East Sussex
01323 841 414 / http://www.pavilionhailsham.co.uk

In other news:

Saul Rose has had a full summer touring the UK and abroad with Eliza Carthy and the Wayward Band, whose album was released earlier this year to great acclaim. He's also found time to do a spot of filming (playing a vintage melodeon) and has been on a Morris Tour de France. Work with the Waywards continues from late November right through December, and Saul will also be performing in his duo with James Delarre. The Whapweasel studio sees Newcastle band Big Blue coming to record in October, and he'll continue to tutor the National Youth Folk Ensemble as it goes into its 2nd year.

Benji Kirkpatrick has been invited to join legendary folk rockers, Steeleye Span. This brings things in something of a circle as it's 40 years since Benji's Dad joined Steeleye for a short period. Benji has worked with Maddy Prior before on some of her solo projects, featuring heavily on the album 'Seven for Old England'. The band will be touring in the UK from 17th November to 17th December this year. The inaugural gig for 'The Excess', with Pete Flood and Pete Thomas, at the Caledonia in Liverpool was a success and the band will be playing live again soon

Following the final tour of Made in the Great War, Paul Sartin has been busy running choir workshops over the summer, at Blokefest, Sidmouth Folk Week and Singfest 2017. Cambridge Folk Festival saw him play in the premiere of Jon Boden's new Remnant Kings big band - album and tour due in November - and he is currently preparing work for his R&D residency at Macclesfield Barnaby Festival, setting 19th century texts from Lancashire's Cotton Famine for Exeter University, scoring community choir songs for the Royal Shakespeare Company, and planning the term ahead for the Andover Museum Loft Singers.
---
blog comments powered by

Disqus
JAZZ MANN FEATURES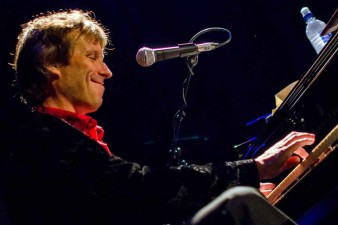 Ian Mann on the final, family friendly day of the Festival with performances by Samba Galez, Budapest Ragtime Band, Chris Moreton, Kitty & The Purramours and the Red Stripe Band.
---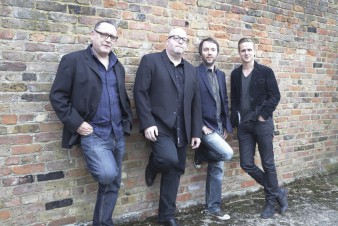 Ian Mann enjoys a day of wall to music including performances by three of the great entertainers of British jazz, vocalist Ian Shaw, saxophonist Gilad Atzmon and electric bass specialist Shez Raja.
---
JAZZ MANN RECOMMENDS
---