NEWS
Heavyweights Brass Band "This City" Summer Tour of Canada 2018.
Tuesday, June 12, 2018
We have received the following press release;

The Heavyweights Brass Band This City Summer Tour 2018 Across Canada

'This City won't wash away. This City won't ever drown.' The words of outlaw poet Steve Earle echo through the Heavyweights Brass Band's newest release, This City.

For Immediate Release:

The Heavyweights kick off their This City Summer Tour 2018 with a special live to air concert June 16th 2:30 pm during Kodi Hutchinson's A Time for Jazz on the CKUA Network across Alberta. The band recently released their highly anticipated third full-length album. The Heavyweights took a pilgrimage to the city that has inspired them since their inception. Recorded in New Orleans, the cradle of jazz, with a second-line of special guests from groups such as Preservation Hall Jazz Band, Dirty Dozen Brass Band, Trumpet Mafia and many more, the Heavyweights bring a fresh, energetic take on a deeply grounded tradition.

Inspired by the New Orleans brass band tradition, the Heavyweights' original stance keeps one foot firmly rooted in the rich legacy of jazz, while one foot steps forward into the future. Like the music's originators, the Heavyweights are unafraid to incorporate influences from disparate areas of the musical spectrum, from pop hits of the day to original compositions, from R&B and funk throwbacks to the infectious rhythms of Latin America, all woven together with the thread of adventuresome sophistication.

The uppercut ascent of the Heavyweights' arc has been the result of relentless dedication. Touring across Canada and sharing the stage with such influential groups as The Roots, Trombone Shorty, Galactic and Hypnotic Brass Ensemble has helped build the group a loyal following.

This City Summer Tour 2018 Dates:
June 16 - Calgary, AB @ Calgary JAZZYYC Ironwood Stage & Grill
June 18 - Winnipeg MB @ Jazz Winnipeg The Cube Old Market Square
June 20 - Medicine Hat, AB @ Medicine Hat Jazz Festival The Esplanade Main Theatre
June 21 - Moose Jaw, SK @ Moose Jaw Cultural Centre
June 22 - Edmonton AB @ Edmonton International Jazz Festival Varscona Theatre
June 25 - Toronto, ON @ Toronto Jazz Festival OLG Stage on Cumberland
June 27 - Ottawa, ON @ Ottawa Jazz Festival Marion Dewer Plaza
June 28-29 - Montréal, QC @ Montreal Jazz Festival Club Jazz Casino de Montréal,
June 30 - Bancroft, ON @ A Place for the Arts
July 7-8 - Orillia ON @ Mariposa Folk Festival Tudhope Park

"This City" is available from Slammin Media and distributed World Wide by Believe Distribution. The Heavyweights Brass Band would like to acknowledge and thank Canada Council, TD Jazz and Lula World for all of their support.

#ThisCity AVAILABLE NOW on your favourite digital stores!
Get it on #iTunes: smarturl.it/hwbbtcit
Discover on #Spotify: smarturl.it/hwbbtcsp
Get it on #GooglePLay: smarturl.it/hwbbtcgp
Press Play on #Deezer: smarturl.it/hwbbtcdz
Available at #Amazon: smarturl.it/hwbbtcaz

For more information on The Heavyweights Brass Band please visit http://www.heavyweightsbrassband.com

Follow the tour along on Facebook https://www.facebook.com/tours/1408276682611519/

he Heavyweights Brass Band – This City Press Quotes
… there is plenty to party to as well as listen to on this high-spirited and energetic set of modern Brass Band music.
Ron Weinstock – In A Blue Mood

The kind of set that can turn every place into French Quarter, this set'll even bring zombies to life. Hot, hard and heavy, this is how you make a party on a platter.
Chris Spector – The Midwest Record

This is good time music… There are a number of fine solos played over the rhythm
Bob Rusch – Cadence Magazine

Being a music blogger presents unique challenges; one particularly painful thrill is hearing new music before it's released and being so anxious to share it, but having to wait. With The Heavyweights Brass Band's new album "This City," which finally comes out tomorrow, stifling the urge to share it far and wide has been a challenge. This is a delightfully loud, boisterous, fun album, and I'm chuffed that the rest of you get to hear it now too.
Lesley – Great Dark Wonder

This City clocks in at under twenty-nine minutes, making it brief by most measures, yet it feels utterly complete. It's powerful, hip, and positively charged from beginning to end. The Heavyweights Brass Band packs a pleasurably mean punch on this stroll through the streets of New Orleans. ★ ★ ★ 1/2
Dan Bilawsky – All About Jazz

With such star-power urging The Heavyweights ever onward, the music on This City is a molten mix of elegance and brute force, highlighted by Mr. Butcher's human voice-like trombone on "Hands Down Lo'" to the growling tuba on "Two Foot Ticket", and, as things move into overdrive, where Miss Richardson sends the spirit soaring on Steve Earle's "This City". The Heavyweight Brass Band, one might guess, are not simply in the great city of NOLA, but indeed, in Jazz heaven.
Raul da Gama – Toronto Music Report

Great to hear the Heavyweights evolving both in the to-be-expected brass band funk/Latin/jazz/R&B tradition and taking on the challenges of covers, different styles and working with special guests. All of which makes for dancing and listening hurrahs.
Tiina Kiik – The WholeNote

Just about every prismatic light of Crescent City is reflected here.
George W. Harris – Jazz Weekly

New Orleans brass bands like New Birth, Rebirth and Dirty Dozen yield immeasurable joy. You can now add Toronto's Heavyweights Brass Band to that short list.
Mike Greenblatt – Aquarian Weekly

One might presume from the Heavyweights Brass Band's This City that the group is based in Atlanta or New Orleans. When listeners realize the ensemble hails from Toronto, surprise easily can convert to admiration for the band's devotion to stylistic sincerity. Even better than This City's objective to be an homage to New Orleans' jazz is the way the Heavyweights approach achieving such musical candor.
Kira Grunenberg – Downbeat

You might be tempted to think The Heavyweights Brass Band is a young ensemble from New Orleans, combining Crescent City marching band tradition with contemporary R&B. They are—gasp!—Canadian, but are lent support by guest stars from the Preservation Hall Jazz Band, the Dirty Dozen Brass Band and other players from the city that taught marching bands to be funky. This City was recorded in New Orleans and includes covers of Stevie Wonder and Steve Earle amidst the originals.
Morton Shlabotnik – Shepherd Express
---
blog comments powered by

Disqus
JAZZ MANN FEATURES
Guest contributor Trevor Bannister's thoughts on a night of jazz & film to celebrate Tubby Hayes with the Simon Spillett Quartet and the acclaimed film documentary "'Tubby Hayes: A Man in a Hurry".
---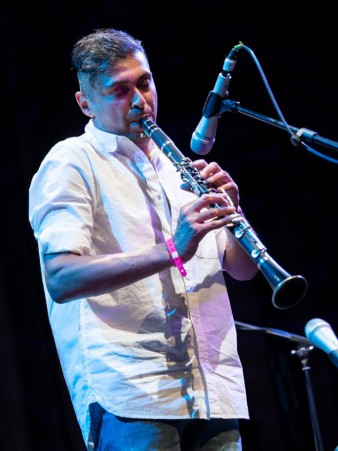 Ian Mann enjoys the penultimate day at Cheltenham and performances by Wolves Are People Too, China Moses, Issie Barratt, Christian McBride, Kamasi Washington, Arun Ghosh and Vein with Stan Sulzmann.
---
JAZZ MANN RECOMMENDS
---