NEWS
Jamie Baum - latest newsletter.
Thursday, December 07, 2017
Jamie Baum writes;

Jamie Baum's December Political Musings, Events and Important Email Info.

Ohhhh….sanity, where are you? Seems hard to come by these days but thankfully,
as always, there's music!
Wishing you a sane and joyous holiday season!

This Month

While I am quite busy with some different and interesting projects I do have a few gigs to share. On Thursday, December 7th, I'll be at Roulette as part of trumpet player/composer Graham Haynes' Interpretations, joining some of my favorite flutists in town for both some interesting conduction improvising and Graham's beautiful compositions.

On Sunday, December 17th, I'll join Greg Wall, Brian Marsella, Jay Anderson and Adam Nussbaum in a benefit concert for Congregation B'nai Israel and The Irving Moorin Memorial Scholarship Fund, in Bridgeport, CT…good music for a good cause!

I'm flattered to have been asked by Jim Snidero to participate in his "Jazz Conception" book/CD "play-along" etude series! I'll join jazz icon's Slide Hampton, Frank Wess, etc. in recording for this series and will do a book of etudes for jazz flute on Friday, December 29th. So, if you want to "play along" with me, stay tuned and I'll let you know when it comes out. In the meantime, you can check out the many volumes at http://www.jazzimprovisation.com.

JEN Convention 2018
Anyone going to the JEN Convention in January? My awesome flute company, Altus Flutes, who I've had an endorsement agreement with for many years and who have sponsored so many of my clinics and workshops, have asked me to perform at a showcase featuring their artists. I'll be involved in some other performances and panels as well and will share all of that info in the January newsletter.

Winter Jazzfest 2018
I'm particularly excited to reunite with my Septet+ after an almost two-year hiatus while we worked on completing our fourth CD. Our new recording, Bridges, comes out on Sunnyside Records on May 4th. It's finally in the finishing stages with the cover chosen, tracks mastered and liner notes being written, inching along to the manufacturing stage. In celebration, before our CD-release gigs in May and beyond, we'll perform at the Winter Jazzfest on January 12th. PLEASE mark your calendar and save the date! If you've never been to NYC's infamous Winter Jazzfest, you owe it to yourself to have the experience. With over 100 of some of the most interesting, innovative and exciting bands, all performing at several venues within a few blocks radius in a marathon for two nights, it truly is an exciting "happening" not to be missed. More info to come about that and the new CD!

Spamalot
On a personal note, after many years of not having a problem with spam, I've recently had to heighten my spam filter due to receiving an untenable amount of daily spam. If you've tried to email me recently and either couldn't get through or received an automated reply asking you to fill out a short "captcha", I apologize, but had no choice. I ask that you please oblige me and fill it out and I will be sure to add your address to my contacts so it won't happen again. If you still have any problem getting through, you can always contact me through my website, through Facebook or Twitter. Thanks so much for your patience while I get this straightened out!

Thursday, December 7th, 8pm
INTERPRETATIONS: GRAHAM HAYNES
w/ Graham Haynes Flute Ensemble: Michel Gentile, Anders Bostrom, Mayu Saeki, Domenica Fossati
Roulette, Brooklyn, NY

Sunday, December 17th, 7pm
Jazz and Chanukah Lights at B'nai Israel
w/Greg Wall, Brian Marsella, Jay Anderson,
Adam Nussbaum
Congregation B'nai Israel, Bridgeport, CT

Wednesday, Jan. 3rd - Saturday, Jan. 6th
JEN Convention, Dallas, Texas

Friday, January 12th, 7:40pm
The JAMIE BAUM Septet +
Jamie Baum- flutes, singing bowl
Amir ElSaffar – trumpet, vocals
Sam Sadigursky – alto sax/bass clarinet
Chris Komer - French horn
Brad Shepik - guitar
John Escreet – piano
Zack Lober – bass, singing bowl
Jeff Hirshfield – drums
The Winter Jazzfest 2018
Subculture Club, NYC

Sunday, January 14th, 7pm
w/ Yago Vazquez - piano
Bar Thalia at Symphony Space, NYC

Visit my brand new website: http://jamiebaum.com
Follow me on Twitter: https://twitter.com/JamieBaumFlute
In This Life CD info: http://www.SunnysideRecords.com,
---
blog comments powered by

Disqus
JAZZ MANN FEATURES
Ian Mann witnesses the future of British jazz at the NYJO Jazz Jam and the JazzNewBlood showcase and loses himself in a spectacular Norwegian double bill featuring Sinikka Langeland and Jaga Jazzist.
---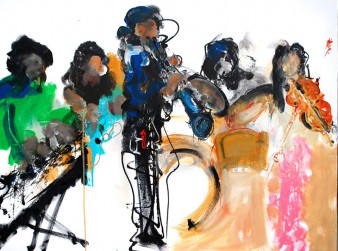 Eclectic, Iklectik, Elektrik - Ian Mann on the penultimate day of the EFG London Jazz Festival.
---
JAZZ MANN RECOMMENDS
---