NEWS
Jasper Hoiby - New Year newsletter.
Tuesday, January 09, 2018
Jasper Hoiby writes;

Jasper Høiby - Welcome 2018!!!

HAPPY NEW YEAR!!!
Hello Everyone,
I hope you all made it through Christmas and New Years with your human decency intact, I know I almost didn't! I ate lots and lots of great food, drank a little too much good wine and had such a great time. Time to catch up with friends and family undisturbed with no emails coming in because most people are too busy doing what's basically more important - enjoying the company of their loved ones.

I've had an incredible year full of great music and I played some amazing gigs all over the place so I was basically ready when this year finally came to an end. Pheeeeew, what the hell happened…!?!


Here are some of the things that have excited me immensely throughout 2017… (Upcoming Live Dates at the bottom!)

Playing a solo show in London with my bass and a bunch of pedals..)

Launching Decade Zero by Dave Maric featuring Phronesis + Engines Orchestra.

Recording, releasing and touring the latest Malija album 'Instinct'

Touring with my Fellow Creatures in the UK and Europe..

Releasing the latest Phronesis album 'The Behemoth' featuring Frankfurt Radio Big Band and arrangements by Julian Argüelles..

Touring in North America and playing North Sea Jazz Festival with Phronesis and the New Rotterdam Jazz Orchestra

Playing a gig with Josh Arcoleo, Sam Crowe and master drummer Mark Guiliana with Mark's quartet..

Playing three duo gigs with the one and only Marc O'Reilly

Playing a one off gig with Sam Amidon and a large ensemble with lots of old friends..

Playing an amazing duo Winter Album Release Tour with the incredible Ana Silvera..

I'm now ready for a holiday except another year has begun and I have to do it all over again!
Wish me luck as I wish it upon you and your loved ones!
Love Jasper

UPCOMING DATES 2018:

Jasper Høiby's Fellow Creatures
January 12th Brussels Jazz Festival, Belgium
TICKETS https://www.flagey.be/en/activity/3783-jasper-hoeiby-fellow-creatures

Malija
January 24th, Stratford, UK
January 25th, Oxford, UK
January 26th, Derby, UK
January 27th, South Coast Jazz, UK
TICKETS http://www.marklockheart.co.uk/dates/

Jasper Høiby's Fellow Creatures
January 31st, Nottingham, UK
TICKETS
https://www.lakesidearts.org.uk/music/event/3642/fellow-creatures.html

Malija
February 1st, Kings Place, London UK
February 2nd, Penzance, UK
February 3rd, St Endellion, UK
February 8th, Leeds, UK
February 9th, Sheffield, UK
TICKETS http://www.marklockheart.co.uk/dates/

Phronesis
February 22nd, Montmartre, DK
February 23rd, Montmartre, DK
February 24th, Montmartre, DK
TICKETS http://www.jazzhusmontmartre.dk/concert.722

Hope to see some of you out there!


Love Jasper
---
blog comments powered by

Disqus
JAZZ MANN FEATURES
Ian Mann witnesses the future of British jazz at the NYJO Jazz Jam and the JazzNewBlood showcase and loses himself in a spectacular Norwegian double bill featuring Sinikka Langeland and Jaga Jazzist.
---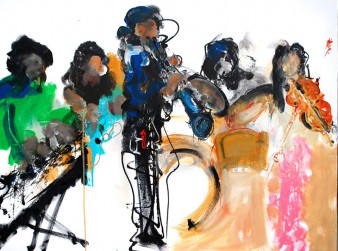 Eclectic, Iklectik, Elektrik - Ian Mann on the penultimate day of the EFG London Jazz Festival.
---
JAZZ MANN RECOMMENDS
---