NEWS
Jazz at The Lescar, Sheffield, programme for April / May/ June 2017.
Monday, March 20, 2017
Jez Matthews writes;

It's a great programme which really highlights the depth, variety and quality of the UK jazz and improvised music scene. We feature three top class pianists in a series of intimate trio line-ups (Elliot Galvin, Liam Noble - in a great new trio with Mark Lewandowski and Paul Clarvis - and Sam Leak).

We explore the meeting of jazz with music from India (a double bill featuring the music of Sheffield-based Tabla and Santoor player John Ball) and Greece (London-based Valia Calda).

Big Bad Wolf bring a unique mix of jazz with pop and rock hooks and ambient vocals, and Sheffield's Ryan Taylor brings late night Hammond organ vibes with his own funky trio. Samuel Eagles and Andrew Button will feature the very best of the London jazz scene in two very different line-ups, and finally Word of Moth will lift the roof off with their intense mix of exploratory improvised music and heavy grooves.

PROGRAMME DETAILS:

5th April 2017 Sam Leak Trio / £6
A welcome return for one of the UK's foremost pianists, known for his wonderful quartet Aquarium, and having recorded only last year in a duo with NYC pianist Dan Tepfer, Sam's playing is lyrical, melodic, swinging and contemporary; described by Jazz FM's Helen Mayhew as 'One of the brightest stars in the Jazz piano galaxy, a heavenly improviser…'. This gig brings to a conclusion a tour that has taken in Ronnie Scotts, and an appearance at the London Jazz Festival with his Big Band.

12th April 2017 Valia Calda / £7
Atmospheric and beautiful music from a London based quintet who mix jazz with Greek folk music, electronica, and free improvisation. Valia Calda come to The Lescar following appearances at London and Cambridge jazz festivals, as well as the BBC Late Proms and Vortex Jazz club. Their album 'Methexis' is released on F-IRE label in April. Explorative and creative music-making from a first class band; Sam Warner - trumpet & flugelhorn
James Allsopp - bass clarinet, Nikos Ziarkas - guitar/electronics, Gaspar Sena - drums, Thodoris Ziarkas - double bass.

19th April 2017 Elliot Galvin Trio / £6
One of the most exciting piano trios in jazz right now, Elliot Galvin (piano), Tom McCredie (bass) and Corrie Dick (drums) visit us following the release last year of their second, acclaimed album 'Punch'. Uniquely quirky, virtuosic, utterly dynamic and riveting in their approach. The Evening Standard reviewed it thus….. "Audacious and Inspired… A rising star heading for the UK Jazz A-List". Elliot and Corrie also feature in Laura Jurd's Dinosaur band.

26th April 2017 Big Bad Wolf / £6
A unique line-up and sound. Owen Dawson (trombone), Rob Luft (guitar), Michael de Souza (bass), Jay Davis (drums) present a truly original group sound, mixing contemporary improvisation with mellow pop and rock hooks, guitars, ambient vocals and grooves. With a debut album out soon, we're really excited to welcome a band truly working at the boundaries of musical genre in the most accessible way. Catch them first at The Lescar!

3rd May 2017 John Ball Double Bill - Unfurl, with support from Sheffield Indian Music Ensemble / £7
A wonderful double bill. We're delighted to welcome an unsung hero of the Sheffield music scene; tabla and santoor player and educator John Ball with two bands representing both sides of his involvement in the Sheffield and Northern music scenes.
Featuring some of the finest musicians in the North of England, led by Olivia Moore (violin), with Adam Warne (Egyptian percussion), Gavin Barras (bass), Jim Faulkner (guitar), and with appearances at jazz festivals including Manchester, Marsden, Marlborough, Brecon and London Jazz Festival, Unfurl combine Indian ragas, flamenco and Arabic music with improvisation; its beautiful meditative music, subtle, yet full of life.
Support for Unfurl comes from the Sheffield Indian Music Ensemble features talented University Music students with local community musicians, exploring the melodic and rhythmic improvisational potential of Indian music using voice and a broad range of instruments.

10th May 2017 Samuel Eagles Sextet / £7
An incredible all-star band of band leaders from the London jazz scene, led by Samuel Eagles (alto sax), with Duncan Eagles (tenor sax), Sam Leak (piano), Ralph Wyld (vibraphone), Max Luthert (Double Bass), and Dave Hamblett (drums). They release their debut album on the Whirlwind label in June 2017 with music full of grooves and brilliant improvisation, inspired by Eagles' explorations of spirituality, sacrifice and beliefs. "His assurance and inventiveness are impressive at any tempo…" John Fordham – The Guardian

17th May 2017 Mark Lewandowski Trio, featuring Liam Noble and Paul Clarvis / £7
We're delighted to welcome a phenomenal bass player, with an equally phenomenal trio. Mark Lewandowski has been making a big impact on the London jazz scene, performing alongside the likes of Zoe Rahman, Julian Joseph, John Surman, and Buddy Greco. A stylish, fluent player with a big warm tone. His trio features one of the finest pianists in Europe, Liam Noble, and drummer Paul Clarvis, one of the UK's most in demand musicians, having played alongside Wynton Marsalis, Mick Jagger, Nina Simone, Steve Swallow, Stevie Wonder, Paul McCartney, Elton John, Sam Rivers, The Orb, and many more. The trio visit us just two days before the launch on the Whirlwind label of their album dedicated to the music of Fats Waller.

24th May 2017 Ryan Taylor Hammond Trio / £6
Authentic grooves, Blue Note jazz, swing, latin and funk, as keyboard master Ryan Taylor (organ/vocals) brings a fine trio featuring two of Sheffield's finest Phil Johnson (drums) and Chris Walker (guitar). A fixture in many of the best bands on the Sheffield music scene, Ryan's inspiration for this gig are the great jazz organists Jimmy Smith, Tony Monaco, Joey DeFrancesco and Richard 'Groove' Holmes. Perfect nocturnal vibes for the intimate atmosphere of the Lescar backroom. Don't miss this!

31st May Andrew Button Band / £6
Four of the most in-demand musicians on the London jazz scene, led by guitarist Andy Button, with Andy Woolf on tenor sax, Dave Manington (bass) and Marek Dorcik (drums), and following an appearance at the London Jazz Festival, the wonderful Button Band return as part of a tour in support of their second album 'Emilie'. Their music is poised, melodic, and approachable, mixing jazz with country, blues, and South African township jazz, and definite shades of Bill Frisell as well as John Scofield. Beautiful stuff.

7th June Word of Moth / £6
A four piece band with a powerful sound, based around intense and exploratory group improvisations, and heavy grooves and riffs, Word of Moth feature some of the most creative musicians on the UK improvised music scene, with Cath Roberts (Sloth Racket) on baritone sax, Dee Byrne (Entropi) on alto sax, Seth Bennett on double bass, and Johnny Hunter on drums. After an explosive performance at Lancaster Jazz Festival and most recently in Switzerland at Jazzwekstatt's 10th anniversary festival, their debut album will be out on the Luminous label in 2017.

Jez Matthews
Jazz at The Lescar
http://www.jazzatthelescar.com
@SheffieldJazz
Tel. 0774 020 1939

The Lescar Hotel,
303 Sharrow Vale Road,
Sheffield,
South Yorkshire,
S11 8ZF.
0114 266 8974
http://www.thelescarhunterbar.co.uk
---
blog comments powered by

Disqus
JAZZ MANN FEATURES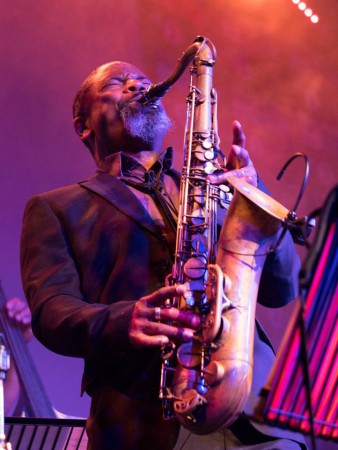 Ian Mann on the final day of the Festival and performances by Hot 8 Brass Band, Sarah Munro, Mode9, Paul Carrack and Denys Baptiste.
---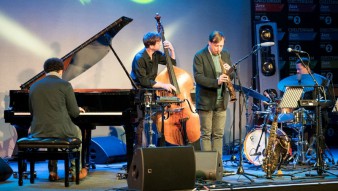 Ian Mann on performances by Monocled Man, Schnellertollermeier, Meshell Ndegeocello, Chick Corea, Chris Potter and Yazz Ahmed.
---
JAZZ MANN RECOMMENDS
---