NEWS
Jazz In The Round Listings - November 2018 to February 2019.
Wednesday, October 31, 2018
From http://thecockpit.org.uk/show/jazz_in_the_round

"Jazz In The Round are leading the charge of new British jazz" - Jazzwise

Every last Monday of the month JAZZ IN THE ROUND gather the finest musicians and throws them together in a barrier busting night of contemporary music.
With Jez Nelson & Chris Phillips from Jazz FM.

£12 in advance / £15 on the door
Doors 7pm, with DJs in the bar.

Jazz In The Round set out to provide an open platform to reflect and promote the brilliance, beauty and innovation of contemporary jazz in London. Starting life as this monthly night of barrier busting jazz at The Cockpit, Jazz In the Round has grown.

Jazz In The Round now hosts a regular stage at Love Supreme, hosts events each year for the London Jazz Festival, and hosts Emergence Festival, our annual 3 day festival in Hastings.

Plus, with the support of Arts Council England, Jazz In The Round now records all the emerging artists that play at Jazz In the Round. These recordings are then played out by Jazz FM

EFG LONDON JAZZ FESTIVAL
16TH - 25TH NOVEMBER 2018
JAH WOBBLE & INVADERS OF THE HEART,
MAY INOUE,
TONY KOFI, WONKY LOGIC, STRING TING
This year we have 3 gigs programmed at the festival. Two at The Cockpit & one at King's Place

24th November - Tony Kofi, Wonky Logic , & String Ting at Kings Place
JAZZ IN THE ROUND @ KINGS PLACE
Tony Kofi, Wonky Logic & String Ting
SAT 24 NOV 2018
This event is part of:
EFG LONDON JAZZ FESTIVAL
Produced and presented by Jazz In The Round
Tony Kofti, Wonky Logic & String Ting
At Kings Place
We're taking JAZZ IN THE ROUND to Kings Place showcasing three artists at the forefront of British jazz, featuring Wonky Logic, String Ting and Tony Kofi and the Organisation.
Leeds-based musician and producer Wonky Logic, aka Dwayne Kilvington, is an upcoming force on the left-field hip-hop scene – blending soulful electronics with crunk beats. Owing as much to sample-culture as to his background as a jazz pianist, Wonky Logic sculpts his compositions with expansive space-age synths underpinned by clever bass work and off-kilter drums.
StringTing is a flagship ensemble from Tomorrow's Warriors, the celebrated hothouse for young jazz talent in the UK. Led by violinist Rhiannon Dimond, they are blazing a wide trail for women and strings in jazz. StringTing's musicians are core players in Tomorrow's Warriors' acclaimed Nu Civilisation Orchestra and are ones to watch as they begin to make an indelible mark on the London jazz scene.
Finally, Tony Kofi is a British Jazz multi-instrumentalist born of Ghanaian parents, a player of the Alto, Baritone, Soprano, Tenor saxophones and flute. Having cut his teeth in the Jazz Warriors of the early 90s, award-winning saxophonist Tony Kofi has gone on to establish himself as a musician, teacher and composer of some authority – performing/recording with the likes of Courtney Pine, Donald Byrd, Eddie Henderson, Abdullah Ibrahim, Macy Gray, and Ornette Coleman. Here he teams up with The Organisation – featuring Pete Whittaker on Hammond organ, Pete Cater on drums and Simon Fernsby on guitar – performing a hard-hitting selection of jazz, blues, Latin, hard bop and post bop including rarely performed classics by the likes of George Russsell, Woody Herman and Duke Pearson and Joe Henderson.
Please note that the staging for this event will be standard (end-on) seating rather than in the round.
Tickets:
Full price: £17.50

24th November, Jah Wobble & The Invaders Of The Heart at The Cockpit - 50% off for Supporters Of Sound
JAH WOBBLE AND INVADERS OF THE HEART
Jah Wobble with a jazz twist.
SAT 24 NOV 2018
This event is part of:
EFG LONDON JAZZ FESTIVAL
Presented by The Cockpit
As well as containing music from the regular Jah Wobble and Invaders of the Heart repertoire , this very special night will focus on jazz .
There will be some cover versions from the electric Miles period and some other surprises.
Saturday 24th November - 8pm
Tickets:
Full price: £20

25th November May Inoue & Friends - £12 tickets for Supporters Of Sound
MAY INOUE AND FRIENDS: YOKOHAMA CALLING
Japanese guitarist in a unique collaboration
This event is part of:
EFG LONDON JAZZ FESTIVAL
Produced by Yokohama Calling
Presented by The Cockpit
At just 27 years old, Japanese guitar sensation, May Inoue already has three solo albums to his name and has recorded alongside Kazumi Watanabe, and played live with Kurt Rosenwinkel. He is a graduate of the prestigious Berklee Music College in the US and has earned various accolades in Japan, not least "Album of the Year" in 2011 for his debut EMI record, "First Train".
For his first UK outing, May Inoue will be joined by Jason Rebello: keys, Jay Phelps: trumpet, Kaz Rodriguez: drums, Alex Davis: bass.
This concert is an EFG London Jazz Festival event.
The programme will feature many of May's compositions from his various releases straddling a variety of musical styles and influences. With contributions also from Jason Rebello and Kaz Rodriguez, Yokohama Calling are very excited to be facilitating this unique meeting of musical talent and the possibilities it will bring.
Yokohama Calling is a UK based operation working with Japanese artists to promote Japanese music and culture outside of Japan. The vision is to bring UK and Japanese artists together - to foster the spirit of collaboration, to create new bonds and make great music.
Sunday 25th November - 7:30pm
Tickets:
Full price: £15 Concessions: £12

COCKPIT GIGS;

MONDAY 26TH NOVEMBER 2018
WARMER THAN BLOOD - CHRIS MONTAGUE'S QUARTET, MIKE DE SOUZA TRIO
One of the most innovative guitarists and musicians to emerge from the UK in recent years, Chris Montague is widely recognised for his skills as a composer and performer. Warmer Than Blood is his new quartet
With Kit Downes, Ruth Goller & James Maddren.
Since graduating from the Royal Academy of Music in 2014, Mike De Souza has gone on to perform around the country, as both a band leader and a side-man.
He leads the Mike De Souza Trio which is due to release their 3-track 'Road Fork EP' in December.
with Jay Davis & Huw V Williams.

2019

MONDAY 28TH JANUARY 2019
RORY SIMMONS SEPTET & PYJAEN

MONDAY 25TH FEBRUARY 2019
ROLLER TRIO & TOMASZ BURA & THE SCIENTISTS


The Cockpit has been awarded an ACE grant so we can record all the emerging artists that play with us at Jazz In The Round .
Take a bow all those who've contributed for free over the years to hold the space and get us here: Jez Nelson, Chris Phillips, Sean Corby, Alex Watson, Richard Wyatt, Steve Cropper, Gina Southgate.
Take a bow Nick Burkinyoung, Akilah Dale, Chris Lince, Deb Jones, Kat Gardner who make each and every event happen with zen quality . Take a bow The Audience; and Cockpit Supporters of Sound, dozens of whom have been to each and every gig for 7 years.
JiTR set out to provide an open event truly able to reflect and promote the brilliance, beauty and innovation of contemporary jazz in London and the stories of its fabulous musicians.
And we're doing it. So loud applause for all of us - In the round.
2018 FESTIVALS
After debuting at Love Supreme Festival in 2017, this year our stage was bigger, brighter, and became the go-to place for a late night hang.
And in September we took over St Mary In The Castle in Hastings to host the first of what will now become our annual 3 day festival EMERGENCE.
What a Summer!
TRANSIENT LIFE
Each month we are lucky to have Steven Cropper taking photographs, and capturing the magic that happens.
Catch up on a back catalogue of Jazz In The Round events on his photography blog site Transient Life where you can marvel at his images and read his detailed summary of each show.
https://www.transientlife.uk/

BECOME A SUPPORTER OF SOUND
For 100 quid you get free entry to 10 Jazz In The Round shows…which saves £20 (or 6 beers). Plus you get half price tickets to Jazz In The Round special events.
Save money, support new music at The Cockpit and try something new.Go on. You know you want to. Click here.https://tickets.thecockpit.org.uk/sales/shows/jazzintheround/becomeacockpitsuppor

GINA SOUTHGATE
Every month our artist in residence Gina Southgate paints the action as it happens. See her work on display in our foyer, view it on her website, and watch her at it live on the night.
https://artistginasouthgate.weebly.com/jazz-in-the-round-residency.html

THE COCKPIT
Gateforth Street
London NW8 8EH
Box Office: 020 7258 2925
(10.30am - 6pm, Monday - Friday,
12 noon - 6pm, Saturday)
---
blog comments powered by

Disqus
JAZZ MANN FEATURES
Ian Mann is educated and entertained by the first date of a tour celebrating the life and music of trumpeter Dizzy Reece performed by pianist Trevor Watkis and a stellar international quintet.
---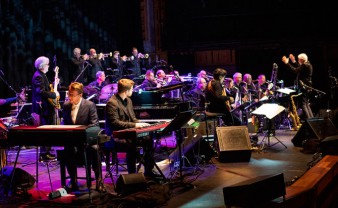 Ian Mann enjoys the final day of the Festival and performances by Flying Machines, the Monty Alexander Trio and Bill Laurance and the WDR Big Band conducted by Bob Mintzer.
---
JAZZ MANN RECOMMENDS
---