NEWS
Jazz NewBlood, showcase events featuring young jazz talent at 2019 EFG London Jazz Festival.
Wednesday, October 09, 2019
From the EFG London Jazz Festival website;
http://www.efglondonjazzfestival.org.uk
Emma Rawicz + Saskia Horton + Donovan Haffner

Doors 2.00 pm, Performances commence 2.30 pm

LONDON Waterloo Creative Studio Iiklectik)
20 Carlisle Ln
London
SE1 7LG

Three programmes of new work. Saxophonist Emma Rawicz, saxophonist Donovan Haffner step out of the ranks of Tomorrow's Warriors and dancer/violinist Saskia Horton combines her skills.

In its 4th edition, JazznewbloodALIVE2019 is celebrating original jazz-inspired music led by young #femalejazzpower. Gender balance and diversity is something we work very hard to achieve and this year we can say female leaders are in the majority on stage.

(PREMIERE) Coming from Devon, Emma Rawicz spent a lot of weekends in London studying Jazz at Guildhall or NYJO. Lucky enough to be able to try many different instruments while growing up she eventually discovered the saxophone and jazz at 14. In her compositions you can hear the influence of Brazilian and Latin music, Kenny Wheeler's more traditional jazz sounds, ranging from Cannonball Adderley to Thelonious Monk.

(PREMIERE) Dancer and violinist Saskia Horton is known both for her classically-trained musical skills and her prowess in the art of 'krumping' – a super high energy dance form that originated in the US. In fact, her moves are so impressive that singer FKA Twigs handpicked her to star in a film she directed. But this amazing multidisciplinary artist is also part for the jazz fusion band Nihilism rated as one of the most original young bands performing in the underground London music scene. We are excited to present her set of original music that I am sure will include a diverse range of artistic expression.

(PREMIERE) 17 year old Donovan Haffner, South East London saxophonist, is one of Tomorrow´s Warriors rising stars, whose ability goes beyond his tender years. For this showcase, he presents a set of original music never played before.

MORE INFO: http://www.JAZZNEWBLOOD.ORG / Doors open at 2pm, concerts start at 2.30pm with space for turn around between sets #UNRELEASED #UNSIGN #youthjazztalent #femalejazzpower #jazzdiversity #genderbalance #jazzfuturenow
Isobella Burnham + Asha Parkinson + Tara Cunningham
Sunday 24 November 2019,
Doors 5.30 pm, Performances commence 6.00 pm
at LONDON Waterloo Creative Studio (Iklectik)

LONDON Waterloo Creative Studio (iklectik)
20 Carlisle Ln
London
SE1 7LG

Three more programmes of new work.

(PREMIERE) ISOBELLA BURNHAM, is a vibrant 20-year-old Bassist, Vocalist and Songwriter from England. Growing up in Barbados she soaked up the rich musical culture around her and studied Jazz at the Barbados Community College. Isobella has played with Tomorrow's Warriors at Love Supreme and PizzaExpress, with Banou Azania in Malawi and South Africa and for Connie Constance across the UK. This year she recorded with Tom Misch, Yussef Dayes, Jelly Cleaver, Leigh Phillips and Hank.

ASHA PARKINSON is a London-based composer and saxophonist whose work regularly crosses the boundaries between traditions. She was twice semi-finalist in the BBC Young Jazz Musician competition and was shortlisted in 2016 BBC Inspire Composers Competition. Additionally, she was one of 20 young people internationally to win Diana Legacy Award for her humanitarian initiative Voices Beyond Divisions. Asha's compositional style brings together a wide range of influences, ranging from Arabic maqam, flamenco compas, Indian tala to the modal polyphony of the Notre Dame School and Olivier Messaien. She brings her project Kalpadruma to our showcase.

(PREMIERE) TARA CUNNINGHAM grew up listening to a variety of music from Talking Heads to Glenn Miller to Prince, drawing inspiration from these different styles in her own composition and improvisation. She attended the junior jazz course at the Royal Academy of Music before studying jazz guitar at Trinity Laban where she is currently in her third year. On the 24th she will be joined by Hugo Piper and Adam Merrell - expect a mix of atmospheric grooves and melodies representational of each musician's distinctive sound.

MORE INFO: http://www.JAZZNEWBLOOD.ORG / Doors open at 5.30pm, concerts start at 6.00pm with space for turn around between sets #UNRELEASED #UNSIGN #youthjazztalent #femalejazzpower #jazzdiversity #genderbalance
---
blog comments powered by

Disqus
JAZZ MANN FEATURES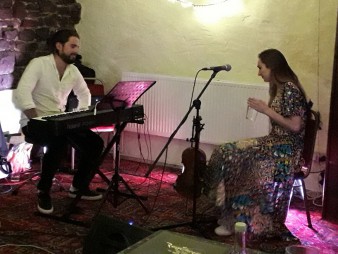 The final day of the Festival and performances from Tango Jazz Quartet, Renewal Choir and Claire Victoria Duo.
---
Ian Mann on live performances by the Alex Goodyear Bop Septet, Chube with Dennis Rollins, and the Sarah Gillespie Sextet, plus a screening of the Chet Baker biopic "Born To Be Blue".
---
JAZZ MANN RECOMMENDS
---