NEWS
Jazz Standard, New York City, Announces November 2018 Concert Schedule.
Friday, October 05, 2018
November At Jazz Standard
featuring
Pat Martino Trio + Horns
Gilad Hekselman Trio
Maria Schneider Orchestra
Frank Kimbrough: Monk's Dream

New York City, NY —JAZZ STANDARD, one of the nation's premier jazz clubs, offers another im­pressive month of music with jazz legends and rising stars throughout November. Guitarist Pat Martino adds horns to his regular organ trio for performances from November 1–4, followed by another exceptional guitarist, Gilad Hekselman, appearing November 7. For the 14th consecutive year, the Maria Schneider Orchestra returns Thanksgiving Week from November 20–25, and pianist Frank Kimbrough performs the timeless music of Thelonious Monk with his quartet on November 27–28. Our "Mingus Mon­day" series contin­ues this month with the GRAMMY Award–winning Mingus Big Band appearing 11/5, 11/12, 11/19, and 11/26. Be­low is a com­plete sched­ule of November per­form­ances at Jazz Standard, along with infor­ma­tion on the musicians. For every­thing else, visit http://www.jazzstandard.com.

ALL SHOW TIMES: 7:30 & 9:30 PM

Jazz Standard is located at 116 East 27th Street between Lexington and Park Avenues
Train No. 6 to East 28th Street

NEVER A MINIMUM

Student Discounts restrictions apply

Enjoy "NYC's Best Barbecue" (Time Out New York) from BLUE SMOKE
And an extensive wine, beer and cocktail list

THE SMOKESTACK
Enjoy weekly Saturday brunch (except 11/24) | Music 12:00-1:30 p.m. (doors open @ 11:30 a.m.) |
Tickets: $10 music charge/$35 all-inclusive/Free admission for kids under 12

JAZZ FOR KIDS
Enjoy weekly Sunday lunch (except 11/25) | Music by Jazz Standard Youth Orchestra 2:00-3:00pm (doors open @ 1:00pm.) | Tickets: Free

For reservations call Jazz Standard at 212.576.2232 or visit http://www.ticketweb.com

Artists and schedules are subject to change

NOVEMBER 2018 SCHEDULE;

11/1 – 11/4 Pat Martino Trio + Horns
Pat Martino – guitar
Pat Bianchi – organ
Carmen Intorre – drums
Alex Norris – trumpet
Adam Niewood – tenor saxophone
Formidable is not only the title of Pat Martino's most recent Highnote CD and his first studio recording as a leader in 11 years, it is an apt description of the guitarist's fearlessly virtuosic playing. Born 1944 in Philadelphia, Pennsylvania, Pat thrived in this musical melting pot where so many jazz greats began their journey: John Coltrane, Benny Golson, Lee Morgan, Jimmy Heath. By age 20, Martino already had developed a mature style and had begun to compile studio and stage credits including Brother Jack McDuff, Sonny Stitt, and Don Patterson, just to name a few. Today, the guitarist still plays with the same fiery enthusiasm, having lost none of his talent for daring improvisations and hard–swinging grooves. For this welcome return to our stage, his regular organ trio will be augmented by the soulful horns of trumpeter Alex Norris and tenor saxophonist Adam Niewood. "…A veritable patriarch of jazz guitar, a fleet modernist who's never forgot­ten his earthy roots." (The New Yorker)
Music Charge: $35

11/3 Smokestack Brunch: Alex LoRe Quartet
Alex LoRe – alto saxophone
Glenn Zaleski – piano
Desmond White – bass
Mark Whitfield Jr. – drums
Praised by Ben Ratliff of The New York Timesas a saxophonist who is "…making the connections among about 70 years' worth of contemplative, articulate and light–toned players," Alex LoRe is a rising–star alto player on the current New York scene. With a strong upbringing in classical music, men­tored by such masters as Lee Konitz and James Moody, LoRe's playing and compositions reflect a myri­ad of influences ranging from the European classical repertoire to post–bop jazz to 21st century pop music. In 2016, he released his second album on Greg Osby's "Inner Circle Music" label, entitled More Figs and Blue Things. Alex LoRe, says saxophonist and educator Bunky Green, "will emerge to become one of the leading voices on the international jazz scene."
Music Charge: $10

11/5 Mingus Big Band
Our popular Mingus Monday series resumes tonight with the GRAMMY Award–winning Mingus Big Band performing the music of legendary bassist/composer Charles Mingus (1922–1979) – what The Guardian's John Fordham called "some of the most dramatic and powerful jazz composed in the 20th cen­tury."
Music Charge: $30

11/6 Shai MaestroTrio
Shai Maestro – piano
Jorge Roeder – bass
Ziv Ravitz – drums
For Shai Maestro, it all started at age eight with Oscar Peterson's The Gershwin Songbook. "I couldn't stop listening to that album," says the 31–year–old pianist. "There was something about the way Oscar played the piano on that album. The combination of his crystal touch, Gershwin's incredibly beautiful songs, and the way the band swung got me completely captivated." Following piano studies at his Israeli high school, he got "the call" from bassist Avishai Cohen, who was seeking a pianist for his trio: "After overcoming the initial shock, I realized that this was a once in a life opportunity and I literarily moved in to my practice studio. I ate there and slept there next to the piano, preparing for my 'audition' with Avishai." Cohen, Maestro, and drummer Mark Guiliana worked together from 2006–2011, touring the world and recording four albums. The Shai Maestro Trio formed in July 2010, and on 9/28 re­leased a new album, The Dream Thief, on ECM Records. "Hearing Shai Maestro is like awakening to a new world." (All About Jazz)
Music Charge: $30

11/7 Gilad Hekselman Trio CD Release
Gilad Hekselman – guitar
Reuben Rogers – bass
Kendrick Scott – drums
Guitarist and composer Gilad Hekselman," wrote Nate Chinen in The New York Times, "has a vision of modern jazz that's harmonically fluent but not averse to simple melody or gentle, approachable effect." At NextBop, Ben Gray asserted: "There may not be any stronger melodies in jazz today than the lines flowing out of Gilad Hekselman's guitar." Last year's No. 1 "Rising Star" on guitar in the DownBeat Critics Poll takes a bold new turn on his new album Ask for Chaos, the first release from the artist's new label, Hexophonic Music, in collaboration with Motema Music. Standout tracks include the bright, Brazilian–influenced "Milton," reflecting his deep appreciation for Milton Nascimento; and "Tokyo Cookie," a deeply grooving 5/4 piece with involved melodic parts that take time to unfold, intersect and combine. With Ask for Chaos, Gilad Hekselman makes radical departures while holding true to the core of the sound he's been refining for years.
Music Charge: $30

11/8–11/9 James Francies Band CD Release
James Francies – piano
Chris Turner – vocals
Kate Keyes – vocals
YEBBA – vocals
Ben Wendel – saxophone
Gilad Hekselman – guitar
Burniss Travis – bass
Kendrick Scott – drums
Plenty of young musicians show promise, but very few enjoy the sort of meteoric rise that pianist, key­boardist and composer James Francies is currently experiencing. At only 23, he's played with jazz head­liners including Pat Metheny, Chris Potter, Jeff "Tain" Watts, and Stefon Harris. At the same time, he's amassed equally impressive credits in hip–hop and R&B: gigs with Ms. Lauryn Hill, José James, Common, and Nas; studio time on Chance the Rapper's GRAMMY Award–winning hit "No Problem," and appearances with The Roots on "The Tonight Show Starring Jimmy Fallon" alongside mentor and friend Questlove. Flight is the extraordinary debut album that welcomes James Francies to the storied Blue Note label, its 11 tracks showcasing his singular blend of jazz mastery and pop experience. Francies says that his experiences outside of jazz have helped him with concepts like "assembling sounds, consistency, delivery and the ability to support" – and the result is Flight, a dynamic, ultramodern jazz recording that entertains from start to finish.
Music Charge: $30

11/10 Smokestack Brunch: Alexa Tarantino Quartet
Alexa Tarantino is an award–winning young saxophonist, composer, and educator whose performances offer "exquisite soloing that is fresh, inspired, and original" (Paul Rauch, All About Jazz). She performs regularly as a leader and sideman in a wide variety of ensembles and styles including Darcy James Argue's Secret Society and Arturo O'Farrill & the Afro –Latin Jazz Orchestra. Tarantino's own adroit quartet engages its audience through her original compositions and modern takes on classic standards and favorites.
Music Charge: $10

11/10–11/11 Marcus Strickland's Twi–Life
Marcus Strickland – tenor, alto & soprano saxophones
Mitch Henry – keyboards
Kyle Miles – bass
Charles Haynes – drums
With Special Guests
Bilal – vocals
Pharoahe Monch – lyrics
Akie Bermiss – vocals
A charter member of the 21st century jazz vanguard, Marcus Strickland apprenticed with the band of drummer Roy Haynes, during which time he released his first two albums as a leader. In 2006, he found­ed his own label, Strick Muzik, to release the ambitious double CD Twi–Life; and was proclaimed "Best New Artist" in the JazzTimes Readers' Poll. In 2016, the saxophonist made his Blue Note label debut with Nihil Novi, produced by Meshell Ndegeocello and drawing upon a sonic terrain that ranged from J Dilla's beat making to Bela Bartók's Hungarian folk music. Marcus Strickland, wrote Mike Hobart in The Financial Times, "has been cross–cutting the onward rush of contemporary jazz with the sharp beats of hip–hop for more than a decade." His journey continues tonight with his working quartet plus special guests Bilal, Pharoahe Monch, and Akie Bermiss – only at Jazz Standard!
Music Charge: $30

11/12 Mingus Big Band
"There once was a word used: swing. Swing went in one direction, it was linear, and everything had to be played with an obvious pulse and that's very restrictive. But I use the term 'rotary perception.' Imagine a circle surrounding each beat—each guy can play his notes anywhere in that circle and it gives him a feel­ing he has more space. The pulse is inside you. When you're playing with musicians who think this way, you can do anything." — Charles Mingus, Beneath The Underdog (Alfred A. Knopf, New York, 1971)
Music Charge: $30

11/13 Amina Figarova Sextet CD Release
Amina Figarova – piano
Bart Platteau – flutes
Alex Pope Norris – trumpet
Wayne Escoffery – tenor saxophone
Luques Curtis – bass
Brian Richburg Jr. – drums
On Blue Whisper– her 13th album since her 1994 debut Attraction– Amina Figarova introduces 10 colorful, compelling new compositions performed by her touring sextet plus guests. The globetrotting composer and pianist's deeply personal responses to social turmoil, to the distinctive personalities she's encountered, and to the universal transitions of life all inform the music of Blue Whisper. Moods range from the haunting beauty of the title track "Blue Whisper," as well as "Moonrise" and "Hewa" (featuring lyrics in Swahili by Sarah Elizabeth Charles) to the straight–ahead momentum of "Moving Forward," "The Hustler," and "The Traveler." Throughout Blue Whisper, Amina's classical touch, her lilting melo­dies and luminous harmonies, join propulsive rhythms and star soloists in a sophisticated blend. "...Figarova's style cannot be classified neatly in any traditional genre because she has forged an individ­ual character. Her work is neither post–bop nor hard-bop—nor anything else, for that matter; it is simply Figarova. Rare are the musicians about whom this can be said…" (Hrayr Attarian, All About Jazz)
Music Charge: $30

11/14 Amina Figarova Sextet Plus
Amina Figarova – piano
Bart Platteau – flutes
Alex Pope Norris – trumpet
Marc Mommaas – tenor saxophone
Luques Curtis – bass
Brian Richburg Jr. – drums
With
Sara Caswell – violin
Lois Martin – viola
Jody Redhage – cello
This Jazz Standard engagement marks the 20th anniversary of the Amina Figarova Sextet – and to celebrate this illustrious occasion, the leader will add a string trio to her regular working group. "…One of the leading jazz composers of the new century…Figarova's writing impresses me beyond her com­mand of melody and structure: her intricate arrangements for trumpet, saxes, and the panoply of flutes played by her husband, Bart Platteau, make her band sound like an outfit twice its size." (Neil Tesser, The Chicago Reader)
Music Charge: $30

11/15–11/18 Sean Jones Quartet
Sean Jones – trumpet
Orrin Evans – piano
Luques Curtis – bass
Obed Calvaire – drums
As a child, he sang with the church choir in his hometown of Warren, Ohio. At age 10, he switched from drums to trumpet upon his first exposure to the music of Miles Davis. At 19, John Coltrane's A Love Supreme revealed to him "my past, my present, my future. I knew the course I needed to pursue." This is trumpeter, bandleader, composer, and educator Sean Jones, who arrives on our stage this week at the helm of the stellar band with which he has worked regularly for over a decade: pianist Orrin Evans, bassist Luques Curtis and drummer Obed Calvaire. A former MVP with the Lincoln Center Jazz Orchestra, Jones also has recorded and/or performed with such major musical figures as Frank Foster, Jimmy Heath, Dianne Reeves, and Nancy Wilson. In 2011, he joined the elite group of Marcus Miller, Herbie Hancock, and Wayne Shorter for their celebrated "Tribute To Miles" tour. "When trumpeter Sean Jones is at his best, listeners hear a convergence of virtuosity, musicality and sensitivity…Music–making of considerable intensity but also lyric grace." (Howard Reich, The Chicago Tribune)
Music Charge: $30

11/17 Smokestack Brunch: Ted Chubb
Born into a musical family, over the past two decades Ted Chubb has developed into both a deeply expressive trumpeter and an inventive composer. He has served as both bandleader and sideman and has worked as an educator and music director/administrator. On such recordings as 2009's New Tricks and the brand–new album Gratified Never Satisfied, Chubb has demonstrated an innate ability to adapt his knowledge, talent and worldliness to every aspect of his art and work. "Ted Chubb is a very talented trumpeter, composer, improviser, bandleader and educator. Ted is the total package, and most of all, he is just one great guy." (Christian McBride)
Music Charge: $10

11/19 Mingus Big Band
"Everything he's done on record is part of the essential Mingus…He is one of those relatively few jazz figures who has inexorably accumulated a wholly singular body of work – like Duke and Monk and Miles and Trane…All of Mingus' music is a symphony fused from the parts of his life, like a book." – Nat Hentoff, from his liner notes to The Art of Charles Mingus: The Atlantic Years (Atlantic SD 2–302)
Music Charge: $30

11/20–11/25 Maria Schneider Orchestra (Closed for Thanksgiving 11/22)
Marking its 14th consecutive year, the annual Maria Schneider Orchestra Thanksgiving residency returns to our stage. For more than two decades, beginning with her orchestra's debut album Evanescence (1994), composer/conductor Maria Schneider has developed a deeply personal way of writing for her 17–member collective, Like Duke Ellington, she has tailored her compositions to highlight the individually expressive voices of her soloists. In July 2018, Maria Schneider was awarded the highest honor in jazz, as a recipient of the 2019 Jazz Masters Fellowship from the National Endowment for the Arts. "The endur­ing popularity of Schneider's jazz orchestra is a combination of many factors—including the ingenuity of her compositions and arrangements, and the superlative musicianship of her ensemble—but the open­hearted lyricism that imbues all of her work may be the most winning component." (The New Yorker) "As with Pat Metheny and Bill Frisell, and not infrequently Aaron Copland, too, Schneider's music is about a more innocent and uncon­flicted America, still hoping that humanity might one day get into the kind of harmony with itself and its environment that she hears in her head." (John Fordham, The Guardian)
Music Charge: $40

11/24 NO SMOKESTACK BRUNCH DUE TO PRIVATE EVENT

11/26 Mingus Big Band
"His head was a drawer crammed with the remains of intentions and fragments of what was still to come. Long compositions were full of the debris of previous ones and more and more he was moving toward a single piece which would include everything he had ever written before…He believed you could say everything in music but there was still more he wanted to say." (Portrait of Charles Mingus from But Beautiful: A Book About Jazzby Geoff Dyer)
Music Charge: $30

11/27–11/28 Frank Kimbrough: Monk's Dream CD RELEASE
Frank Kimbrough – piano
Scott Robinson – reeds
Rufus Reid – bass
Billy Drummond – drums
This Jazz Standard double–header celebrates the Sunnyside Records release (11/23) of one of this year's most significant jazz recordings. Frank Kimbrough's Monk's Dreams: The Complete Compositions of Thelonious Sphere Monk is a revelatory six–CD set comprised of the jazz legend's 70 known composi­tions as performed by the all–star quartet that Kimbrough will lead this week on our stage. From the outset of his career, Frank Kimbrough has returned time and again to Monk's songs; after nearly four decades of study, reflection, and performance, he's established a very personal way to express himself through the prism of Monk. Highlights of Monk's Dreams include Scott Robinson's juggling of trumpet and tenor sax on "Thelonious" and the ensemble's freewheeling energy on "Skippy." "Locomotive" is the picture of peaceful beauty, whereas "Jackie–ing" is all jumps and starts. Rufus Reid and Robinson play beautifully on "Reflections" and a lovely solo rendition of "Crepuscule with Nellie" showcases Kimbrough's command of the piano and Monk's language. Don't miss this command performance of "the onliest Thelonious" songbook – only at Jazz Standard!
Music Charge: $30

11/29–12/2 Aaron Goldberg Triowith Matt Penman & Leon Parker
Aaron Goldberg – piano
Matt Penman – bass
Leon Parker – drums
Hailed by DownBeat magazine for his "quick–witted harmonic reflexes, fluid command of line and cut–to–the–chase sense of narrative logic," Aaron Goldberg has made his name as one of jazz's most compel­ling pianists, both as a bandleader and frequent collaborator with some of the foremost players from mul­tiple jazz generations. In 1998, he joined saxophonist Joshua Redman's group for four years of touring and recording; after that came a two–year stint with guitar guru Kurt Rosenwinkel, a 2005 tour of Latin America with singer Madeleine Peyroux, and six months on the road performing with Wynton Marsalis in his quartet as well as with the Lincoln Center Jazz Orchestra. The Goldberg discography now encom­passes more than 50 albums; it includes sessions with saxophonists John Ellis, Jimmy Greene, and Eli Degibri as well as the venerable Terry Gibbs/Buddy DeFranco group. Jazz has a way of summoning that kind of spirit from musicians, and Goldberg knows exactly how to capture it, surrounding himself with kindred spirits in pursuit of the highest expression. This week on our stage, Goldberg, Penman and Parker will embody the best of what jazz can be today: the ability to speak from deep within the tradition while putting their own collaborative imprint upon it.
Music Charge: $30
---
blog comments powered by

Disqus
JAZZ MANN FEATURES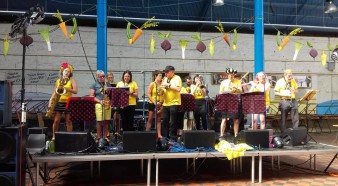 Ian Mann enjoys the Jazz Alley and Charity Swing Party events at the Market Hall with performances by Wonderbrass, Tarion, Rebelinx and The Electric Swing Circus.
---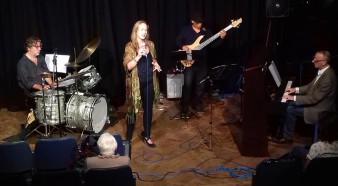 Ian Mann on a day of superb jazz with concert performances from bands led by Daniel Newberry, Alison Rayner, Ben Holder, Rachel Sutton and Tony Kofi plus interval music from Dave Jones and friends.
---
JAZZ MANN RECOMMENDS
---