NEWS
Jazz Standard, New York City, Announces October 2018 Concert Schedule.
Friday, September 14, 2018
We have received the following press release;

October At Jazz Standard
featuring
Kenny Werner Quartet
Pérez, Cohen, Potter Quintet
Ralph Peterson's Aggregate Prime
Life Cycles
Scott Robinson's Heliotones: A Halloween Spectacular

New York City, NY —JAZZ STANDARD, one of the nation's premier jazz clubs, offers another im­pressive month of music with jazz legends and rising stars throughout October. Pianist Kenny Wernerand his all–star quartet will hold from October 5–7, followed on October 11–13 by the Pérez, Cohen, Potter Quintet featuring GRAMMY Award–winning pianist Danilo Pérez, master saxophonist Chris Potter, and acclaimed trumpeter Avishai Cohen. Drum giant Ralph Peterson'sAggregate Primewill perform from October 17–18, followed by Life Cycles from October 19–21. Our "Mingus Mon­day" series contin­ues this month with the GRAMMY Award–winning Mingus Big Band appearing 10/1, 10/8, 10/22, and 10/29; the eclectic Mingus Orchestra will perform on 10/15. This month also marks the return of our Halloween Spectacular on October 31st hosted by Scott Robinson, and our 16th annual Jazz for Kids program featuring weekly Sunday performances by our Jazz Standard Youth Orchestra. Be­low is a com­plete sched­ule of October per­form­ances at Jazz Standard, along with infor­ma­tion on the musicians. For every­thing else, visit http://www.jazzstandard.com.

ALL SHOW TIMES: 7:30 & 9:30 PM

Jazz Standard is located at 116 East 27th Street between Lexington and Park Avenues
Train No. 6 to East 28th Street

NEVER A MINIMUM

Student Discounts restrictions apply

Enjoy "NYC's Best Barbecue" (Time Out New York) from BLUE SMOKE
And an extensive wine, beer and cocktail list

THE SMOKESTACK
Enjoy weekly Sunday brunch | Music 12:00-1:30 p.m. (doors open @ 11:30 a.m.) |
Tickets: $10 music charge/$35 all-inclusive/Free admission for kids under 12

JAZZ FOR KIDS
Enjoy weekly Sunday lunch (except 10/21 + 10/28) | Music by Jazz Standard Youth Orchestra 2:00-3:00pm (doors open @ 1:00pm.) | Tickets: Free

For reservations call Jazz Standard at 212.576.2232 or visit http://www.ticketweb.com

Artists and schedules are subject to change

OCTOBER 2018 SCHEDULE;

10/1 Mingus Big Band
Our long–running and very popular Mingus Monday series resumes tonight with the GRAMMY Award–winning Mingus Big Band performing the music of legendary bassist/composer Charles Mingus (1922–1979) – what The Guardian's John Fordham called "some of the most dramatic and powerful jazz com­posed in the 20th Century."
Music Charge: $30

10/2 Eli Degibri Quartet CD Release
Eli Degibri – tenor & soprano saxophones
Tom Oren – piano
Tamir Shmerling – bass
Eviatar Slivnik – drums
Saxophonist, composer, and bandleader Eli Degibri delivers charismatic performances as "an exceptional­ly melodic improviser with a big, bold tenor tone" (Bill Milkowski, JazzTimes). The Israeli–born musi­cian made his bones with the groups of Herbie Hancock and Al Foster; he possesses, said Hancock, "the potential to be a formidable force in the evolution of jazz." Now a skilled leader in his own right, Degibri has assembled an incandescent quartet of youthful compatriots, including pianist Tom Oren and drummer Eviatar Slivnik. This very special one–night stand heralds the October release of Eli Degibri's new album Soul Station: A Tribute to Hank Mobley, a heartfelt homage to the premier hard bop saxophonist (1930–1986) and specifically to Mobley's 1960 Blue Note classic Soul Station. The combination of musicianship and material will make this Jazz Standard appearance a night to remember – make your reservations now!
Music Charge: $25

10/3 Allison Miller & Carmen Staaf's Science Fair CD Release
Allison Miller – drums
Carmen Staaf – piano
Dayna Stephens – tenor saxophone
Ingrid Jensen – trumpet
Tony Scherr – bass
Here's Chris Barton in The Los Angeles Times: "Allison Miller stakes a claim to being one of the most promising drummers in the game." In the London Observer, Kitty Empire declares: "Young, muss–haired drummer, Allison Miller, defies physics and bends time." And singer/songwriter Ani DiFranco hails "a refreshingly honest player. Allison plays as she is, which is great because she is such an open–hearted, humble, graceful person." Coming 9/21 on Sunnyside Records, Science Fairis an outstanding new album from Allison Miller and pianist Carmen Staaf combining bold musical concepts and exceptional collaborators with a passion to challenge and explore. In a process they compare to a science project, Miller and Staaf even had their own "mad scientist" in producer Ben Goldberg. He helped put the final pieces together, using four compositions each from the two leaders including Miller's Joni Mitchell– inspired "Ready Steady" and Staaf's bluesy "MLW," a piano/drums duo in tribute to the great Mary Lou Williams. The result is Science Fair: a thoughtful, engaging, and incredibly grooving musical mind–meld that exceeds all expectations.
Music Charge: $30

10/4 Walking DistancefeaturingJason Moran CD Release
Caleb Wheeler Curtis – alto saxophone
Kenny Pexton – tenor saxophone
Jason Moran – piano
Adam Cote – bass
Shawn Baltazor – drums
Walking Distance is the band; Freebirdis the album (coming 9/21 from Sunnyside), smashing, stretching, and deconstructing the virtuosic melodies of Charlie Parker to create a vital, contemporary, and humorous music, powered by acclaimed pianist Jason Moran. GRAMMY Award–nominated producer/mixer Ben Rubin has construct­ed a unique sound palate for each song on Freebird. The result is a combination of virtuoso performances with sonic storytelling, retaining the sound and feel of acoustic jazz while setting a new standard for the way jazz records can sound. "My part, coming into an ensemble that exists with such a strong identity," says Jason Moran, "is to be the water that flows between the cracks, that knows how to fit in the spaces. Each song has components that are challenging, but they also have moments that are pure anchor points in jazz history… and those things become really great to find my way through and shoot through like a prism."
Music Charge: $30

10/5–10/7 Kenny Werner Quartet
Kenny Werner – piano
Dave Liebman – tenor & soprano saxophones
Esperanza Spalding – bass
Terri Lyne Carrington – drums
Kenny Werner founded his first trio in 1981 at a time when he also played piano and contributed tunes and arrangements for the Village Vanguard Orchestra (then led by drummer Mel Lewis). The pianist went on to write, record and perform with several premier European jazz ensembles, among them the Cologne, Danish, and Stockholm Jazz Orchestras; as a sideman, he recorded with Charles Mingus, Dizzy Gillespie Joe Henderson, Bobby Hutcherson, and Lou Rawls, just to name a few. In 2010, the Brooklyn native won a Guggenheim Fellowship for his Half Note Records CD No Beginning No End, an extended work utiliz­ing over 70 musicians; in Fall 2018, he'll release a masterful new trio recording, Animal Crackers. This week at Jazz Standard, Kenny Werner leads a true all–star band featuring saxophonist Dave Liebman, bassist Esperanza Spalding, and drummer Terri Lyne Carrington. "Perfection. 360 degrees of soul and science in one human being. My kind of musician!" – Quincy Jones.
Music Charge: $35

10/6 Smokestack Brunch: Oscar Perez Cuban Afro–Fusion [12:00 noon]
Oscar Perez – piano
Lance Bryant – saxophone
Endea Owens – bass
Ronen Itzik – drums
Nano Valerio – percussion
A former student of master pianists Danilo Perez and Sir Roland Hanna, NYC native Oscar Perez was still in his teens when he began sharing stages with jazz legends like Bunky Green, George Russell, and Curtis Fuller. In recent years, he's played a strong supporting role in bands led by (among others) Wycliffe Gordon, Christian McBride, Steve Turre, and Dave Stryker. Nuevo Comienzo (New Beginning)is the de­but CD by this rising jazz star, its innovative arrangements featuring special guests Wycliffe Gordon (trombone) and Peter Bernstein (guitar). "An improviser and composer with his own distinct voice, NYC native Oscar Perez has expertly combined the traditions of his Cuban heritage with straight–ahead jazz." (Sheila Anderson, WBGO 88.3 FM)
Music Charge: $10

10/8 Mingus Big Band
"Gospel and blues, the New Orleans polyphony of Jelly Roll Morton and the urbane sophistication of the Duke Ellington Orchestra, the stride piano of James P. Johnson and the dazzling harmonizations of Art Tatum: all went into the Mingus cauldron, seasoned with dashes of circus music, obscure pop tunes, B-movie scores, flamenco, scraps of Mozart and Richard Strauss. To listen to Mingus is to hear the black American musical tradition talking to itself." (Adam Shatz, "An Argument With Instruments: On Charles Mingus" – The Nation, 9.17.2013)
Music Charge: $30

10/9 James Poyser Quintet featuringmembers of The "Tonight Show" Bandand The Roots
James Poyser – piano
Ian Hendrickson–Smith – alto saxophone
Dave Guy – trumpet
Adam Cote – bass
Jerome Jennings – drums
British–born James Poyser has become something like a household name in the U.S. as a member of The Roots and a frequent guest with Philly's finest in their role as the house band for NBC's "Late Night with Jimmy Fallon." The gifted writer, producer and keyboards player has worked with a host of best–selling artists including Mariah Carey, D'Angelo, Lauryn Hill, and John Legend; in 2003, Poyser received a GRAMMY Award for Best R&B Song as co–writer of the Erykah Badu/Common hit "Love Of My Life." His colleagues in the James Poyser Quintet boast hefty credentials of their own: saxophonist Ian Hendrickson–Smith with Amy Winehouse and Sharon Jones & the Dap-Kings, drummer Jerome Jennings with the Christian McBride band…the list goes on! Playing a soulful mix of jazz originals and covers, this band is an instant party. James, Ian, and trumpeter Dave Guy began playing jazz for the pure enjoy­ment of it, and over time their jams grew into the James Poyser Quintet, an instant party of a band that leans heavy on the "soul jazz" side of the music while playing mostly original compositions. For a good time, dial Jazz Standard and make your reservations today!
Music Charge: $25

10/10 Michael Leonhart Orchestra With Special Guest Randy Brecker
Michael Leonhart – leader
With Special Guest
Randy Brecker – trumpet
Philip Dizack, Dave Guy, Jordan Maclean, Carter Yasutake – trumpets
Ray Mason – trombone
John Ellis – tenor saxophone
Ian Hendrickson–Smith – tenor saxophone & flute
Jason Marshall – baritone saxophone
Sarah Schoenbeck – bassoon
Pauling Kim – violin
Christine Kim – cello
Ron Oswanski – accordion
Robbie Mangano, Al Street – guitar
Joe Martin – bass
Kevin Raczka – drums
Elizabeth Pupo Walker – percussion
Steely Dan…Bruno Mars…Meryl Streep…Ringo Starr…Karrin Allyson…These are just a few of the art­ists who've sought out Michael Leonhart for his exceptional skills as a composer, arranger, producer, and instrumentalist. But the project closest to his heart is the Michael Leonhart Orchestra, whose spectacular debut album The Painted Lady Suite(Sunnyside, 2018) captures the power and beauty of this 21–piece band. The MLO includes members of the Village Vanguard Orchestra, the Maria Schneider Orchestra, the Dap–Kings, Menahan Street Band and Antibalas: "My idea was to get an all–star mix of soloists, ensem­ble players and pocket–players who would be as comfortable playing Mingus and Ellington as they would be playing Wu–Tang and Fela Kuti," says Michael Leonhart. "It was also important to me to steer clear of the traditional 'big band' instrumentation and have bassoon, accordion, bass harmonica and strings."
Music Charge: $30

10/11–10/13 Pérez, Cohen, Potter Quintet with Larry Grenadier & Nate Smith
Danilo Pérez – piano
Avishai Cohen – trumpet
Chris Potter – saxophone
Larry Grenadier – bass
Nate Smith – drums
Any performance at Jazz Standard by Danilo Pérez is a guarantee of creative music played at the highest level of inspiration. In his previous appearance on our stage, the GRAMMY Award–winning pianist reprised the music from his classic album Panamonk (Impulse!, 1996); now he returns with an exciting new quintet featuring two other established leaders – award–winning saxophonist Chris Potter and for­mer SFJAZZ Collective trumpeter Avishai Cohen – in tandem with the formidable rhythm team of bassist Larry Grenadier and drummer Nate Smith. Pérez, Cohen, and Potter began working together as part of the pianist's "Jazz 100" tour celebrating the centennials of Dizzy Gillespie, Ella Fitzgerald, Mongo Santamaria and Thelonious Monk; the trio discovered a uniquely rewarding musical and personal bond, and elected to reconvene after the tour to further explore their unmistakable chemistry. The burners will be turned up high this week – only at Jazz Standard!
Music Charge: $35

10/13 Smokestack Brunch: Artist TBA

10/14 Allan Harris: "The Genius of Eddie Jefferson"
Allan Harris – vocals
Arco Sandoval – piano
Nimrod Speaks – bass
Shirazette Tinnin – drums
Over the past two decades, singer/guitarist Allan Harris has steadily developed a reputation as one of the finest vocalists of his era. Brooklyn–born and Harlem–based, Harris has released a remarkable series of 11 albums, ranging through multiple genres but always together within the glorious jazz tradition. Harris's 12th release is The Genius of Eddie Jefferson, a loving tribute to the great jazz singer who died tragically at age 60 when he was shot to death outside a Detroit nightclub in 1979. The album sessions brought together Jefferson's longtime partner, alto saxophonist Richie Cole, with outstanding play­ers like pianist Eric Reed, tenor saxophonist Ralph Moore, and drummer Willie Jones III; the repertoire includes such standards of Eddie Jefferson's career as Horace Silver's "Sister Sadie" and Charlie Parker's "Billie's Bounce" alongside Richie Cole's classy original "Waltz For A Rainy Bebop Evening." "There is nothing that I have found that defines and gives credence to my place in this wild and mysterious universe than this thing called music." (Allan Harris)
Music Charge: $30

10/15 Mingus Orchestra
"It has been said that Charles Mingus was a violent man. It would be truer to say that he was a passionateman, a man of great imagination and with desires to match…Mingus' center was not a vortex of self–contemplation that sucked in, absorbed, or stifled otherness, but a volcanic center from which flowed a procreative lava, interacting with everything it touched. Not a black hole, but a bursting sun, with rays that could scorch." — Dan Morgenstern, "Charles Mingus," from Living With Jazz, ed. Sheldon Meyer (Pantheon, New York, 2004)
Music Charge: $30

10/16 Rodney Green Trio & Special Guest
Rodney Green – drums
David Wong – bass
Jeb Patton – piano
Plus…A GRAMMY–Nominated Trumpet Legend!
Born into a deeply musical Philadelphia family, gospel music and musical instruments surrounded Rodney Green at home and in church. While still in high school, the aspiring drummer became acquainted with such Philly up-and-comers as pianist Orrin Evans and bassist Christian McBride; at age 16, he commandeered the drum chair with the house band at Patti LaBelle's club, Chez LaBelle. Saxophonist Bobby Watson gave Green his first taste of international touring; he went on to work with Eric Reed, Greg Osby, Joe Henderson, Benny Green, and Mulgrew Miller, among others, before joining Diana Krall's working group for a two–year tenure. Rodney Green's latest CD as a leader is Live at Jazzhus Montmartre, recorded in Copenhagen, Denmark, and featuring the incandescent vibraphone of Warren Wolf. Due to contractual restrictions, we can't name tonight's special surprise guest, but he's a veteran trumpeter and composer with multiple GRAMMY Award nominations to his credit.
Music Charge: $30

10/17–10/18 Ralph Peterson's Aggregate Prime
Ralph Peterson – drums
Gary Thomas – tenor saxophone, flute
Kenny Davis – bass
Davis Whitfield – piano
Mark Whitfield Sr. – guitar
"Some jazz drummers convey the sensation of floating through a groove. Ralph Peterson Jr. specializes in a more urgent and pressurized momentum: a runaway freight train, a bronco bolting out of the chute." (Nate Chinen, The New York Times, 4.20.2016) In 1983, Ralph Peterson's career achieved liftoff when he was chosen as a second drummer for Art Blakey's Jazz Messengers, supplementing the great Buhaina. The powerhouse percussionist was off and running, including tours and studio sessions with Terence Blanchard & Donald Harrison, David Murray, Roy Hargrove, Charles Lloyd, and Stanley Cowell, among many others. His recording career as a leader began in 1988 with a quintet that included Blanchard, sax­ophonist Steve Wilson, and the much–missed pianist Geri Allen; since 1987, he has re­leased some 20 albums on the Blue Note, Evidence, Criss Cross, and Onyx labels. Aggregate Prime is Ralph Peterson's exciting new group featuring some of the finest players in jazz today: guitarist Mark Whitfield, saxophonist Gary Thomas, bassist Kenny Davis, and pianist Davis Whitfield (Mark's brother and a winner of Berklee's coveted Presidential Scholarship).
Music Charge: $30

10/19–10/21 Life Cycles featuring Brian Blade, Jon Cowherd, Monte Croft, John Hart, Myron Walden & Doug Weiss
Brian Blade – drums
Jon Cowherd – piano
Monte Croft – vibraphone and vocals
John Hart – guitar
Myron Walden – alto saxophone & bass clarinet
Doug Weiss – bass
Life Cycles is a co-operative band of six celebrated musicians boasting impressive credentials as both leaders and sidemen. Reeds master Myron Walden fronts his own sextet while gigging with the Brian Blade Fellowship, Stefon Harris & Blackout, and drummer Jimmy Cobb's "Kind Of Blue" band. Pianist Jon Cowherd has performed with the Village Vanguard Jazz Orchestra and with singers Carla Cook and Lizz Wright; his debut album Mercy featured the talents guitarist Bill Frisell, bassist John Patitucci, and the ubiquitous Brian Blade on drums. The latter will need no introduction to Jazz Standard regulars, having appeared on our stage in multiple configurations. A member of the Wayne Shorter Quartet since 2000, Blade has worked with Joni Mitchell, Marianne Faithfull, Emmylou Harris, Herbie Hancock, and Bob Dylan. "[His] rich tapestry of cymbal variations, swelling snare–rolls and asymmetrical accents, cou­pled with an unfaltering heartbeat of a pulse, marks out an unusually emotional drummer." (John Fordham, The Guardian, 5.16.2008)
Music Charge: $35

10/20 Smokestack Brunch: CANCELLED DUE TO PRIVATE EVENT

10/22 Mingus Big Band
"Mingus' diverse repertoire includes everything from gospel hollers and church music to lush ballads, swinging dance tunes, bebop and the blues…The music is, like Mingus himself, earthy, passionate, soul­ful and intense – and at all times swinging." (Mark Schramm, National Public Radio, 1.5.2009)
Music Charge: $30

10/23–10/24 Jakob Bro Trio CD Release
Jakob Bro – guitar
Thomas Morgan – bass
Joey Baron – drums
"My compositions are almost like a song," says Danish guitarist Jakob Bro. "But within the frame I set up with a melody, a lot of things can happen. New layers of music are constantly added to the vocabulary, and when you play, you unconsciously get to a new place." Bro is an alumnus of two important "schools" of improvised music, Paul Motian's Electric Bebop Band and the Tomasz Stanko Quintet. Beginning with Daydreamerin 2003, his 14 albums as a leader to date have featured such exceptional collaborators as Lee Konitz, Bill Frisell, Kenny Wheeler, Paul Bley, Craig Taborn, and Kurt Rosenwinkel.This return engagement by the Jakob Bro Trio celebrates a new ECM Records release compiled from live recordings from the group's memorable shows at Jazz Standard in 2017.
Music Charge: $30

10/25–10/28 Christian Sands Trio With Special GuestsCaio Afiune and Keyon Harrold CD Release
Christian Sands – piano
Eric Wheeler – bass
Jonathan Barber – drums
Caio Afiune – guitar
Keyon Harrold – trumpet
Marcus Strickland – saxophone
He won't turn 30 until May 22, 2019…yet Christian Sands is currently one of the most in–demand pianists working in jazz. In recent years, he's toured the world as a bandleader and appeared as a sideman on records by bassist Christian McBride and singer/songwriter Gregory Porter. A new Mack Avenue CD, Facing Dragons, marks Sands' return to the recording studio with an indestructible band and an unwaver­ing allegiance to the groove, from the tumbling riffs and bright block chords of opening track "Rebel Music" to the churning Latin American rhythms of "Sangueo Soul," with guitarist Caio Afiune expertly doubling the leader's piano lines. "Jazz can be a religious experience," says the pianist, "and for me my playing is my gift to God." This week, let's allhave church with Christian Sands – only at Jazz Standard!
Music Charge: $30

10/27 Smokestack Brunch: Michael Kanan Trio
Michael Kanan – piano
Neal Miner – bass
Greg Ruggiero – guitar
The career of Michael Kanan has taken any number of twists and turns from the time he first began im­provising on a keyboard at age seven. His first instructor, pianist Harvey Diamond, was a former student of jazz innovator Lennie Tristano; as a Boston College undergraduate, Kanan had the opportunity to per­form with several jazz greats including Tal Farlow, Lee Konitz, Al Cohn, and Alan Dawson. After mov­ing to New York in 1991, he worked with such talented peers as guitarist Kurt Rosenwinkel and saxopho­nist Mark Turner while developing the reputation of a thoughtful and sensitive vocal accompanist. In 1996, Kanan joined the band of legendary singer Jimmy Scott, touring the US, Europe, and Japan and re­cording four CDs; in 2001, he signed as accompanist and arranger for one of today's most celebrated vocalists, Jane Monheit. As a leader, Michael Kanan has released two excellent trio recordings for the Fresh Sound New Talent label, Convergenceand The Gentleman Is A Dope.This Smokestack Brunch date will feature his drum–less trio with guitarist Greg Ruggiero and bassist Neal Miner.
Music Charge: $10

10/29 Mingus Big Band
The Mingus Big Band "is a wonder and an anomaly," wrote AllAboutJazz.com. "The band has taken a musical legacy and transformed it into a creative force that generates a contemporary originality and vitality all its own. They are an important part of the current jazz scene and a constant reminder that jazz—big band jazz, at that—is not merely entertainment but a powerful art form and means of expression."
Music Charge: $30

10/30 Camille Bertault
Camille Bertault – voice
TBA – drums
Chico Pinheiro – guitar
Or Bareket – bass
French jazz vocalist Camille Bertault – conservatory trained in Paris and Nice – became an Internet sen­sa­tion in 2015 with a YouTube video of her performance of John Coltrane's "Giant Steps," for which Bertault had written new French lyrics. As Thomas Cunniffe wrote at Jazz History Online, "viewers around the world were amazed with the uncanny accuracy with which she scatted Coltrane's blinding–fast solo." This breakthrough was followed by Camille's captivating performances of Eddie Harris' "Freedom Jazz Dance"; a series of duets with Swedish jazz singer Sofie Sörman, including a remarkable setting of Ravel's "Le Tombeau de Couperin," and a live version of Beyoncé's "Crazy in Love" featuring Cory Henry on keyboards. Pas De Géantis the enchanting singer's latest Sony Music release: "Camille Bertault is more than merely a sly vocal gymnast; she's a fine composer and a singer who carefully coaxes the emotional impact out of a melody." (DownBeat)
Music Charge: $25

10/31 Scott Robinson's Heliotones: A Halloween Spectacular
Due to popular demand, Jazz Standard welcomes back for the second consecutive year Scott Robinson's Heliotones: A Halloween Spectacular. Halloween costumes are encouraged. Scott Robinson is among the most talented and adventurous reed players in contemporary music. Since graduating from Berklee in 1981, he's been heard on tenor sax with Buck Clayton's band, on trumpet with Lionel Hampton's quintet, on alto clarinet with Paquito D'Rivera's clarinet quartet, and on bass sax with the New York City Opera. Robinson has been a mainstay of the GRAMMY Award–winning Maria Schneider Orchestra for more than 25 years; his discography now encompasses more than 250 recordings, with a list of studio collaborators that includes Hank Jones, Joe Lovano, Ron Carter, and Bob Brookmeyer, just to name a few. For this special Halloween Night engagement, Robinson will convene the Heliotones, the group he formed in tribute to that master of the musical spaceways, Sun Ra (1914–1993), and such landmark albums as The Heliocentric Worlds of Sun Ra, Volume One(1965). "Switching often among the saxophone family — not just alto and tenor but also bass and mezzo-soprano, along with that gargantuan contrabass — Mr. Robinson managed to locate a different voice and sonority for each," wrote Nate Chinen in The New York Times review of a Scott Robinson performance in 2012. "… Versatility has long been his trademark as a section player, notably in the Maria Schneider Orchestra, but here he made it feel compulsory."
Music Charge: $30

---
blog comments powered by

Disqus
JAZZ MANN FEATURES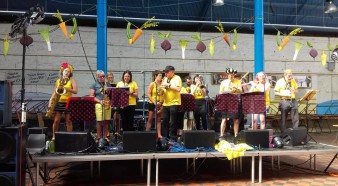 Ian Mann enjoys the Jazz Alley and Charity Swing Party events at the Market Hall with performances by Wonderbrass, Tarion, Rebelinx and The Electric Swing Circus.
---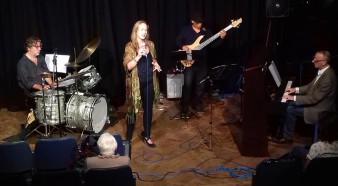 Ian Mann on a day of superb jazz with concert performances from bands led by Daniel Newberry, Alison Rayner, Ben Holder, Rachel Sutton and Tony Kofi plus interval music from Dave Jones and friends.
---
JAZZ MANN RECOMMENDS
---