NEWS
Jazz Standard, New York City, July 2018 concert schedule.
Sunday, June 10, 2018
We have received the following press release;

Summer is almost here. Jazz Standard is thrilled to welcome some of today's top artists including Pat Martino, Regina Carter, Dr. Lonnie Smith, and George Coleman to its stage in July.

July At Jazz Standard

George Coleman Quintet
Dr. Lonnie Smith Trio
Michael Leonhart Orchestra featuring Nels Cline
Pat Martino Trio + Horns
Regina Carter Quartet

New York City, NY —
JAZZ STANDARD, one of the nation's premier jazz clubs, offers another im­pressive month of music with jazz legends and rising stars throughout July. Perennially popular saxophonist George Coleman and his quintet will hold forth from July 4–8, followed by Dr. Lonnie Smith with hisTrio July 11–15. Led by the celebrated trumpeter himself, the Michael Leonhart Orchestra featuring guitarist Nels Cline, will appear July 17–18 to release their new Sunnyside album The Painted Lady Suite. Veteran guitarist Pat Martino's working trio will be bolstered by saxo­phone (Adam Niewood) and trumpet (Alex Norris) for performances from July 19–22; and McArthur award–winning violinist Regina Carter will appear with her quartet from July 25–29. Our "Mingus Mon­day" series contin­ues this month with the GRAMMY Award–winning Mingus Big Band appearing 7/2, 7/9, 7/16, 7/23, and 7/30. Be­low is a com­plete sched­ule of July per­form­ances at Jazz Standard, along with infor­ma­tion on the musicians. For every­thing else, visit http://www.jazzstandard.com.

ALL SHOW TIMES: 7:30 & 9:30 PM

Jazz Standard is located at 116 East 27th Street between Lexington and Park Avenues
Train No. 6 to East 28th Street
NEVER A MINIMUM
Student Discounts restrictions apply
Enjoy "NYC's Best Barbecue" (Time Out New York) from BLUE SMOKE
And an extensive wine, beer and cocktail list

THE SMOKESTACK
Enjoy weekly Sunday brunch | Music 12:00-1:30 p.m. (doors open @ 11:30 a.m.) |
Tickets: $10 music charge/$35 all-inclusive/Free admission for kids under 12

For reservations call Jazz Standard at 212.576.2232 or visit http://www.ticketweb.com

Artists and schedules are subject to change

JULY 2018 SCHEDULE;

7/1 Grant Green Jr. – Evolution of Funk CD RELEASE
Grant Green Jr. – guitar
Donald Harrison Jr. – alto saxophone
Marc Cary – keyboards
Khari Simmons – bass
Mike Clark – drums
Grant Green was a giant of jazz guitar who "combined an extensive foundation in R&B with a mastery of bebop and simplicity that put expressiveness ahead of technical expertise." (AllMusic) Beginning in 1961 with Grant's First Stand, his debut as a leader, Green recorded prolifically for Blue Note Records; as a sideman, he appeared on important Blue Note dates with such notables as vibraphonist Bobby Hutcherson, saxophonists Hank Mobley and Ike Quebec, and organists Jimmy Smith and Larry Young. Grant Green's reputation has grown considerably since his untimely death in 1979, and now Resonance Records has unearthed some glorious and previously unissued live sessions:Funk in France: From Paris to Antibes(1969–1970); and Slick! Live at Oil Can Harry's, recorded in 1975 in Vancouver, B.C. This special Jazz Standard engagement presents an all–star quintet led by the guitarist's son Grant Green Jr. (born 1955 in St. Louis MO) and featuring the tried–and–true talents of saxophonist Donald Harrison Jr., keyboards master Mark Cary, and drummer Mike Clark – all esteemed bandleaders and re­cording artists in their own right. Music Charge: $30

7/1 The Smokestack Brunch: Adi Meyerson CD RELEASE
Adi Meyerson – bass
Freddie Hendrix – trumpet
Camille Thurman – saxophone
Eden Ladin – piano
Kush Abadey – drums
One of the young guiding lights of the bass, Adi Meyerson can be seen working around New York with a who's-who of veteran musicians. She debuts at Jazz Standard to release her album Where We Stand, which features such talents as Camila Meza and also the trumpeter Freddie Hendrix who joins her onstage for this concert. Music Charge: $10

7/2 Mingus Big Band
Our very popular "Mingus Monday" residency, honoring the life and music of bassist and composer Charles Mingus (1922–1979), continues tonight with two fiery sets by the GRAMMY Award–winning Mingus Big Band. "There once was a word used: swing. Swing went in one direction, it was linear, and everything had to be played with an obvious pulse and that's very restrictive. But I use the term 'rotary perception.' Imagine a circle surrounding each beat—each guy can play his notes anywhere in that circle and it gives him a feel­ing he has more space. The pulse is inside you. When you're playing with musi­cians who think this way, you can do anything." — Charles Mingus, Beneath The Underdog(Alfred A. Knopf, New York, 1971) Music Charge: $30

7/3 Steve Kroon Septet CD RELEASE
Steven Kroon – congas & percussion
Ron Blake – tenor saxophone
Igor Atalita – keyboard
Donald Nicks – bass
Bryan Carrott – vibraphone
Craig Rivers – flute
Diego Lopez – drums
Now celebrating more than 50 years as a professional musician, percussionist Steve Kroon grew up in the Queens neighborhood of St. Albans, home to such jazz legends as Eddie "Lockjaw" Davis and Count Basie. At home, he was exposed early on to the dynamic Latin sounds of Tito Puente, Tito Rodriguez, and Machito. Steve studied with Brazilian percussion master Dom Um Romao and enjoyed a 20–year professional association (1981–2001) with superstar Luther Vandross, appearing on the singer's platinum albums and world tours. From 1987 to 2004, Steve worked with groups led by bassist Ron Carter; other significant credits include Aretha Franklin, Stanley Turrentine, Bette Midler, Tony Bennett, and Lady Gaga. Steve Kroon's latest CD on his own Kroonatune Records is In Your Dreams, a finely–balanced blend of Latin, jazz, and pop elements, including songs co–written with Oscar Hernandez ("Cruisin'," "Mi Lindo Son") and Bryan Carrott ("In Your Dreams"). Tonight at Jazz Standard, Steve will bring his new material to life at the helm of a cooking band featuring saxophonist Ron Blake – don't miss it! Music Charge: $25

7/4 – 7/8 George Coleman Quintet
George Coleman Sr. – tenor saxophone
Peter Bernstein – guitar
Harold Mabern – piano [7/4 only]
Jeb Patton – piano [except 7/4]
Gerald Cannon – bass
George Coleman Jr. – drums
After a rigorous apprenticeship in his native Memphis (including a stint with B.B. King), George Coleman rose to jazz stardom for his solid, soulful playing with the Miles Davis Quintet of 1963–64 and his memorable performances on the classic Miles albums Seven Steps to Heaven(1963), My Funny Valentine(1964) and Four & More(1966). He's also gigged and/or recorded with Max Roach, Booker Little, Slide Hampton, and Cedar Walton, and was named a "Jazz Master" by the National Endowment for the Arts in April 2015. As a leader, the saxophonist has released such bracing discs as Amsterdam After Dark(Timeless, 1979), My Horns of Plenty (Dreyfus, 1991), and from 2016, A Master Speaks(Smoke Sessions). "If you're playing jazz and you got an audience, play something they can enjoy," George Coleman told the Memphis Commercial Appealin 2016. "Jazz is a mixture of everything. You can get to all the areas of the music if you explore them along with your audience."Music Charge: $35

7/8 The Smokestack Brunch: Alex Goodman
Alex Goodman – guitar
Glenn Zaleski – piano
Pablo Menares – bass
Jimmy Macbride – drums
Montreux Jazz Competition winner Alex Goodman returns to our stage with a band of young stars, including the affecting pianist Glenn Zaleski, and drummer Jimmy Macbride, known for his work with such artists as Lage Lund, Nir Felder, and more. Music Charge: $10

7/9 Mingus Big Band
"I am convinced that the unifying element in Mingus' music is passion…the basest materials were melted down and purified in the heat of the Mingus furnace. Not a dispassionate note was sounded: Players either stood the heat or left the kitchen. Many who stayed never had finer hours than those Mingus provided." – Composer/arranger Sy Johnson, from his liner notes to Nostalgia In Times Square / The Immortal 1959 Sessions(Columbia Records, 1979) Music Charge: $30

7/10 Matt Penman Group CD RELEASE
Matt Penman – bass
Mark Turner – tenor sax
Aaron Goldberg – piano
Obed Calvaire – drums
New Zealand native Matt Penman has been an essential voice in the musical landscape of New York since his arrival in 1995. For much of the past decade, he's devoted himself to developing music for the illustrious SFJazz Collective and the fantastic James Farm (with saxophonist Joshua Redman, pianist Aaron Parks, and drummer Eric Harland). These pursuits left a gap between solo recordings that now is filled by the release of Good Question(Sunnyside), a new collection of original pieces – "Mr. Right," "Small Famous," "Fifth and Bayou" – meant to challenge, engage and entertain both its listeners and the musicians in­volved in its creation. The exceptional studio ensemble features some of the top musicians in today's jazz (guitarist Nir Felder, soprano saxophonist Will Vinson) alongside such frequent Penman collaborators as Aaron Parks and drummer Obed Calvaire. "Overall, you could say that the album represents a general delight, bemusement, indictment and celebration of the American experiment through the eyes of a for­eigner who has now lived more than half his life in the States." (Matt Penman) Music Charge: $30

7/11–7/15 Dr. Lonnie Smith Trio plus Alicia Olatuja [appearing 7/13 – 7/14]
Dr. Lonnie Smith – Hammond B3 organ
Jonathan Kreisberg – guitar
Johnathan Blake – drums
Alicia Olatuja – vocals [7/13–7/14 only]
The wizard of the Hammond B3 has appeared on our stage many times with different musical configu­rations, and we're delighted to welcome back the Doctor and his road–tested working trio of Jonathan Kreisberg (guitar) and Johnathan Blake (drums). But for this engagement, this NEA Jazz Master has got something special hidden under his trademark white turban: the captivating young singer Alicia Olatuja, appearing for two very special nights on July 13–14. Praised by The New York Times as "a singer with a strong and luscious tone and an amiably regal presence on stage," Alicia Olatuja has been thrilling audi­ences with her exquisite vocals and artistic versatility. She first came into the national spotlight in 2013 whilst performing as the featured soloist with the Brooklyn Tabernacle Choir at the second inauguration of President Barack Obama. Shortly thereafter, she assembled her own jazz–based ensemble and recorded her first solo album, Timeless(2014). "Olatuja possesses a special instrument: a full–bodied tone, precise pitch and personal engagement at the lowest whisper or highest wail." (DownBeat)Music Charge: $35

7/15 The Smokestack Brunch: Jared Gold
Jared Gold – Hammond B3 organ
Tom Guarna – guitar
Sylvia Cuenca – drums
Known for his work with Dave Stryker and the late great John Abercrombie, Jared Gold returns to our stage with his soulful and thoughtful trio. Music Charge: $10

7/16 Mingus Big Band
"Charles Mingus was a pre–Bird musician…in his love of pure emotion as exemplified in the blues, the church, and the polyphony of New Orleans; in his willingness to embrace the full panoply of jazz styles; in his absorption of the colors, styles, subtleties, and charms of Ellington and Tatum. He brought all of that into the modern era with individuality and a startling magnanimity of expression." (Gary Giddins, Riding On A Blue Note: Jazz and American Pop) Music Charge: $30

7/17–7/18 Michael Leonhart Orchestra featuringNels Cline CD RELEASE
Michael Leonhard – conductor, arranger
Nels Cline – special guest guitar
Philip Dizack, Dave Guy, Carter Yasutake – trumpet
Ray Mason – trombone
John Ellis, Ian Hendrickson Smith – tenor saxophone, flutes
Jason Marshall – bari saxophone, bass clarinet
Sarah Schoenbeck – bassoon
Paulin Kim – violin
Erik Friedlander – cello
Kevin Rackza – drums
Richie Goods – bass
Robbie Mangano – guitar
Nathan Koci – accordian
Elizabeth Pupo-Walker – percussion
"I remember my mother playing all these amazing albums in the house growing up," says Michael Leonhart. "The Miles & Gil Evans collaborations, the Ellington suites, Sinatra & Nelson Riddle, Quincy Jones, and tons of Thad Jones/Mel Lewis…While my dad [bassist Jay Leonhart] was out playing gigs and recording, it was my mother's DJ'ing that was the 'gateway drug' that led me to discover Stravinsky, Ravel, Olivier Messiaen, Morricone, and David Axelrod." A GRAMMY Award winner at age 17, Leonhart has been an in–demand trumpet player, arranger and composer for decades, with stage and studio credits including Steely Dan, Mark Ronson, and the Antibalas Orchestra to name a few. But it was when he took on the role as arranger/conductor for the 21–piece orchestra on guitarist Nels Cline's eclec­tic album Lovers (Blue Note, 2015) that his love of conducting, arranging and composing for large en­semble was reignited. When Loverswas finished, Leonhart was certain that he wanted to create a solo project in this vein, and thus was born the Michael Leonhart Orchestra and its Sunnyside debut album The Painted Lady Suite. This ambitious seven–movement work features performances by Nels Cline and sax­ophonists Donny McCaslin and Sam Sadigursky: "When creating MLO," says the leader, "my idea was to get an all-star mix of soloists, ensemble players and pocket-players who would be as comfortable playing Mingus and Ellington as they would be playing Wu–Tang and Fela Kuti." Leonhart says. This premier engagement promises to be one of the year's most significant Jazz Standard debuts – make your reserva­tions now! Music Charge: $30

7/19–7/22 Pat Martino Trio + Horns
Pat Martino – guitar
Pat Bianchi – organ
Carmen Intorre Jr. – drums
Adam Niewood – saxophone
Alex Norris – trumpet
Pat Martino was born in 1944 in Philadelphia – that musical melting pot where so many jazz greats began their journey, among them John Coltrane, Benny Golson, Lee Morgan, and Jimmy Heath. So perhaps it's no surprise that by age 20, Martino already had developed a mature style and begun forging his reputation as one of the most talented and exciting jazz guitarists of the late 1960s. Today, he still plays with the same fiery enthusiasm, having lost none of his talent for daring improvisations and hard–swinging grooves. In 2017, Martino released Formidable– his first studio recording as a leader in 11 years, its title an appropriate description of the guitarist's fearless and virtuosic playing. The album set some sturdy new original tunes ("On the Stairs," "Homage") alongside Pat's soulful interpreta­tions of the Charles Mingus composition "Duke Ellington's Sound of Love" and Duke's own classic "In A Senti­mental Mood." "The road provided plenty of unexpected twists and turns in Martino's six–decade musi­cal journey, yet he has emerged a veritable patriarch of jazz guitar, a fleet modernist who's never forgot­ten his earthy roots." (The New Yorker) Music Charge: $35

7/22 The Smokestack Brunch: Jon Thomas
Jon Thomas – Hammond B3 organ
Chris McBride – alto saxophone
Shenel Johns – vocals
Henry Conerway III – drums
The young, grooving pianist and organist returns with his quartet, this time featuring the captivating vocalist Shenel Johns. Music Charge: $10

7/23 Mingus Big Band
"For sheer range of expression, Mingus' work has few equals in post–war American music: furious and tender, joyous and melancholy, grave and mischievous, ecstatic and introspective. It moves from the rap­ture of the church to the euphoria of the ballroom, from accusation to seduction, from a whisper to a growl, often by way of startling jump cuts and sudden changes in tempo." (Adam Shatz, "An Argument With Instruments: On Charles Mingus" – The Nation, 9.17.2013) Music Charge: $30

7/24 Bill O'Connell Jazz Latin Quartet CD RELEASE
Bill O'Connell – piano
Craig Handy – tenor saxophone
Lincoln Goines – bass
Cliff Almond – drums
With Special Guests:
Andrea Brachfeld – flute
Dan Carillo – guitar
Speaking of the outstanding cast on his new album, pianist and composer Bill O'Connell says: "We all have a deep understanding and love for the jazz and Latin traditions but are not averse to letting funk, classical and other influences into the music. With the emphasis on the 'jazz' side, I decided to call this recording Jazz Latin. From the first note the music just flowed with an 'ESP' that can only happen with musicians who truly understand each other…The way the trio moves from Latin to hard–swinging jazz in 'Just One of Those Things' is the kind of spontaneous communication that we have cultivated over the years. 'It's OK' is an example of my love for the Brazilian partido altorhythm. Here [drummer] Robby Ameen and [bassist] Lincoln Goines shine, bringing some serious funk to the proceedings. Our version of Wayne Shorter's 'Footprints' is dedicated to the great flutist, longtime collaborator and friend Dave Valentin, who died after a long illness in 2017. We all loved him." Music Charge: $25

7/25 Posi–Tone "New Faces"
Josh Lawrence – trumpet
Roxy Coss – tenor saxophone
Behn Gillece – vibraphone
Theo Hill – piano
Peter Brendler – bass
Vinnie Sperrazza – drums
Over the course of its 23–year history, the New York–based Posi–Tone label has established a reputation as among the most productive and adventurous imprints in jazz. The New FacesCD combines the individual talents of emerging Posi–Tone leaders into a cohesive camaraderie of artists working to­gether to create a series of meaningful musical presentations. The ensemble – trumpeter Josh Lawrence, vibraphonist Behn Gillece, saxophonist Roxy Coss, pianist Theo Hill, bassist Peter Brendler and drummer Vinnie Sperrazza – was carefully assembled and supervised by Posi–Tone founder/producer Marc Free, then sent off together to explore a wonderland of melodic mysteries and harmonic possibilities as heard on tracks like "Happy Juice," "Delilah Was a Libra," and "King Cobra." Together, these "New Faces" work inclusively to move the musical dialog in the direction Posi–Tone calls "Straight Forward"…toward a more delightful today and a brighter tomorrow. Music Charge: $25

7/26–7/29 Regina Carter Quartet
Regina Carter – violin
Adam Birmbaum – piano
Chris Lightcap – bass
Alvester Garnett – drums
MacArthur Foundation "genius" grant recipient Regina Carter has brought her curiosity, passion, and quest for beauty to every stop on her musical journey. In 2014, Carter took both her artistic aspirations and her audience popularity to new heights with the release of Southern Comfort (Sony Masterworks), a smartly chosen and masterfully executed set of folk songs from the American South. The artist took a very different direction for her next release: Accentuate the Positive, a superb tribute to jazz's "First Lady of Song," Ella Fitzgerald. This Jazz Standard engagement is sure to include some surprising selections along with favorites from Regina Carter's eclectic catalog. "Ms. Carter is widely considered the finest jazz violinist of her generation, a hard-charging soloist whose precisely focused tone and graceful way with a ballad hint at her long years of classical training." (The New York Times)Music Charge: $30/35 Friday and Saturday

7/29 The Smokestack Brunch: Adam Larson
Adam Larson – saxophone
Henry Hey – piano/keyboards
Matt Clohesy – bass
Jimmy Macbride – drums
The powerful tenor Larson returns to our stage with a red-hot band consisting of David Bowie collaborator Henry Hey and bassist Matt Clohesy, who is often heard in the bands of Donny McCaslin and Kurt Rosenwinkel. Music Charge: $10

7/30 Mingus Big Band
"His head was a drawer crammed with the remains of intentions and fragments of what was still to come. Long compositions were full of the debris of previous ones and more and more he was moving toward a single piece which would include everything he had ever written before…He believed you could say everything in music but there was still more he wanted to say." (Portrait of Charles Mingus from But Beautiful: A Book About Jazzby Geoff Dyer)

7/31–8/1 Harold López-Nussa Trio CD RELEASE
Harold López–Nussa – piano
Gaston Joya – bass
Rui–Adrian López–Nussa– drums
The son of drummer Ruy López–Nussa and nephew of pianist Ernan López–Nussa, this piano prodigy gained international attention when he won top honors at the prestigious Montreux Jazz Piano Competi­tion in 2005 – a triumph that earned him a featured festival spot the following year. Harold López–Nussa made his US debut as a leader on the 2009 album Herencia; and followed up in 2011 with El País de las Maravillasfeaturing the pianist's trio with special guest saxophonist David Sánchez. In May 2018, Harold López-Nussa performed with his percussionist father Ruy, pianist uncle Ernan, and his drum­ming brother Ruy–Adrian at the Kennedy Center in Washington D.C. This rare collective appearance by one of Cuba's most esteemed contemporary musical families was part of "Artes de Cuba," a two–week festival celebrating Cuban culture, and heralds the release of the pianist's much–anticipated new CD, Un Día Cualquiera. Describing the album as "a direct response to the current [U.S.] administration," Harold López-Nussa says: "I want to grow closer to the American people…This has always been an important desire for Cubans, especially musicians. It's impossible for us to be separate because we have so much in common, so much to share." Music Charge: $30
---
blog comments powered by

Disqus
JAZZ MANN FEATURES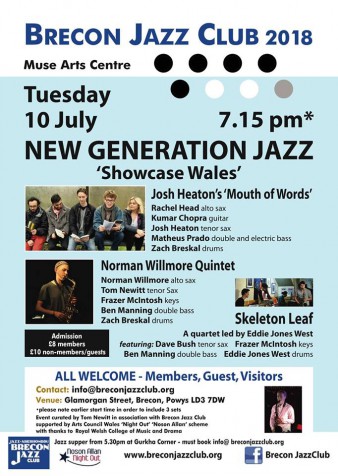 Ian Mann enjoys an evening of original music played by students of the RWCMD in Cardiff with sets from Josh Heaton's Mouth of Words, Skeleton Leaf and the Norman Willmore Quintet.
---

Ian Mann enjoys this cross genre Festival founded by saxophonist Trish Clowes and featuring newly commissioned music from Nikki Iles and Robert Mitchell.
---
JAZZ MANN RECOMMENDS
---