NEWS
JazzLeeds - programme for November 2018.
Friday, November 02, 2018
Steve Crocker writes;

Jovember? It's the month to see more jazz!

Well we all know about Mo-vember, let's make this month J-ovember! Your month for live jazz with Jean Toussaint, Freddie Gavita, Eirik Svela's Anglo Norwegian Quartet, Zoe Gilby, Jenny Hammond sings Blosson Dearie - and our Jazz Jam session. It may be getting cold and dark outside but inside our music is warm and bright .......

Our November Jazz Jam
Sunday afternoon 4 November @Inkwell Leeds £7/5 1.30-4pm
And why wouldn't you start with a Jam! We pride ourselves at JazzLeeds at having the friendliest jam session in Leeds. No elbows out, or cutting contests, we welcome all people of all standards who just want to come along and play. We've had 11 year old violinists through to the best touring sax players there - you never know quite who you will see, but it is always good fun. The JazzLeeds rhythm section will be there to support you. All you need is to bring along some music (if your tunes are a bit our of the ordinary,) and join in - or just come along and soak up the atmosphere at Inkwell's lovely veggie cafe.
Inkwell Arts 31 Potternewton Lane Leeds LS7 3LW

Jennie Hammond sings Blossom Dearie
Sunday 11 Nov 8pm- £10/8 @Seven Arts 1.30pm start (under 25's £5)
Jennie Hammond vocals, Jason Scott piano, Will Powell guitar Steve Crocker bass and Dom Moore drums.
Jennie Hammond interprets the songs of Blossom Dearie, a remarkable vocalist jazz pianist, and composer from the bebop era who was able to bridge the gap between west side rhythm and east side lyrical content throughout her career.
Jennie Hammond has been singing ever since she can remember. She has studied the vocal greats of all time, Ella Fitzgerald, Shirley Horne, Carmen McRae, Norma Winstone, Carol Kidd and Blossom Dearie to name but a few and was gigging by the age of 14. Jenny went on to study at the Leeds College of Music taking lessons from Tina May and singing with the Ellington Repertory Orchestra.
Her voice has a beautiful naïve quality but with the assurance and maturity of phrasing that has been likened to that of Astrud Gilberto. It was Jenny's voice that was the inspiration for
Address: Seven Arts 31A Harrogate Rd, Leeds LS7 3PD
Tickets are available on the door or online - book yours here https://www.ticketsource.co.uk/whats-on/31a-harrogate-road/seven/jenny-hammond-sings-blossom-dearie

Jean Toussaint Quintet – Brother Raymond
Thursday 15 November @Seven Arts 8pm-11pm Doors 7.30pm
Tickets £18 full price £16 concessions £9 (half price) for NUS and under 25's.
Jean Toussaint - Tenor Sax Percy Pursglove - Trumpet Jonathan Gee - Piano Alec Dankworth - Bass Shane Forbes - Drums
The return to Leeds of a very special band led by a former Jazz Messenger. Grammy-winning saxophonist Jean Toussaint who first came to prominence when he joined Art Blakey's Jazz Messengers in 1982. Since moving to London in 1987, Toussaint has released ten critically-acclaimed CDs as a leader. Tonight he presents his 11th album, Brother Raymond, as part of a UK tour with a truly all-star quintet.
The music of "Brother Raymond" builds on the legacy of Art Blakey but above all confirms Toussaint's place as an accomplished composer at the forefront of modern jazz. Stand-out tracks include the opening 'Amabo', an African groove dedicated to Barack Obama. The title track draws upon the influences of Toussaint's favourite composers, "Duke" Ellington and Wayne Shorter.
"Art used to say "it doesn't matter how complex you want to play as long as you swing and play from the heart" then he'd cite the great John Coltrane as an example. I owe it all to the great Art Blakey and I'll be a Jazz Messenger for life." …Jean Toussaint
Born in the Caribbean, Grammy-winning jazz saxophone giant Jean Toussaint started his musical career in a calypso band before studying jazz at the prestigious Berklee College of Music in Boston. He began his international career as a member of Art Blakey's Jazz Messengers in 1982. After four and a half years in the band alongside Terence Blanchard, Donald Harrison, Lonnie Plaxico and Mulgrew Miller, he settled in London, quickly becoming a key figure in British jazz. Toussaint has maintained a considerable presence as bandleader in Europe having recorded 10 albums as a leader. As a sideman, Toussaint has worked with McCoy Tyner, Max Roach, Cedar Walton, Gil Evans and Jeff 'Tain' Watts.
The last few years he has played the North Sea Jazz festival Holland, Montreux Jazz festival Switzerland, Clermont-Ferrand, Vienne, Toulouse and Paris Jazz festivals, Bologna Jazz festival, San Sebastian Jazz festival, Berlin Jazz festival, Cork, Dublin and Sligo Jazz festivals, London and several other jazz festivals around England and Scotland, and jazz clubs and concerts halls all over Europe.
Address: Seven Arts 31A Harrogate Rd, Leeds LS7 3PD
Hear the music here https://youtu.be/B-t7E7TgRNY
Tickets here https://www.ticketsource.co.uk/whats-on/31a-harrogate-road/seven/jean-toussaint-quintet-brother-raymond

Zoe Gilby Trio
Inkwell – Sunday 18 Nov 1.30pm £9/7 (NUS/Under 25's half price, kids under 16 free)
Zoe Gilby vocals, Andy Champion bass and guitarist Mark Williams
Welcome return to Inkwell from this very talented singer and songwriter from Newcastle. Zoë Gilby has been making a real impression on the jazz scene today. A repertoire starting with her compelling original compositions written with double bassist husband Andy Champion and guitarist Mark Williams . Her stockpile of music reaches a wide range of more contemporary material from composers such as Pink Floyd to Kate Bush. Also included are some superb interpretations of "The Great American Songbook". Her influences include Carmen McRae, Sheila Jordan, Kate Bush and Joni Mitchell
"Modern, mature… swings like a bell." Carol Kidd MBE
"A wide vocal range, warm timbre and clear diction which she uses skilfully to unveil her moods. It's clear that she's already found her own voice." All About Jazz, USA
"Talent, skill and a beautiful voice." Mod Radio, MADRID
Tickets here https://www.ticketsource.co.uk/whats-on/leeds/inkwell-arts/zoe-gilby-trio
Inkwell Arts 31 Potternewton Lane Leeds LS7 3LW

Eirik Svela Anglo-Norwegian Ensemble
Sunday afternoon 25 November @Seven Arts 1.30pm start
£10/8 conc £5 for under 25's, kids under 16 free
Eirik Svela – Guitar, Jamil Sheriff – piano, Andrew Robb – bass Magnus Sefaniassen Eide – drums
Norwegian jazz guitarist Eirik Svela is establishing himself as an important voice amongst a new generation of Scandinavian jazz musicians. In March 2018 he recorded his debut album in New York with the internationally acclaimed organ player Sam Yahel (Joshua Redman, Norah Jones) and in November he is touring in England with his group. The UK edition features some great musicians including Jamil Sheriff (piano), and Andrew Robb (bass). The band also has Magnus Eide, an up and coming Norwegian drummer with a fast-growing reputation.
Eirik Svela is an alumnus of Leeds College of Music, and appeared at Seven Arts many times whilst here as a student. His group has grown out of the environment around the Norwegian Academy of Music. The group performs mainly music written by band leader focusing on combining pretty melodies and complicated chords in an effortless way.
https://youtu.be/D4jEX2BEqUE
Tickets https://www.ticketsource.co.uk/whats-on/31a-harrogate-road/seven/eirik-svela-group
Address: Seven Arts 31A Harrogate Rd, Leeds LS7 3PDTickets are available on the door or online - book yours here

Freddie Gavita Quartet
@Seven Arts Thursday evening 29 November 8pm £16/14 NUS/Under 25's £8 (half price)
Freddie Gavita trumpet Tom Cawley (piano) Calum Gourlay (bass) James Maddren (drums)
Winner of the British Jazz Awards "Best Trumpet of 2017," Freddie has cemented his place as a leading light on the British Jazz scene. With the release of his debut album "Transient" in April 2017, his star is certainly on the rise.
He is a member of the Ronnie Scott's Club Quintet and jazz-rock outfit Fletch's Brew as well as being a band leader in his own right. A fearless improviser, "he solos with fluent authority, his tone ranging from the warmly conversational to the eloquently strident."
He has appeared as soloist with the BBC Big Band, twice at the BBC Proms at the Royal Albert Hall, and brought Roger Michell's 2013 film "Le Week-end" to life with his inimitable muted trumpet stylings. Freddie has played with, among others, Peter Erskine, Joe Locke, John Hendricks, Kenny Wheeler, Stan Sulzmann, Tim Garland, Jon Faddis, Gregory Porter, Curtis Stigers, Paloma Faith, Jess Glynne, Seth McFarlane and Dionne Warwick.
Freddie has composed and arranged extensively, including Alexander Stewart's masterpiece "I Thought About You" and the stunning "Beloved" commissioned by Calum Au for his 2012 release "Something's Coming."
"Clearly one to watch" Ivan Hewitt, The Daily Telegraph
"A talented trumpet prodigy" John Walters, The Guardian
Hear his music here https://youtu.be/VCEhFGFk9ew
Tickets: https://www.ticketsource.co.uk/whats-on/31a-harrogate-road/seven/freddie-gavita-quartet

Other news…

Rush Hour Jazz - we have two this month - Wed 7 Nov with Jennie Hammond and Wed 21 Nov (guest tbc) accompanied by the Jazz Leeds trio with Steve Crocker bass, Will Powell guitar, Dom Moore drums @Seven Arts bar 6-7pm payf

Seven Jazz also run Sunday morning Jazz Instrumental Workshops led by Tom Sharp and Dom Moore and organise the JazzLeeds Voices Choir directed by Tessa Smith on Monday evenings both at Inkwell in Chapel Allerton, If you want to join either of these classes - contact us below.

"Blown It" - Johnny Thirkell is a trumpet player who has played with everyone - David Bowie, Tom Jones, George Michael, Tina Turner, The Who, Barry White, three of the Beatles, Rod Stewart, Joe Cocker, Sting, Bon Jovi, Queen, Eric Clapton etc. He's appearing at Seven Arts on Thursday 8th November - one for brass fans!. http://www.sevenleeds.co.uk/event/blown-it-johnny-thirkell/

Our Venues: Seven Arts 31 Harrogate Road, Chapel Allerton, Leeds LS7 3PD and Inkwell Arts: 31 Potternewton Lane, Chapel Allerton, Leeds LS7 3LW

Further information on all our events and links to our Facebook and Twitter pages available on http://www.jazzleeds.org.uk

Email address to contact us .(JavaScript must be enabled to view this email address)

See you soon as one of our gigs!
Steve Crocker
JazzLeeds
---
blog comments powered by

Disqus
JAZZ MANN FEATURES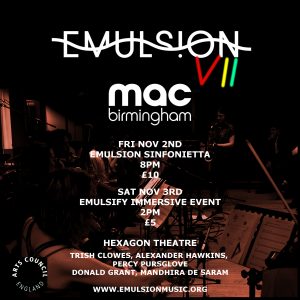 An intriguing evening of music making that once again mixed genres at a whim. Ian Mann on the latest edition of Trish Clowes' Emulsion Festival, w. guest musicians Alexander Hawkins & Percy Pursglove.
---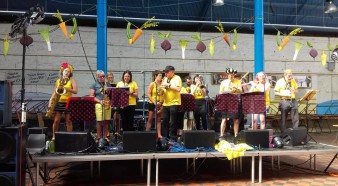 Ian Mann enjoys the Jazz Alley and Charity Swing Party events at the Market Hall with performances by Wonderbrass, Tarion, Rebelinx and The Electric Swing Circus.
---
JAZZ MANN RECOMMENDS
---