NEWS
JazzLeeds - programme for September and October 2017.
Friday, September 08, 2017
Steve Crocker writes;

Gigs for September/October @JazzLeeds.

Craig, Mads, Fishtails and some Golden Earrings this month!

It's our tenth anniversary this year so we're celebrating!...
We've been very encouraged by the two jazz festivals we ran over the summer - the JazzLeeds festival day in Millennium Square Leeds in August and the weekend Village Jazz Festival just completed in Chapel Allerton. So now we're going ahead with an ambitious autumn programme. And we've decided to change our name too from Seven Jazz to JazzLeeds!

We've prepared a feast of fantastic music for you in the coming month at our Seven Arts and Inkwell venues. Rising Danish star vocalist and saxman Mads Mathias and leading US saxophonist Craig Handy are both with us. We also will host one of the most intriguing jazz and poetry commissions of 2017 -Alan Barnes and Josie Gray's all star "Fish Tales" septet .

To start with this Sunday we have a real treat - New York pianist Michael Kanan and London saxman Sam Braysher

Sam Braysher and Michael Kanan @Seven Arts, Sun 10 Sept 1.30pm
In April 2016 Sam Braysher London sax player travelled to New York to record his debut album as a leader, a duo with the celebrated American pianist Michael Kanan. Released in 2017 on Fresh Sound New Talent, "Golden Earrings" features pieces by Jerome Kern, Nat 'King' Cole, Victor Young, Duke Ellington and Tadd Dameron, as well as one original composition.
To coincide with the release of the album Sam has invited Michael Kanan over to the UK from New York City. Kanan is a real master with an exquisite touch, a world class interpreter of jazz standards who has collaborated extensively with jazz royalty including Jane Monheit, Jimmy Scott, Kurt Rosenwinkel and Peter Bernstein. Expect a fresh and intimate approach to the timeless material of the Great American Songbook from these wonderfully melodic improvisers in an intimate and conversational duo setting at Seven Arts
Sunday afternoon 10 September @Seven Arts, 31 Harrogate Road, Chapel Allerton, Leeds LS7 3PDs 1.30pm start £10/8 (NUS £5)

Le Toot and the Kansas City Four @Inkwell Sun 17 Sept 1.30pm
Eliot Richards tenor sax; Tom Sharp trumpet; Matt Aplin piano; Angus Milne double bass; Jordan Dinsdale drums.
Eliot 'Le Toot' Richards and his Kansas City four brings the sounds of late fifties jazz to life at Inkwell - Charlie Parker, Dizzy Gillespie, Lee Morgan, Dexter Gordon and more.
@Inkwell Arts 31 Potternewton Lane Chapel Allerton Leeds LS73LW on Sunday afternoon 17 September @Inkwell 1.30pm start £9/7 (NUS £5)

Rush Hour Jazz with Jennie Hammond vocals and Brendan Duffy [email protected] Arts Bar Wed 20 Sept 6-7pm
Jennie has been singing ever since she can remember…She listened to the vocal greats of all time, Ella Fitzgerald, Shirley Horne, Carmen McRae, Norma Winstone, Carol Kidd and Blossom Dearie to name but a few and was gigging by the age of 14. Jenny went on to study at the Leeds College of Music taking lessons from Tina May and singing with the infamous Ellington Repertory Orchestra. Her voice has a beautiful naïve quality but with the assurance and maturity of phrasing that has been likened to that of Astrud Gilberto. The Seven Jazz trio is Will Powell guitar Steve Crocker bass and Dom Moore drums. Brendan Duffy will be on sax and clarinet too - should be great fun.
Seven Arts 31 Harrogate Road, Chapel Allerton, Leeds LS7 3PD. Wed 20 Sept 6pm-7pm Payf collection

Mads Mathias Quartet @Seven Arts Thus 21 Sept Doors 7.30pm
Mads Mathias sax and vocals, Peter Rosendal piano, Morten Ankarfeldt bass, Steve Hanley drums
Mads was such a hit (and such fun) when he was with us a year ago that we had to invite him back! This young Danish sax player and vocalist interprets the music of the swing era in the style of from Nat King Cole and Frank Sinatra to Harry Connick Jr. His quartet features the award-winning pianist Peter Rosendal and our own Steve Hanley on drums.
Support from – "Eliot Richard's "Prime Directive"
Seven Arts 31 Harrogate Road, Chapel Allerton, Leeds LS7 3PD. Thursday evening 21 September @Seven Arts Doors 7.30pm £16/14 (NUS £5)

Seven Arts Jazz Jam @Seven Arts Sun 24 Sept 1.30pm
Bring your horn or your voice or just come down and watch the fun The Seven Jazz trio will be there to support you!
Seven Arts 31 Harrogate Road, Chapel Allerton, Leeds LS7 3PD. Sunday afternoon 24 September @Seven Arts 1.30pm start £7/5 (concessions include performers)

Washboard Resonators @Inkwell Sun 1 Oct 1.30pm
Jack Amblin (Vocals / Washboard) Martyn Roper (Vocals / Resonator Guitar / Banjo)
Foot stomping authentic blues, ragtime, swing and folk music from this duo tat went down a storm at the Village Jazz Festival.
@Inkwell Arts 31 Potternewton Lane Chapel Allerton Leeds LS73LW Sunday afternoon 1 October @Inkwell 1.30pm start £9/7 (NUS £5)

Craig Handy Quartet @Seven Arts Thus 5 Oct Doors 7.30pm
Craig Handy sax; Jonathan Gee piano, Nicola Sabato bass, Rod Youngs: drums
Leading US saxophonist Craig Handy comes to Leeds with a top class European trio. Since his time with Art Blakey and the Jazz Messengers, Craig Handy has contributed his lyrical and intensely passionate improvisations to ensembles led by Herbie Hancock, Wynton Marsalis, Freddie Hubbard, Joe Henderson, Ray Drummond, Elvin Jones, George Adams and Kenny Barron among many others.The trio will feature a welcome return from French based pianist Jonathan Gee with his European trio
"…all grace and liquid ease" …Peter Watrous, New York Times. "…hard bop icon" …Scott Fugate, Jazz Time.
Support is from – "Sam Jackson's Drawing Hands"
Seven Arts 31 Harrogate Road, Chapel Allerton, Leeds LS7 3PD. Thursday evening 5 October @Seven Arts Doors 7.30pm £16/14 (NUS £5)

Dolly James @Inkwell Divas Sat 7 Oct 1.30-3.30pm
Vocalist Dolly James with the Inkwell Divas Trio
Born in Brunei, Dolly she began her career singing in local cover bands and being part of a church choir. In her late teens, she performed at the Mandarin Hotel in Singapore before leaving for the United Kingdom. She worked with cabaret bands in Wales and in the West Midlands and later as a session singer in London before pursuing her solo career. In 1990, she released a 7-inch single with Andy Sheppard, entitled Bright Moments, which she performed on Jools Holland's show. She formed her own band soon after she finished her world tour with Simply Red and won second place in the Yamaha International Musicians at the Marquee in London. Her band also performed at Womad and went on to do a residency at Ronnie Scott's in Birmingham.
https://www.dollyjames.co.uk/about
@Inkwell Arts 31 Potternewton Lane Chapel Allerton Leeds LS7 3LW Saturday afternoon 7 October 1.30pm -3.30 Payf collection

Dan Whieldon Quartet @Seven Arts Sun 8 Oct 1.30pm
Dan Whieldon piano, Richard Iles flugelhorn, Gavin Barras double bass, Caroline Boaden drums
Manchester pianist Dan Whieldon leads a new band performing his rich, elegant music - contemporary European in style, rich in harmony, refined and elegant., their melodies eloquently voiced by the featuring the lyrical flugelhorn of Richard Iles. With Supported by from Jazz North's "Northern Line"
Seven Arts 31 Harrogate Road, Chapel Allerton, Leeds LS7 3PD. Sunday afternoon 8 Oct @Seven Arts 1.30pm start £10/8 (NUS £5)

"A Fish Tale" Alan Barnes Septet with poet Josie Gray @Seven Arts Thursday 12 October. Doors 7.30pm
Alan Barnes, Dean Masser, Gilad Atzmon saxes, Mark Nightingale trombone, Neil Yates Trumpet, Pat McCarthy guitar, Dave Green bass, Sebastian de Krom drums, Josie Moon narrator.
A powerful and exciting evening of jazz that will capture the spirit of the East Coast fishing community whilst providing an evocative musical memorial, interspersed by Josie Moon narrating a set of her amusing, risqué and troubling poems. A commission of new original music by Gill Wilde of Grimsby Jazz, written by Alan Barnes and Pat McCarthy for a unique combination of a septet of top northern and London musicians.
Support is from Emma Johnson's "Gravy Boat"
Seven Arts 31 Harrogate Road, Chapel Allerton, Leeds LS7 3PD. Thursday evening 12 October @Seven Arts Doors 7.30pm £16/14 (NUS £5)

JazzLeeds Workshops and [email protected]
Jazz Workshops meet on Sunday mornings 17th Sept and 1 October to help you lean more about jazz playing @Inkwell 10-12 am cost £10 (or £8 conc) per session. Tutors are Tom Sharp or Dom Moore - contact .(JavaScript must be enabled to view this email address) tel 0113 2370700.

The "Jazz Voices" choir meets Monday evenings to sing popular jazz tunes led by Tessa Smith @Inkwell Potternewton Lane, Chapel Allerton. 7-9pm, £5 per session or £25 the series - contact .(JavaScript must be enabled to view this email address) tel 07544 352594. Autumn rehearsals start fortnightly 7-9pm from 25th September

Weblinks: check out our Seven Jazz Website http://www.sevenjazz.co.uk is where there are links so you can follow us on our Facebook and Twitter sites. For updates about jazz gigs in the north follow the Northern Jazz Live blog http://northernjazz-live.blogspot.co.uk/

Hope to see you soon at a JazzLeeds event!

Steve Crocker
JazzLeeds Sept 2017
email contact .(JavaScript must be enabled to view this email address)
---
blog comments powered by

Disqus
JAZZ MANN FEATURES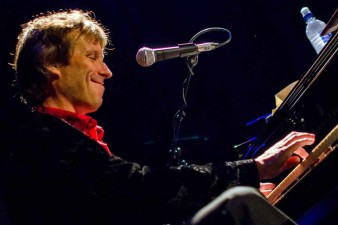 Ian Mann on the final, family friendly day of the Festival with performances by Samba Galez, Budapest Ragtime Band, Chris Moreton, Kitty & The Purramours and the Red Stripe Band.
---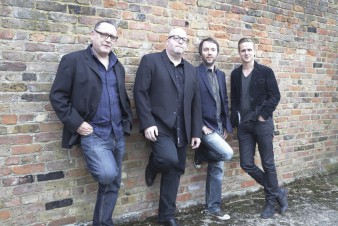 Ian Mann enjoys a day of wall to music including performances by three of the great entertainers of British jazz, vocalist Ian Shaw, saxophonist Gilad Atzmon and electric bass specialist Shez Raja.
---
JAZZ MANN RECOMMENDS
---