NEWS
Jean Toussaint Allstar 6tet - new album and UK tour dates.
Wednesday, May 02, 2018
We have received the following press release from Lyte Records;

PRESS RELEASE

Jean Toussaint Allstar 6tet
BROTHER RAYMOND
Lyte Records – LR040
Album release: Friday 18 May 2018

Monday 4 June 2018
Album launch at Ronnie Scott's Jazz Club, London
& on tour in September 2018
(see below for details)

"Art used to say "it doesn't matter how complex you want to play as long as you swing and play from the heart" then he'd cite the great John Coltrane as an example. I owe it all to the great Art Blakey and I'll be a Jazz Messenger for life." Jean Toussaint

Brother Raymond, Jean Toussaint's eleventh album as leader, is made up of eleven original compositions. The Grammy award-winning saxophonist, composer and jazz educator recorded the music following extensive touring in 2015 and 2016 with his All-Star Roots & Herbs project that commemorated 25 years of the passing of his mentor, Art Blakey. "Art was one of the most inspirational band leaders rated amongst some of the greatest. Names like Duke Ellington, Count Basie and Miles Davis comes to mind. They all had an inclusive way of band leading that made each member feel a part of the family," explains Toussaint. "Through the music, Art encouraged us to strive and reach beyond ourselves and work as one to create musical excitement while never losing sight of the audience."

Like Blakey, Toussaint is renowned for nurturing new talent and the album features the Young Lions line up of his band as well as his All-Star Sextet – Byron Wallen and Mark Kavuma on trumpet, Dennis Rollins and Tom Dunnett on trombone, Tom Harrison on saxophone, Jason Rebello, Andrew McCormack and Ashley Henry on piano, Daniel Casimir and Alec Dankworth on bass, Shane Forbes, Troy Miller and Mark Mondesir on drums and Williams Cumberbatch Perez on percussion. "As one who was fortunate enough to have been mentored by the ultimate mentor that was Art Blakey, one lesson that we all took from that experience was the importance of fostering as many of the next generation as possible."

The music of Brother Raymond builds on the legacy of Blakey but above all confirms Toussaint's place as an accomplished composer at the forefront of modern jazz. Stand out tracks include the opening 'Amabo', an African groove dedicated to Barack Obama. "A common practice in Jazz is to spell the name backwards like Sonny Rollins' Nigeria became 'Airegin'. When I checked the definition I was pleasantly surprised to see that Amabo actually means "I shall love" in Latin." The title track, written for Toussaint's eldest brother who passed away in 2015, draws upon the influences of Toussaint's favourite composers, "Duke" Ellington and Wayne Shorter. "The intro draws from Ellington whereas the main theme and subsequent interludes draws from Shorter," explains Toussaint. "In particular from the composition 'This Is For Albert' his beautiful tribute to the genius of bebop, pianist Albert "Bud" Powell, made famous by Art and the Messengers."

ON TOUR;
Thursday 27th September: Cambridge Jazz
Friday 28th September: Hermon Chapel Arts Centre, Shrewsbury
Saturday 6th October: Taliesin Arts Centre, Swansea
Sunday 7th October: Herts Jazz Festival
Friday 12th October: Crucible Theatre, Sheffield
Tuesday 16th October: Norwich Jazz Club
Friday 19th October: RWCMD, Cardiff (Masterclass & Concert)
Thursday 1st November: TrinityLaban Masterclass
Thursday 15th November: 7Arts, Leeds
Friday 16th November: LCoM Masterclass
Friday 16th November: Hull Jazz Festival
Saturday 17th November: The Blue Room, Lincoln
Sunday 18th November: NCEM, York
Saturday 1st December: Calstock Arts Centre

Jean Toussaint: http://jeantoussaint.com/

Jean Toussaint first came to prominence when he joined Art Blakey's Jazz Messengers in 1982, after studying at the prestigious Berklee College of Music in Boston. He moved to London in 1987 to teach at the Guildhall School of Music and Drama. One of the most revered jazz educators in the UK (he received a nomination for the Parliamentary Award for Jazz Education in 2017) Toussaint also teaches at the Birmingham Conservatoire, Trinity Laban Conservatoire of Music and Dance and occasionally the Royal Academy of Music. Since moving to London Toussaint has led his own bands and projects, released ten CDs as a leader and guested on many more including collaborations with UK based musicians like the late Bheki Mseleku, Julian Joseph, Jason Rebello and Cleveland Watkiss. Toussaint is also often invited to join tours with US musicians visiting Europe and most recently was on tour with pianists Kirk Lightsey and Donald Brown, trumpeter Eddie Henderson and an extensive tour of Europe, the Middle East and New York with the drummer Jeff "Tain" Watts Jean Toussaint plays Selmer Reference 54 tenor saxophone and Selmer Series II soprano saxophone. He uses Vandoren reeds, mouthpieces and accessories.

Lyte Records: http://lyterecords.com/
Distribution through Universal Music Group: https://www.universalmusic.com/
Bookings through Tom Harrison – Turaco Music: http://www.turacomusic.com / email: .(JavaScript must be enabled to view this email address)
Publicity: Emma Perry – tel: 020 8670 1390 / mob: 07818 424 750 / .(JavaScript must be enabled to view this email address)

---
blog comments powered by

Disqus
JAZZ MANN FEATURES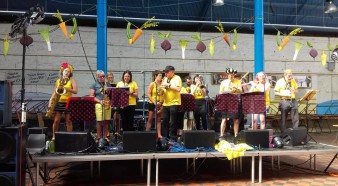 Ian Mann enjoys the Jazz Alley and Charity Swing Party events at the Market Hall with performances by Wonderbrass, Tarion, Rebelinx and The Electric Swing Circus.
---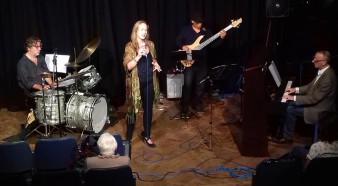 Ian Mann on a day of superb jazz with concert performances from bands led by Daniel Newberry, Alison Rayner, Ben Holder, Rachel Sutton and Tony Kofi plus interval music from Dave Jones and friends.
---
JAZZ MANN RECOMMENDS
---