NEWS
Kate McGarry Trio feat. Keith Ganz and Gary Versace - new album and US live dates.
Wednesday, January 10, 2018
We have received the following press release;

Kate McGarry's love letter to a hopeful 2018.

"The Subject Tonight Is Love" is Kate McGarry's jazz love letter to a hopeful 2018. Featuring McGarry with Keith Ganz and Gary Versace, the album will be released February 2, 2018 via Binxtown Records.

The trio celebrates the album:
* Valentine's Day, Wed. Feb. 14 at The Jazz Standard in NYC.
* Fri. Feb. 2 - The Velvet Note, Atlanta, GA
* Sat. Feb. 3 - The Oak Room at Serenbe Inn, Chattahoochee Hills, GA
* Sat. Feb. 17 - The Sharp Nine Gallery, Durham, NC
* Wed. June 27 - Rochester Jazz Fest, Rochester, NY

'This will be our reply to violence: to make music more intensely, more beautifully, more devotedly than ever before.' - Leonard Bernstein

"In the midst of the political and social upheaval of the past year, Keith, Gary and I decided to gather for the first time as a trio, to create music that encourages and celebrates things we treasure most in our lives: love, authentic connection and freedom," says Kate. "Knowing time and creative control were keys to the success of this project, we asked fans and supporters to join us to make the music a reality. They came through like champions, enabling us to meet and develop unique arrangements and improvisational cinematic soundscapes for the stories I wanted to sing. A distinct theme emerged from this collaboration: The Subject Tonight Is Love - songs that explore the individual's experience of love across a lifetime."

"Especially in difficult times, artists have a responsibility to make music that invites listeners to a place where it's safe to connect with the tenderness and longings of the human heart. The Subject Tonight Is Love is a jazz love letter to a hopeful 2018."
Kate McGarry Explores the Many Facets of Love on First Trio Album
featuring Keith Ganz and Gary Versace
On The Subject Tonight Is Love, out February 2, the trio conjures an alluring cinematic approach to a wide-ranging spectrum of love songs

"While the world has no shortage of fine female singers, few have the musical depth, sense of passion and artistic ambitions of the divine Kate McGarry." - Dan Bilawsky, All About Jazz

"[Keith Ganz'] virtuosity is undeniable, but there is no hint of pyrotechnicsŠ nothing extra; knowledge never eclipses emotion." - Paul Curreri, City Salvage Records

"[Gary Versace] is endlessly inventive. He does a lot of fresh things - he really has an extraordinary talent." - Marian McPartland, Piano Jazz

CD Release Concert on Valentine's Day, Wednesday, February 14, 2018 at The Jazz Standard, NYC
o Fri. Feb. 2 - The Velvet Note, Atlanta, GA
o Sat. Feb. 3 - The Oak Room at Serenbe Inn, Chattahoochee Hills, GA
o Sat. Feb. 17 - The Sharp Nine Gallery, Durham, NC
o Wed. June 27 - Rochester Jazz Fest, Rochester, NY

"The subject tonight is love," wrote Daniel Ladinsky the modern interpreter of Persian poet and mystic Hafiz back in the 14th century. "And for tomorrow night as well / As a matter of fact / I know of no better topic / For us to discuss / Until we all / Die!"

Countless poets, philosophers, artists, musicians, writers and dreamers have taken up that same subject since Hafiz's day, but despite seven intervening centuries of exploration love continues to offer an inexhaustible supply of complexities and mysteries. On The Subject Tonight Is Love, their first album as a trio, vocalist Kate McGarry, guitarist/bassist Keith Ganz and keyboardist/accordionist Gary Versace rise to that eternal challenge, investigating the concept of love in its many forms and from several different perspectives over the course of a dozen alluring songs, from timeless folk tunes to transformed jazz standards, celebratory pop songs to evocative originals.

Love is not only the subject but the very substance of this project. The Subject Tonight Is Love (due out February 2, 2018 via Binxtown Records) is the culmination of more than a decade of work and friendship. McGarry and Ganz are partners in life as well as in music, while Versace has been a close and frequent collaborator with both, dating back to McGarry's 2007 album The Target. In various combinations the three have worked together under each other's leadership, alongside drummer/composer John Hollenbeck and with the vocal supergroup MOSS.

Only such longstanding relationships could lead to such free-ranging but sharply focused sounds as are captured on The Subject Tonight Is Love. Beginning from McGarry's gift for bringing a lyric to life, the trio improvised cinematic settings for each song, painterly enough to conjure vivid imagery in the listener's mind while leaving space for their own spontaneous creations to shape each piece anew and allow an audience to make its own discoveries. Both Ganz and Versace pick up a variety of instruments throughout the session, with Ganz supplementing his acoustic and electric guitar with acoustic bass and, on one piece, drums, while Versace plays piano, keyboards, organ and accordion. McGarry also takes over the piano for her own "Losing Strategy #4."

"Kate's music is very story-oriented," Ganz says. "There's a soundscape or mood that goes with each particular tune, so this trio offers an unusual situation where we're all improvising within a specific mood. With just Gary and me, it's easier to get a hold on the little world for each song and shape it or move it around in the moment each time we perform it."

"I really appreciated that they were so receptive and sensitive to the origins of the stories behind the songs," McGarry adds. "That's always the driving force for me emotionally. Keith and Gary were able to be an extension of that, forwarding the narrative in instrumental ways. That's a rare thing."

Another kind of love was an important factor in bringing The Subject Tonight Is Love to fruition - namely, the love of their fans for McGarry, Ganz and Versace. The project was supported by a PledgeMusic crowdfunding campaign, which permitted the trio to take their time to discover an approach to the music and record at a more leisurely, exploratory pace. "We wouldn't have had that kind of freedom in other circumstances," McGarry points out. "It was really beautiful to see so many people jump up to the plate and say, 'We want this music to get made and we're going to make sure that happens.'"

The title piece, a stark, atmospheric recitation of the Hafiz poem, sets the elusive mood for the album, followed by a gentle, diaristic take on the classic "Secret Love" that captures the song's shift from the surreptitious to the celebratory. Their breezy, intimate "Gone With the Wind" meets the notion of lost love with a resigned, "easy come, easy go" shrug, while Ganz's hushed, intimate arrangement of "My Funny Valentine" is a perfect fit for McGarry's unique sincerity, overcoming a lifetime of resistance to what she rightly calls "this most abused of love songs." Joy pervades "What a Difference a Day Made," combined in a medley with Ganz's "Mr. Sparkle."

While these familiar tunes span the spectrum of love songs, the remainder of the album steps back for an even broader interpretation of the core idea. McGarry's haunting "Climb Down" depicts a dream-like venture onto her own family tree, offering both a challenge and an expression of gratitude to the spirits of her forebears. The Irish folk tune "Whiskey You're the Devil," with Obed Calvaire making a guest appearance on drums, emerges at the end like an ancestral memory. Co-written by Benny Golson and Kenny Dorham, "Fair Weather" is an expression of brotherly love sorely-needed in these most divisive of times, while "Indian Summer" is saturated with the wistfulness of time gone by. Egberto Gismonti's carnivalesque "Playing Palhaço," with new lyrics by singer Jo Lawry, finds love peeling back the layers of masquerade we tend to hide ourselves beneath.

McGarry's confessional "Losing Strategy #4," with Versace's expressive accordion supplying the voice of conscience, is a reckoning with the notion of retaliation, coming to terms with the fact that vengeance tends to backfire on oneself. "She Always Will" finds the trio revisiting a song, with music penned by guitarist Steve Cardenas, that the three originally recorded a decade earlier on The Target, now deepened and reflecting on the idea of maternal love. Finally, an impromptu romp through The Beatles' "All You Need Is Love" provides an inviting epilogue, with a guest appearance by trumpet great Ron Miles to enhance the all-embracing message.

"Love is the substratum of all things," McGarry says. "I wanted to look at love from a lot of different angles. The point wasn't to sing about some idyllic love; it was more thinking about how love functions in our lives. What brings it to us? What keeps us from it? What helps us connect with it inside ourselves? What helps us connect to humanity? Having that current flowing through everything really affected the way we played."

BIOS

Kate McGarry
With 7 critically acclaimed CDs and a Grammy nomination for Best Jazz Vocal CD, Kate McGarry has become recognized as a jazz artist who brings authenticity and vitality to every song regardless of genre. The Wall St. Journal calls her music "austere and elegant," while the New York Times pronounced it "astute and sensitive." McGarry's 2012 CD Girl Talk (Palmetto), a tribute to her favorite visionary jazz women vocalists, garnered 4 stars in DownBeat Magazine and showed up on over 20 Best of 2012 jazz critic's lists. Her 2013 collaboration with the John Hollenbeck Large Ensemble, Songs I Like A Lot (Sunnyside), was lauded as a milestone in contemporary vocal jazz. In 2014 McGarry and her husband, guitarist Keith Ganz, celebrated 10 years of musical and life partnership with their first live duo recording, Genevieve and Ferdinand (Sunnyside). As an educator she has taught at New England Conservatory and currently serves on the faculty of Manhattan School of Music.

Keith Ganz
Keith Ganz is a guitarist, composer and arranger known for his unique blend of heartfelt acoustic guitar fingerpicking and adventurous jazz improvisation. He is also the producer of five critically acclaimed albums with vocalist Kate McGarry, including the Grammy-nominated If Less is More…Nothing is Everything (Palmetto). A celebrated accompanist, Ganz has been the guitarist of choice for Harry Connick Jr., Kurt Elling, Luciana Souza, Gretchen Parlato and many other acclaimed jazz vocalists. He has also performed and/or recorded with a host of jazz legends including Christian McBride, Fred Hersch, Victor Lewis, Chris Potter, and Andy Bey. He has performed on Late Night with David Letterman, The Oprah Winfrey Show, Ellen, The View and Australian Idol.

Gary Versace
Since arriving in NYC in 2002, jazz pianist, organist and accordionist Gary Versace has become one of the busiest and most versatile musicians on the scene, often featured in bands led by musicians such as John Scofield, John Abercrombie, Al Foster, Regina Carter, Maria Schneider, Madeleine Peyroux, Matt Wilson, Joe Magnarelli, Andy LaVerne, Adam Nussbaum, Brad Shepik, Ingrid Jensen and many others. Versace's recent CD releases include appearances as pianist on Ralph Alessi's Quiver (ECM), which received 4.5 stars in DownBeat; as accordionist on Maria Schneider's Grammy-winning The Thompson Fields (ArtistShare); as Hammond organist on Ellery Eskelin's Trio Willisau: Live (hatOLOGY) and Rich Perry's Organique (SteepleChase); and on all three instruments on Kurt Elling's Passion World (Concord).

---
blog comments powered by

Disqus
JAZZ MANN FEATURES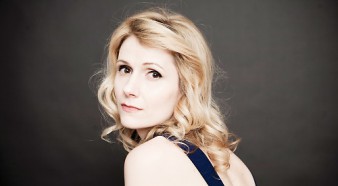 "Jazz club take on Bowie transmits all his wistfulness." Guest contributor Marc Edwards enjoys a party night featuring the contrasting styles of vocalists Rebecca Poole and Fleur Stevenson.
---
Ian Mann witnesses the future of British jazz at the NYJO Jazz Jam and the JazzNewBlood showcase and loses himself in a spectacular Norwegian double bill featuring Sinikka Langeland and Jaga Jazzist.
---
JAZZ MANN RECOMMENDS
---