NEWS
Kim Perlak named Chair of Berklee's Guitar Department.
Wednesday, November 07, 2018
We have received the following press release;

Kim Perlak Named Chair of Berklee's Guitar Department
– Perlak, who served as assistant chair of guitar for five years, becomes the first woman to chair the department –

Boston, MA, October 22, 2018. Berklee has named Kim Perlak as chair of the Guitar Department. Perlak's versatile and inclusive approach to the guitar embraces new American composition, along with education and public service. Her performances of classical works, original pieces, and collaborations with jazz and traditional players have been featured on NPR and on five recordings.

Perlak joined Berklee in 2013 as assistant chair of guitar. She becomes the first woman to chair the department, and only the fourth person to hold the position since the college added guitar as a principal instrument in 1962. Perlak now leads the college's second largest instrument group with nearly 1,000 students.

"As the largest and most stylistically diverse guitar department in the world, our deep respect for tradition, innovation, and each other have shaped our community and the modern sound of the instrument," said Perlak. "I am proud to lead our department in the lineage of Larry Baione, Bill Leavitt, and Jack Peterson. It is an honor to work with the faculty and students each day, and I look forward to the music and the curriculum we will create together."

Perlak's projects combining performance, American music history, and educational outreach have been funded through grants from the Center for African American Southern Music and Yale Alumni Ventures. Her collaborative guitar work with American veterans in the concert project "Ben & I Play for Peace" was honored by the PBS program From the Top as part of their Arts Leadership series, and was recognized by the U.S. House of Representatives. Her current artistic work includes collaborations with faculty composers and a duo playing with slide guitarist and professor David Tronzo.

"As the first woman to lead Berklee's storied Guitar Department, Kim's combined skillset as a performer, educator, community musical activist, and compassionate human being, exemplifies all the best that we hope for our students, faculty, and staff," said Ron Savage, dean of the Professional Performance Division. "Her vision and strong ideas bode well for the department to remain the leader in contemporary music education."

Perlak's curriculum development for the Guitar Department resulted in an annual collaboration between her Contemporary Classical Ensemble and the New England Guitar Ensemble Festival, and the book Classical Technique for the Modern Guitarist, published by Berklee Press/Hal Leonard in 2016. She received Berklee Chair Recording Grants in 2016 and 2018.

Her collaborative work across Berklee includes the development of the first Berklee Online private lesson curriculum; recruiting trips with Admissions, Berklee Valencia, and Global Initiatives; cross-departmental curriculum development with songwriting, film scoring, and music therapy; and the establishment of the Guitar Department Archives. She is the director of Berklee Guitar Sessions and serves on the advisory boards of Berklee's Music and Health Institute and Career Center.

Perlak holds degrees from The University of Texas at Austin (DMA '08), Yale University School of Music (MM '01), and Stetson University (BM '98), and a certificate of completion from the Harvard University Management Development Program (2013). She has been a faculty member at Concordia University Texas, the Educational Outreach of the Austin Guitar Society, and the National Guitar Workshop. She currently serves on the board of the Boston Classical Guitar Society. Perlak plays guitars by Thomas Humphrey and Kirk Sand, and endorses D'Addario Strings.

About Berklee
Berklee is the preeminent institute of contemporary music and the performing arts, offering undergraduate and graduate degree programs at its campuses in Boston, Massachusetts and Valencia, Spain, and through its award-winning distance learning program, Berklee Online. Dedicated to nurturing the creative and career potential of the world's most inspired artists, Berklee's commitment to arts education is reflected in the work of its students, faculty, and alumni—hundreds of whom have been recognized with Grammy, Tony, Oscar, and Emmy Awards.
At Berklee College of Music and Boston Conservatory at Berklee, students explore interdisciplinary approaches to music, dance, theater, film, business, healthcare, education, technology, and more. Our pioneering youth programs reach underserved classrooms throughout the U.S. and beyond. With students and alumni from more than 100 nations and educational partners across the world, we are forging new connections among art forms, musical traditions, and technologies to build a dynamic, diverse, and collaborative global arts community. Learn more at http://www.berklee.edu.
---
blog comments powered by

Disqus
JAZZ MANN FEATURES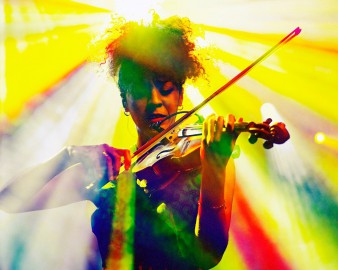 Ian Mann on performances by Vula Viel, Yazz Ahmed, David Sanborn, Hanna Paulsberg, Madeleine Peyroux and two exceptional 'Trios With A Twist', one from Cuba, the other from France.
---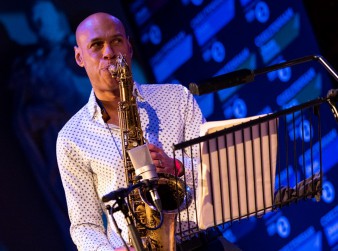 Ian Mann on performances by Paris / Birmingham Jazz Exchange, Alfa Mist, John Surman's Brass Project, Dan Weiss & Starebaby, Abdullah Ibrahim & Ekaya, Vels Trio, Joshua Redman and Michael Formanek.
---
JAZZ MANN RECOMMENDS
---