NEWS
Le Quecumbar, Battersea, London - February highlights.
Friday, February 02, 2018
Le QuecumBar 2018 Birthday Bash

2018 has started with a heatwave of hot club sounds!

As you know we have great music all week but weekends bring the concerts on to excite and delight - our weekend starts tonight with
TIM ELLIS JAZZ MANOUCHE COLLECTIVE
2nd FEBRUARY
FREE for all arrivals before 8pm
£6pp from 8pm
Tim Ellis is a guitarist originally from Leicester via Cornwall who brings a very personal connection to performing in the distinctive style of Gypsy Swing guitar legend Django Reinhardt.
Ellis has strong musical influences from both the Alsatian Manouche and Dutch Sinto styles. Ellis is a thriving young performer playing at venues such as the Royal Albert Hall, The Groucho Club, Cahoots and the Chelsea Arts Club.
He studied guitar with Gypsy Swing stars Lollo Meier and Aurelien Bouly and is one of Le Q's favourites, bringing together respected musicians to create the Tim Ellis: Jazz Manouche Collective creating an atmosphere for music making at its best; with creative synergy, feeling and fun.

FROM MILAN, ITALY:
Back by demand…. SUNDAY/MONDAY 4/5 FEB £10
SPECIAL DOUBLE PERFORMANCE
WOODY GIPSY BAND
WITH ROUSING SWINGING VOCALS
Founded in September 2011 and completed more than 400 concerts across Europe, they're back at Le Que,
where they recorded their first album 'Live in London' in 2013. The "Woody Gipsy", because the instruments are strictly eco-friendly and recyclable!
Manouche guitars, bass, cajon, clarinet and an orange diamonica!
Unique and original style, because they approach Gypsy jazz, swing and Italian songs to their mad desire to play and entertain the audience. Last time they packed Le Q out with a record audience – so don't miss out and ensure you book online!
The Woody Gipsy Band are:
Michele Ionis Rusconi – Guitars
Stefano Ivan Scarascia – Keyboards
Jacopo Milesi – Guitars
Thomas Fiorini – Double bass
Andrea Spampinato - Percussion
.TICKETS: http://WWW.QUECUMBAR.CO.UK
Sunday £13/Monday £12 cash OTD Doors open 6pm food served until 10- Tables are allocate on arrival

TUESDAY 6TH FEB
FREE ALL NIGHT JAM SESSION
London's best kept secret - feel the buzz - be part of a hot music scene hidden away in Battersea but 10 minutes from Chelsea and Kings Road….
The famous FREE weekly Gypsy Swing jam session is known around the globe, the sessions are led by top Le QuecumBar bass players and many QuecumBar Allstars.
You saw Johnny Depp in Chocolate play Minor Swing, Django style. See and hear it live in our intimate 1930s!
Regular Gypsy Swing musicians and Le QuecumBar Allstars drop by to jam for Django, you never know who is here – the best of the best and new comers join in their joy of Django's music and swing the night away, violins, guitars, clarinets, sax, etc etc a band of musical Gypsies in their own way – even Hank Marvin has joined the Le Q jams !!
Parisian cabaret brasserie style, chill out with a bottle of quaffable wine and simple food always a great night full of musical surprises, transporting you to the swinging streets of Montmartre with all the colour and joy of the Belle Epoch.

FRIDAY 9TH FEB
RADIO DAZE Gypsy Swing Duo
Led by Faebhean Kwest guitar player with grace and charm - long time supporter of Le Q with a flair for the dashing vintage feel and look of Gypsy Swing

Sunday/Monday 11/12 Feb
Le QuecumBar 15th Birthday
FREE BELLINI ON ARRIVAL
YES 15 SWINGING HOT YEARS OF FABULOUS MUSIC
Some of you will even remember the opening come back and celebrate with us
QuecumBar has supported Django style music, other Gypsy styles and musicians for 15 years -
our 2 Gypsy Swing masters lead the fun with genius improvisations, high energy, style and enthusiasm join
our Gypsy Swing Party
WINEING DINING SWINGING CELEBRATION

Our Gypsy Swing guitar workshop starts the weekend a chance to learn Gypsy Swing guitar - all levels welcome
Sunday 11 Feb 11am - 4pm -
WITH the world famous Dutch Gypsy, guitar master:
Paulus Schaeffer
Book online - LIMITED PLACES £40

Le QuecumBar 15th Birthday Prestige Performance Events!
sunday and monday evening 11/12 feb
2 Nights cabaret concert wine and dine
HOT GYPSY SWING SEXTET led by
uk's finest gypsy swing guitarist
and quecumbar patron
gary potter
and SPECIAL international GUEST from Holland
Paulus Schaeffer
who hails from the Dutch Gypsy sector of Gypsy Swing, both masters join to mark our 15th Birthday.
Bargain ticket price for 2 world class soloists supported by
QuecumBar All Stars quartet anything could happen !
A night to remember - 2 world class masters of duelling guitars plus
QuecumBar all stars - a unique first time line up for this very special occasion!
QuecumBar Patron Ducato - Rythm guitar
Eleazar Spredifico - double bas
Noreen Cullen - Violin
John Kerry - Accordion
All Tickets from http://www.quecumbar.co.uk
Sunday 11Feb £20 - £22 cash on the door
Monday 12 Feb £17- £19 cash on the door

VALENTINES WEDNESDAY 14TH FEB - have you booked?
Valentines Day £12
Nell & the Hot Mess Muggers entertain you
SOCIETY SOIRÉE, CAFE CABARET, DINNER
(£12 ticket money – goes directly to the musicians)
3 course set meal @ £33 (drinks not included) music from 7.00PM
Love is in the air'!
WITH the beautiful, enchanting and romantic
Nell & the Hot Mess Muggers
We have had several couples propose here and subsequently get married.
Voted as one of the most romantic places in London for a first date!
1st sitting: 6.30pm - 8.30pm,
2nd sitting: 9.00pm to finish
A sparkling romantic night of chic 30's 50's elegance, fusing Gypsy-jazz rhythms with chanson favourites.
Nell & The Hot Mess Muggers love causing a foot stomping hot club stir and to set the romantic scene
Nell Greco found her voice amongst friends, singing and dancing the night away in London's secret salons to some of the hottest Gypsy swing in town.
Now, she leads her own Hot Mess Muggers through manouche-inspired jazz and chic French numbers, to not only entertain, but also energise audiences with their joie de vivre!
We reserve the right to charge a minimum food spend for this evening of £33pp
Tickets @ http://www.quecumbar.co.uk

Saturday 17th Feb
FREE for before 8pm arrivals £6pp from 8pm
Storming accordion/vocal virtuoso - ROMAN VOLOSHCHUK
Magical accordion/vocals extraordinaire of Roman the roaming musical minstrel!
Our one man show - he will mesmerise you as he strolls the floor brandishing his accordion and serenading with his powerful tenor voice -he encourages the audience to join in on the well known all time favourite tunes
His unique cabaret style makes him a one man full on showman, Roman is a sensational artist who has played for the Duke and Duchess of Westminster,
He entertains with his inimitable style, charm and infectious humour.
A unique musician with immense talent and charisma and gold star credentials,
As infectious, as his performance and entertainment, cabaret style seduction, with world favourites, to tap your feet to, sing along to, from classical to pop to swing to mussette, he does it all.
The impact of his enthusiasm, joy and talent is astounding creating a night to remember!
Roman studied for five years at the Tchaikovsky Conservatory in Kiev and Choirmaster and Orchestra Conductor of the National Choir and Orchestra of the Ukraine. He has given 450 concerts around the world and played 26 Accordion Concerts in France. He studied the accordion from the age of 7 years, is a trained classical musician, folk musician and singer with a beautiful baritone voice, he also teaches piano, accordion and singing.

Sunday 18th Feb
FIESTA FLAMENCA!
London's hottest Flamenco Duo:
Ramon Ruiz on Guitar and Anita La Maltesa Vocal/Dance
3 Million Hits on YOU TUBE - A flavour of what you can expect https://www.youtube.com/watch?v=kPhCIKFkfg4
A fabulous display of flamenco dance and guitar combined with Latin American songs, expect all the traditional characteristics of flamenco: hand clapping, footwork, jaleo, singing, dancing, passion, authentic costumes and virtuoso guitar playing. These artists love to share with the audience an underlying musicality and soulful sound that is an integral part of their expression.
Just £10 buys you a ticket to their spectacular fiery performance

Monday 19th Feb
MOODSWING £8
An established Jazz Swing Quartet playing a mix of Gypsy Jazz numbers, Latin and well known tunes
from The American Songbook.
MOODSWING will take you on a delightful journey and bring a variety of musical colour,
' Mood & Swing ', enhanced by multi instrumentalist Chris Evans on Guitar, Mandolin, Flute and Violin, Ann Mayor Violin, Peter Mayor Guitar,
and Mike Bennett on Double Bass.
Ann Peter Chris and Mike look forward to your return visit to Le QuecumBar.

Thursday 22 Feb
free or before 8 arrivls £6pp from 8pm
DANI MILANO DUO
A new talent to Le Q
'Take a step back in time to the heady days of Vaudeville delights where the gorgeous songstress Dani Milano tastefully blends swing, blues and torch songs in a unique performance.
A spanking new artist to create a stylish atmosphere that will seduce and amuse'.

Thats all for now - but remember every night is music night here - hope to see you at our memorable 15th Birthday
Thanks from all Le Q Team

42-44 Battersea High St, London SW11 3HX
020 7787 2227
---
blog comments powered by

Disqus
JAZZ MANN FEATURES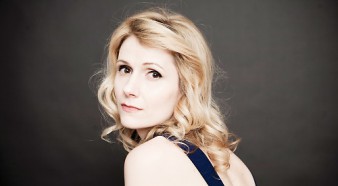 "Jazz club take on Bowie transmits all his wistfulness." Guest contributor Marc Edwards enjoys a party night featuring the contrasting styles of vocalists Rebecca Poole and Fleur Stevenson.
---
Ian Mann witnesses the future of British jazz at the NYJO Jazz Jam and the JazzNewBlood showcase and loses himself in a spectacular Norwegian double bill featuring Sinikka Langeland and Jaga Jazzist.
---
JAZZ MANN RECOMMENDS
---