NEWS
Lorraine Baker - debut album and UK tour, October / November 2018.
Wednesday, September 12, 2018
We have received the following press release;

Spark album release - EDEN by Lorraine Baker - Friday 12 October 2018.

PRESS RELEASE

Lorraine Baker
EDEN
Spark! – 006
Album release: Friday 12 October 2018

29 November 2018
Album launch at The Vortex, London
& on tour (see below for details)

"Lorraine has a magical quality in her playing which is perhaps the rarest of all things musical." Jeff Williams – Drummer/Composer/Educator

Eden is the debut release by drummer, percussionist and bandleader, Lorraine Baker. She has crafted the album with the drums at the centre and pays tribute to legendary drummer Ed Blackwell by re-arranging tunes that he famously played and adding exciting modern compositional twists. "I have always admired the dance-like quality of Blackwell's playing and his strong sense of melody," says Baker. "I wanted to create my version, taking existing tunes that featured him and reimagining the arrangements in a modern setting whilst showcasing my own style as an improviser."

"A career highlight for me was to perform 'Guinea' by Don Cherry with the international bassist Dave Holland who played and recorded with Ed Blackwell," continues Baker. "This collaboration was such a unique experience it inspired me to form my latest quartet." Baker's quartet features some of the country's finest improvising musicians – critically acclaimed pianist and mentor Liam Noble, award-winning saxophonist Binker Golding and Paul Michael on electric bass. "Paul Michael has been a long term musical partner and I believe that he has an incredibly individual approach to improvisation and chordal accompaniment on electric bass. He is a key part of the project."

Stand out tracks include 'Dakar Dance', a drum-heavy, infectious riff-based tune, 'Thumbs Up', a raw fusion of progressive rock and Afro groove and 'Blues Connotation' which explodes into hard driving swing after its agitated, edgy introduction. "The more chilled 'Pentahouve' is a display of a beautiful melody written by Mark Helias," says Baker. "I wanted to elevate the melody with a simple accompaniment, building gradually as layers overlap. The drums play almost continuously, picking up on the melody in different ways, highlighting yet never overpowering the tune and offering a emotive solo response at the conclusion."

ON TOUR
Lorraine Baker will be touring this autumn with her band featuring Paul Michael on bass, John Turville on piano and Binker Golding on saxophone:

12.10.18 - Oliver's Jazz Bar, Greenwich
16.10.18 - St Ives Jazz Club, Cornwall *
17.10.18 - Restormel Arts, St Austell, Cornwall *
18.10.18 - Cafe Jazz, Cardiff *
7.11.18 - Brunswick Pub, Hove
8.11.18 - Ram Jam, Kingston **
9.11.18 - Ramsgate Music Hall, Kent **
11.11.18 - Jazz NE, Newcastle
12.11.18 - Kenilworth Jazz Club
14.11.18 - Lescar, Sheffield
15.11.18 - The Jazz Bar, Edinburgh ±
16.11.18 - Hot Numbers, Cambridge Jazz Festival ±
18.11.18 - The Lighthouse Bar, Deal
19.11.18 - Sproggits, Leeds
21.11.18 - Pizza Express Jazz Club, Soho, London (EFG London Jazz Festival - afternoon show)
22.11.18 - Bonington Theatre, Nottingham ±
23.11.18 - Edda Arts Centre, Stockport ±
29.11.18 - Vortex Jazz Club, London (official album launch)

* Alex Merritt: Saxophone, ± Nadim Teimoori: Saxophone, ** Jon Harvey: Bass

Lorraine Baker: https://lorrainebaker.co.uk/

Lorraine Baker started playing the drums for a local swing band when she was twelve. She graduated from Trinity Laban in 2009 with First Class Honours. Baker has worked with acclaimed British musicians including Julian Siegel, Simon Purcell and Christine Tobin. She performs on Christine's latest recording Pelt. Baker has recorded for BBC Radio 4 Sunday Worship and performed at many prestigious venues including Tokyo Opera House, Ronnie Scott's Jazz Club and the Royal Albert Hall. Eden was recorded with funding from the Jazz Services Recording Support Scheme and a crowdfunding campaign on Kickstarter.

Spark!: http://www.sparklabel.com/eden.html
---
blog comments powered by

Disqus
JAZZ MANN FEATURES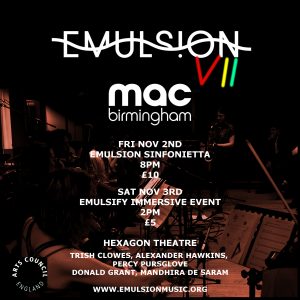 An intriguing evening of music making that once again mixed genres at a whim. Ian Mann on the latest edition of Trish Clowes' Emulsion Festival, w. guest musicians Alexander Hawkins & Percy Pursglove.
---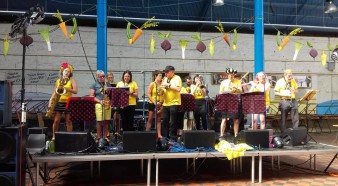 Ian Mann enjoys the Jazz Alley and Charity Swing Party events at the Market Hall with performances by Wonderbrass, Tarion, Rebelinx and The Electric Swing Circus.
---
JAZZ MANN RECOMMENDS
---