NEWS
Match & Fuse Sessions at The Vortex Jazz Club, Dalston, London, October 2018.
Wednesday, September 12, 2018
From the Vortex website http://www.vortexjazz.co.uk

DOUBLE BILL: ENTROPI / VORONOI (MATCH & FUSE LATE SESSION)
FRI 05 OCTOBER 2018, 8PM
ENTROPI
Dee Byrne – Alto saxophone/compositions
Andre Canniere – Trumpet Rebecca Nash – Keyboard
Olie Brice – Bass
Matt Fisher – Drums
VORONOI
Aleks Podraza – Keyboards
Sam Quintana – Bass
Tom Higham – Drums
ENTROPI
Dee Byrne's quintet Entropi has been steadily developing its own dynamic band sound since its beginnings in 2010. Placing a high importance on improvisation, Dee's compositions allow breathing space for depth of communication and interaction between the band members. Juggling order and chaos, composition and improvisation, the group takes listeners on a journey with compelling group interplay, strong themes, open-ended improvisation, dark grooves and interweaving melodic textures. Entropi's second album Moment Frozen was released on Whirlwind Recordings in September 2017.
VORONOI
Founded in 2012, Leeds-based trio Voronoi started out by straddling contemporary jazz and heavy metal. They are now a brutally dark, synth driven, sci-fi themed experimental rock goliath.
ENTROPI
'Intense, muscular jazz voyage.' ★★★★ – The Guardian
'Byrne's second album possesses both maturity and complexity but crucially it's imbued with its own cohesive energy.' ★★★★ – All About Jazz
"A boiling mix of ideas… Byrne's compositions contain a unique blend of tension, drama, exploration and resolution." ★★★★ – Jazz Journal

DOUBLE BILL: BIG BAD WOLF/TAUPE (MATCH & FUSE LATE SESSION)
SAT 06 OCTOBER 2018, 10PM
BIG BAD WOLF
Owen Dawson – Vocals + Trombone + Synth
Michael De Souza – Fender Bass VI + Vocals
Jay Davis – Drums
TAUPE
Mike Parr Burman – Guitar
Jamie Stockbridge – Alto Saxophone
Adam Stapleford – Drum Kit
Match + Fuse bring this late night double bill featuring London's rising quartet Big Bad Wolf and Newcastle/Manchester/Glasgow dispersed scatter-skronk trio Taupe.
Big Bad Wolf is a London based band featuring washy guitars, ambient vocals, brassy hooks and deep grooves. This distinctive sound arises largely from the band's consistently egalitarian process of group composition, where all 3 members are present from conception to completion of each song. Starting each writing session by recording an open-ended group improvisation, they then listen back, pick out the best ideas and then develop them into intricate and concise pieces of music.
Taupe blend shards of polyrhythmic play, exploratory improvisation and raw, high energy live performance.
Adventures on the rhythm wagon.
The group's sound is built of influences drawing from free jazz and math metal to hip-hop grooves and post-bop, with a healthy dollop of skronk, all navigated down a path that seeks to blur the line between carefully constructed rhythmic compositions and explosive group improvisation.
Big Bad Wolf:
"Chill out music with verve" – Jane Cornwell, Evening Standard
"Pond Life is a dreamer's delight. Its care-free atmosphere and melodic beauty makes it easy to become enveloped in its warm spell. It provides a perfect backdrop for the mind to dream of the future, or it offers a perfect spark to light up and re-awaken long lost images of the past and last goodbyes" – DPRP.net (Dutch Progressive Rock Page)
TAUPE:
"There is no exquisite beauty… without some strangeness in the proportion" says Poe, and that's true of what Taupe do. These three musicians are in total harmony with each other, however dissonant, and are a reminder that for all the poise and elegance of classical beauty, those gifted sculptors still revelled in rendering taught sinew and contracting muscle in inert, cold, stone.' – Bido Lito
'[Taupe] harness a telekinetic connection which allows them to flow between perfect sync an wild improvisation, just when you least expect it. Unreal.' – Strange Behaviours

Vortex Jazz Club
11 Gillett Square
London, N16 8AZ

T: 020 7254 4097 (Mon-Fri 12-6pm)
E: .(JavaScript must be enabled to view this email address)

http://www.vortexjazz.co.uk/event/double-bill-entropi-voronoi-match-fuse-late-session/

http://www.vortexjazz.co.uk/event/double-bill-big-bad-wolftaupe-match-fuse-late-session/
---
blog comments powered by

Disqus
JAZZ MANN FEATURES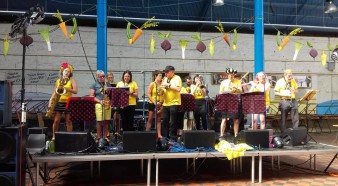 Ian Mann enjoys the Jazz Alley and Charity Swing Party events at the Market Hall with performances by Wonderbrass, Tarion, Rebelinx and The Electric Swing Circus.
---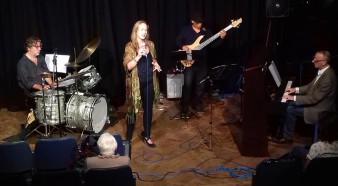 Ian Mann on a day of superb jazz with concert performances from bands led by Daniel Newberry, Alison Rayner, Ben Holder, Rachel Sutton and Tony Kofi plus interval music from Dave Jones and friends.
---
JAZZ MANN RECOMMENDS
---