NEWS
Nick Malcolm - new album and UK tour, February / March / April 2019.
Tuesday, January 08, 2019
We have received the following press release;

1st February: Nick Malcolm's" Real Isn't Real" released, and Jade quartet begin tour at Con Cellar Ba,r London .

Nick Malcolm on record Real Isn't Real - and on the road with new quartet, Jade

"The common ground between avant-garde and post-bop schools, Malcolm fits into a lineage that includes the likes of Baikida Carroll, Dennis Gonzalez and Ralph Alessi".
Kevin Le Gendre, Jazzwise - Beyond These Voices 2014

NICK MALCOLM
Real Isn't Real
(Green Eyes cat. No. GE002)
https://greeneyesrecords.bandcamp.com/
Release and Launch 1 February 2019

Nick Malcolm trumpet
Alexander Hawkins piano, Olie Brice double bass, Ric Yarborough drums
Emily Wright, Marie Lister, Josienne Clarke, Lauren Kinsella vocals

Nick Malcolm releases his 3rd album with his 2010 core Quartet of Alexander Hawkins, Olie Brice and Ric Yarborough on 1st February 2019. The result of an extended musical process and journey, Real Isn't Real materialises from recording studio in 2015, returning to the studio in 2017, and 2018 electronic overlays .

Real Isn't Real reveals, after only a few notes, the identity of each of these distinct players, and their ability to play with time and freedom, structure and improvisation. On ambitious compositional and lyric duty (apart from 'Grass Remembers'; words by W.B. Yeats), Nick has written a song to highlight the particular vocal and musical qualities of each of the featured vocalists, Emily, Marie, Josienne and Lauren – who he has worked closely with over the years in varying contexts, of jazz, soul, folk and improvisation respectively.

5 Spiral pieces surround the 4 songs, deconstructing the musical material of the preceding through improvisation. The album finishes with Spiral V – Dissolve, a choral epilogue that dissolves into an electronic montage.

Real Isn't Real tracks Nick's musical interests of recent years, and points his way ahead.

ON THE ROAD – new quartet Jade

Nick, Jake McMurchie tenor sax, Will Harris bass, Ric Yarborough drums/electronics
https://www.youtube.com/watch?v=2z8BjkKW1yk

Performing compositions from Real Isn't Real and new material, Jade tour February to April.

Fri 1 Feb.
8.00pm
London – The Con Cellar Bar @ The Constitution, 42 St Pancras Way NW1 0QT https://www.concellarjazz.com/ *album launch*

Weds 27 Feb
8.30pm
Cardiff - The Flute and Tankard, 4 Windsor Place, CF10 3BX http://thefluteandtankard.com/

Sun 3 March
8.30pm
Bristol - Cafe Kino, Stokes Croft, BS1 3RU
http://www.cafekino.coop

Tues 5 March
8.00pm
Cambridge - Listen! at St Barnabas, Mill Road, CB1 2BD https://www.listencambridge.com/

Thurs 7 March
8.30pm
Newcastle - The Globe, 11 Railway Street, NE4 7AD
http://jazznortheast.com

Fri 8 March
8.00pm
Derby - Derby Jazz at Deda Studio Theatre Chapel St DE1 3GU
https://www.derby-jazz.co.uk/gigs.php

Sat 20 April
8.30 pm
London -The Vortex, Gillett Square N16 8AZ
http://www.vortexjazz.co.uk

Biographies;

Nick Malcolm is a highly original composer and heart-felt improviser, possessing a warm, rich trumpet sound. He works across a huge variety of musical fields, taking in contemporary jazz, free improvisation and new music, as well as folk, afrobeat and soul. His albums are released on his own label Green Eyes, and his music has been broadcast on the BBC and presented at festivals and concerts across the UK and Europe.

Alexander Hawkins is one of the leading voices of his generation, working across the full range of contemporary music as both composer and improviser. His own work reconciles his love of improvisation with his fascination with compositional structure. As a sideman his musical generosity and openness are a gift to any bandleader.

Olie Brice, one of the UK's leading bassists, possesses a deep, rich sound, a wonderful improvisational openness and vast knowledge and love of jazz and improvised music. One of Nick's closest musical colleagues for many years, he also regularly works with (to name a few) Evan Parker, Paul Dunmall, Trevor Watts and Mark Sanders.

Ric Yarborough has a wonderful ability to switch between the heaviest of grooves and the most exploratory realms of improvisation. His playing and production were essential to realising the concept of 'Real Isn't Real' and they continue to work closely on Nick's new project, jade. Equally at home in electronic as acoustic music, as his work as producer 3dYwK shows.

Emily Wright is one of the UK's most subtle and refined jazz vocalists, with a pure vocal sound and beautiful control of diction and phrasing. She and Nick worked closely for many years as part of the band Moonlight Saving Time.

Marie Lister is Bristol's finest soul and hip-hop vocalist and her voice communicates all the eclecticism and groove associated with that city's music scene. She and Nick have worked together for years in the afrobeat band No Go Stop and she appears regularly across the UK, Europe and Asia with nu-soul project the Duval Project and UK soul artist Pete Josef.

Josienne Clarke is one of the leading members of the UK's newest crop of folk singers. As one half of a duo with guitarist Ben Walker, she has signed to Rough Trade records and received critical and commercial acclaim for their bleak, quietly beautiful music. Nick worked with her on her 2014 album Nothing Can Bring Back the Hour.

Lauren Kinsella is now recognised as one of the most original and impressive improvising musicians in Europe. Thought Fox, Blue Eyed Hawk and Snowpoet evidence her unique blend of verbal improvisation, understated and supple phrasing and emotional honesty.

ON TOUR -Jade - Nick Malcolm, Ric Yarborough and

Jake McMurchie has a sinewy, rich sound and a fascinating, discursive improvisational style. He is a member of leading UK prog-jazz group Get The Blessing, with whom he plays all over the world. His own music takes influences from Wayne Shorter and Ornette, combining them with electronics and live processing.

Will Harris is a bass player full of both creativity and reliability, Nick and Will have worked together for many years, most notably in 'Moonlight Saving Time'. His hook-up with Ric Yarborough is very special, and their ability to bend time and groove makes for the perfect rhythm section for jade.
Nick gratefully acknowledges the support of the PRS for Music Foundation in the making of this album
---
blog comments powered by

Disqus
JAZZ MANN FEATURES
Pending his 2019 Cheltenham Jazz Festival gig with John Surman's Brass Project John talks more about his work with Soft Machine & with Surman, Eberhard Weber & others. He also picks his top ten CDs.
---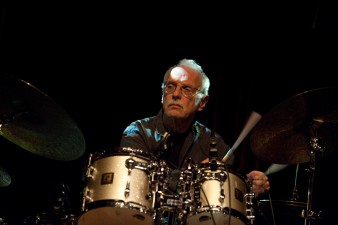 In the second part of his interview with guest contributor Trevor Bannister John establishes himself on the 1960s London jazz and session scene and gets the call from Soft Machine.
---
JAZZ MANN RECOMMENDS
---