NEWS
Nubiyan Twist, UK tour dates March / April 2019.
Thursday, March 14, 2019
We have received the following press release;

Following the release of their new album, Jungle Run, Nubiyan Twist are playing some UK shows:

MARCH:

14 - The Brudenell Social Club, LEEDS
15 - Band on the Wall, MANCHESTER
16 - Norwich Arts Centre, NORWICH
21 - The Lemon Tree, ABERDEEN
22 - The Hug & Pint, GLASGOW
23 - EartH, LONDON

APRIL:
5th Yellow Arch Studios, SHEFFIELD

Strut proudly present the brand new studio album from Nubiyan Twist, 'Jungle Run'.

Now one of the leading lights in the UK's new generation of soulful, genre-fluid artists, the Leeds-born and now London-based 12-piece collective have created their finest recordings to date, effortlessly weaving together elements of jazz, soul, hip hop, African styles, Latin, dub, hip hop and electronics in a flow of thought-provoking and life-affirming music.

Recorded at the band's own self-built Henwood Studio in rural Oxfordshire, the album fluidly moves through different voices from the band's circle. The inimitable, timeless vocals of Nubiya Brandon lead the way on the album's title track about breaking preconceptions and promoting equality, "Where you from? I'm from wherever I be." Saxophonist Nick Richards vocals the killer first single from the album about inner turmoil and a search for the truth, 'Tell It To Me Slowly' while rising Ghanaian star K.O.G. appears on the Afro jams 'Basa Basa' and 'They Talk'. Percussionist Pilo Adami (Nina Miranda / Afrosamba) voices the infectious bossa-jazz jam 'Borders'. The band also draft in two African legends for guest duties with the original Afrobeat maestro Tony Allen on 'Ghosts' and Ethio jazz pioneer Mulatu Astatke contributing vibes on the sinuous 'Addis To London'.

The album is another landmark for a band that has been consistently developing their sound since their formation in 2015 at Leeds College Of Music. "One of the biggest factors in our sound was the exciting music scene in Leeds,' explains Joe, "from a reggae night called 'Sub Dub' to venues playing whacked out experimental jazz." Since then, the band's self-titled debut album (2015) and EP 'Siren Song' (2016) have become classics in their own right and their live show has become an essential ticket; previous live highlights have included high profile slots at David Byrne's Meltdown at the South Bank and Glastonbury West Holts.

'Jungle Run' is released on 15th February on CD, 2LP and digital. Cover artwork comes from acclaimed designer Marcus Davies and the album is mastered by The Carvery. Nubiyan Twist tour across Europe from November.

Pre-Order:
https://strut.lnk.to/JungleRun

artist:
NUBIYAN TWIST

album:
JUNGLE RUN

label:
STRUT

format:
CD 2LP DL

catalogue number:
STRUT198CD/LP

release date:
FEBRUARY 15th 2019

album streaming link [Soundcloud] https://soundcloud.com/strut/sets/nubiyan-twist-jungle-run/s-biWcH

Nubiyan Twist - Tell It To Me Slowly feat. Nick Richards
https://www.youtube.com/watch?time_continue=60&v=YtvcTQ5CGWo

Pre-Order:
https://strut.lnk.to/JungleRun

TRACK LISTING;

1. TELL IT TO ME SLOWLY feat. Nick Richards
2. JUNGLE RUN feat. Nubiya Brandon
3. BASA BASA feat. K.O.G.
4. BROTHER feat. Nubiya Brandon
5. ADDIS TO LONDON feat. Mulatu Astatke
6. BORDERS feat. Pilo Adami
7. PERMISSION feat. Nubiya Brandon
8. GHOSTS feat. Nick Richards
9. THEY TALK feat. K.O.G.
10. SUGAR CANE feat. Nubiya Brandon

QUOTES:

Superb future-jazz and afro-soul
★★★★☆
RECORD COLLECTOR

This album recognises no borders
★★★★☆
MOJO

Nubiyan Twist embody British jazz's current outward perspective
★★★★☆
JAZZWISE

Excellent second album flits between reggae, jazz, hip-hop, bossa nova and highlife
★★★★☆
SONGLiNES

A vibrant, vivacious album
★★★★☆
BBC Music Mag

A bombastic salvo of jive-inducing sonic influences
★★★★☆
NARC.

An impressive collection of rich rhythm bars
★★★★☆
BUZZ!
---
blog comments powered by

Disqus
JAZZ MANN FEATURES
Pending his 2019 Cheltenham Jazz Festival gig with John Surman's Brass Project John talks more about his work with Soft Machine & with Surman, Eberhard Weber & others. He also picks his top ten CDs.
---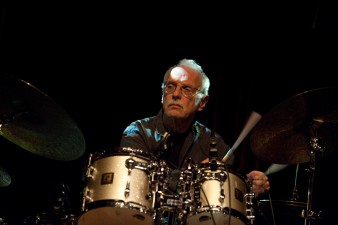 In the second part of his interview with guest contributor Trevor Bannister John establishes himself on the 1960s London jazz and session scene and gets the call from Soft Machine.
---
JAZZ MANN RECOMMENDS
---